Get more focused at work with these 7 white noise apps and websites
Many people in real life find it easy to have a relaxing, focused experience with white noise playing around them, so they use white noise as their background music for work and sleep to increase productivity and improve sleep quality. If you love white noise too, this compilation will suggest some apps and websites to enrich your playlist for work or sleep.
Rainy Scope
Nature is full of sounds that are close to white noise, most typically the sound of rain. The sounds of rain in all seasons are provided in Rainy Scope, from a summer drizzle, an autumn drizzle, a winter rain with a chill, a spring rain accompanied by rolling thunder, in addition to the sound of birds chirping under a clear sky in high summer.
There will be raindrops constantly sliding off the glass on the screen, while the glass slowly dries out when switching to a sunny day, and the view of the grass and trees in the distance will keep changing with the seasons.
Rainy Mood
Rainy Mood is also a white noise app that favors the sound of rain, and it offers many different scenarios for listening to rain: at sea, in the countryside, in a cafe. The sound in each scene will consist of many parts, for example, in a cafe, it will consist of the sound of rain, the sound of the barista working, the gossip around, the sound coming from the terrace , and you can adjust the volume of each part to match the sound you like.
Plus, Rainy Mood can be played simultaneously with other music apps to pretend like you're listening to music on a rainy day.
virtocean
virtocean is a virtual ocean where you can listen to the waves churning on the surface and control your direction with the arrows on the screen. Clicking on the diving goggle symbol then allows you to dive under the sea and hear the sounds of marine life such as seals, conchs and starfish, as well as the sound of sailing ships passing over the sea and seabirds landing on the surface.
You can mix various sounds from the bottom of the sea and adjust the volume of the different sounds.
Hipstersound
Hipstersound is a "cafe's vibes" which offers 8 different sound themes in cafes and restaurants for subscribing members, but there are also 3 public demos available for free.
After opening a theme, you can also choose from piano sounds on the right, a promenade where you can hear the waves, a rainy patio, a fireplace, and more to mix up music that makes you feel relaxed and focused.
Rain Rain Sleep Sounds
Although the App's name carries a lot of rain sounds, it has sounds of transportation, home appliances, and more in addition to natural white noise such as rain, thunder, wind, and Bibi's fire. You can mix up to three sounds and put favorite combinations in the Favorites list.
Premium accounts can unlock a larger list of sounds, and free users can also enjoy one sound per day from a paid prize pack.
Sound Sleeper
Sound Sleeper is an app that aims to save nannies and dads by using white noise to put children to sleep. There are 16 types of white noises for newborns, babies, toddlers, and parents, and by turning on "listen" mode, the app will only play white noises when it detects a certain volume of cries.
In addition, the app offers sleep quality monitoring, remote operation, and more. The basic features are free, while in-app purchases unlock more sleep packages.
Little Sleep
Hundreds of white noises are available in "Little Sleep", you can choose any three to put in the triangle of the triangle and drag the play button on the circle to set a timer to turn it off. If you don't know what to choose, you can turn on "Random Play" mode or check the ranking of different sounds, and you can also play the packages provided in the app for different scenes, for example, the "Haircut" scene has a mix of three types of sounds: haircut, blowdry, and guitar.
In addition to this, 'Little Sleep' offers audio to help fall asleep such as breathing exercises and counting sheep.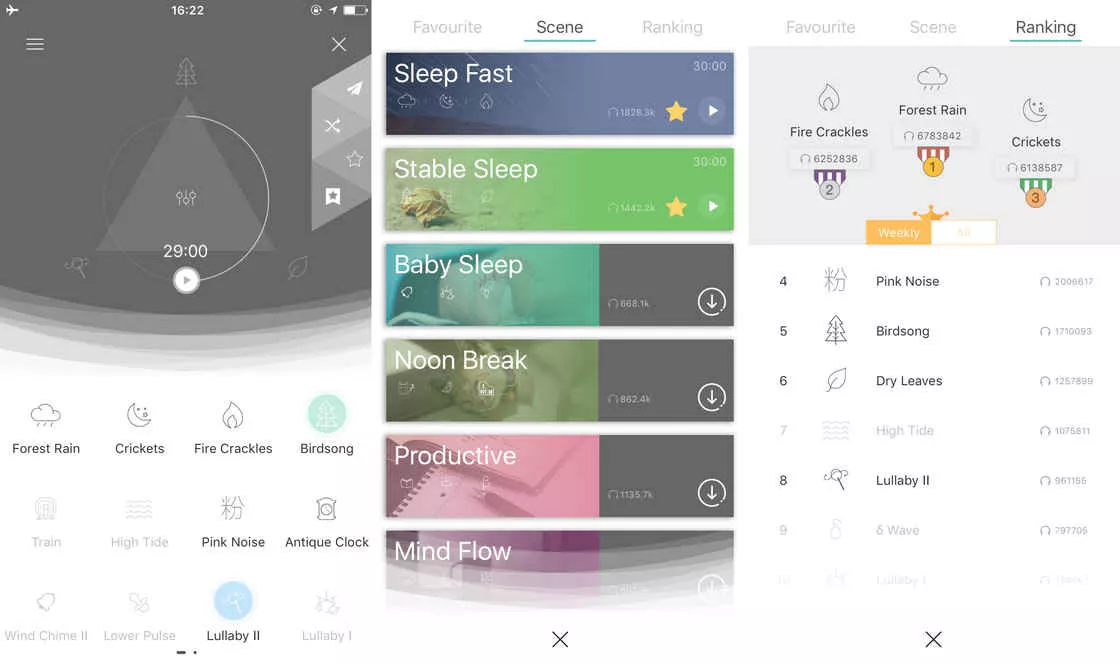 Do you usually like to use white noise to help you focus or relax? If so, which sounds do you prefer?