New computers, new chips: COMPUTEX 2022 brings these new gadgets
This year's Computex Taipei (hereafter referred to as COMPUTEX) was held from May 24 to 27. After two years of online exhibition, the physical exhibition finally returns - COMPUTEX 2022 adopts a combination of online and offline "virtual and real" approach. , which allows exhibitors to conduct new product launches, on-site tours, product demonstrations and other activities directly online.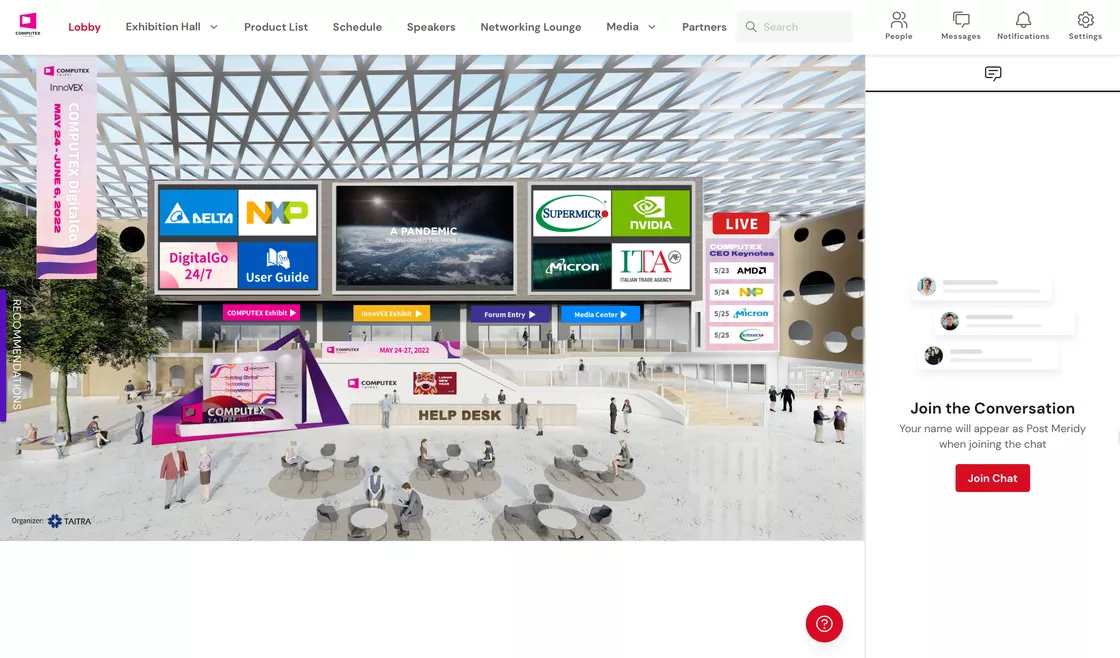 COMPUTEX 2022 still focuses on six major themes: "Innovative Computing", "Accelerating Intelligence", "Digital Resilience", "Connected X - Experience". Innovative Computing", "Accelerating Intelligence", "Digital Resilience", "Connected X - Experience", "Innovations & Startups" and "Sustainability", bringing a wealth of content to both online and offline exhibitors in the areas of endpoint computing, artificial intelligence, edge computing, autonomous driving, and data security.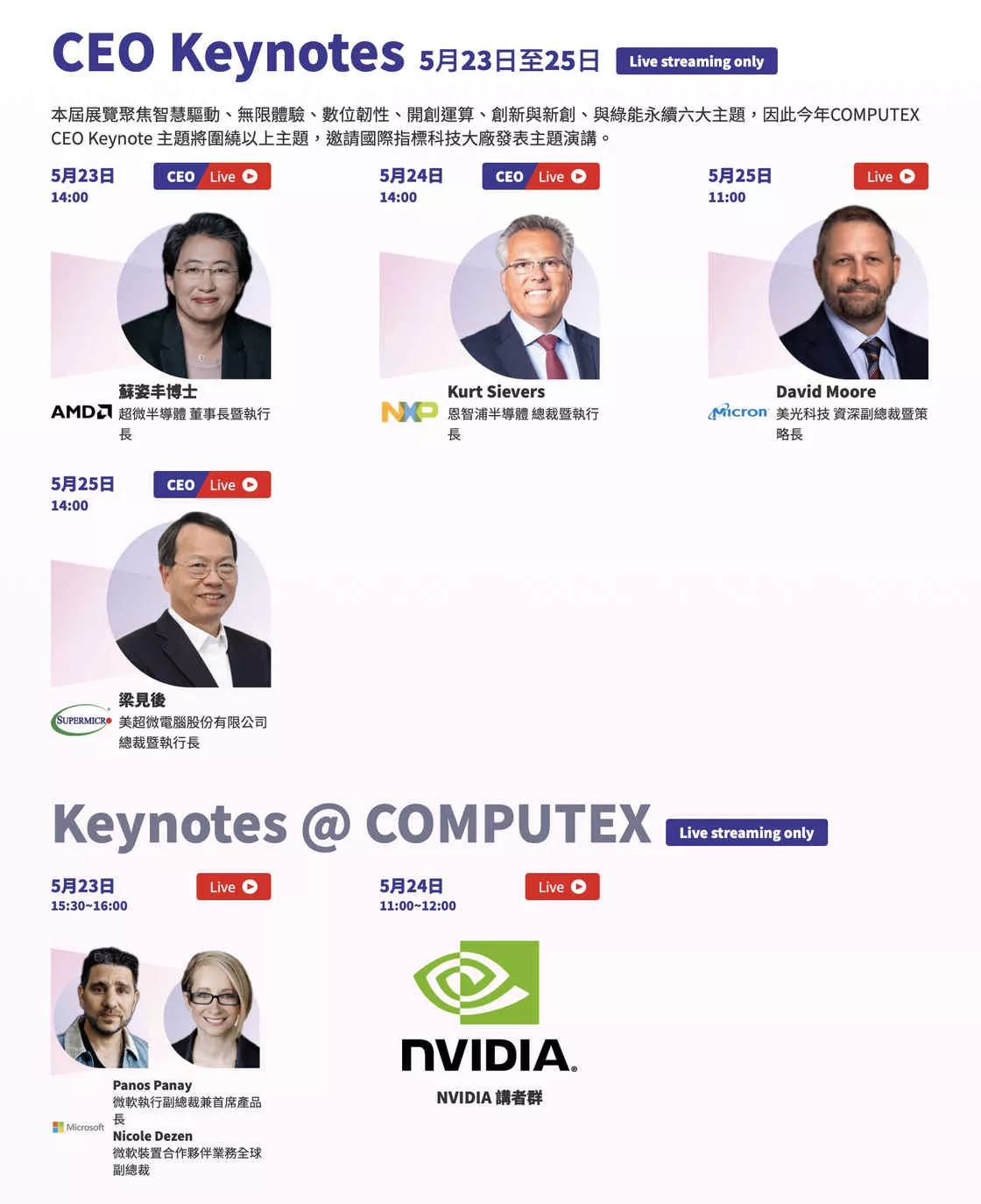 WebsiteDuring the COMPUTEX CEO Keynote from the 23rd to the 25th, the CEOs or CSOs of AMD, NXP, Micron and Supermicro were present. The CEOs or CSOs of AMD, NXP, Micron, and Supermicro all made appearances during the COMPUTEX CEO Keynote from the 23rd to the 25th, giving their outlook on the future of the industry and information technology, as well as introducing some company trends and new products. Microsoft and NVIDIA participated by way of live online Keynotes, but the much-anticipated Huang did not appear, nor did he release any more information about the 40-series graphics cards. Intel did not participate in COMPUTEX this year due to the epidemic, so we won't be able to see the red, green and blue together last year.
This year's COMPUTEX offline show officially ended on May 27th, while the online show COMPUTEX DigitalGo will be held until June 6th, so if you're interested, you can take a "cloud walk" through the link above. In addition, we've compiled a list of information and products that may be of interest to you.
AMD
A new line of APUs codenamed Mendocino
A Zen 2 architecture APU using TSMC's 6nm process with RNDA 2 cores, up to 4 cores and 8 threads, LPDDR 5 memory and the latest video encoding. The Mendocino series APUs aim to provide a power-efficient solution for the Windows laptop and Chromebook market in the $400-$700 price range, and are specifically optimized for video office software such as Teams, Zoom and Google Meet, and are expected to deliver "no less than 10 hours of endurance under mixed loads," the company announced at launch. The launch announced that it expects to achieve "no less than 10 hours of battery life under mixed loads," with a planned launch date of the fourth quarter of this year.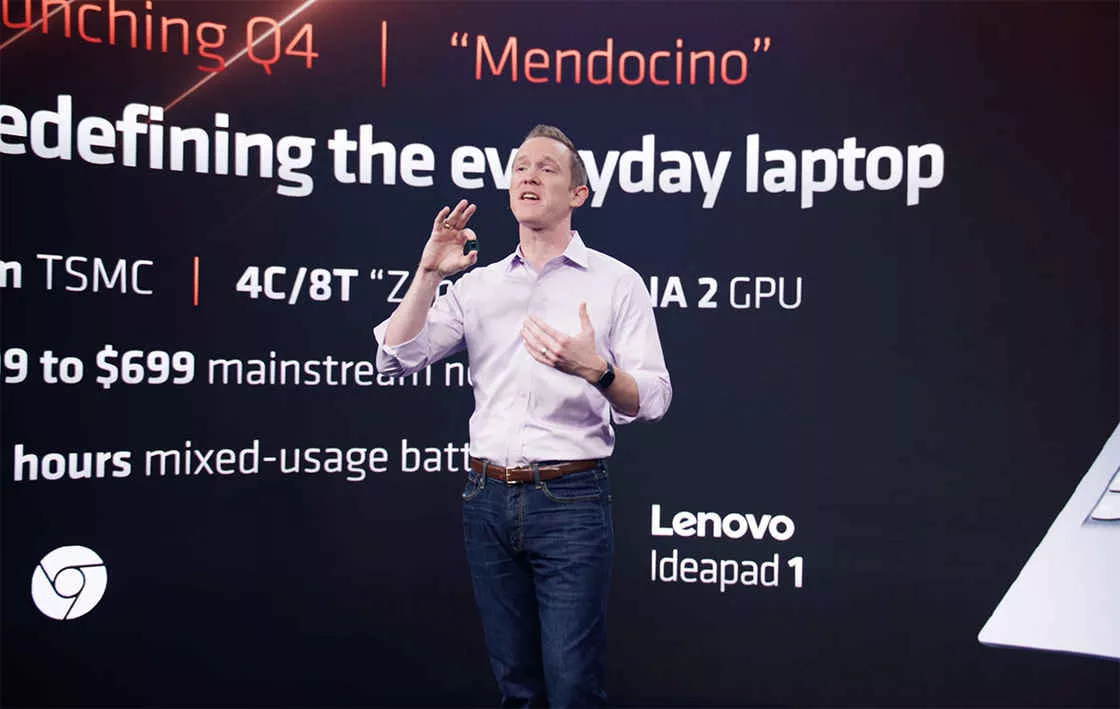 CEO Keynote Considering the Zen 2 architecture's performance so far, this year The second half of the year may see Mendocino competing back and forth with Celeron and even i3 in the entry-level notebook market. The APU also has a lot to do with the processor codenamed "Van Gogh" from Steam Deck earlier this year, and there may even be more Mendocino-based handhelds to follow.
AMD Advantage Framework adds another member: Smart Access Storage
AMD Advantage is a gaming notebook design framework for the Ryzen + Radeon pairing presented by AMD at COMPUTEX last year, designed to enable a great gaming experience on mobile with a series of underlying optimization technologies. So far, we've introduced Smart Shift Max / Eco for intelligent CPU and GPU load scheduling, Smart Access Graphics for seamlessly switching between discrete and core graphics, and Smart Access Memory for efficient memory calls, and this year we're bringing a new Smart Access Storage technology that leverages Windows' DirectStorage API with Radeon. This year, the new Smart Access Storage technology is introduced, which can further optimize game startup time and texture loading time by efficiently communicating with the decoding process of Radeon graphics cards through Windows' DirectStorage API.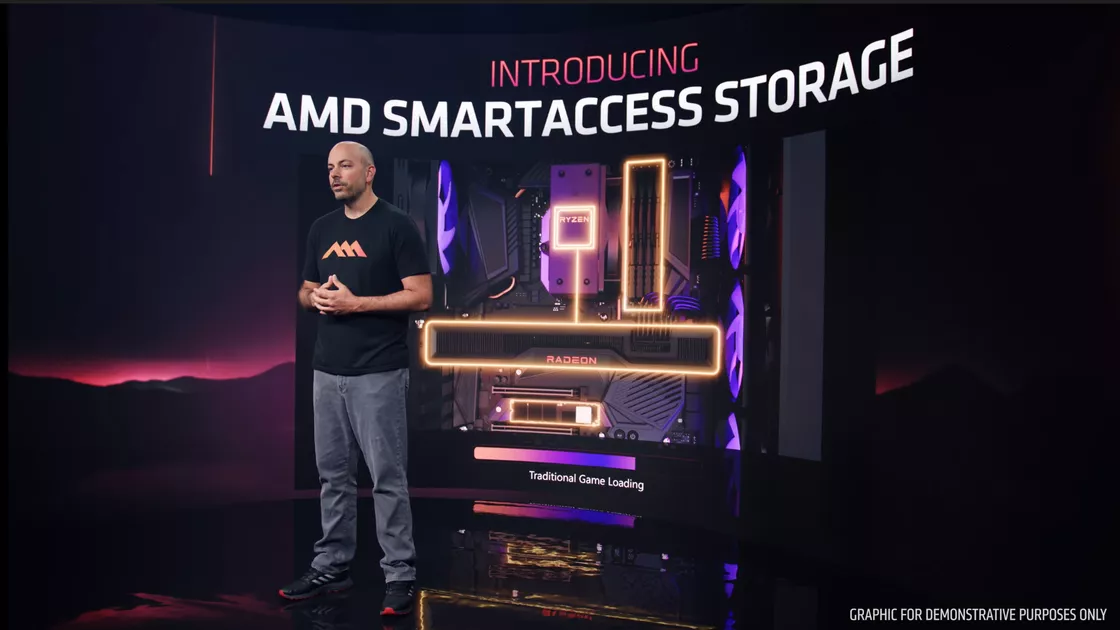 Ryzen 7000 Series Preview
Zen 3 is still gaining momentum and Zen 4 is here.
In the second half of AMD's CEO Keynote, Dr. Su briefly introduced the 7000 series Riptide processors, expected to be available this fall, and the corresponding new slot standard AM5. 7000 series Riptide uses TSMC's 5nm Zen 4 cores, which have double the L2 memory compared to Zen 3, a 15% increase in single-threaded performance, up to over 5Ghz acceleration, and an expanded AI instruction set. expanded AI instruction set.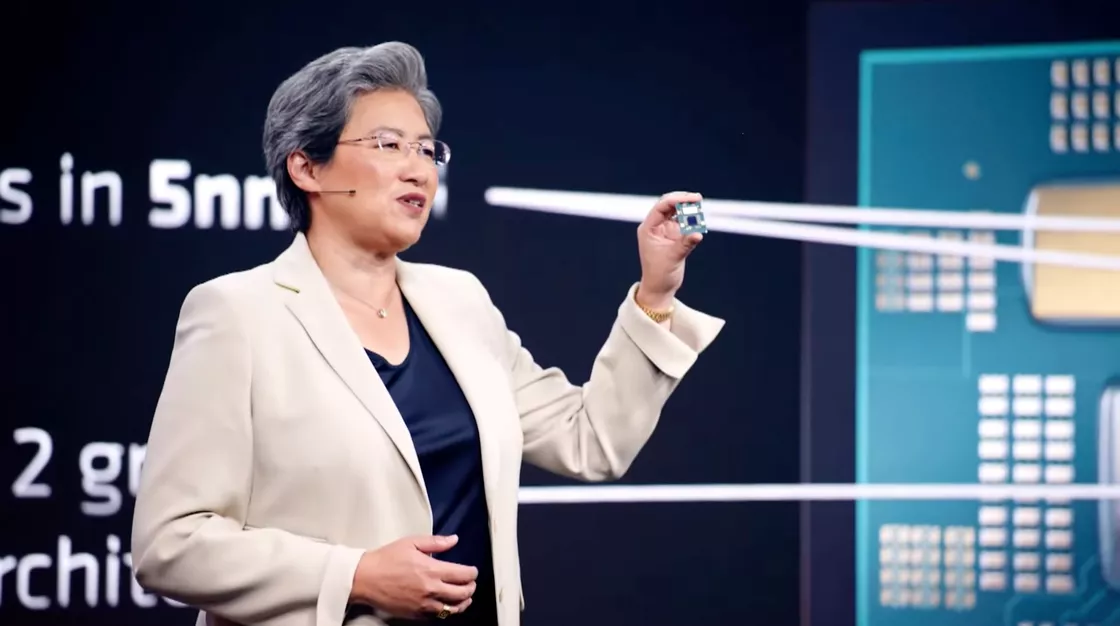 The 7000-series Riptide's interface chip (IOD) uses a 6nm process for improved low-power performance, integrated DDR5 and PCIe 5.0 controllers, and RDNA2 core graphics - although the specs are expected to be considerably lower than the 6000-series mobile Riptide's core graphics, AMD is making up for the last few significant differences from Intel. In a small live game demo, a 16-core 7000-series Riptide was able to run at a steady 5.5 GHz all-core in Phantom Thread: Tokyo, matching the i9-12900KS's maximum RWD.
The slots used in the 7000 series have also been replaced, with the new AM5 specification using a 1718-pin LGA slot, a maximum TDP threshold for processors coming in at 170 watts, support for DDR5 and PCIe 5.0 connectivity, and AM4-compatible hole spacing for heat sinks.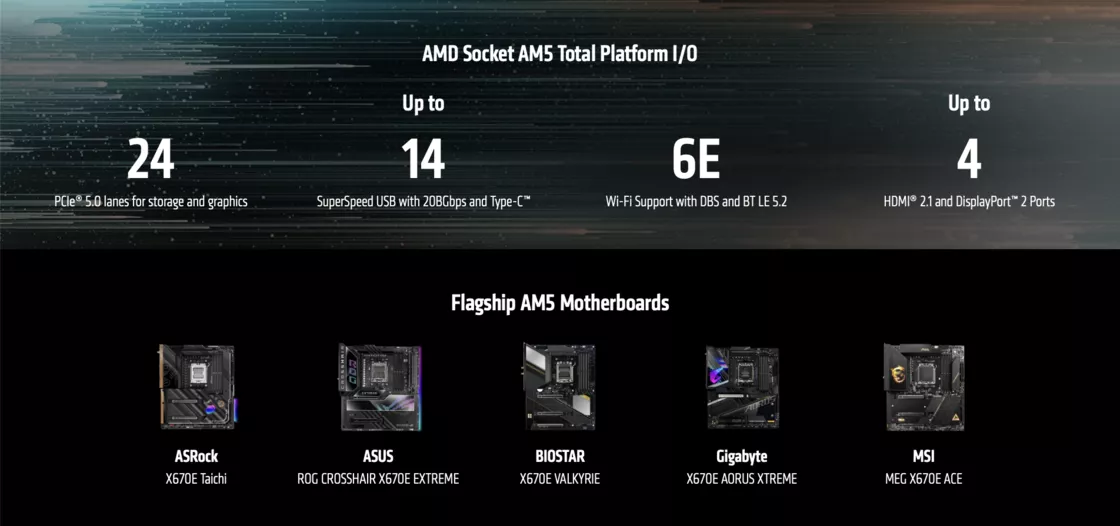 Motherboard, the AM5 standard is divided into three kinds of X670E (Extreme), X670 and B650 specifications. It is expected that the 7000 series Raider will be available this fall, and the major particle manufacturers and motherboard manufacturers are ready for PCIe 5.0 and AM5 products.
NVIDIA
Instead of announcing any 40-series consumer graphics cards at this year's Computex Taipei, NVIDIA continued to focus on its 2B business, spending three-fifths of its nearly hour-long Keynote on NVIDIA's future plans for AI factories, automated robots and robotics applications. Only in the last 20 minutes did VP Fisher come on to talk about how NVIDIA is working closely with game developers to develop GRD (Game Ready Drivers) drivers for graphics cards, several new light tracing games, Reflex technology for latency reduction, and more. Other than a ROG Swift 500Hz gaming monitor with Reflex low latency support and some new RTX laptops, there was also no announcement of any other in-house 2C hardware products.
From Data Center to AI Factory
At the beginning of the Keynote, NVIDIA introduced the concept that "the data center is transforming into an AI factory" and used it as an opportunity to introduce three server products based on the 4nm ARM architecture Grace chipset - the Grace Hopper SuperChip and Grace CPU SuperChip - the CGX server framework for cloud graphics and cloud gaming loads, and the OVX server framework for Digital Twins and Omniverse data processing, respectively. --The three server products derived from the 4nm ARM-based Grace chipset - Grace Hopper SuperChip and Grace CPU SuperChip - are the CGX server framework, which focuses on cloud graphics and cloud gaming loads; the OVX server framework, which focuses on Digital Twins and Omniverse data processing; and the Grace CPU SuperChip, which focuses on high-performance computing, respectively. server focused on high-performance computing and the Grace Hopper SuperChip server focused on AI training, both known as the HGX framework.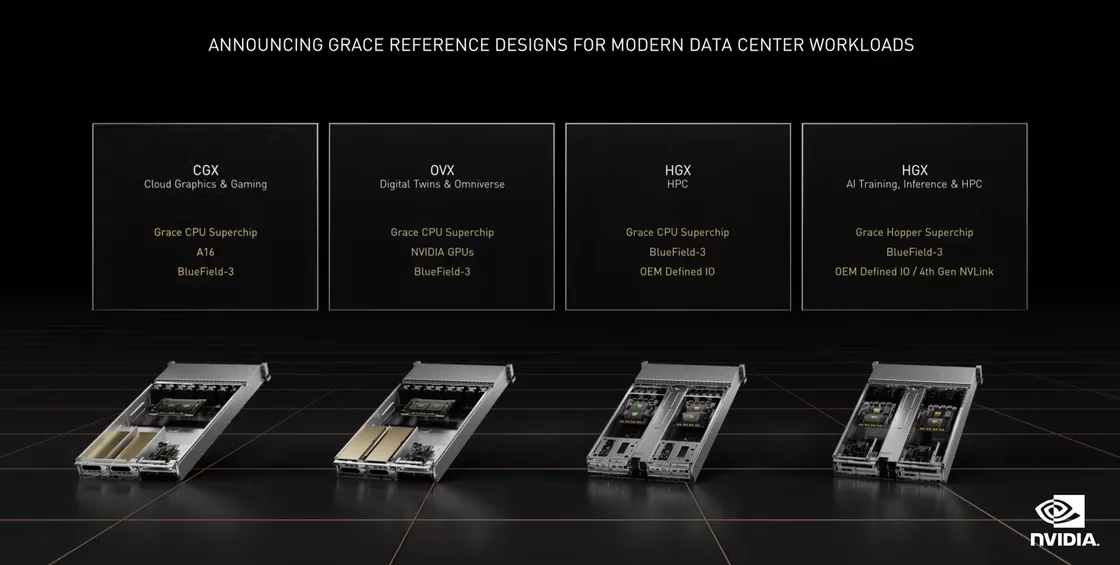 Also, NVIDIA announced the HGX Grace and HGX Grace Hopper frameworks for OEMs The HGX Grace and HGX Grace Hopper frameworks for high-density servers are designed to help OEMs such as ASUS, Foxconn Industrial Internet, Gigabyte, Unitech, Supermicro and Wistron quickly convert their existing 2U servers to the Grace architecture.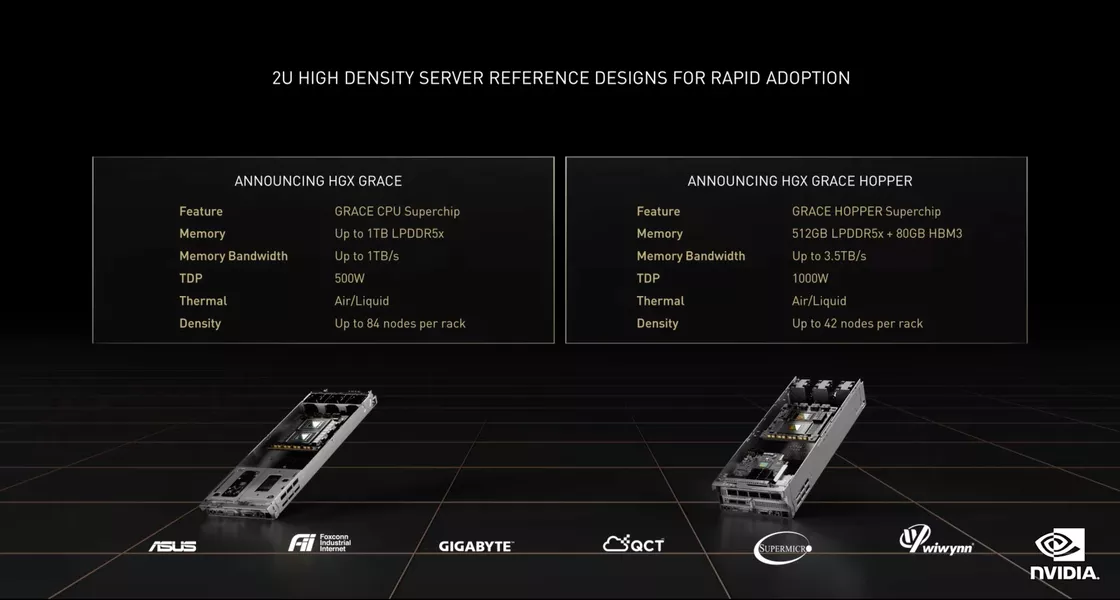 AI Robotics Platform Isaac
In addition to the new computing platform, NVIDIA also introduced its AI robotics platform, NVIDIA Isaac, which includes four sequential functional segments: AI model training, simulation deployment, robot manufacturing, and post-deployment management.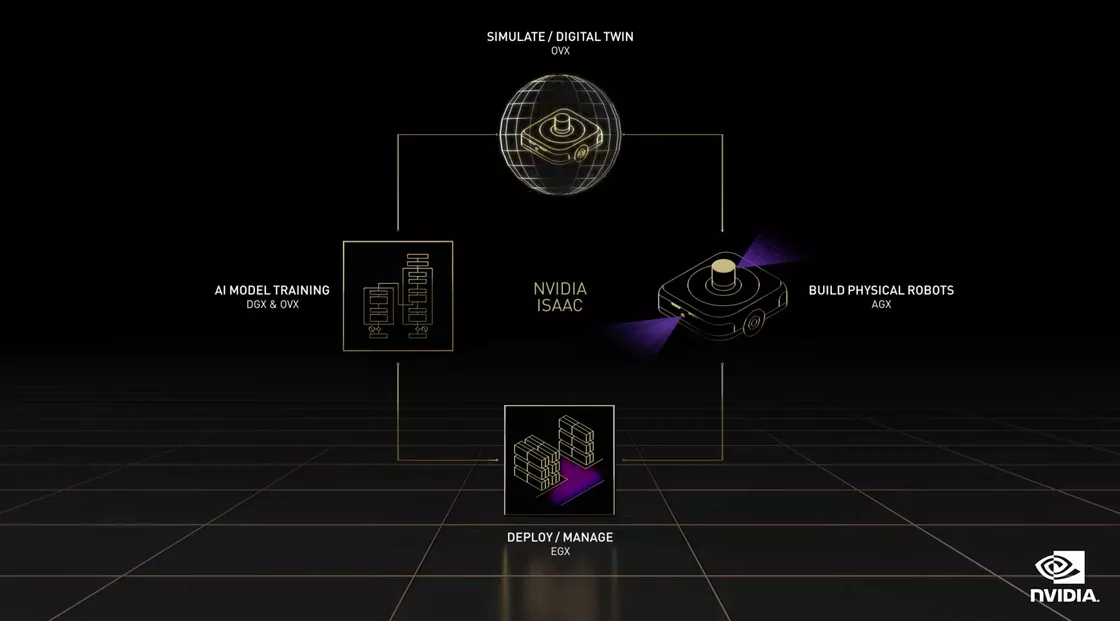 Also, to reduce robot pilot costs and improve test To reduce robot pilot costs and improve safety, NVIDIA has developed the Isaac Sim robot simulation deployment technology based on the Omniverse platform. The NVIDIA Isaac 2022.1 release announced at this year's show adds several new tools such as Cortex for human-robot collaboration, Isaac Gym to accelerate robot behavior policy formation, and with technologies and interfaces such as Isaac ROS and Isaac GEMs, NVIDIA announced a GPU with an Ampere Tensor architecture-based core and 12 ARM AGA cores. NVIDIA has announced Orin NX, a robotics development module that includes a GPU based on Ampere's Tensor architecture and 12 ARM A78 CPUs, starting at $399. To accelerate the development and adoption of Autonomous Mobile Robots (AMR), NVIDIA is also announcing Isaac Nova Orin, a robotics development platform that includes two Jetson AGX Orin modules and support for multiple types of sensors, to provide a more end-to-end solution for the fully automated robotics market. NVIDIA aims to provide a more end-to-end solution for the fully automated robotics market, as well as a push into autonomous driving with the DRIVE Hyperion platform.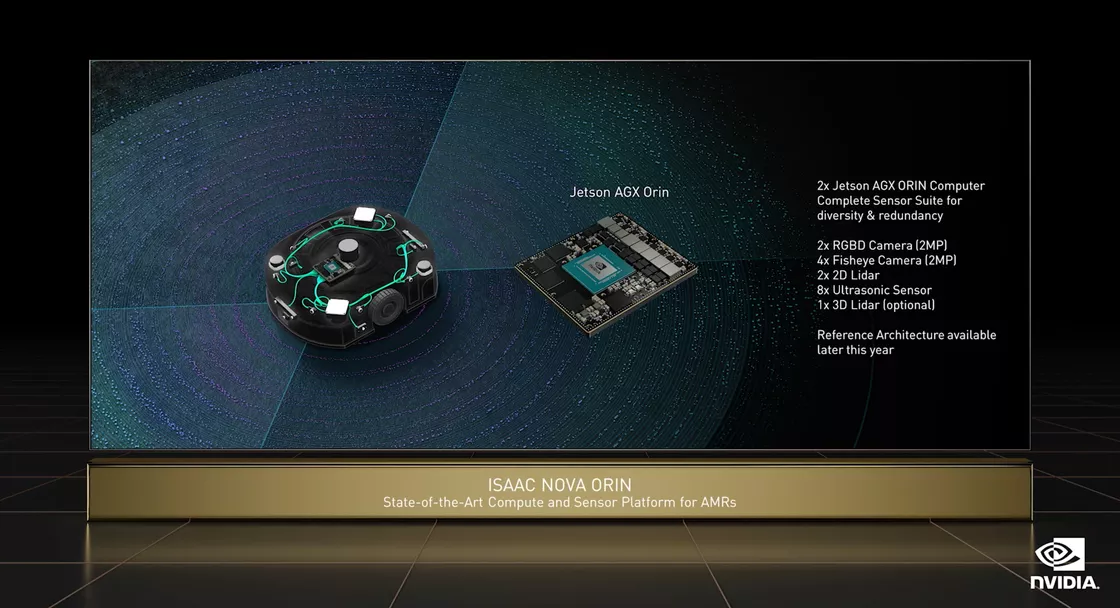 New RTX Games
Your hitman, now presented more as a light chase.
Later in the Keynote, NVIDIA Vice President Fisher came out with some news related to the gaming market. Since the last COMPUTEX show, more than 250 games and software have supported ray tracing technology, double the number from the previous show. And the upgrade of GeForce users continues, with more than 30% of users having upgraded to RTX cards, contributing more than 1.5 billion hours of raytraced gaming time.
And starting May 24, several more games will join the ray-tracing technology's camp: Hitman 3 as well as F1 22, and ten more RTX games, including NetEase's New Sinister.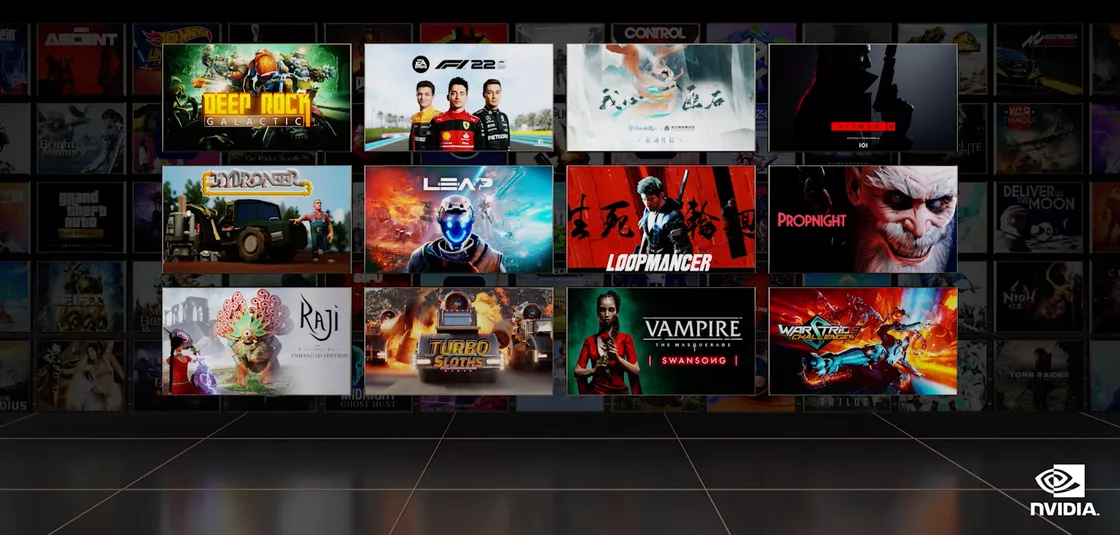 Low Latency Reflex Technology and Gaming Screens
In its own System Latency Challenge survey, NVIDIA collected data on the aiming accuracy of 20,000 players at different latencies in the aiming training software Kovaaks, and found that players at different levels of accuracy improved by 2 to 2.5 times at low latency (25 ms) compared to high latency (85 ms).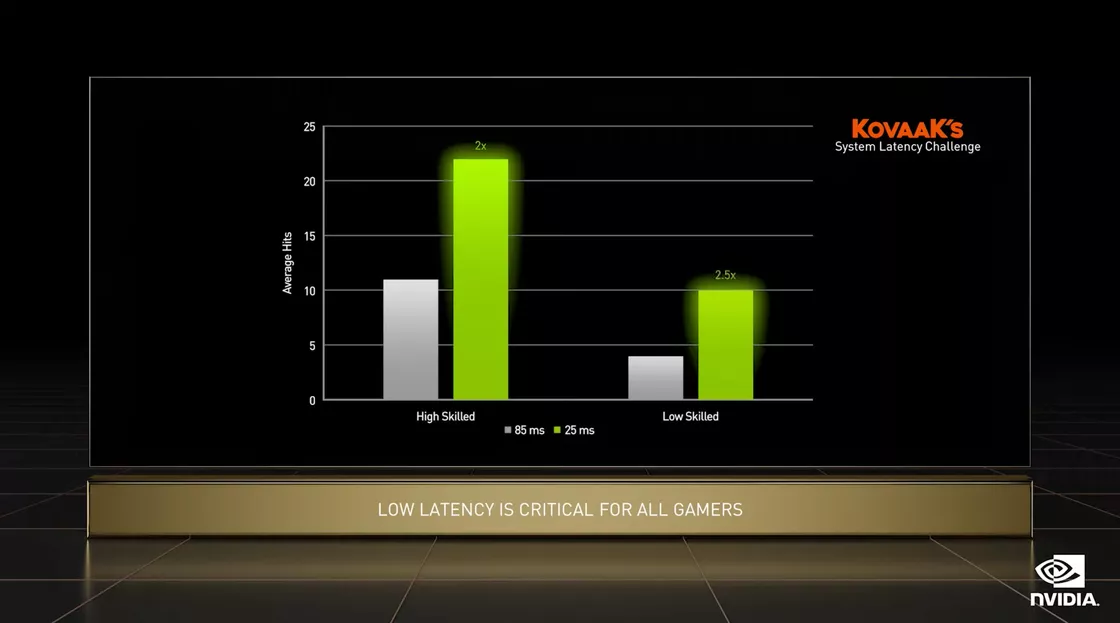 And NVIDIA Reflex technology, used to intelligently reduce game lag, is already supported in many of the biggest games. Reflex technology is already supported in many of the biggest games, and according to NVIDIA, more than 20 million gamers a month are currently playing games with Reflex turned on at the same time. In keeping with the growing number of hardware peripherals that support Reflex, NVIDIA showed off one of the few consumer-oriented hardware products at this year's Keynote: the Gamer Nation Swift 500Hz gaming monitor, featuring a 24-inch 1080P TN panel with a refresh rate of up to 500 hertz.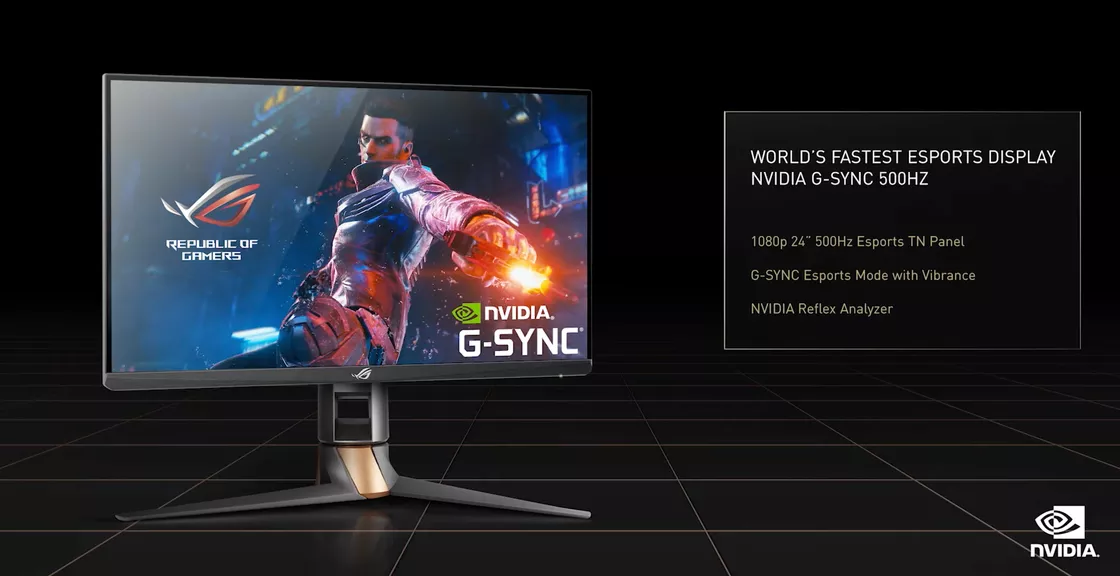 Corsair
Voyager a1600 AMD Advantage Edition
The Voyager a1600, which was singled out in AMD's CEO Keynote, is a gaming + live streaming product, with the highlight being the 10 separate function shortcuts on the spindle that use Stream Deck software in partnership with live streaming peripheral maker Elgato to launch some quick functions during live streaming. This extra area also displays the laptop's battery status and is not obscured when the lid is closed.
The Voyager a1600 features a 16-inch 240Hz 1440P screen, hardware options up to a Ryzen 9 6900HS processor and Radeon RX 6800M mobile graphics, support for up to 64GB of RAM, and a standard Cherry MX low-profile keyboard as standard.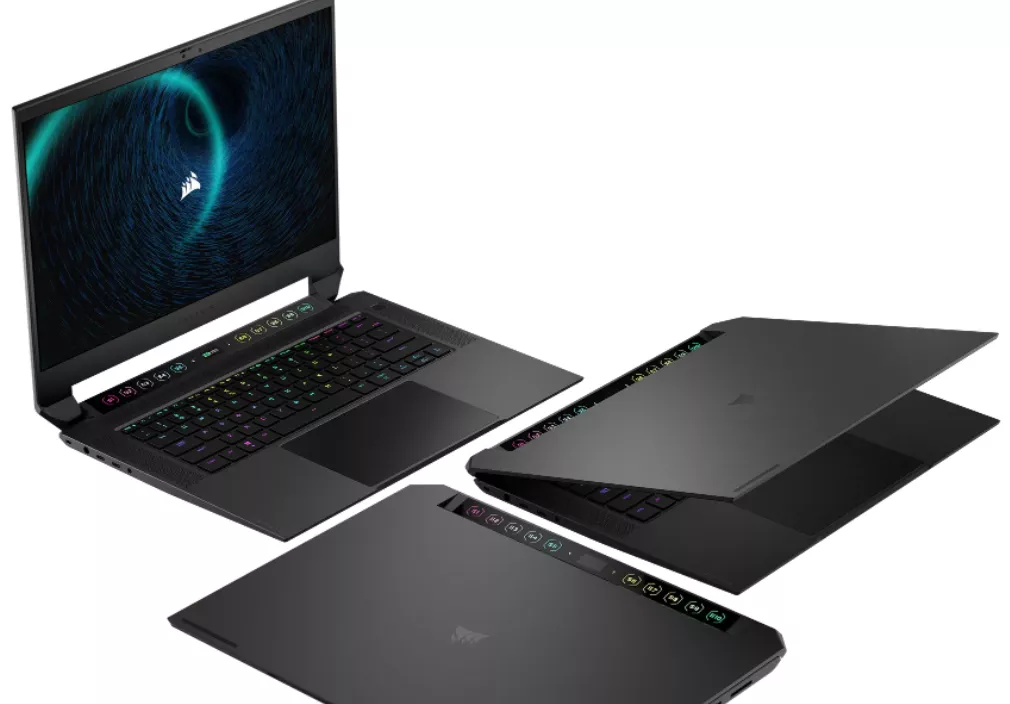 MSI
Raider GE67 HX
Despite being mentioned in NVIDIA's Keynote, the GE67 HX has yet to appear at MSI's official virtual booth and is expected to be released via MSI's MSIOLOGY: Ahead of the curve online launch event on June 6. According to the information disclosed in the NVIDIA press release, the GE67 HX is a new product compared to the current Raider The GE67 HX will use the latest 12th generation Alder Lake-HX processors (such as the i7-12800HX or i9-12900HX), support up to 128GB of DDR5 memory and PCIe 5.0 SSDs, and a 240 Hz refresh rate OLED screen.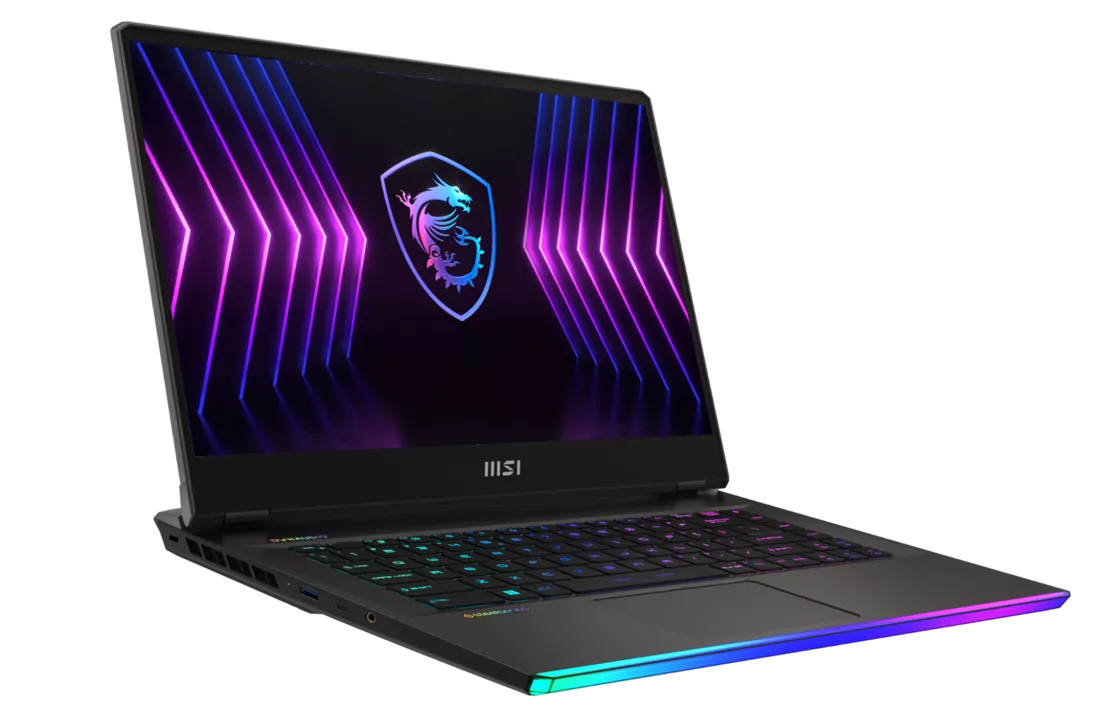 Acer
ConteptD 7 SpacialLabs Edition
The NVIDIA Studio Workstation Notebook ConceptD 7 SpacialLabs Edition with Naked Eye 3D technology was also present at COMPUTEX this year, with a 15.6" 4K screen that covers the full Adobe RGB color gamut, is Pantone color-certified, and has an overall color-calibrated ΔE of less than 2. It can meet the needs of most scenarios of content creation. In addition, with Acer's SpacialLabs technology, the ConceptD 7 SLE can display models from software such as Blender as near-3D holograms for a more realistic display with real-time eye tracking, AI complementary calculations and special display hardware.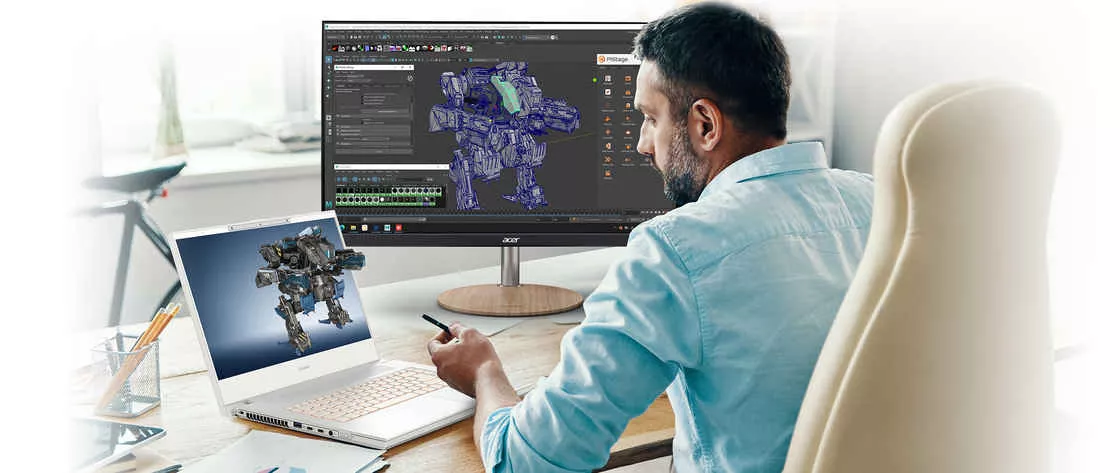 Soltek
Wearable PC Zotec VR GO 4.0
The fourth generation of ZOTAC's VR GO, the VR GO 4.0, was presented at this year's COMPUTEX, as promised, and features an 8-core, 16-thread Core i7 processor, RTX A4500 graphics, upgradable RAM and hard drive, and Windows 11 Pro pre-installed in a slim backpack design. The main performance upgrade over its predecessor is a reduction in nominal battery life, from the 1 hour claimed by VR GO 3.0 to 50 minutes.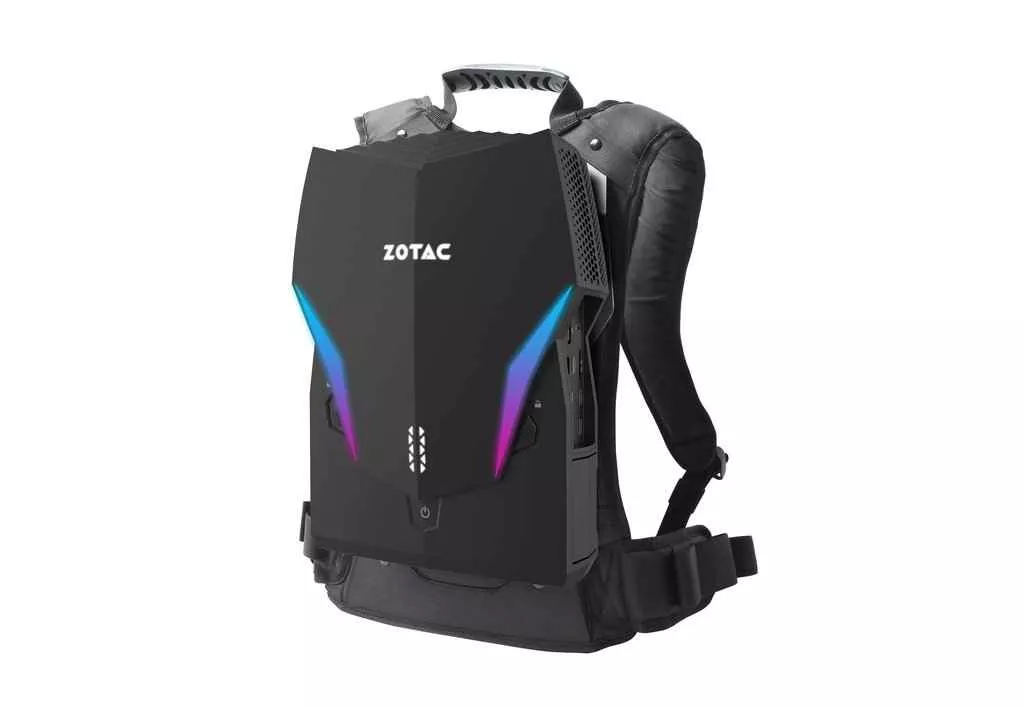 Mini PC Workstation ZBOX QTG7A4500
Inside a 2.65 liter, 6.3 cm (2.45 inch) high enclosure, the ZBOX puts down the same hardware configuration as the VR GO 4.0, with up to 64G of DDR4 RAM, two M.2 SSDs or M.2+ Aptera, and a 2.5 inch hard drive bay. The ZBOX is also equipped with a wide range of ports, including five USB 3.1 ports on the front and back, two DP 1.4A and two HDMI 2.1 ports, as well as a Gigabit + 2.5GbE network port and Thunderbolt 4 port.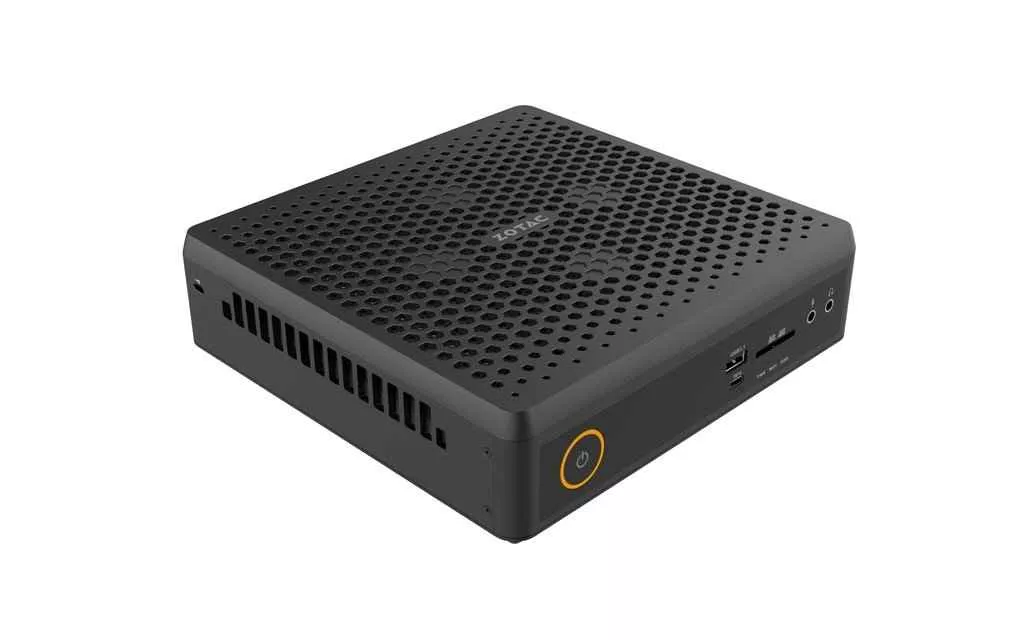 Desktop PC that fits in your pocket ZBOX PI336 Pico
The ZBOX PI336 is a miniature desktop PC with a capacity of just 1.8 liters. The ZBOX PI336 Pico features a dual-core Celeron N6211 processor, expandable storage via a Micro SDXC card slot, and allows for simultaneous connection of two 4K displays via the HDMI 2.0 and DP 1.4 ports on the chassis. The ZBOX PI336 Pico has a dual-core Celeron N6211 processor, expandable storage via a Micro SDXC card slot, allows two 4K displays to be connected simultaneously via HDMI 2.0 and DP 1.4 ports, supports Wi-Fi 6E and Gigabit LAN, and has three USB 3.1 ports (2A1C), making it ideal for flexible deployment of hosts or decentralized home use.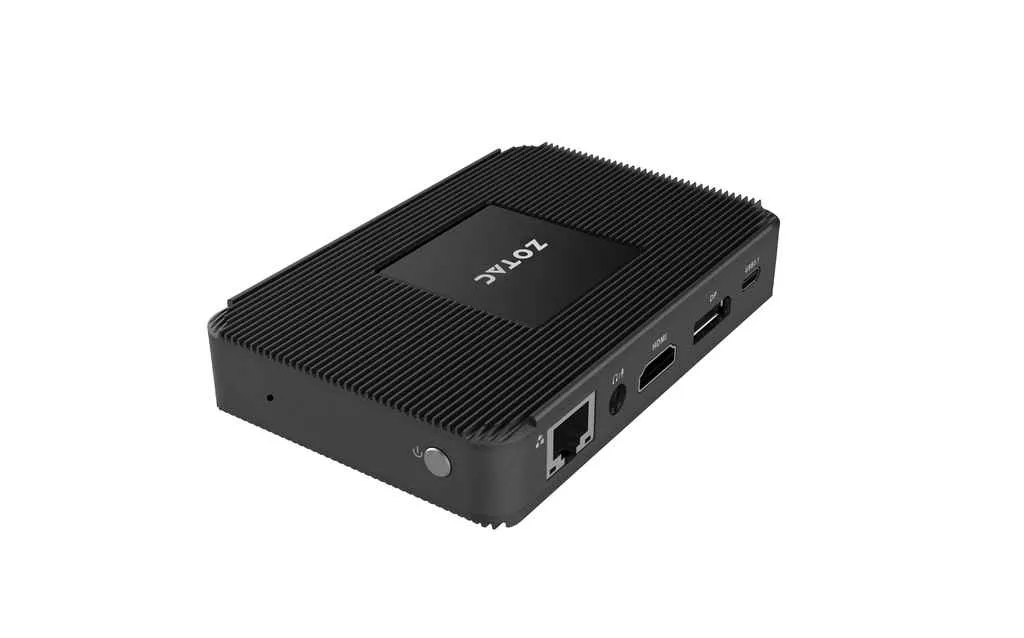 MediaTek
Also present at COMPUTEX was MediaTek, which brought its first 5G millimeter wave-enabled mobile platform, the Tiangui 1050, and its Wi-Fi 7 wireless connectivity platform solutions, the Filogic 880 and Filogic 380, to COMPUTEX 2022.
The 1050 mobile platform is powered by TSMC's 6nm process, with an octa-core CPU consisting of two 2.5GHz Arm Cortex-A78 cores and a Mali-G610 GPU, supporting LPDDR5 memory and UFS 3.1 flash memory. The integrated 5G modem is the main focus this time, supporting 5G millimeter wave and Sub-6GHz full-band network dual connectivity and seamless switching, as well as 5G dual SIM dual standby and dual SIM VoNR calling services.
Also announced were the Breguet 930 5G and Helio G99 4G mobile platforms, with the former supporting full-band Sub-6GHz 5G networks and the latter supporting 4G LTE networks only. The Breguet 930 5G mobile platform devices are expected to be available in the second quarter of this year, while the Breguet 1050 5G and Helio G99 4G mobile platform devices are expected to be available to consumers in the third quarter of this year.
The Filogic 880 and Filogic 380 are the first Wi-Fi 7 wireless connectivity platform solutions from MediaTek. The Filogic 880, built on a 6nm process, is designed for carrier, retail and commercial markets, and is aimed at routers and gateways with 5-band 4x4 MIMO support and network speeds of up to 36Gbps. The Filogic 380 is aimed more at smartphones, tablets, TVs and other devices, also using a 6nm process, with integrated Wi-Fi 7 and Bluetooth 5.3 support, MLO (Multi-Link Operation), and network speeds up to 6.5 Gbps.
Summary
Compared to last year, this year's COMPUTEX conference seemed to be more industry-oriented, and Intel's absence made this year's event almost a one-man show for AMD in the eyes of consumers. The lack of Intel also made this year's event almost a one-man show for AMD in the eyes of consumers. The tricks that the major players played in the gaming notebook direction couldn't keep NVIDIA's lack of new graphics cards out of the business presentations. Hopefully, we'll get more surprises from the vendors later this year.
Reference Articles