Shanghai, as one of the largest consumer markets of electric vehicles in China, has also made great efforts in terms of automobile promotion fees. Recently, it was learned that the Shanghai Municipal People's government issued the action plan for accelerating economic recovery and revitalization of Shanghai, which effectively and orderly promoted the acceleration of economic recovery and revitalization from eight aspects and 50 articles.
Access: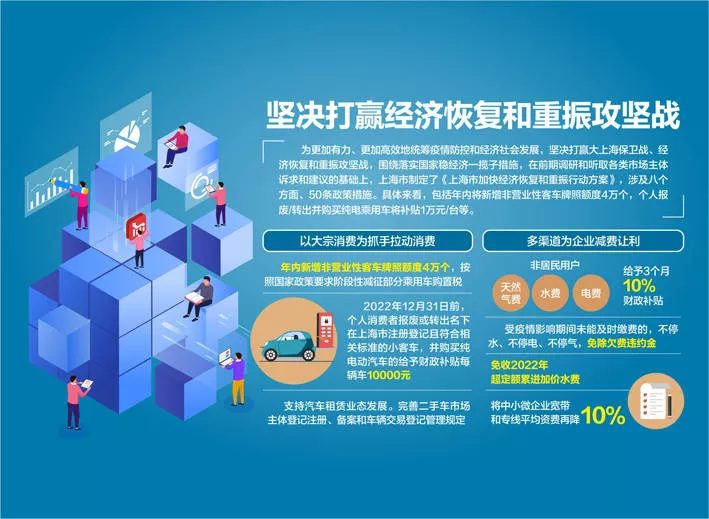 Among them, in order to vigorously promote automobile consumption, in Shanghai, 40000 new non-commercial bus license plates were added during the year, and 10000 yuan was subsidized for each replacement of pure electric vehicles**
For the mainstream electric vehicles in the market, consumers can directly obtain preferential policies when buying a car. Take Tesla Model 3, which starts at 279900 yuan, as an example, it can be cheaper by 10000 yuan to buy a car; The starting price of BYD Han EV 269800 will also be reduced synchronously.
It is reported that during the year, Shanghai added 40000 non-commercial passenger car license plates, in accordance with the national policy requirements, the purchase tax of some passenger cars will be reduced periodically**
At the same time, before December 31, 2022, if individual consumers scrap or change their names, and buy pure electric vehicles, they will be given a financial subsidy of 10000 yuan per vehicle.
In addition, it also includes supporting the development of car rental business, improving the regulations on the registration, filing and vehicle transaction registration of used car market entities. The notice points out that the policy and measures shall be implemented from June 1, 2022 and shall be valid until December 31, 2022.