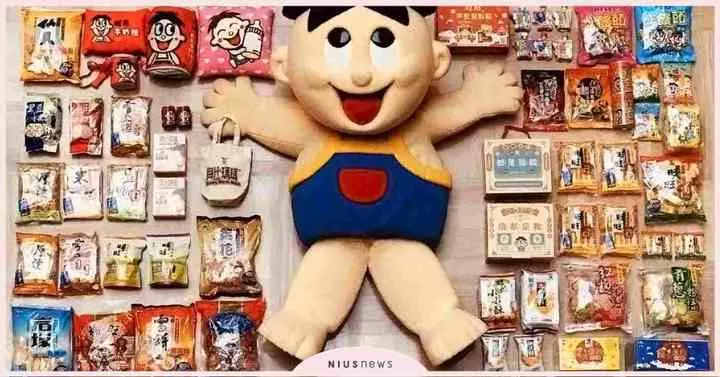 Perhaps you have memorized the advertising slogan of "prosperous people, prosperous wealth, prosperous energy and prosperous body", but I bet you didn't buy a Want Want gift pack for the holidays this year.
After all, only children love Want Want, adults are buying a mix of Liang Pin Shop, Three Squirrels, Lai Yi Fan, Cha Cha Cha and Want Want. There is little brand loyalty, what you want is a smorgasbord and brand deals. And the more brands each user considers, the less money they spend on individual brands specifically. In that sense, Want Want today is not as high a priority in the snacking world.
In order to become the only one among its users again, Want Want has been trying to get rid of its 'mid-life crisis' and make itself 'prosperous' again.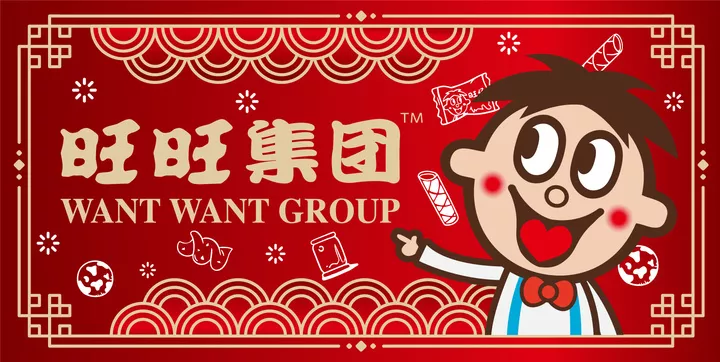 The trendiest "old consumer" brand, Wanted
Founded in 1962, the company has reached the age of 'sixty and ears to the ground' if judged by human standards. But as a company, a well-known brand, any decline in revenue and slowdown in growth is something to reflect on. That's why Want Want has been reflecting for nine years, starting from 2013, the year its revenue exceeded $23.1 billion and net profit was $4.19 billion.
In the past nine years, Want Want has been working really hard to revive this 60-year-old brand. These efforts have also made it the most trendy 'old consumer' brand in the new wave of consumption. In short, what young people like, we have to do.
Young people like fun marketing, so make it fun.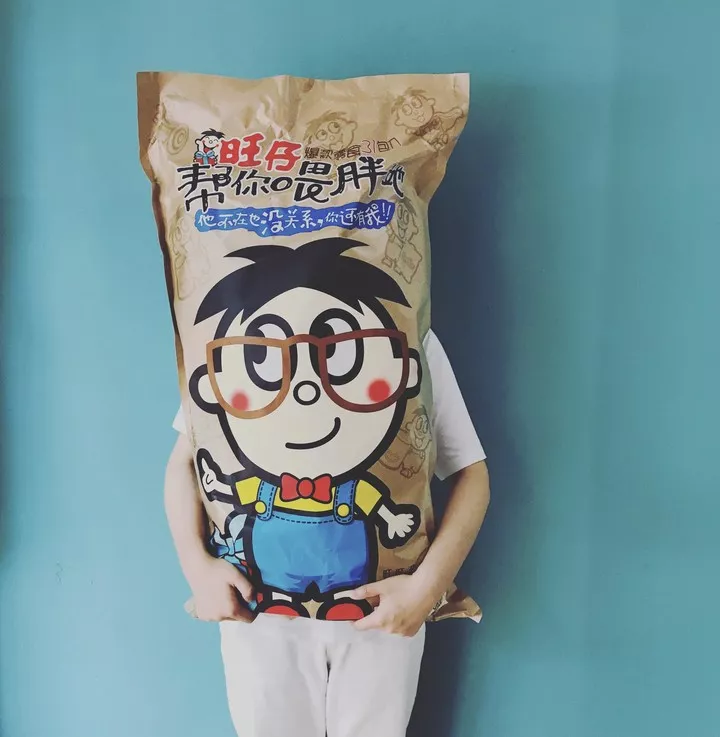 ▲ Wanted Gift Pack
Want Want's original advertising style was an earthy, magical brainwashing style, the next step was to do a fun and light-hearted style. The first step is to enlarge all of Want Want's classic products. The original snow cakes were delicate and cute, three bites each. The snow cakes that have become bigger are already as big as your face, so those with small meals can just take them as a main meal.
Together with the big ones, there are also Long Wei Xian, Want Want Xian Bei, Want Want Little Steamed Buns and Want Want Milk ...... Not to mention whether the big ones are good or not, at least the visual impact is there. This wave, Want Want through the "grow up with you snacks" figurative out of the circle once.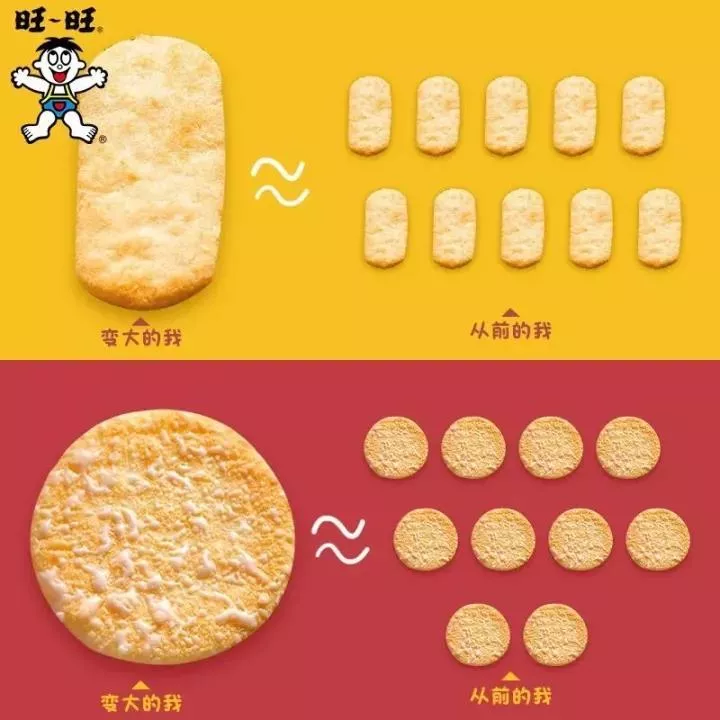 ▲ The snack you used to have gotten bigger
It's not enough for the snacks that grew up with you to get bigger, the commercials you watched when you were little had to get bigger too. So the third grade class 6 student, Li Ziming, became Mr. Li Ziming, and the mother who delivered the Wan Chai milk at the school gate became even more burdened because the Wan Chai milk that grew bigger with it became heavier as well.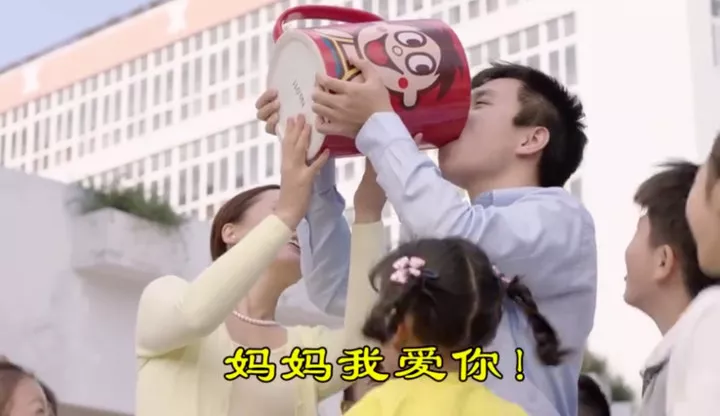 ▲ The ads have grown up too
The blind box for young people is not left behind either, changing the product users know best into a blind box toy for decompression is also the introduction. The combination of user collecting fetish + blind box play really made Wanzai milk playful, the blind box style bottle of 56 nationalities was like a stamp collection that made users crazy, and all sets of Wanzai milk were auctioned for 3W in idle fish.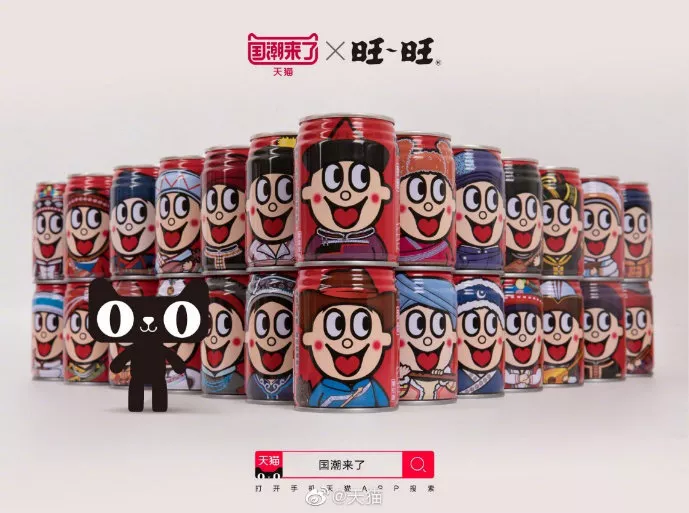 In addition to the bottle and the product itself change to attract the eye, Want Want also put these elements of the product shape familiar to users into furniture and decompression toys. Simple snacking and decompression toys are put into blind boxes, simulating and decompressing, so you can come and demolish a box.
And familiar snacks with furniture also has another kind of fun - small bun sofa, small bun lazy hair, Wantzai milk chair, Wantzai snow cake table lamp ...... which across the screen can smell the fragrance of small bun sofa is the most popular online, to today's official hair a The sofa picture has been expressed in the comment section as a grass.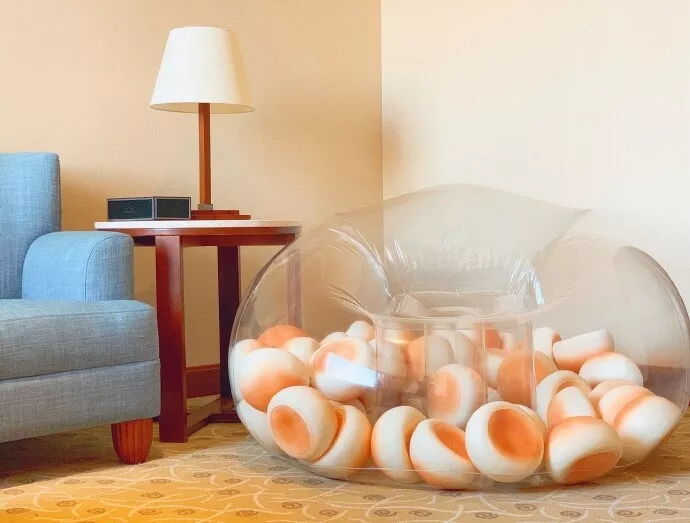 ▲ Wanted Little Buns Lazy Boy Sofa
The new consumer brands are all in love with co-branding. The brand has come up with canvas shoes in association with Converse, face masks in association with Natural Tong, and clothing brand TYAKASHA to push clothing in association with them. In addition to bottled water, bottled alcoholic beverages and rumors that Want Want is opening an offline coffee shop show the urgency of this old brand not wanting to be left behind.
On the way to get closer to the youth, Wanted has been working hard and never wanted to give up.
But the reality doesn't change; the IP images Want Want uses to co-brand are familiar, as are the snacks it uses to play fun marketing. They've both been around for decades, which proves that Want Want has basically done nothing new to kill or leave a perception in users' minds over the years; they're still at the stage of eating their old money.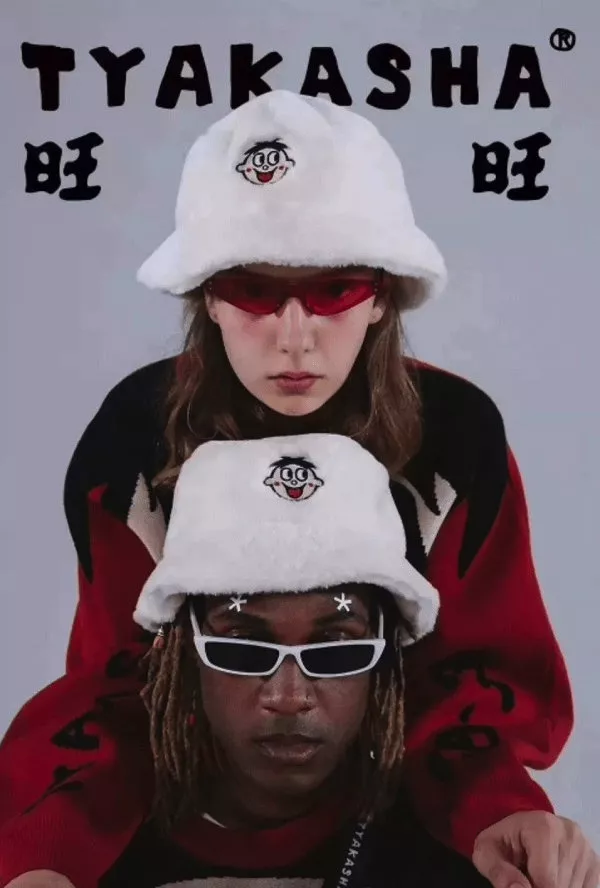 Run after the young, not lead the young
The snack market is constantly full of new products, and every popular new product that exists is a threat to the market share of the old ones. Want Want, which became a snack giant in China during the market gap, certainly can't watch its territory being occupied, so the brand has been working very hard to make new shoots from old trees.
Every year, a larger marketing and promotional expenditure is invested in new products, "hair" until now, Want Want's hottest and youngest ace product is still Want Milk.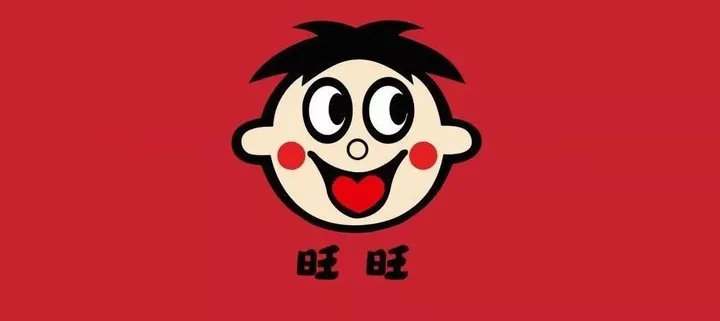 That's the core problem with the whole brand. Marketing can spend money to find enough expensive and good enough marketing company, you are the A party, B party also want to achieve perfection to their own accumulation of cases. But can make the next good enough to drink, delicious drinks and snacks always only rely on their own, after all, those who can create a pop all the competition and friendly business, no one to do charity for you to create a pop.
Unfortunately, Want Want's ability to innovate is worrisome, and the rice fruit snacks with the strongest user awareness are not self-developed. The technology for the rice fruit snacks was introduced from Japanese rice fruit manufacturer Iwatsuka Tang, and founder Cai Yanming visited the company for two years before obtaining the technology license.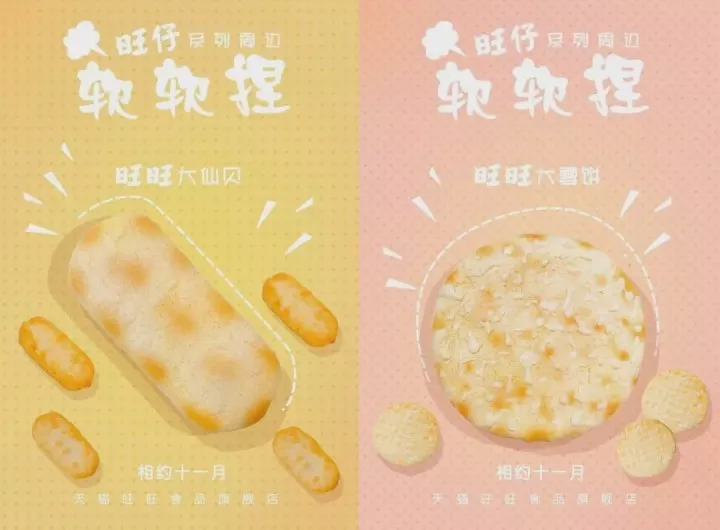 ▲ Senbei, Snowcake Decompression Toys
Even the innovation is micro-innovation, after that there was also the launch of Follow Me Falami flavor cake, in fact, and the taste of the previous snow cake is not very different, the taste did not break through or in the same place. Wan Chai milk has changed to different packaging, made different flavors, such as chocolate, nut flavor, but the essence is still the same Wan Chai milk you grew up drinking.
It may not be all Want Want's fault, after all, there was no rival for years, and it was hard for the brand to have any desire for newness and change when it saw the taillights counting as second place wins. It wasn't until 2014 when gradually declining revenue gave Want Want a head start, with 2016 revenue down by 3.2 billion, that the brand began to catch up.
In 2017, Want Want launched more than 50 new products, which include both snacks and juice, coffee and other types of drinks. In 2018 and 2019, Want Want basically kept the frequency of pushing new products at 100+ per year, basically thundering and raining, with little effect.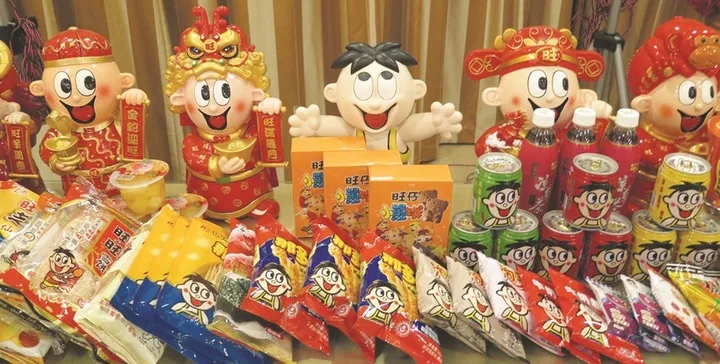 ▲ Want Want has been pushing new products frequently in recent years
There was also an official "Want Want You Haven't Eaten" collection, which was dubbed by netizens as "Want Want You Don't Remember Much About".
Of course having eaten it probably doesn't make much of an impression, maybe even a bad one.
Vista Hydrogen Business has placed an order for a giant Want Want gift pack weighing 2.8kg, except for the classic snack, anything that can be rated as mediocre is considered a relatively good review coming in. The Black Sesame Milk Candy, Hell's Spicy Mixed Noodles, and Yukihime Rice Wine all received poor reviews, the Dream Water was rated as "herbal tea with the taste of flower dew", and the Mouthbrake Candy was described as a coffee packet that needs to be brewed with saliva.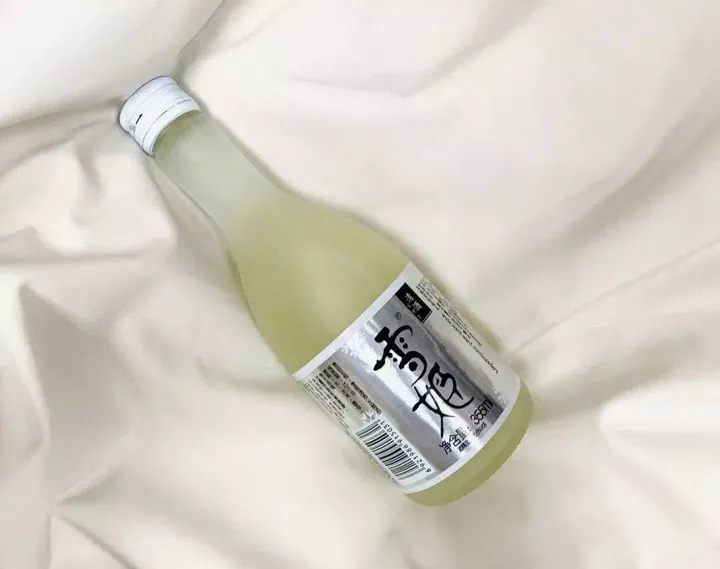 ▲Sukihime Rice Wine
Let's just say that the heart of trying to carry volume with a big gift bag is clear, but after eating it probably the new product can lose all customers too.
You can hardly say that Want Want has not done market research on its new products in recent years, after all, every single one it has come out with has been a success story.
Whether it is alcoholic beverages, coffee, low-fat snacks, functional drinks, sparkling water, the market is never short of success stories of great popularity. It may be that it is really difficult to eat to a certain point, and it is really a contemporary snack class, "the poor man's bucket".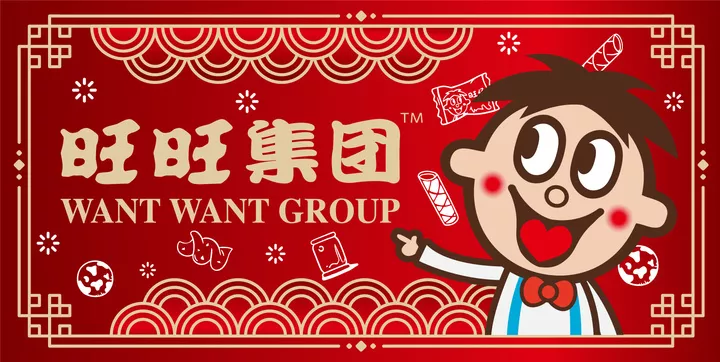 Although it has failed many times, Want Want has not given up trying. The recently launched "Hi" nutritional drink is its sixth foray into the functional drink circuit, and while past experience shows that success is unlikely, giving up on trying can never be successful.
It's hard to argue that these strategies of Want Want are completely ineffective. After all, while the new products didn't hold up, the first half of fiscal 2021 also reported a 10.5 percent year-on-year increase in revenue to about RMB11.38 billion, a record high for the first half of the year since its IPO. But the industry is not very excited about the news, after all, most of the products have already entered the maturity or even decline of Want Want makes people do not see the growth.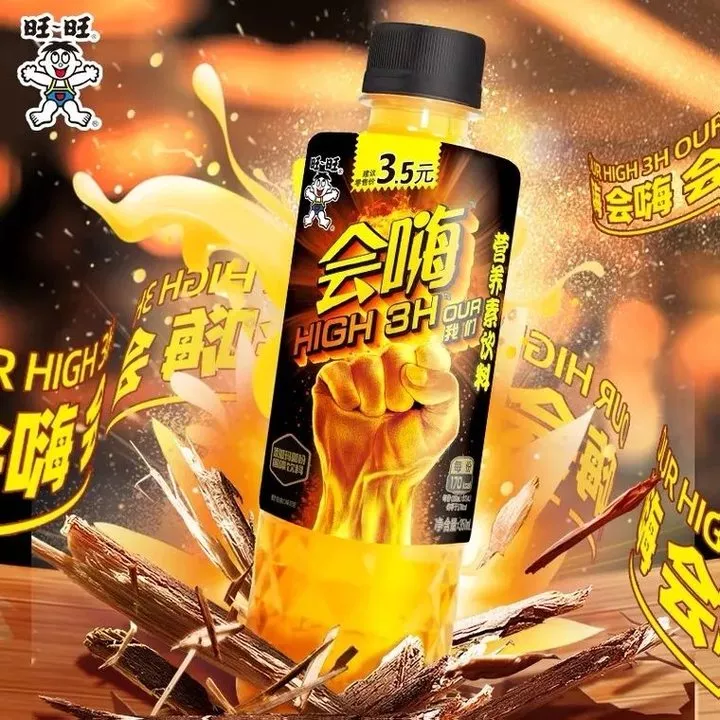 ▲ The packaging of "Will Hi" doesn't look very impressive either
There's no doubt Want Want's mid-life crisis has been going on for a long time, and they're now struggling to catch up with younger users. This is a little short of the brands that are leading the young users themselves, and the lack of product power could make it a little more so.
In this hard chase, can we see another hot new product from Want Want after 22 years of Want Milk?