With the launch of "sister 3 riding the wind and waves", Wang Xinling, the former "sweetheart leader", once again became popular on the Internet with an old song "love you". Thanks to the traffic support of major platforms, a large number of middle-aged male fans were harvested, and many post-80s and 90s fans shouted "yeqinghui". Wang Xinling's popularity also quickly "out of the circle". On the second-hand trading platform, Wang Xinling's related tapes, CDs and other "old objects" were hot fried, "Wang Xinling concept stocks" were also accidentally brought to fire, "Wang Xinling effect" even spilled into the fund circle.
Wang Xinling is angry again
6 times more tapes and CDs on shelves
According to public information, Wang Xinling was born in Hsinchu County, Taiwan, China Province, China on September 5, 1982. She made her debut in 2003 and became popular in 2004 with her song "love you". In the entertainment circle, Wang Xinling is known as the "sweet leader" for her sweet singing and happy dance steps.
It has a direct relationship with Wang Xinling's sister's re participation in "breaking the waves 3". In the program, Wang Xinling sang the representative song "love you" again, which aroused the youth memory of many middle-aged fans, especially middle-aged male fans, and then became popular on the Internet.
Wang Xinling's re popularity has also sparked its related second-hand commodity transactions, especially "old objects" such as tapes and CDs.
According to the free fish data, as of May 26, the search popularity of "Wang Xinling" platform increased by about 24 times compared with that before the launch of "sister 3 riding the wind and waves" on May 20. In the last week, the number of Wang Xinling's tapes, CDs, signature photos and other peripheral photos hung with idle fish has also increased by nearly six times compared with that before the program was launched.
Zhongxin Jingwei reporter searched the free fish with "Wang Xinling" as the keyword. A large number of Wang Xinling tapes, CDs and other peripheral commodities are on sale, some are second-hand, some are brand new and not disassembled, and the price ranges from 28 yuan to 300 yuan. The price of some signature CDs even exceeds 1000 yuan.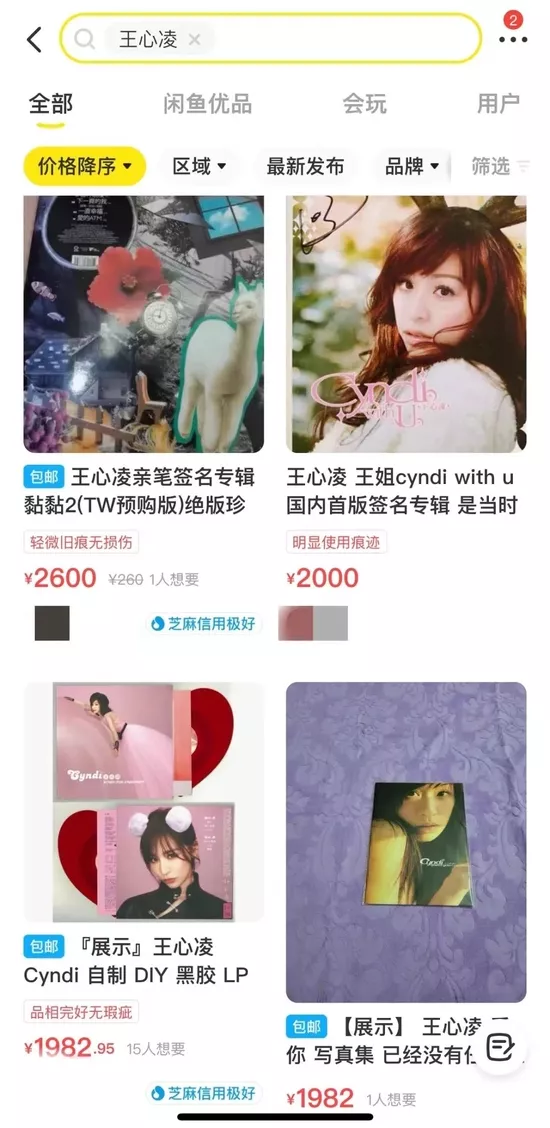 ▲ source: screenshot of a second-hand platform
"Honey, the leader is back! Yyds!" A seller is selling a new unopened CD of Wang Xinling, priced at 280 yuan. "This CD was released in 2005. At that time, the price was 13 yuan. It hasn't been disassembled at home. Recently, Wang Xinling was too hot, so he took it out and sold it. There are other people's CDs in my store, but it's not so expensive. It usually doesn't exceed 100 yuan."
A seller who once operated a physical audio-visual Bookstore said that he had some genuine tapes of Wang Xinling, with a single box selling for 80-200 yuan. "Many people have asked for Wang Xinling these two days. Some people asked for the album" love you ", which is the hottest and most expensive, 200 yuan a box."
Some sellers offer relatively low prices. On the morning of May 26, the reporter of China News Jingwei saw on Xianyu that the price of a tape containing the song "love you" was 28.8 yuan. However, by about two o'clock in the afternoon, the price had risen to 38.8 yuan, and the inventory had changed from five boxes to only one box. The seller said he had "channels". In addition to the tapes, he also had some car CDs on sale.
Zhongxin Jingwei reporter noted that in addition to CDs and tapes, others are taking the opportunity to sell other "antiques". "Uncles, Wang Xinling is very popular recently. Let's have a youth kill together. We took out the MP3 player that has been playing for N years and found that we downloaded a lot of Wang Xinling's songs without damage. The price is 100 yuan."
Mango hypermedia shares soared
Investors shouted, "if Wang doesn't win the title, clear the warehouse immediately"
Wang Xinling's re popularity also accidentally brought fire to the "concept stock" Mango super media.
Mango hypermedia is a unified new media industry and capital operation platform under Hunan Radio and television station. According to wind data, since the launch of sister 3 on May 20, mango hypermedia's share price has risen from 35 yuan / share to 38.29 yuan / share at the closing on May 26, up more than 9% in four trading days. On May 24, the share price of mango hypermedia rose by more than 9% to 39.05 yuan / share, a new high since January 26, 2022.
Zhongxin Jingwei reporter noticed that on the investor interaction platform, some investors said frankly, "Dong Mi ha, I've added positions ha, this wave of traffic is very predestined. We should do a good job and pull everyone back to the TV to see the person the lead singer loves for the first time"; Investors also suggested that mango super media let the program team increase the appearance rate of Wang Xinling in the later stage, "to avoid Wang Xinling's boy smashing the plate".
More investors shouted mango hypermedia in the stock bar, "buy with 100 hands, if Wang doesn't win the title, clear the warehouse immediately" and "if Wang Xinling is out, clear the warehouse, you see".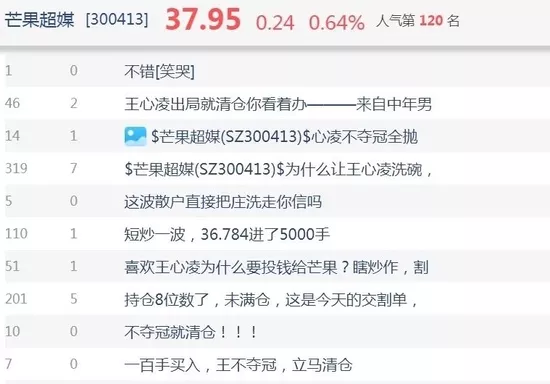 ▲ source: screenshot of Oriental Fortune stock bar
Some netizens joked, "the original 'you vote, I vote, Xinling 80 can jump' in the mouth of fans refers to stocks."
The investment behavior of mango companies is based on the "irrational investment behavior of mango fans".
It is worth mentioning that the "Wang Xinling effect" also spilled into the fund circle, and some funders flocked to the funds holding mango hypermedia. Among them, in the ant wealth fund discussion area, many funders "Wang Xinling boy" and "Wang Xinling girl" threatened to support their idols by buying funds, saying that they "can't buy stocks to buy funds", "rush for Wang Xinling" and "Wang Xinling will sell out". In this regard, ant wealth also specially adapted Wang Xinling's love you to remind Jimin to invest rationally.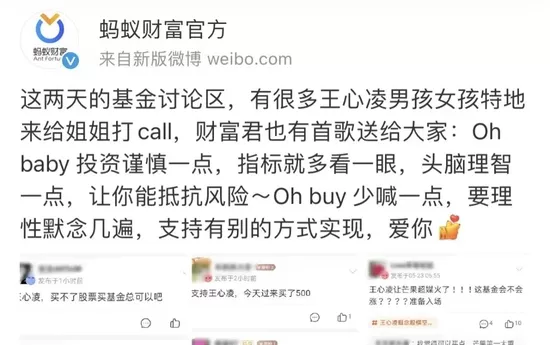 ▲ source: screenshot of ant wealth official microblog
According to tonghuashun Ifind, by the end of the first quarter of 2022, there were 44 mango hypermedia funds with heavy positions, including Xingquan Herun hybrid, Xingquan Trend Investment hybrid (LOF), Xingquan Heyi flexible allocation hybrid (LOF) a managed by star fund manager Xie Zhiyu.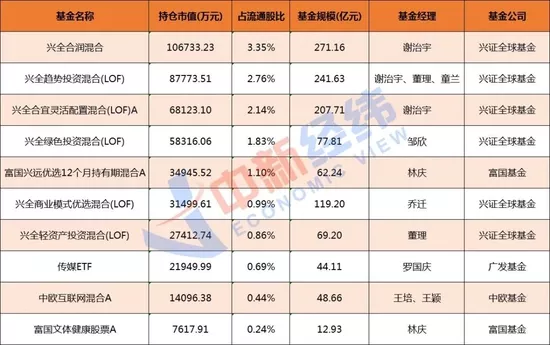 ▲ shareholding details of mango hypermedia Fund (fund products with the top ten positions in market value). Data source: flush Ifind
Zhongxin Jingwei reporter noted that many products of Xingzheng Global Fund have "special preference" for mango hypermedia. As of the end of the first quarter of 2022, Xingzheng global fund occupied five of the top ten circulating shareholders of mango hypermedia, among which Xingquan Herun mixture managed by Xie Zhiyu is the fifth largest circulating shareholder of mango Hypermedia.
Text: Yan Shuxin Chang Tao editor: Lei zongrun