On the financial analyst day (FAD) event day, amd updated its product roadmap including desktop, server, graphics and mobile In AMD's latest server CPU roadmap, the code of the fifth generation epyc series has been designated as "Turin". Epyc 7004 subdivision combinations, including Genoa, Bergamo, genoa-x and Siena, are also mentioned in the roadmap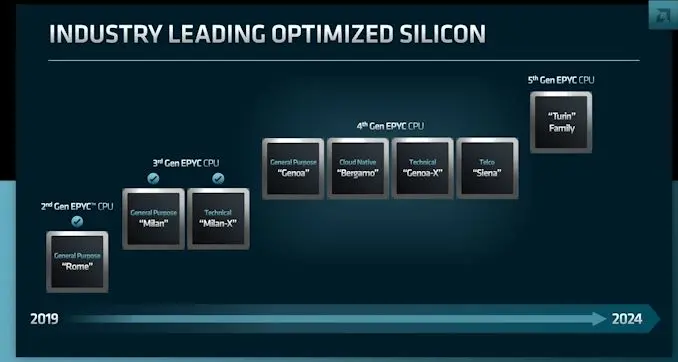 The roadmap starts from the second generation epyc product code "Rome" in August, 2019, and then introduces the upgraded epyc 7003 processor code "Milan" and "milan-x". The epyc 7004 code "Genoa" is expected to be launched in the fourth quarter of 2022.
Genoa will adopt TSMC 5-nanometer process node to provide up to 96 Zen 4 cores. The new SP5 platform supports 12 channel memory, PCIe 5.0, and memory expansion through compute Express link (CXL).
Although Genoa will benefit from up to 96 Zen 4 cores and will be released at the end of the fourth quarter of this year, amd also announced that Bergamo will be launched in the first half of 2023, and genoa-x and Siena will also be launched sometime in 2023. AMD's genoa-x will be equipped with up to 96 Zen 4 cores based on TSMC's 5nm manufacturing nodes, and each slot will have up to 1 GB of L3 cache. Amd Siena will be mainly positioned as a low-cost platform and will be equipped with up to 64 Zen 4 cores with optimized performance per watt, making it more suitable for the edge and telecom markets.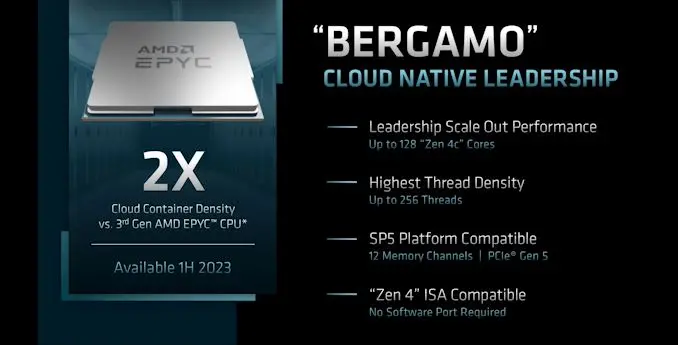 Perhaps the most important announcement of AMD's server CPU roadmap into 2024 is that it plans to bring its 5th generation epyc processor code named "Turin" to the market some time before the end of 2024. As expected, amd has not disclosed many details about Turin's processor family, but we hope it will be named epyc 7005 platform to follow its current epyc naming scheme.
We know that the Zen 5 kernel will be based on the 4 nm mode (possibly TSMC, but not yet confirmed) and the 3 nm version, as emphasized in AMD's CPU kernel roadmap to 2024. Amd also said that it will have three variants of Zen, including the five cores in its CPU roadmap, including Zen 5, Zen 5 with 3D v-cache and Zen 5C.
From the latest roadmap of AMD epyc products, we know that AMD's 5th generation epyc processor is expected to be launched before the end of 2024.