Those who are used to making money lying down are finally willing to make some improvements. On June 12, China HowNet announced that it would directly provide duplicate checking services to individual users from now on. For Graduate Dissertations, individual duplicate checking services would be provided through institutions designated by graduate training units. The price of services provided to individual users is also very favorable. Compared with the previous times, it often costs hundreds or even thousands of copies to check. Now it only needs 1.5 yuan / thousand words, which is not higher than that of mainstream similar products in the market. It only needs 45 yuan to check the copies of 10000 words of papers three times.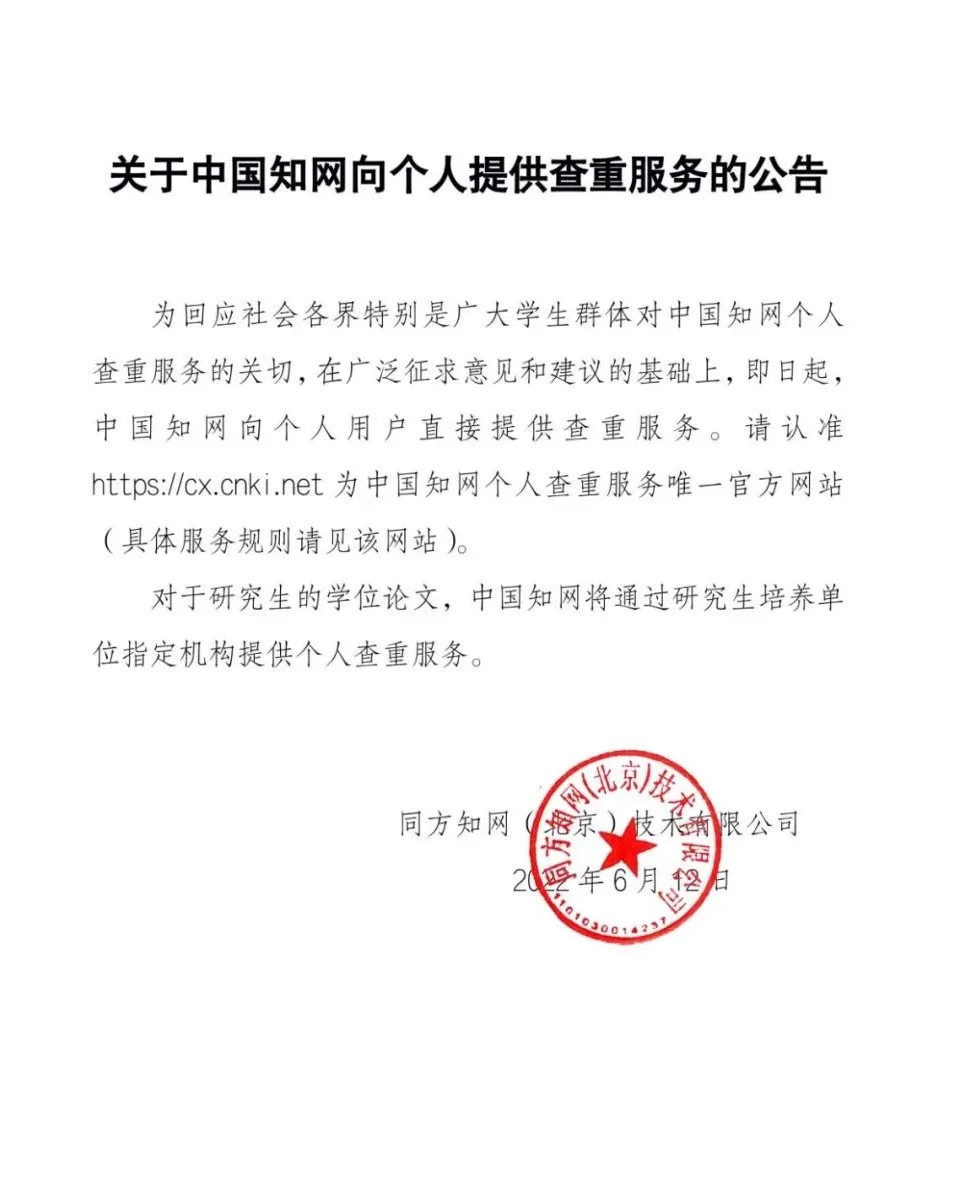 Source: CNKI
Although postgraduates can not enjoy this price, HowNet also promises to provide unlimited services for the internal institutions designated by the University. As a formal channel within the University, it will provide duplication checking services for Postgraduates' dissertations, and the number of free viewing of Postgraduates' Dissertations will also increase.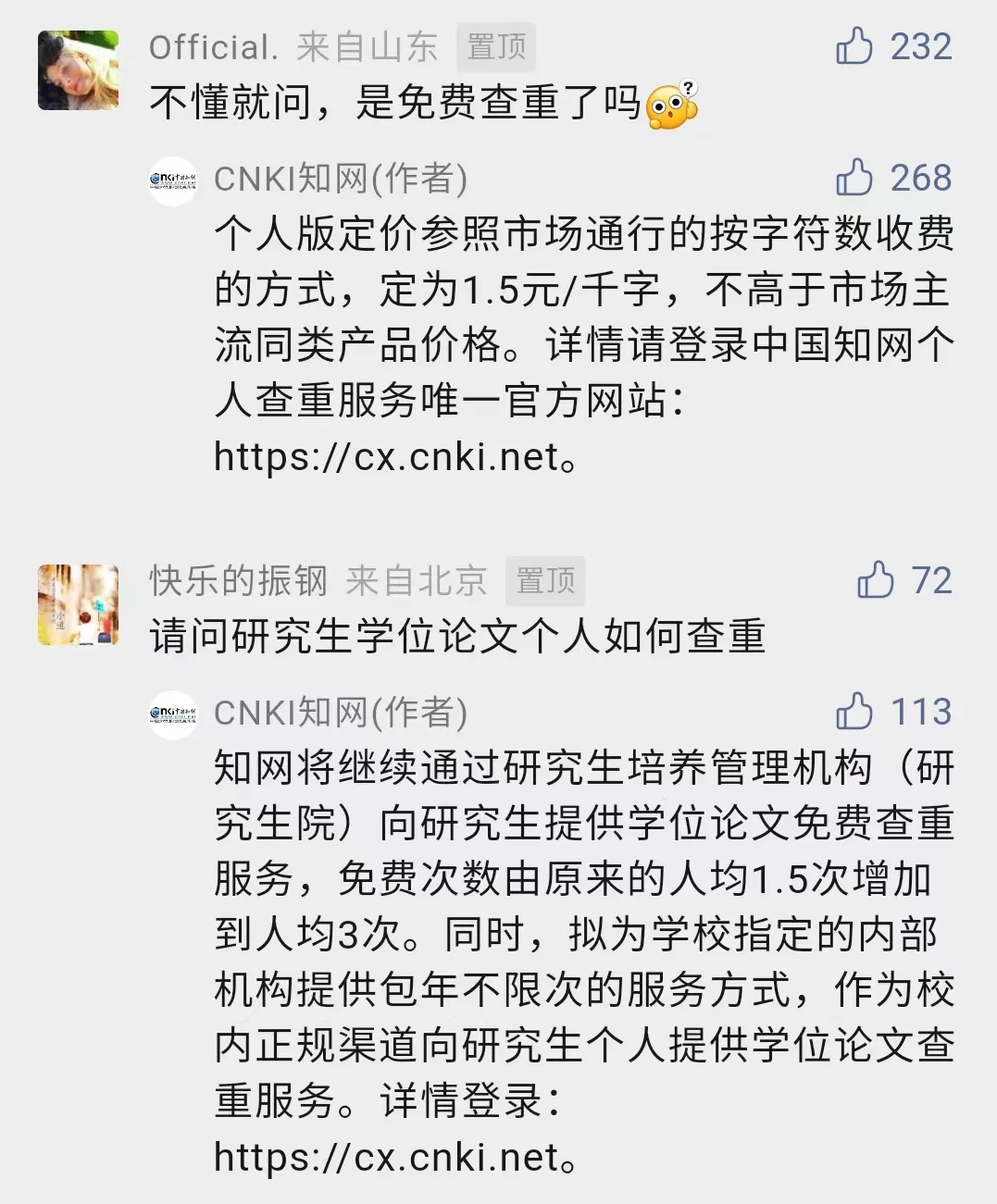 Source: HowNet official account
Only from the messages selected by the official account of HowNet, we can also see that college students have been suffering from "paper duplication checking fees" for a long time. If the papers are checked several times, the board expenses for a month may be gone, which is a great burden for college students who are not economically independent. This time, HowNet also has the style of "spitting on its own" and is willing to be responsible for the problem of heavy weight inspection at high prices. It can only be said that such an attitude is not like the HowNet that has always been "high and cold".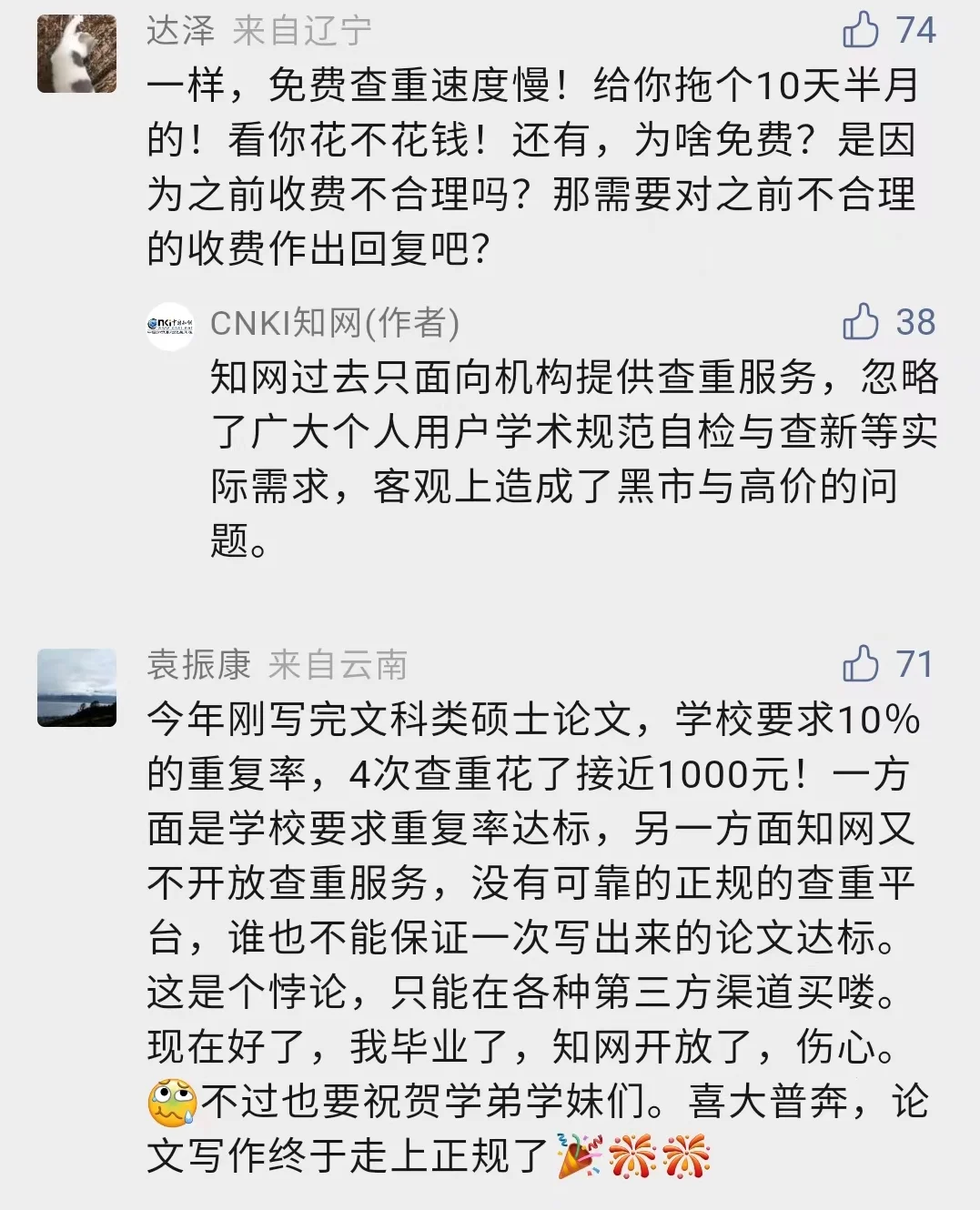 Source: HowNet official account
What everyone knows is that such a change is inseparable from the fact that HowNet was deeply involved in the whirlpool of public opinion not long ago, and was even suspected of being investigated by the State Administration of market supervision.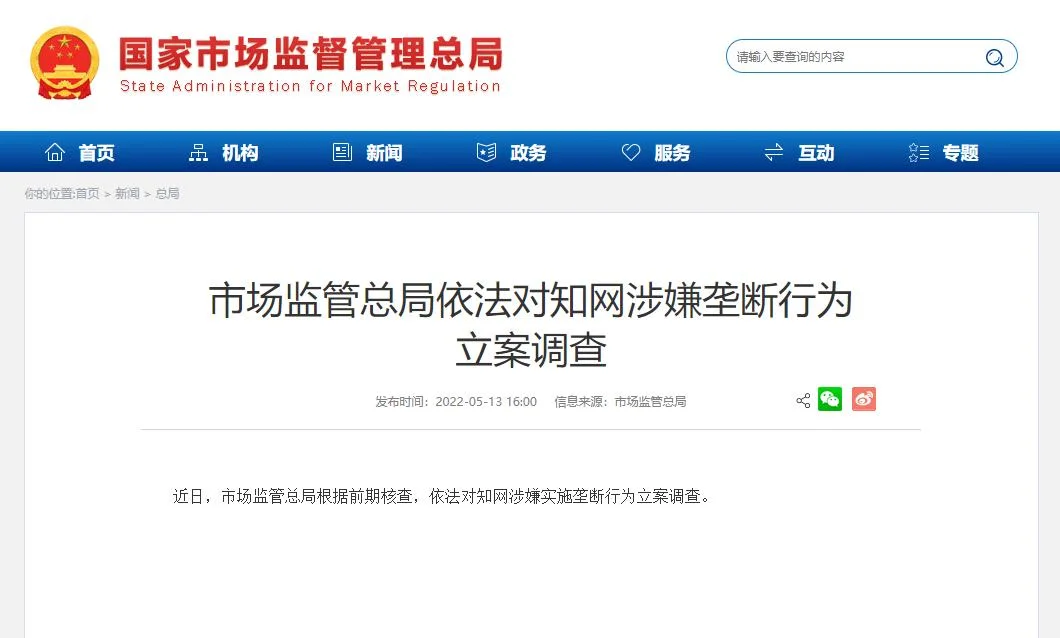 Source: State Administration of market supervision
"Profitable" HowNet
In 2019, zhaitianlin, who was employed as a postdoctoral researcher by the postdoctoral research station of Peking University, asked in a live broadcast whether his papers could be found on HowNet: "what is HowNet?"
If you are serious about learning, who doesn't know HowNet? After that, he was exposed to a series of falsifications in terms of achievements, papers, etc., and the HowNet was also "out of the circle". Some netizens joked that 2019 was "the first year of Tianlin".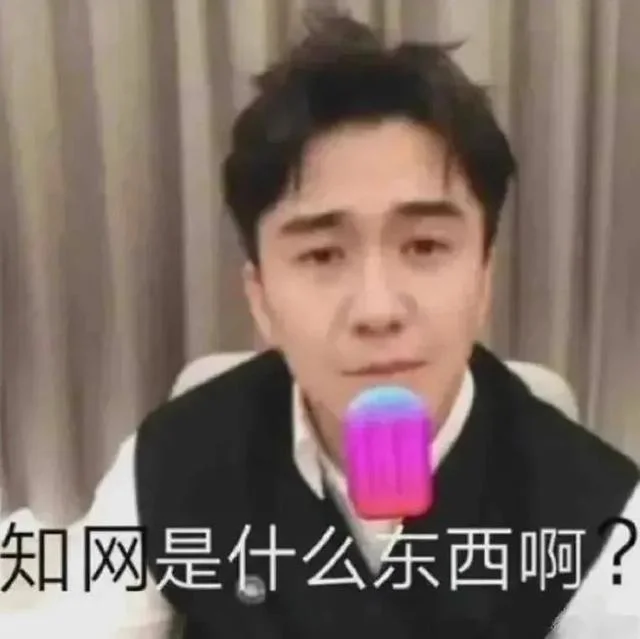 Image source: Network
Mr. Zhai's lack of academic knowledge is a certainty. However, many people do not know that HowNet is necessary for academic work, but it is also a profitable company. HowNet is operated by two companies affiliated to Tongfang shares. According to the financial report data of Tongfang shares, the annual revenue of HowNet in 2021 reached 1.289 billion yuan, with a gross profit rate of 53.3%, and the net profit attributable to the parent company was 194million yuan. In terms of gross profit rate, HowNet has always been the first among subsidiaries.

Income of major subsidiaries of Tongfang shares in 2021
Picture source: financial report of Tongfang shares in 2021
This is after the decline of HowNet's gross profit margin. From 2005 to 2021, HowNet's gross profit margin reached the highest point of 72.1%, with an average of 61.86%, far more than 85% of listed companies. The scale of revenue also continued to rise, with a total revenue of more than 11.2 billion. In terms of net profit, HowNet reached 176million yuan in 2016, and has remained between 190million and 200million since then.
So, what does HowNet make money on?
HowNet's income mainly comes from three forms: subscription fees for academic institutions and universities, personal download fees, and service fees for the duplication of papers of national college students.
As the HowNet contains the vast majority of academic resources in China, the personnel of institutions such as universities, scientific research institutions and technical associations need to download relevant papers from the HowNet when they are engaged in academic work, but they can only download them after they apply for membership. According to the official website, the selling price of the quarterly membership card is 348 yuan, that of the Changdu annual card is 698 yuan, and that of the exclusive version is as high as 1298 yuan.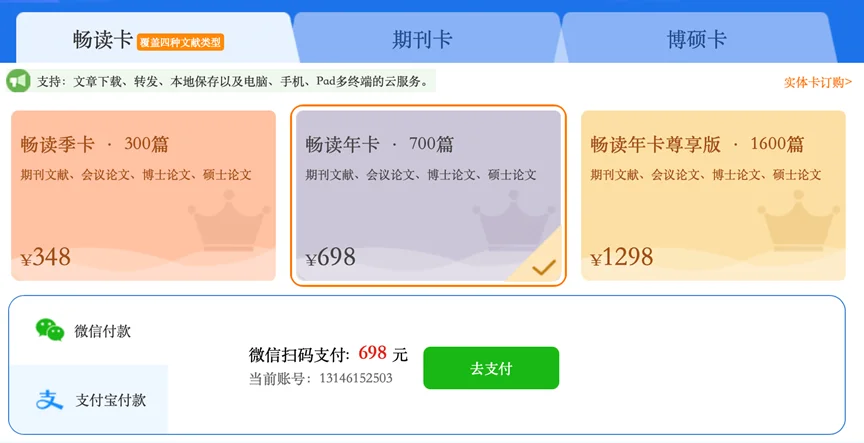 Source: HowNet
Universities, scientific research institutions, technical associations and other institutions usually purchase HowNet services in the form of packaging. Even so, they still need to pay millions of academic fees to HowNet every year. In 2022, the renewal fee of Tsinghua University is 1880300 yuan, that of Wuhan University of technology is 1278500 yuan, and that of Nanjing University and Southeast University is 1034000 yuan. In addition, the price of subscription fees has also been rising. From 2019 to 2022, the purchase fees of Beijing Language and Culture University rose from 445000 yuan to 654500 yuan, an increase of 47.1%; Central South University rose from 1355000 yuan to 1.5 million yuan, an increase of about 10.7%; Wuhan University of technology rose from 1.15 million yuan to 1.27 million yuan, an increase of about 10.4%.
As the pricing mechanism of HowNet is not transparent, many universities and institutions are dissatisfied with it.
On january7,2016, Wuhan University of Technology issued a statement on the price increase of China HowNet: "since 2000, the subscription fee of HowNet has increased by 10% every year, especially in 2012, the increase was as high as 24.36%, from 2010 to 2016, the increase was 132.86%, with an average annual increase of 18.98%."
In march2016, Peking University Library announced that "due to the high price rise of HowNet database, the library is now fully negotiating. The contract period of the previous year ended on march31,2016. After the expiration, HowNet database may terminate the access service of Peking University at any time."
In terms of download fees, the "China HowNet member · traffic billing standard table" on the HowNet official website shows that the download fee for the full text of conventional digital publishing journals and conference papers is 0.5 yuan per page, the download price for each master's thesis is 7.5 yuan, and the download price for each doctoral thesis is 9.5 yuan. Previously, the master's thesis was 15 yuan per copy, and the doctoral thesis was as high as 25 yuan per copy.
In addition, HowNet also charges for yearbooks, dictionaries, reference books, patents, scientific and technological achievements, and related academic pictures are also 2 yuan each.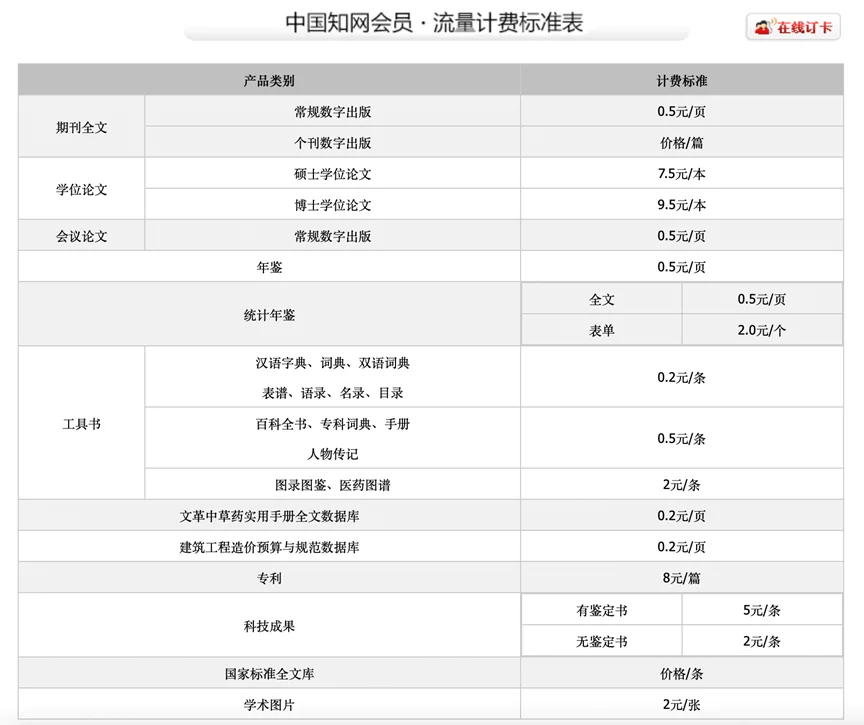 Source: HowNet
The cost of duplicate checking is mentioned at the beginning of the article. Since 2011, in addition to the duplication checking of master's and doctoral students' papers, the Ministry of education has issued a document requiring that undergraduate graduation papers must also be checked. As the largest academic paper database testing institution in China, HowNet duplication checking has also become an unavoidable cost for higher education and academic research in China.

Source: HowNet
"Monopoly related" HowNet
In April this year, guobing, a distinguished associate professor of the school of law and politics of Zhejiang University of technology, sued HowNet for allegedly abusing its dominant market position, and Hangzhou intermediate people's court filed a case for investigation.
The reason for this is that Professor guobing found that he had to go through the school library and pay a certain fee to get the "duplicate checking service" of HowNet. Professor guobing believes that the practice of HowNet is to abuse its dominant market position and seriously damage the legitimate rights and interests of users.
On April 25, the State Administration of market supervision said in reply to the online message of the media: "we have paid attention to the suspected monopoly of HowNet reported by all parties, and are carrying out relevant work according to law.
On the evening of May 13, the State Administration of Market Supervision issued the notice on the investigation of monopoly cases by the State Administration of market supervision to "HowNet Beijing" and "HowNet digital publishing house", the subsidiaries of Tongfang shares, and said that it had recently noticed the relevant issues about HowNet monopoly and was conducting an anti-monopoly investigation.
Tongfang immediately expressed its firm support and full cooperation with the above investigation. HowNet Beijing also responded by saying that it "resolutely supports and fully cooperates" and took this investigation as an opportunity to deeply introspect, conduct comprehensive self-examination, thoroughly rectify and operate in accordance with the law.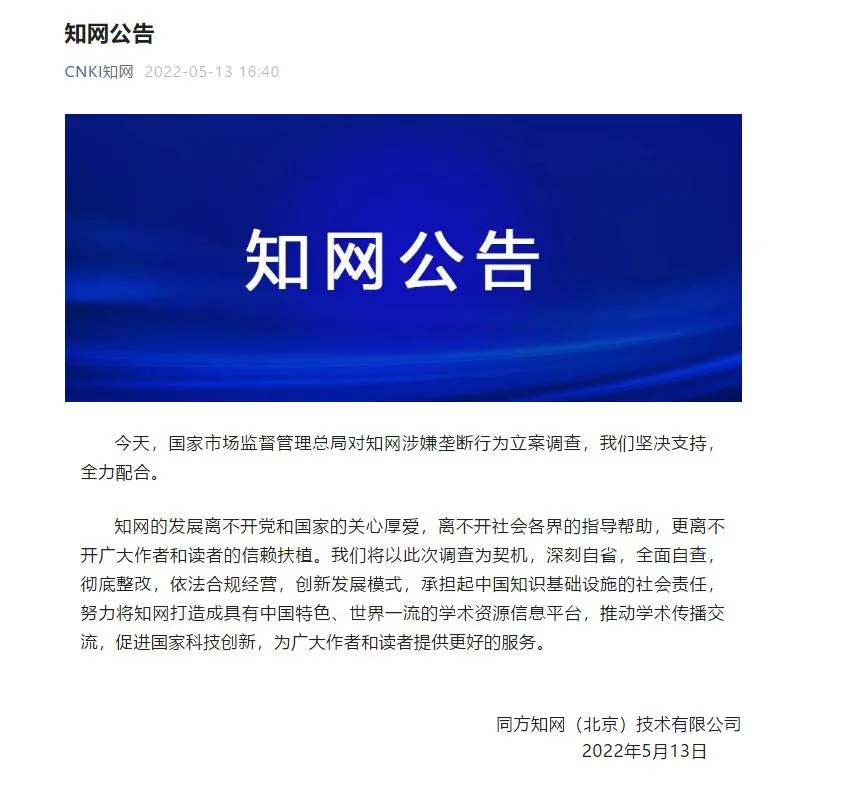 Source: HowNet
Reviewing the establishment and development of HowNet, it can be said that "a warrior who kills a dragon will eventually become a dragon". In 1995, China Academic Journal was officially approved. In 1998, the world bank put forward the concept of "National Knowledge Infrastructure". In June1999, the "China Journal Network" initiated by Tsinghua University and Tsinghua Tongfang started its online service, which is the predecessor of HowNet.
The original intention of China Journal Network is to share knowledge and bring convenience to academic research and knowledge dissemination. The state has listed it as a national Torch Program. A large number of colleges and universities have selflessly contributed their academic resources. The Ministry of education, the Ministry of science and technology, the General Administration of press and publication, the national copyright administration and other departments have also supported it. In 2003, CNKI developed into a knowledge service website integrating periodicals, newspapers, doctoral and master's dissertations, conference papers, books, yearbooks and multimedia education and teaching materials. In the same year, CNKI officially changed its name to "CNKI".
At present, according to its official website, HowNet has collected 10320 journals published in Chinese Mainland, with a total of more than 60million full-text documents, including 8439 academic journals and 1978 core journals, with a collection rate of 99%. The total amount of documents collected exceeds 280million, and more than 3million master's and doctoral dissertations. By comparison, Wanfang has collected more than 8400 journals, including more than 3300 core journals. In terms of paper database, HowNet is far ahead, and has incomparable advantages in paper duplication check and literature reference.
According to HowNet, HowNet has a 100% share in the university market, and more than 90% of Chinese academic resource retrieval and full-text downloading come from HowNet. In 2021, HowNet will have more than 200million individual readers, more than 16million daily visits, and more than 2.33 billion full-text downloads.
Does HowNet constitute a monopoly? According to the provisions of the anti monopoly law of China, monopoly behavior mainly includes three situations:
the operator has reached a monopoly agreement;
the operator abuses the dominant market position;
business concentration that has or may have the effect of excluding or restricting competition.
Compared with previous Internet companies such as Alibaba, HowNet has more disputes, such as whether it is an academic literature service field or a knowledge payment field, whether it has a dominant market position, and whether it has abused its dominant position. Article 17 of the antimonopoly law stipulates that it is prohibited for an operator with a dominant market position to engage in the following acts of abusing its dominant market position, including selling goods at an unfair high price or purchasing goods at an unfair low price, and refusing to trade with the counterparty without justified reasons.
If the price increase of HowNet subscription fee and the price of paper duplication inspection is higher than the market price are recognized as monopolies, what punishment will be imposed? With reference to the provisions of "punishing 1%-10% of the sales of the previous year", the fine is between 12.89 million yuan and 128.9 million yuan based on HowNet's revenue of 1.289 billion yuan in 2021. Considering that HowNet has no more specific cases to refer to, everything has to wait for the specific judgment.
However, judging from the change of HowNet in checking the weight of personal papers, there should be a lot of room for improvement.
Previously, Sun Jin, director of the competition law and Policy Research Center of Wuhan University, told the media that under the Chinese legal framework, the concentration of academic resources has certain legitimacy, but this does not mean that academic databases can expand indefinitely and abuse their market position at will. Academic literature is an important carrier of human intellectual achievements, which is irreplaceable. It may cause greater harm than the abuse of market dominance of general commodities.
It is hoped that HowNet can become better and take the benefit of Chinese academic circles as the starting point of business, rather than insisting on making more money.