From the various revelations so far, NVIDIA geforce RTX 40 Series graphics cards will have a large increase in power consumption and heating It is even rumored that the power consumption of a single card TGP using the "ad102" flagship GPU may exceed 900W At the same time, radiator manufacturers are also actively preparing more crazy radiator design for the new generation of graphics cards in the second half of the year.

(Figure via videocardz)
The well-known informant @kopite7kimi recently disclosed on twitter that NVIDIA may introduce a four slot height @ three fan radiator design for the ad102 public card.
With the power consumption of ad102 GPU soaring from 450W to 900W, there is no doubt that the flagship public card needs a larger cooling design, which may make the RTX 3090 ti "Petite".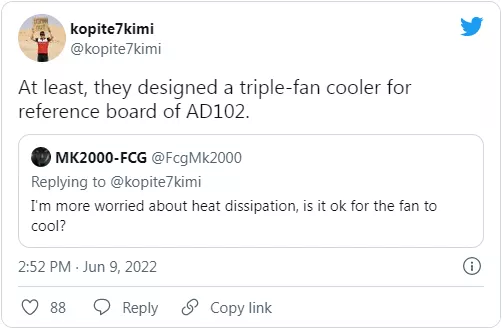 In fact, we have seen similar 3-4 slot designs on some RTX 3090 Ti non-public graphics cards, and most of them are air-cooled models.
Although there are some unique water-cooling or hybrid cooling schemes, NVIDIA officials do not seem to be very cold until we see that TGP is far more than 600W RTX 4090 ti.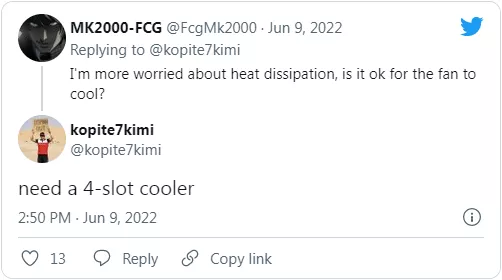 Aside from the legendary Titan emperor who is expected to return, RTX 4090 ti is expected to become a new generation performance benchmark using ad102 GPU.
However, wccftech pointed out that the 4-Slot @ three fan radiator mentioned in the new disclosure may only be applicable to the "reference design" provided by NVIDIA to AIB partners, and may not necessarily be used on the foundations editions Public Edition card.
If so, the RTX 4090 ti "Fe" graphics card may retain the same design that was previously leaked. However, to verify this, please wait patiently for the new product launch scheduled for the fourth quarter of 2022.