Today is the 9th International Women Engineers' Day, and this year's holiday theme is "Inventors and Innovators". The holiday aims to increase equality for women in engineering, provide better career opportunities for women engineers, and celebrate the outstanding achievements of women engineers.
We also took the opportunity of the festive season to interview Dyson's female engineers - women who can ride the waves in an engineering industry that is considered to be male-dominated as well.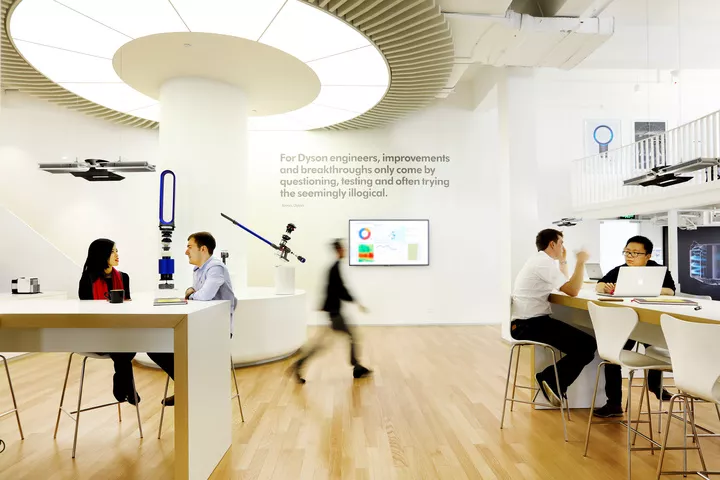 ▲ Image from: Dyson
What is an engineer? They solve real problems and design real objects based on scientific knowledge and universal laws to make good products that serve people and help improve their lives.
Dyson has always been committed to emphasising a culture of engineers. Dyson now employs more than 14,000 people worldwide, with engineers and scientists making up nearly half of the workforce, and not a small percentage of those engineers are women. One answer we hope to get from them is this.
Is there any difference in working as a female engineer compared to a male?
Believe that problems can be solved, but don't be afraid to fail either
"I've always been interested in how the products we use are designed and produced."
In 2016, Lee graduated with a first class honours degree and joined Dyson Singapore's R&D and design department in the same year, and now works for Dyson as a senior design engineer for the hair care category. He joined Dyson Singapore in 2016 with a First Class Honours degree.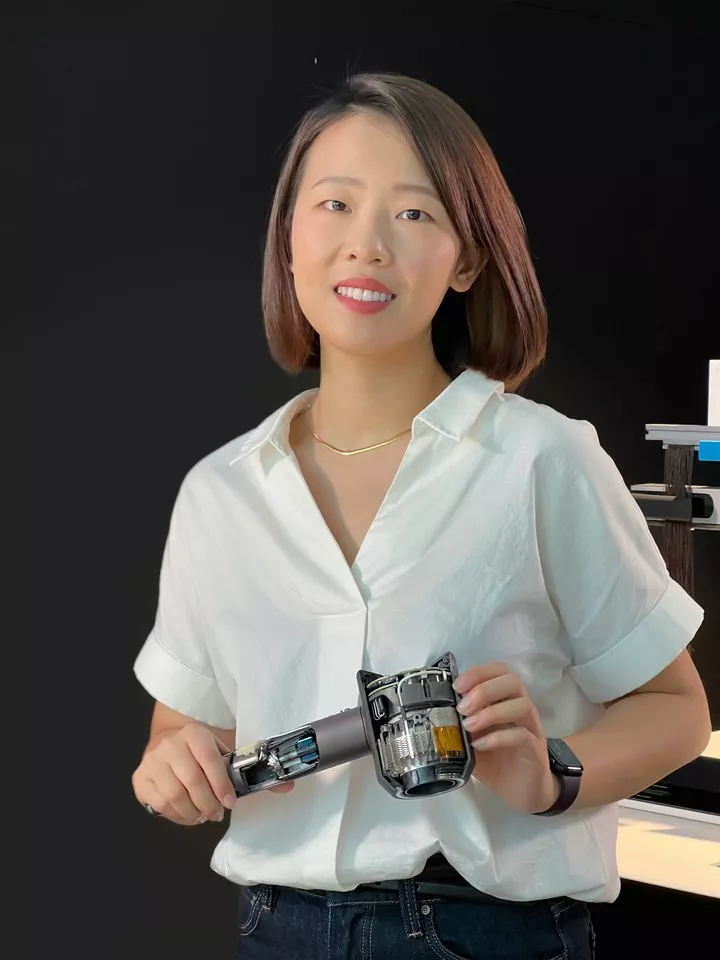 ▲ Li Xiaoyang. Image from: Dyson
"Really involving young designers in product design and development" is what attracted Li to Dyson in the first place. Designing accessories for hair care products, the first use of multi-pole magnets on hair care nozzles, optimising product internals and improving product performance were all part of Li's work. Li was also involved in the design of Dyson's popular Supersonic hair dryer.
The Supersonic looks different from traditional hair dryers in that the middle of the barrel is empty. The hollow barrel directly eliminates the need for hair to be 'eaten' by the hair dryer. Of course, this is largely by design - Supersonic is based on airflow multiplier technology for fast hair drying, and the center must be empty.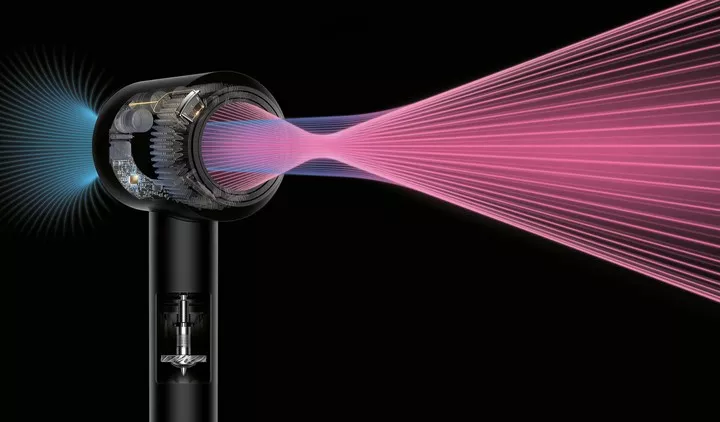 ▲ Supersonic Hair Dryer. Image from: Dyson
But achieving such a design was not easy, as all the power panels and original components had to be placed in the center circle. it took Supersonic's development team, about 4 to 5 years and 600 prototypes, to design what they thought would eventually make it to market.
A year after Supersonic was launched, Li Xiaoyang's team made a comprehensive upgrade to the nozzle magnet suction, using the "multi-pole magnet" technology for the first time in a Dyson hair care product, achieving the most significant magnetic upgrade in the shortest time with the least capital investment, solving the problem of nozzles falling off easily in hair salons.
Although the process of innovation and invention is very difficult, Li Xiaoyang believes that it precisely reflects the necessary traits of an engineer: "As an engineer, don't be afraid to have problems, believe in your ability to solve the world's problems, be good at finding problems in life, actively look for the root causes of those problems, and then keep thinking of ways to solve them.
The phrase "keep finding ways to solve it" implies a further meaning: believe that problems can be solved, and don't be afraid of failure in the process. Even in Li Xiaoyang's view, not being afraid of failure is a must for an engineer.
Engineers spend most of their time not enjoying success, but experiencing failure. Doing it all at once in engineering and science is impossible, you may need to build thousands or even tens of thousands of models to test development, and may need a lot of time researching seemingly impossible problems.
This "mechanical repetition that has to be done" before the dawn comes is very trivial and boring, and very much tests patience. For newcomers to the engineering industry, Li Xiaoyang also advises the same thing: you must love the engineering industry and accept that the same problem may need to be repeated countless times until you find the source of the problem.
Everything's all new, all there is to do is explore
In October 2018, Dyson launched the first Airwrap hair styler. While traditional curling irons use over 200 degrees Celsius to set hair, inevitably damaging it, the Airwrap uses a heated airflow to wrap hair around the curling barrel, which in turn sets the style without getting too hot.
Yin Hang was also involved in the launch of the product and was impressed with the Airwrap. "It was quite a sensation, and the way the airflow curls the hair is amazing". She had not long graduated from the Ecole Supérieure de Commerce de Nantes in France with a master's degree in design thinking and product innovation, and was part of the Dyson marketing team.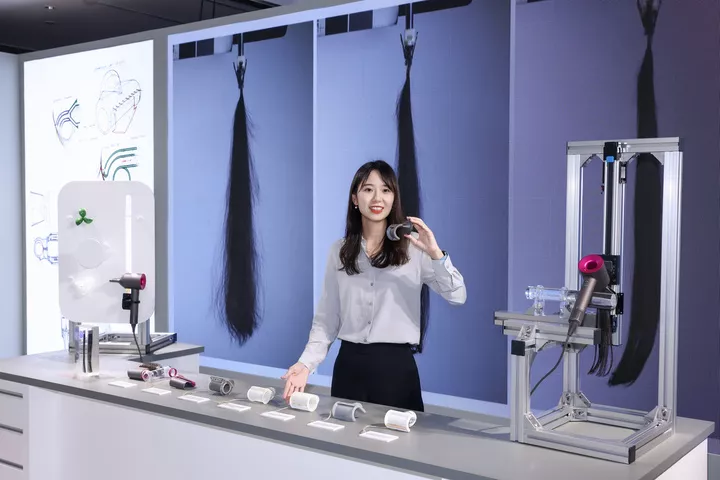 ▲ Yin Hang. Image from: Dyson
What made Yin Hang even more curious was the early development process of the Airwrap. She wanted to know how she could make a product as amazing as it was, and she wanted to be involved in the company's R&D department and in the creation of new products. After 2 years of work, Yinhang changed positions as she wished and is now a research engineer, responsible for early product user research at Dyson's Shanghai R&D center.
Early product development is roughly divided into two large blocks: research and design. The design team is responsible for designing the actual product, and is the type of engineer most recognized by the public. The research team, where Yin Hang works, and the design team are in a parallel partnership, and they are responsible for what kind of problems the design team encounters in the process of developing the product, and what kind of feedback consumers will have about the early concept of the product.
Her main work is to deconstruct user behavior through anthropology, semiotics, qualitative-quantitative, facial expression analysis and other research tools. Because she was able to have some influence on early product development, Yinhang feels 'very lucky'.
It is responsible for products for the next 3-5 years and is tasked with the goal of product innovation, which means that it must be "new", which is both an opportunity and a challenge.
You'll make something different, but the R&D process will certainly be much harder than making a technically mature product.
The Dyson Zone™ air purifying headphones, released by Dyson in March this year, were the first product that Yin Hang was involved in developing. Combining air purification and headphones was a new concept, but the challenge was how to add one plus one to the other. Will the noise of the motor affect the sound quality of the headphones, will the headphones be too heavy or uncomfortable, and how to balance product comfort with product functionality are questions that Yin and his colleagues have been working on for two years.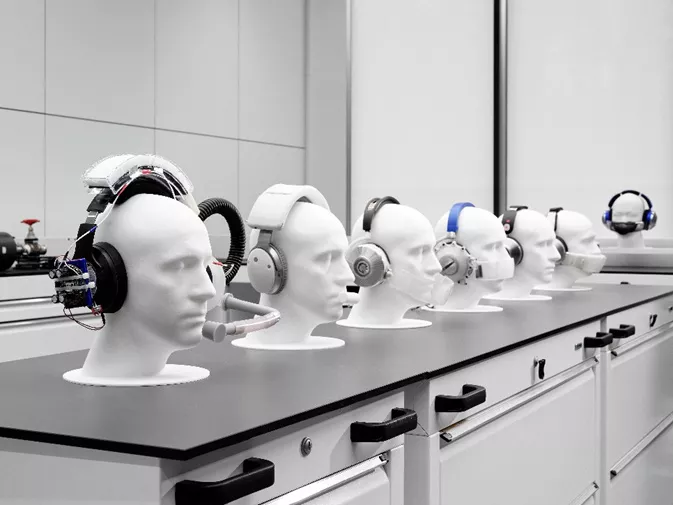 ▲ Dyson Zone™ Air Purifying Headphones. Image from: Dyson
This is just a small tangent, as Yin Hang's work is 'new' in every way, and when she looks through the literature, she can rarely even find research that works and already exists. If there is one word to sum up Yin Hang's work, it is 'exploration'. As she puts it.
Everything is new, and you're doing research that no one has done before. So you have to innovate on your own and figure out the problems with the product on your own. For me, it's a constant process of discovery.
There's no difference or good or bad, but there must be love
Yulin Nguyen is a front-end development engineer at Dyson, and she finds the most interesting part of her job to be 'challenging'. And exploring, researching, stepping on potholes and breaking through with great colleagues makes the process even more interesting.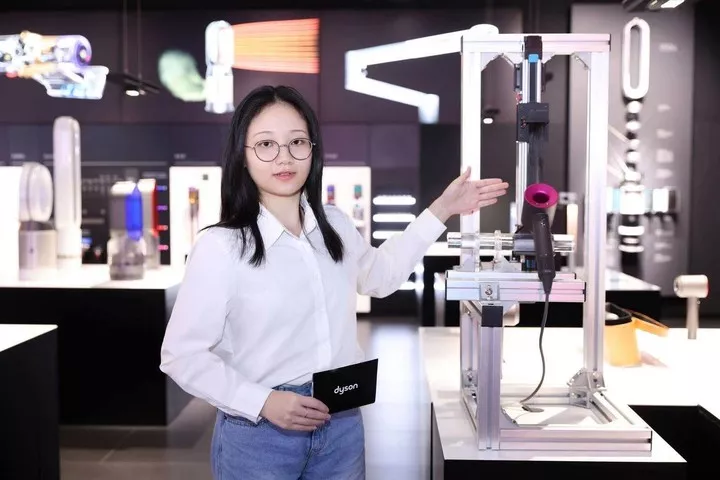 ▲ Yvonne Nguyen. Image from: Dyson
It's also a way for Ruan Yulin to deal with people. At a meeting at her former company, where she was the only girl, a colleague said, "I hope we can take better care of her," and Ruan Yulin turned him down. It wasn't that she couldn't hear the colleague's kindness, or that she didn't need help from others; what she didn't like was the extra care and the preconceptions that came with the words, which didn't make sense to her. At Dyson, no one stressed that point.
Ruan Yulin prefers to prove with time and action that she is "worthy of being expected and entrusted", so she takes the initiative to undertake the trickier work that requires independent research and development, and also asks her colleagues for advice on what needs to be optimized. "There is nothing wrong with seeking help proactively, but doing it alone and hard is not suitable for collaborative work.
Similarly, in Li Xiaoyang's opinion, most of the time, there is no difference between male and female engineers. If there is a difference, it is from the perspective of actual use scenarios, landing on how to better serve users. For example, girls generally have more hair than boys and take care of it more frequently, so in the hair care category, female engineers have more insight into the actual problems and may be more likely to find problems that affect the user experience and make more substantive suggestions.
But in the end, the performance of a product is not different because of the gender of the engineer. "At any time, gender is not a criterion to measure an engineer. Relatively speaking, for design and R&D, ability and enthusiasm are the most important".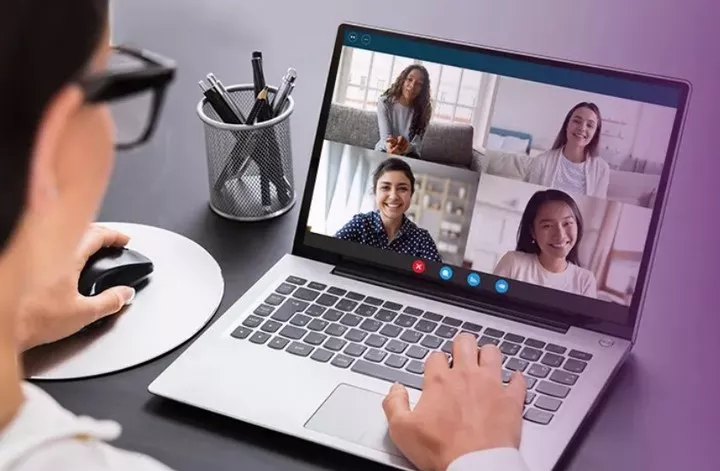 ▲ Image from: inwed
The answer to the question of gender is the same for Yoonhang, and it is nothing more than five words - 'speak professionally'.
People respect you if the research you do is helpful to the project, so I wasn't particularly challenged by my gender. I wish, both from a female perspective and from a user research perspective, I could have been more involved in the research process and provided more inspiration in the early stages of product development.
But it's also true that in the grand scheme of things, there are even fewer female engineers.
EngineeringUK research shows, 16.5% of engineers in the UK are now women, compared to 10.5% in 2010. At the Dyson Institute of Engineering and Technology, founded by James Dyson, 41% of the latest class of graduates are women, compared to an average of 15.1% for engineering and technology university courses in the UK. According to a report published by the Chinese school recruitment platform Wutong Guo, 36.11% of the 2020 engineering class are female.
The percentage of graduates is not equal to the percentage of employment, but still has some reference value. BOSS Direct Recruitment China Workplace Gender Pay Gap Report 2021 shows that in 2021, the percentage of women in Internet/digital technology R&D jobs rises to 19.5%. The proportion of women in digital technology R&D jobs rises to 19.5% in 2021.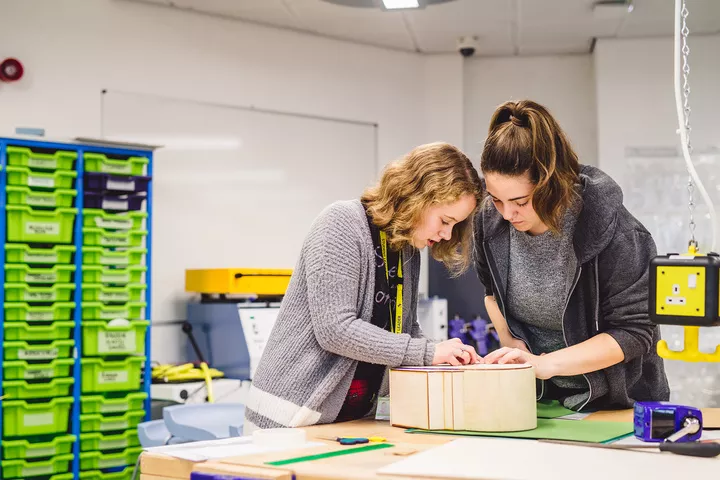 ▲ Image from: Dyson
This can lead to a vicious cycle: there are already few female engineers, and the male-dominated environment makes a limited number of women doubt their potential, similar to the 'Pygmalion effect' - high expectations lead to better performance, while low expectations lead to worse.
The underrepresentation of female engineers is not a new topic. From social stereotypes, division of labour, family and maternal bondage to the development of habits and individual lack of self-confidence in the formative years, the complex factors solidify and spiral into a systematic network that hinders the way forward.
However, benign environments and individuals alike are constantly promoted. At the very least, we see more women engineers before change can happen. If women entering the workforce see women engineers like them making their way through the ranks, they may be encouraged to take up the challenge.
That was the original purpose of International Women Engineers Day when it was established in 2014: to support the engineering profession in achieving inclusivity, to promote the stories of women engineers, to get 'engineering' and 'women' in the same sentence as often as possible, to encourage more young women to pursue engineering as a career choice, and to help women in engineering go global.