Trendforce has just shared the latest revenue data of the world's TOP10 fabless semiconductor companies. It can be seen that the revenue of these companies in the first quarter of 2022 ushered in a year-on-year increase of up to 44% to US $39.43 billion Thanks to the huge sales of smart phone SOC and RF RF modules, as well as the promotion of the Internet of things (IOT) and vehicle platforms, Qualcomm still ranks first in the list.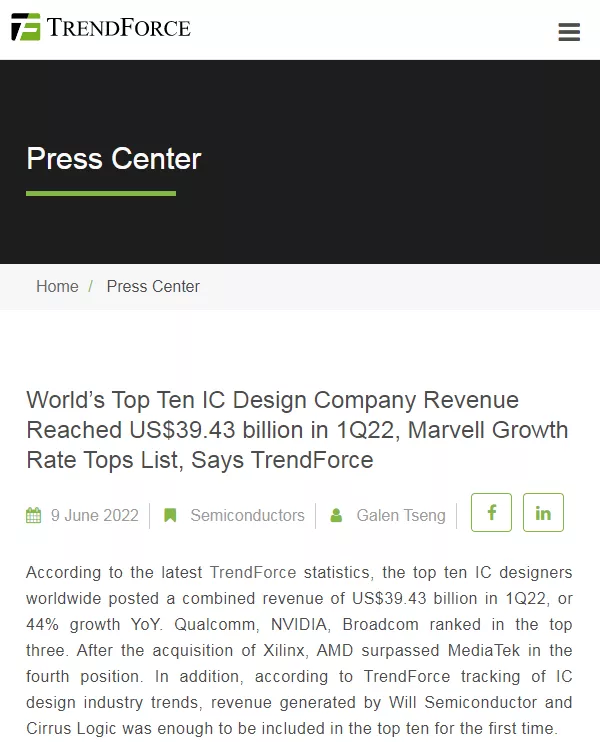 NVIDIA ranked second with a total revenue of US $7.9 billion, a year-on-year increase of 53%. Among them, the data center business contributed 45.4%, even 0.4% higher than the game business.
Broadcom, the third largest company, saw a year-on-year growth of 26% to US $6.11 billion in 2022 Q1 alone. Amd followed closely with a year-on-year growth of 71% to US $5.887 billion.
Obviously, the acquisition of Xilinx, the world's leading FPGA manufacturer, has made AMD's product line more complete. In addition, last month, the company acquired pensando
AMD's first quarter revenue grew by 71% year-on-year, in part because of its recent acquisition of Xilinx. Last month, the company also acquired pensando, a DPU chip technology manufacturer.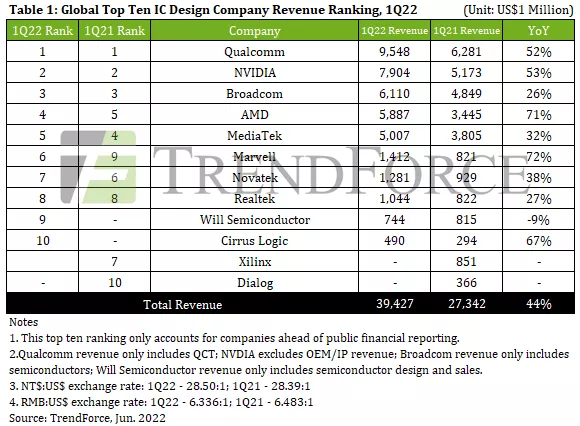 (from: trendforce)
Even excluding the acquisition business, AMD's revenue in the last quarter also hit a record high of US $5.33 billion. The performance of enterprise, embedded and game console SOC departments is quite strong, and it is just around the corner to squeeze Broadcom into the third place.
MediaTek, ranked fifth, saw a 32% year-on-year growth to US $5billion. Marvell, which acquired innovium, a cloud and edge data center network solution provider, at the end of last year, showed a year-on-year increase of 72% (to $1.4 billion).
It is worth mentioning that will semiconductor and cirrus logic were among the top ten for the first time. The former is a Chinese enterprise focusing on CMOS image sensor, display driver IC and analog IC, while the latter focuses on audio products and mixed signal IC business.
Although affected by the decline in smartphone sales and the sluggish promotion of Shanghai business, Weill semiconductor fell 9% year-on-year, its revenue in the first quarter was $744million.
Cirrus logic, which acquired lion semiconductor a year ago, saw a year-on-year increase of 67% (to US $490million).