Adults don't want to have children, but want to raise them.
Waifu is a general term that can be a cat or dog, a bubble mart, a Gundam model, or a plush toy.
Among the top players in the plush toy world, besides IKEA Shark, is Jellycat, founded in London in 1999.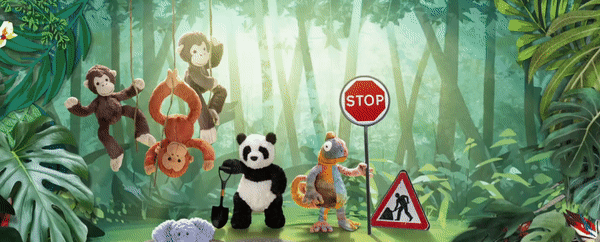 One child loved Jelly and Cat so much that he would giggle when he thought of combining the two, and that's how Jellycat came to be branded.
The name is a little quirky in a cute way, reflecting Jellycat's design style - sometimes quirky, sometimes cute but always a little different.
20 years old is just right, 30 years old is not too old
Athony's daughter Suri, Beckham's daughter Seven and Orlando Bloom's son Prince Pixie have one thing in common, they are photographed on the street with a Jellycat Bunny in their hands.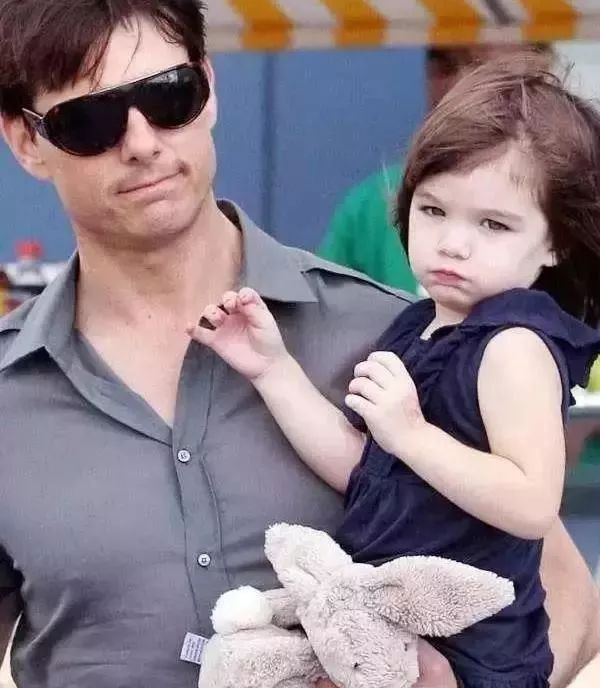 ▲ Atungu and Suri.
The celebrity buy-in is not unrelated to Jellycat's emphasis on quality.
Jellycat is known as "the world's softest soothing toy", comfortable to hold and feel, and not easy to shed, each one has been tested by European safety standards (EN71) and American safety standards (ASTM).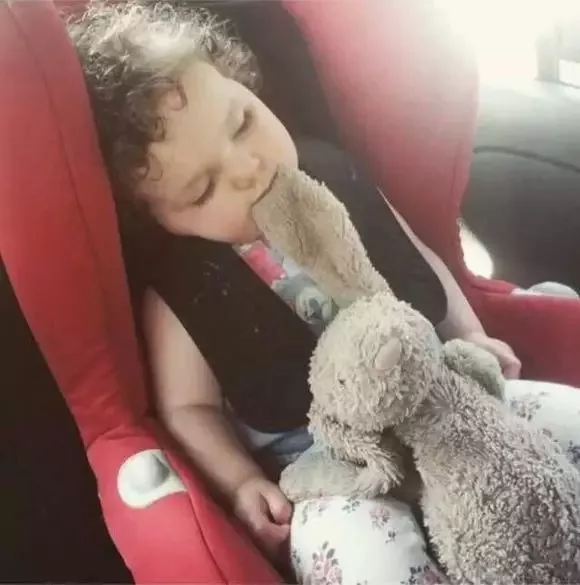 Unless the tag suggests otherwise, Jellycat is generally suitable for all ages - birth to 100 (or longer, of course).
Living up to Jellycat's 'one-size-fits-all' approach to men, women and children, it has undergone a shift in audience in China in recent years, from a proxy group shouting "every parent should trust" to an active collecting behavior of "can I buy a Jellycat at 28 years old?
There are more than 80,000 notes about Jellycat on Xiaohongbook, and there is also a "Quit Jellycat Mutual Help Group" on Douban, but when I clicked in, I found that there were many people who had failed to quit and turned to sunbathing, but it turned out that they were not not buying, but deliberating how to buy.
The post "Heartwarming Mom Buys Three Jellycats for Her Daughter", "31-Year-Old Man Buys Jellycat and Hates It" and "23 Jellycats for Her 23rd Birthday" is the most popular.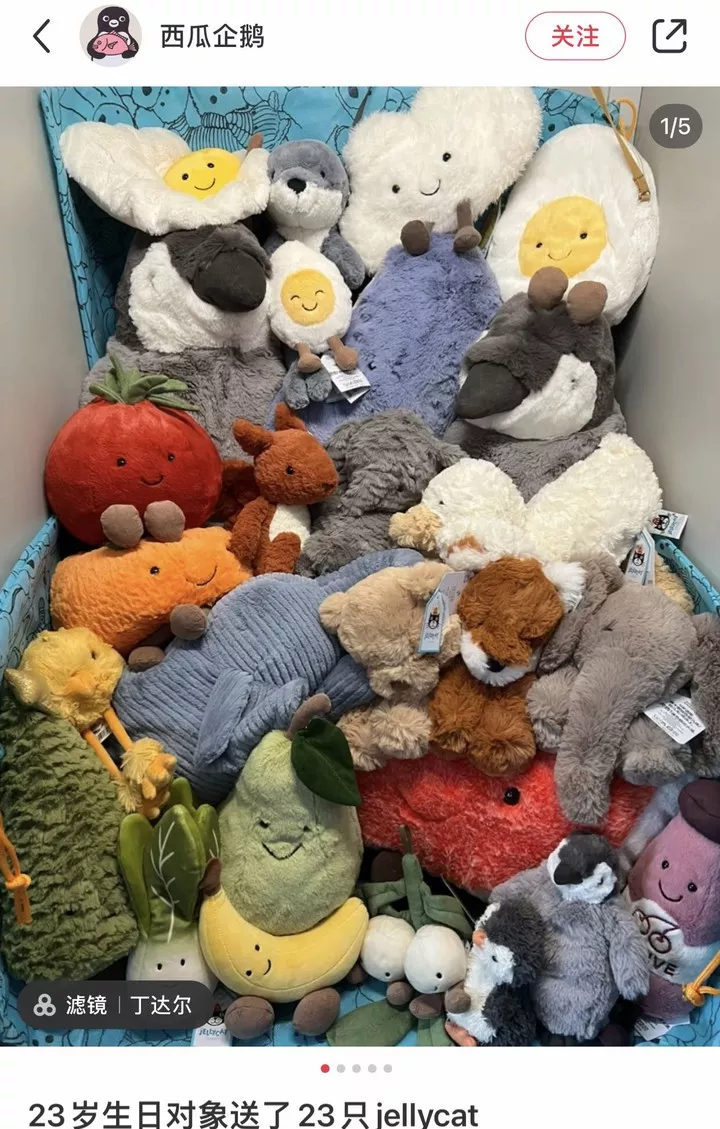 It's not just the feel, but also the design and story of Jellycat that will convince these adults. For them, plush toys are more than just a cuddle or a mouthful.
Jellycat has thousands of styles with a focus on cuteness. There are around 20 collections on the website, including animals, plants, fruits, food, drinks and more. Each collection contains a wide range of styles, both popular and niche.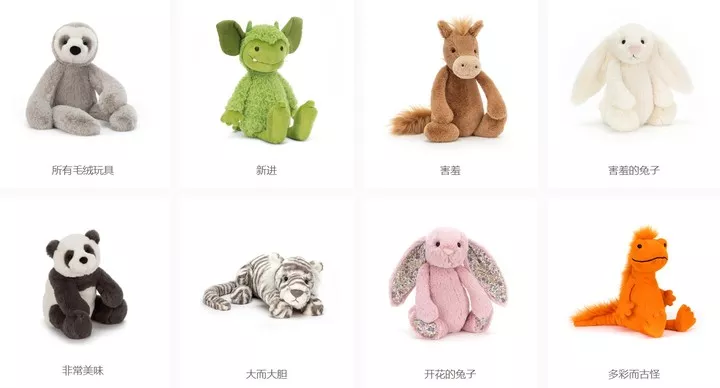 ▲ Jellycat full collection.
The animal series alone includes those that fly in the sky, run on the ground and swim in the water, from the hot Barcelo Bear and the star-studded Bonny Bunny to the cold flamingos and chameleons, and even butterflies, scorpions and caterpillars, to fulfill the preferences of a thousand people.
The plant collection is similar, with both succulents and cacti, as well as pansies and hyacinths.
While there are many styles, and most Jellycats are well-behaved with beady-eyed smiling expressions that make you feel healed just by looking at them, there are some mavericks out there.
▲ Shelton Shrimp.
Rumor has it that the Sheldon shrimp is named because it looks like Sheldon from The Big Bang Theory. But it doesn't look very smart, and from a distance it looks like it's crossing its legs. After seeing this peeper too much, there's probably a risk of assimilation of the expression.
The eggplant in the vegetable line, on the other hand, is out of the loop with its emoji power. While its expression is no different from most Jellycat's, a toothpick in the skin of an eggplant can be worked into a variety of emojis. With its floppy purple body and green root cap, it moves in with a grimace and retreats to lie flat and pose with just the right amount of mournfulness that fans respectfully refer to as "Chief Eggplant".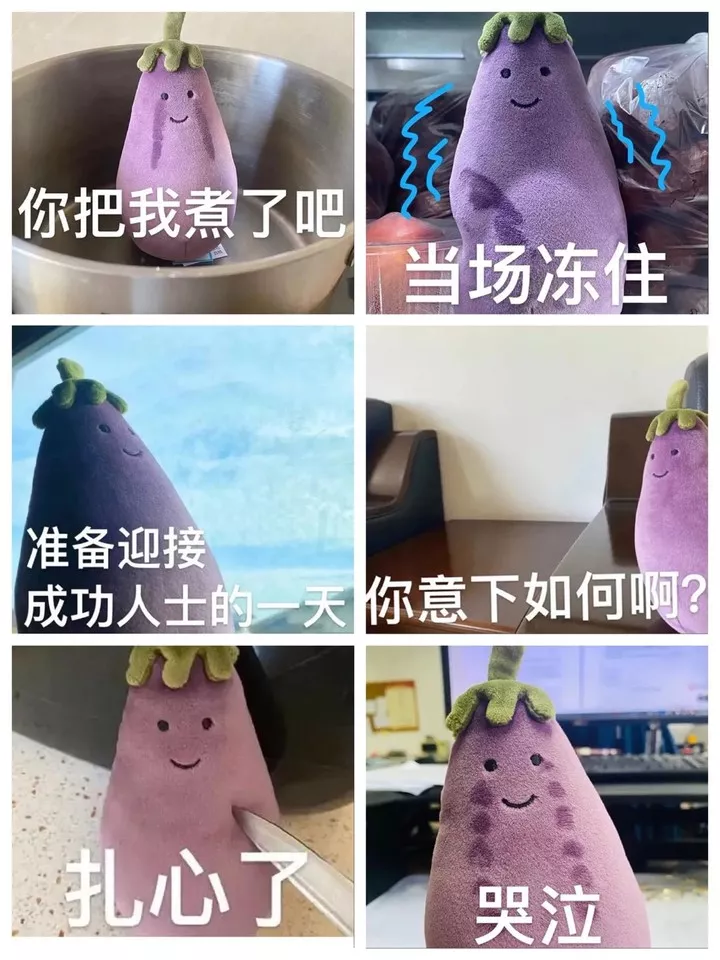 In the same way that owners make their own emoji packs, Jellycat takes the initiative to give them personalized stories.
Jellycat's 'Slackajack' elephant, for example, with its soft fur and long limbs, loves to wander around town and sit anywhere reading and drawing, where you can snuggle and pet its soft trunk and suede fringed tail.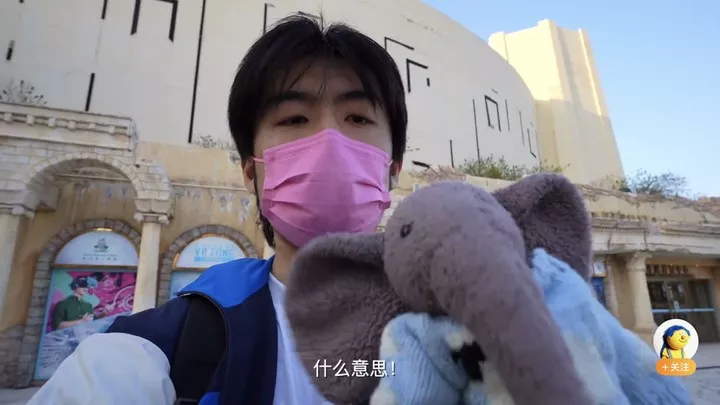 ▲ Inokoshi and the little boxer.
Vlogger @ProbablyInoue, has a Slackajack elephant called "Little Boxer", which is inseparable from him and has even become the symbol of his vlog. Inoue makes the humdrum of life interesting, focusing on the environment and the people in it during his journey, echoing the elephant's story.
Not only that, but the Jungle & Safari collection comes from a faraway land, where you can climb to the top of a tree with a giraffe or ride the sandy plains with a zebra; the Mythical Creatures collection is all about mythical creatures, where unicorns help you cast spells and the Loch Ness Monster invites you to dive into deep water.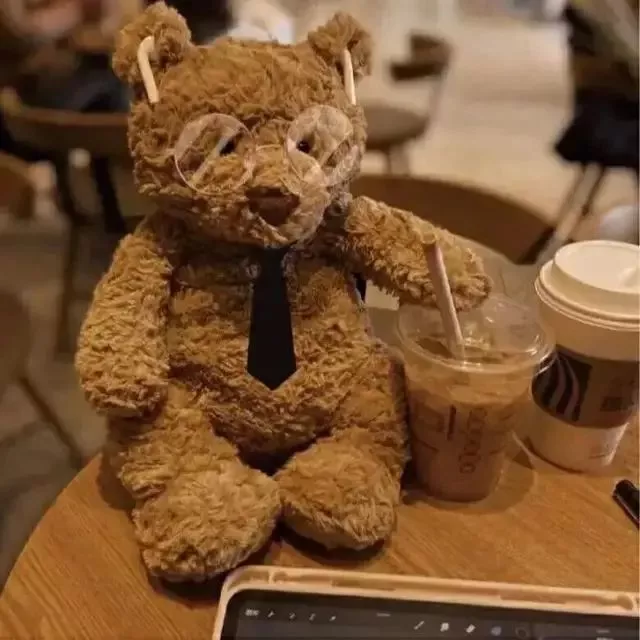 Dress up as a Barcelo Bear.
With Jellycat, you can be a childlike farmer, an adventurer, an emoji maker and leave the childishness behind.
The biggest 'disadvantage' of Jelly is that it is not cheap. On Taobao's flagship store, the smallest 13cm model is $94, and the largest 108cm model is $1,599; there is only one 17cm model, which costs $115.
More accurately, this is my downfall.
Look at that stuffed animal, does it look like me
The IKEA Shark Blåhaj (Broai), also a contemporary adult favorite, is suitable for children from 18 months of age.
His eyes were dull, his mouth wide open, his face a calm and speechless collapse, lying on his side on the couch like he was sighing, raw as he was turned over and cradled in his arms.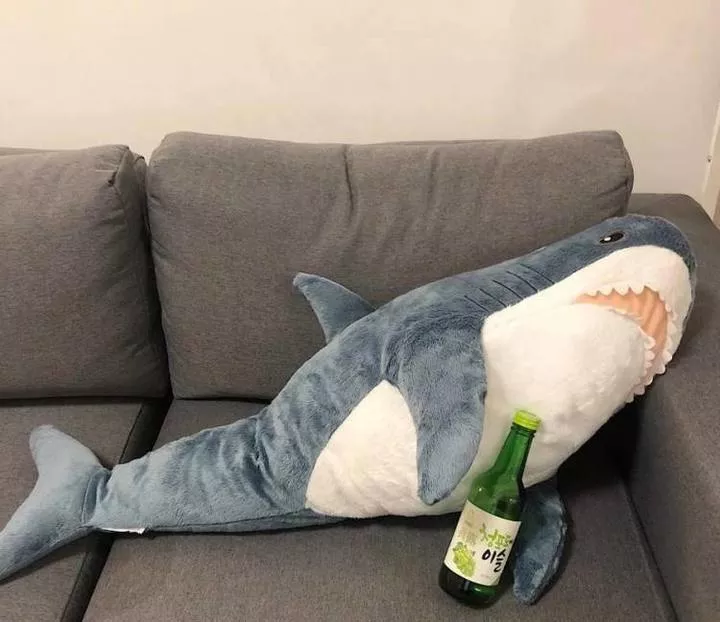 A son is not a fish, but he knows the joy of fish. Whether Broaie is happy or not is unknown, but humans like this vague area to be dominated by themselves.

On the one hand, "Helped me write up my proposal on the first day home" "Brushed all the dishes I hadn't brushed in a year as soon as I arrived home", boasting Broaie explicitly and self-deprecating and trolling secretly, a typical state of Internet surfing youth. There are more anecdotes in the Douban 'What's your IKEA shark doing today' group.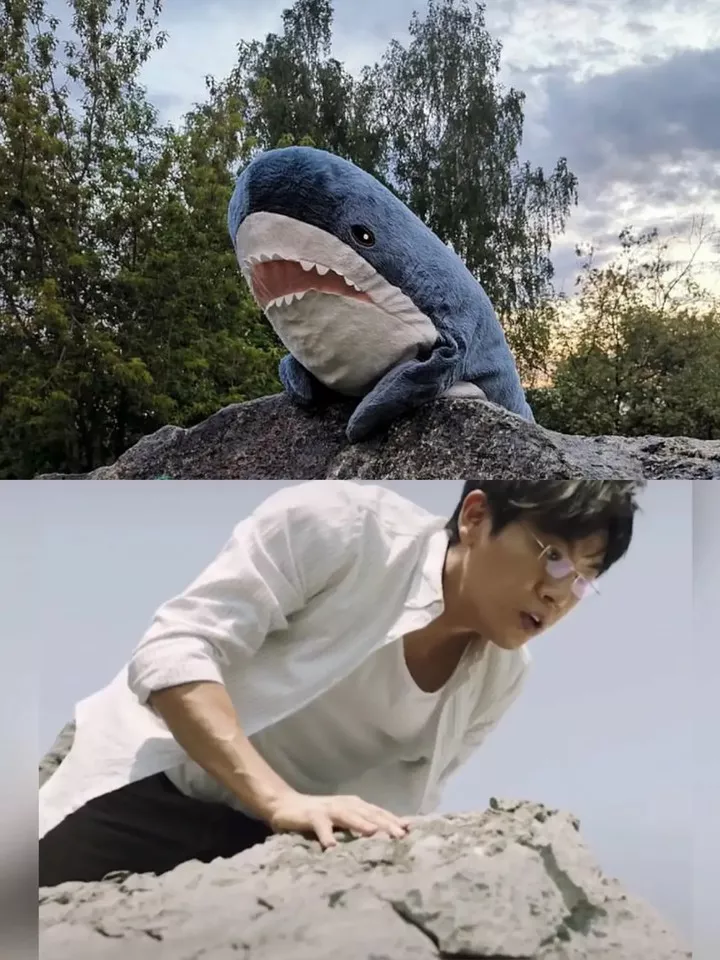 ▲ Let's climb a mountain. Photo from: ins@roadion
On the other hand, it's very reassuring to hold a metre-long broaie with a broaie base warmly sketched by Ikea:.
"This big blue shark is safe, and if you want to explore the ocean world, it's good to have him with you. The shark can swim far, dive deep, and hear sounds almost 250 meters away."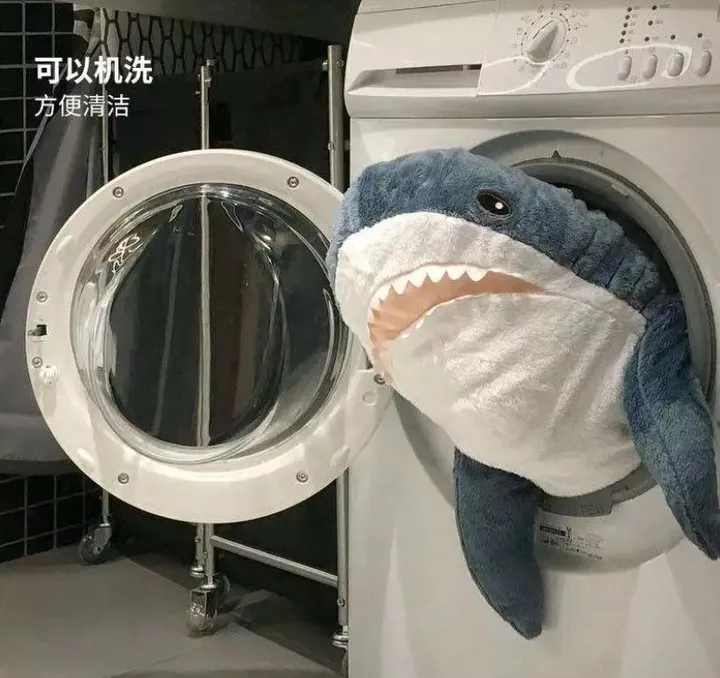 Whether it's Jellycat or Broaie, plush toys aren't just cute anymore.
Because the plush toys themselves are designed to be interesting enough and malleable, they can be used for sunbathing, playing with stems, producing emojis, and giving personalities to role-play.
Similarly, Japanese stationery company San-X's Corner Pals are a group of "imperfect" creatures who like to hide in corners, each with their own flaws and worries, such as the white bear born in the north but afraid of the cold, the penguin with no confidence, and the fried pork chop with low self-esteem. They are a group of "imperfect" creatures who like to hide in the corner, each with their own flaws and troubles, such as the white bear born in the north but afraid of the cold, the penguin with no confidence, and the fried pork chop with low self-esteem.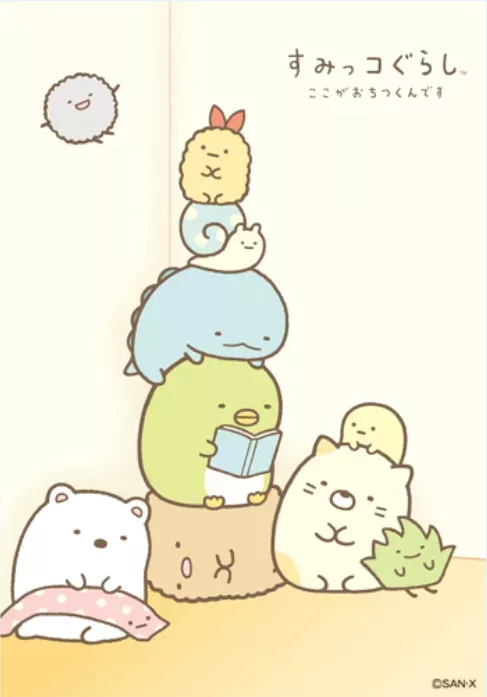 ▲ Corner mate.
We can find ourselves in them more or less, and take comfort from them in the same disease.
The author of the Veggie Genie series is from Japan, created originally because kids don't like vegetables, and hopes to use the series to turn vegetables into cute things to make kids more interested in vegetables.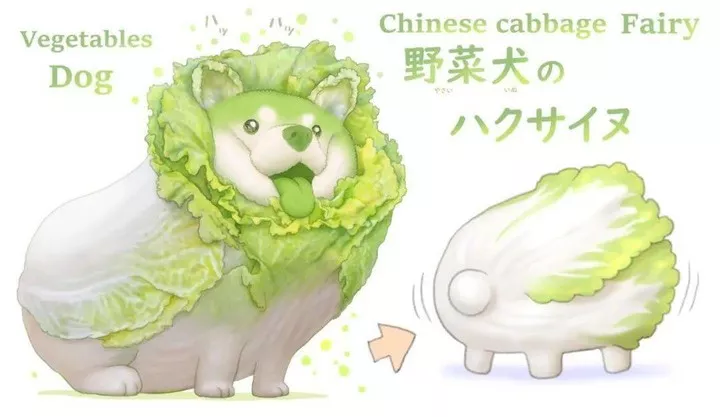 And domestic netizens have completed a cultural intake of the naive vegetable dog in it because of the harmonics - "I'm a vegetable, what can I do about it", they also proposed to the author who is stationed at B station to create "spicy chicken" The dark humor is the hero.
Cloud Cat and Cloud Dog also share this trend, and in addition to drawing on the power of cuteness, we want to see a more anthropomorphic side of cute pets.
Stepan, a Slavic cat on Instagram, often sits with one leg up against the bar, which is filled with wine, food and flowers, while disco music plays in the room. He looks melancholy and misanthropic in the colorful light, seemingly at odds with everything around him, contemplating "you stupid humans".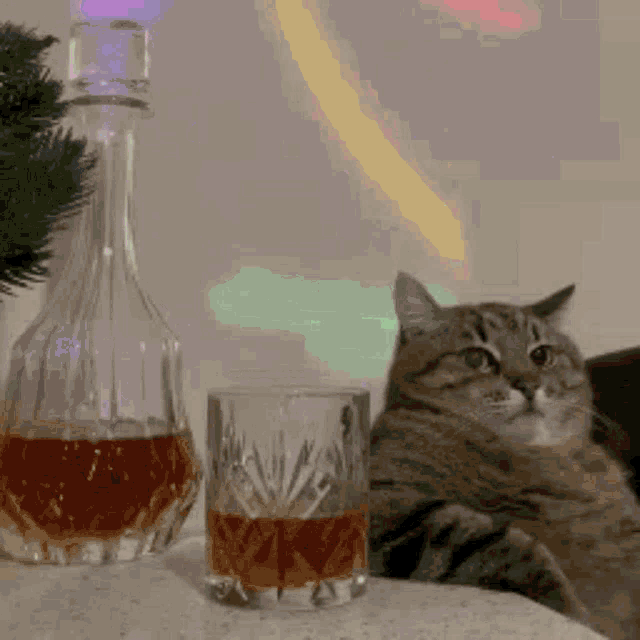 Plush toys mean something different to adults, kind of like the theme of the second season of Stand Up Comedy - 'Exploding pain points with laughter, reconciling with life with humor'.
Without the need for grand narratives or overdrawing, such fragmented moments, stems and segments that spread all over the internet, echoing a moment of heartache and despondency in life, are already a comfort.
There's something to be said for childishness, and there's something to be said for homoeopathy. Not just cute, they can also have a flabby and powerless look that is a projection of our own.
It's "non-essential" consumption and an emotional necessity
Plush toys, may often be seen as 'non-essential' consumption, but this is not the case for individuals.
In The Twilight Zone, it says that a name is the shortest spell, a thing that binds things to their fundamental form. When we buy a stuffed animal and give them a name, it's like the little prince taming the fox.
At Little Red Book, someone kept hang tags for their Jellycat, made a roster, and had plenty of rituals, "After all, they are my comforters and I am responsible for them.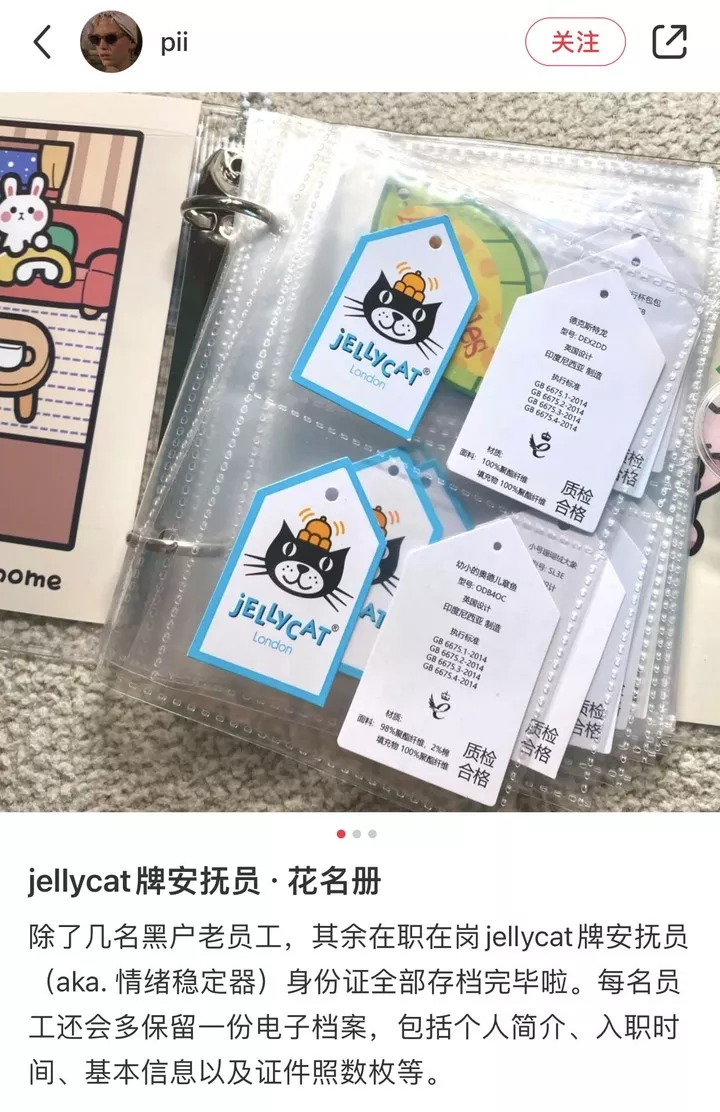 The calming effect of stuffed animals has long been experimentally proven.
In 1959, the American psychologist Harlow provided two artificial female monkeys for the young, one wrapped in sponge and woolen fabric with a warm bulb built in; the other made of wire mesh and fitted with a milk bottle on its chest.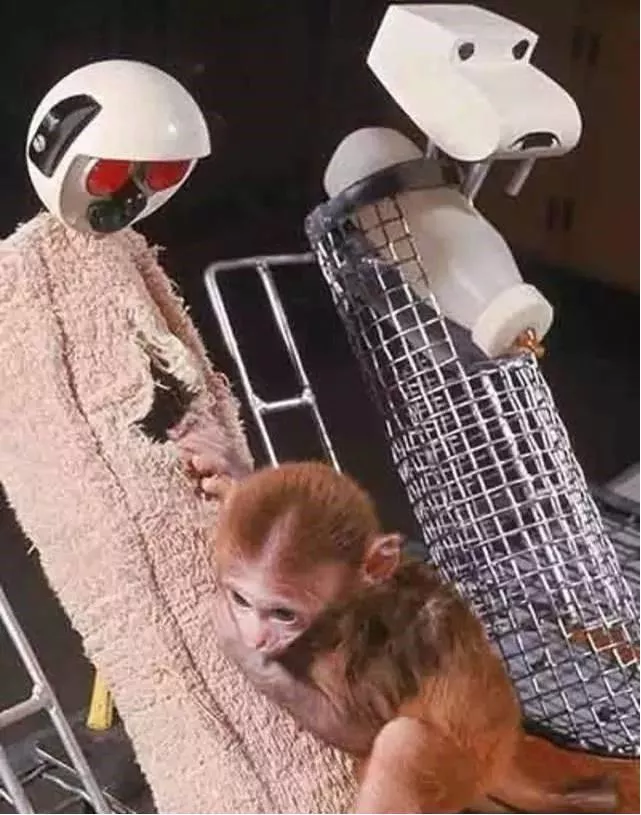 It turned out that all the young monkeys clung to the fuzzy females almost all day, and only had to go to the wire females when they were breastfeeding. It proves how important it is to have real, palpable, furry security beyond warmth and sustenance.
This applies in humans as well. "Dr. Ding notes that we need physical contact such as handshakes, hugs, and touching so much that the brain releases oxytocin, which relieves fear, as a result of pleasant physical contact.
In addition to friends, family, and loved ones, stickers with pets, stuffed animals, and thick blankets have similar healing properties.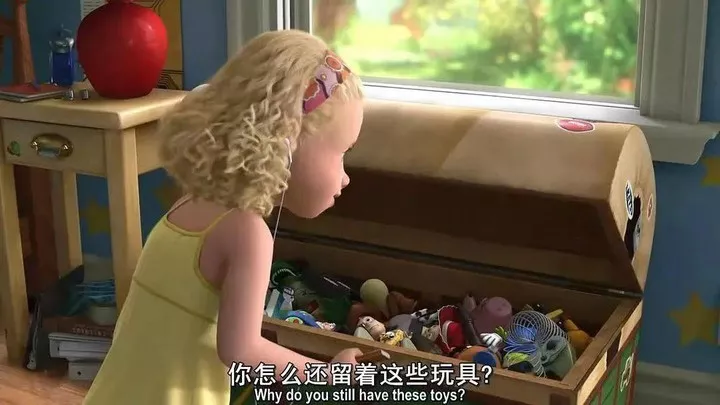 Even more often than not, it is only the latter that relieves loneliness. The results of the seventh national census indicate that the number of adults living alone is expected to exceed 92 million.
The sociologist Zygmunt Bauman once said: "The desire to be tied to people is compounded by the fear of being tied to them. Fearing loneliness, one seeks companionship, but new insecurities emerge from elsewhere."
Plush toys don't completely alleviate loneliness, but at least there's no in and out of being with people.
You just need someone to express your love to openly, the giving itself is happy, it doesn't matter if it responds or not, what matters is your subjectivity, how you feel at the moment. Even though that in itself is a kind of helplessness.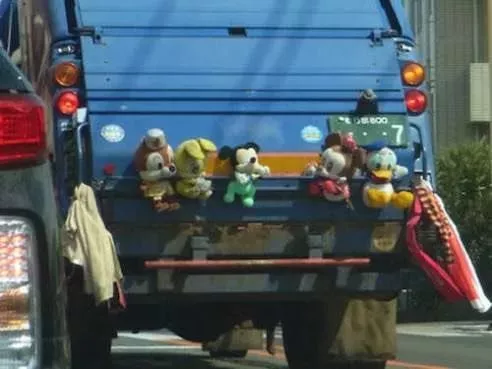 Conversely, the scene of a garbage truck with a stuffed animal always makes us feel a little hard. The softness of the stuffed animal and the cold hardness of the garbage truck give a world of difference.
Such a phenomenon is more common in Japan, Europe and the United States, and unlike the spectacle, it actually serves to save stuffed animals that have been abandoned by their owners and to provide mental comfort to garbage disposers. More stuffed animals that have been churned out of sight.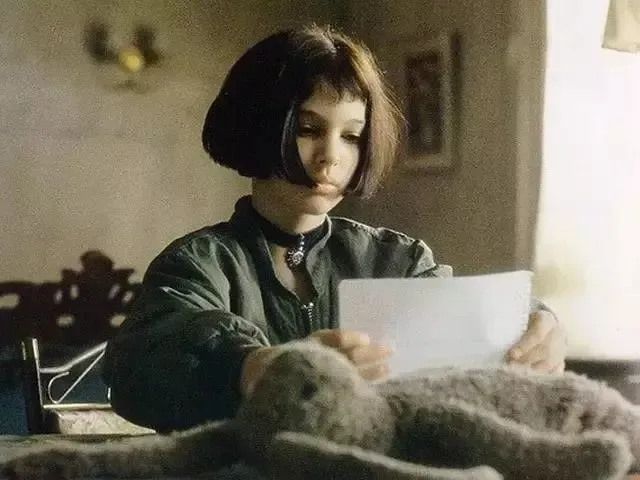 In Pixar's Toy Story, a pile of toys battles to keep from being discarded by their young owners; in recent years there has also been a rise in the profession of toy restorers, old toys that are associated with past times and precious memories, still irreplaceable in an age of material abundance.
Time flies quickly, the chosen child is separated from the digital baby, the self-confessed hero of the universe, Buzz Lightyear, finds himself a mere mass-produced plastic toy, and as adults say goodbye to the children of the past and are able to buy plush toys to comfort the present with their abilities, the paper airplane of my childhood, now finally flies back into my hands.