The 2021-2022 Research Report on American customer Telecom satisfaction index released this week pointed out: although broadband connection has increasingly become an indispensable part of people's learning and work, few Internet service providers (ISPs) can meet the expectations of American netizens. unless the market can usher in more fierce competition.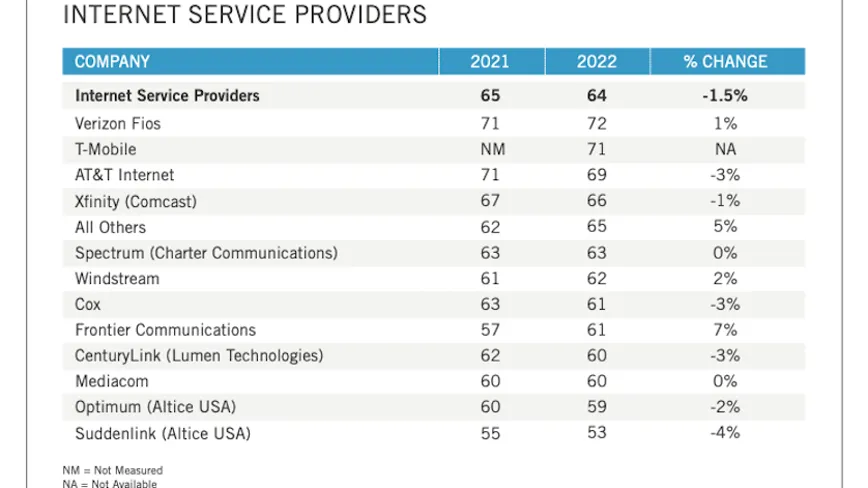 The survey found that most American Internet users can't stand their ISPs. (figure from: ACSI)
The survey covered more than 45 different industries, including food manufacturing, life insurance, airlines, hotels, hospitals, social media and other categories.
However, Internet service providers (ISPs) ranked the highest in terms of customer satisfaction, scoring only 64 points in the range of 0~100 (compared with -1.5% last year), and even more disappointing than the long-standing TV subscription service (66).
● suddenlink's decline was the most exaggerated (53 points / year-on-year -4%), and it ranked the bottom of the ACSI list (the same is true for 2021).

● in April this year, the parent company of suddenlink, Altice USA, announced that it would soon rename the service as optimization.

● in addition, the performance of other ISPs under Altice was also unsatisfactory, ranking second to last with 59 points.

● other ISPs with year-on-year decline include at& T (-3%), centurylink (-3%), Cox (-3%), and xfinity (-1%).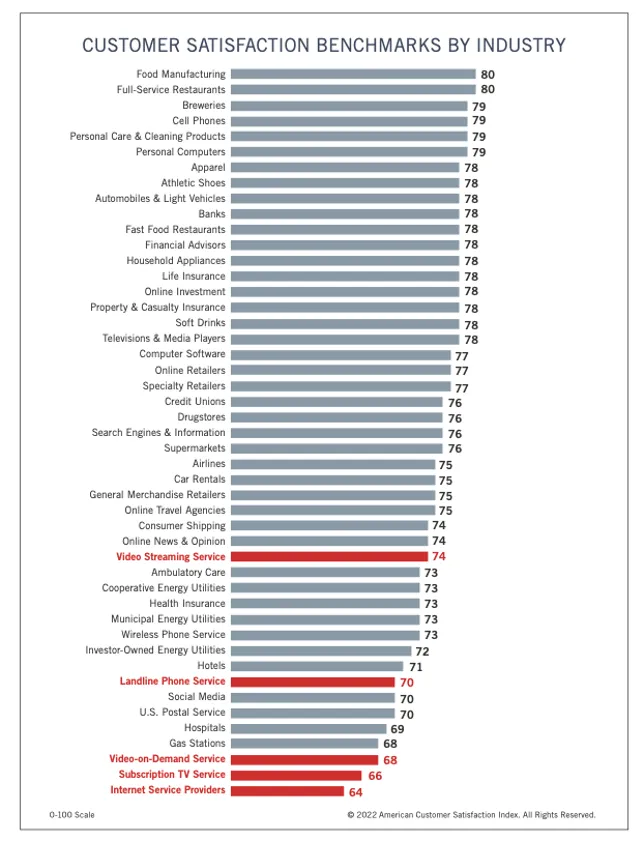 ISP is at the bottom of ACSI industry customer satisfaction ranking
Although xfinity's score is lower than that of 2021, it still "exceeds the industry average of 64" with a score of 66. Meanwhile, at& T also ranked third in the industry with 69 points.
However, considering that ISPs generally promise to expand their optical networks and launch multi gigabit network speed plans within this year, we are still somewhat surprised by the decline in the industry average Other highlights include:
● Verizon FIOs, which has been popular for a long time, remains at the top of the list, and its score +1 has risen to 72 points.

● kinetic by windstream climbed 2% to 62.

● frontier communications rose 7% to 61.
Although it is still below the industry average, it is still a significant progress compared with the 55 / 55 / 57 scores obtained three years ago.
In addition, in 2021, the new T-Mobile Home Internet (using 5g / 4G LTE network to provide fixed network access) ranked second with 71 points. As a good omen, it is expected to become a strong competitor of traditional broadband providers.