Early this morning, Amazon's 48-hour Prime Day came to a close.
Despite Amazon's efforts, this year's Prime Day is no less challenging than last year. Under the multiple attacks of economic downturn, e-commerce chaos and hyper-inflation, "buy the right one, not the expensive one" and "refuse to buy at a loss" have become the psychological reflection of most consumers and sellers.
Bottom line: while Amazon is yelling up a storm, buyers and sellers are lying flat.
Betting on Prime Day, Amazon takes a gamble
This Prime day is no small feat: the campaign site has expanded from 18 countries last year to 24 countries, and is scheduled for July 12-13, the "summer season". In the promotion method, "middle-aged" Amazon is also actively close to the young people, in addition to the regular discount, send coupons, but also began to cooperate with many net celebrities, vigorously promote live with goods.
After all, last quarter, Amazon's e-commerce business saw a noticeable lack of growth. At the earnings meeting at the time, Amazon's CFO Brian Olsavsky said that Prime Day would be an important tool to drive business growth in the coming quarters, even going so far as to state that Amazon would likely host Prime Day twice this year, with perhaps one more in October in addition to July.
This year, in an effort to capture the youth market with emerging e-commerce platforms like TikTok and Shein, Amazon has started pouring more energy into live-streaming its products.
During Prime Day, Amazon invited a host of online celebrities and stars to join it on its live shopping channel Amazon Live for a series of live interactive events. The bandwagon anchors included famous comedian Kevin Hart, model Miranda Kerr, and many headliners on TikTok and Instagram.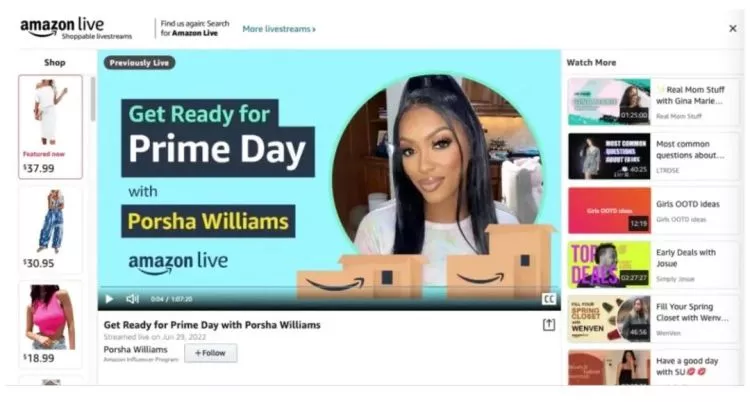 image via Amazon Looking at some of the numbers that have come out so far, this Amazon Prime Day battle can be described as a mixed bag.
The number of orders this year could far exceed last year's. Amazon said today that more than 300 million items were sold this time around, more than on any previous Prime membership day. Statistics from market research firm Numerator also show that more than half of the more than 1,000 consumers surveyed placed two or more orders, and 9 percent placed five or more orders.
But selling more doesn't mean selling well. The majority of the categories sold were consumer goods, with top sellers including diapers, beauty products and more. Fifty-seven percent of consumers purchased items priced under $20, and only 5% purchased items priced over $100. So while this Prime Day was big, the final sales may also fall short of expectations.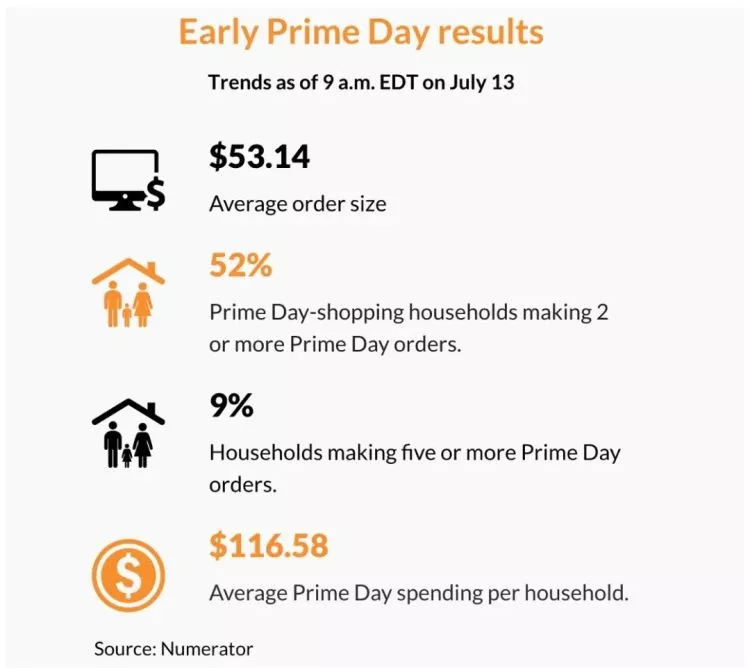 Image From digitalcommerce360
In addition, according to research firm EMarketer, global sales for Prime Day are expected to be $12.5 billion this year. That figure is up about 8% compared to last year, but keep in mind that Amazon Prime Day sales grew at an average rate of 66.6% between 2016 and 2019, and even in 2020, which is deep in the epidemic, Prime day sales grew 43% year-over-year.
Only weed not chop, consumers become rational
In this walk-through for Prime Day, Silicon Star People found that many consumers are not as interested in Prime Day as they once were.
"It's true that the screen was full of Prime Day discounts for the past two days, but looking around there weren't many prices that tickled my shopping impulses." Kelly, an online shopper who lives in Vancouver, said when talking to Silicon Star People about her shopping plans this year.
Last year, Prime Day was cancelled in Canada outright due to the epidemic, which was a huge disappointment to many consumers. I was expecting some big compensating surprises this year, but overall, this year's Amazon discounts don't show a significant advantage over other platforms.
"For example, I wanted to buy the Apple Watch, and I wanted to wait to see if Prime Day had an all-time low price this time. Turns out it ended up being the exact same discount as Best Buy, so I went straight to the Best Buy by my house and didn't have to wait." Kelly said as an example.
In fact, Prime Day has become a major battleground for merchants to compete for customers over the past few years as overseas e-commerce companies have stepped up their "in-rolls". Not only BestBuy, but also Walmart, Target, Nordstrom, and Lowes have all started to take advantage of the Prime Day sales. The immediate consequence of this is that consumers have become overwhelmed with the selection of discounted items available in the Prime Day section.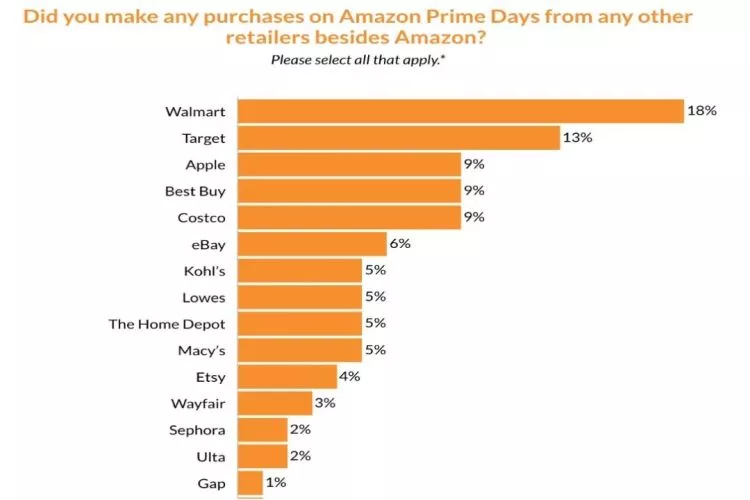 Image From digitalcommerce360
"I compared, lifestyle items Target, Walmart some could be cheaper, electronics Best Buy has some Prime Day models that are not on sale also on sale. Amazon's main advantage right now is that it's more convenient, and you can buy a little bit of everything the next day. But there's really no difference in price alone." Alex, a Silicon Valley software engineer, told Silicon Star People.
The survey shows that items with more room for discounts, such as electronics and consumer hardware, were the most popular categories for consumers on Prime Day in previous years, but when discounts are arriving all over the web these days, most consumers are also going to shop around.
"The usual daily necessities on sale are actually just a few dollars cheaper, will not specifically wait until Prime Day to buy. Usually buy big things, computers, TVs and so on, but if the discount is not big and not very urgent, will think about whether to wait until Cyber day or Black Friday and then start. There are several shopping holidays every year anyway, so there may be new models by then." Alex said.
Consumers are not only making more rational choices, but along with the rising inflation this year, many are also choosing to tighten their purse strings to reduce unnecessary spending.
A survey shows that the average respondent plans to spend $233 on Amazon and $155 on other non-Amazon stores during Amazon Prime Day this year, and that total is down about 35 percent or so from the survey data from the same time last year.
Cutting back on shopping, in addition to eating out, was placed at the top of the list of plans to cut back on spending due to inflation by 61% of respondents.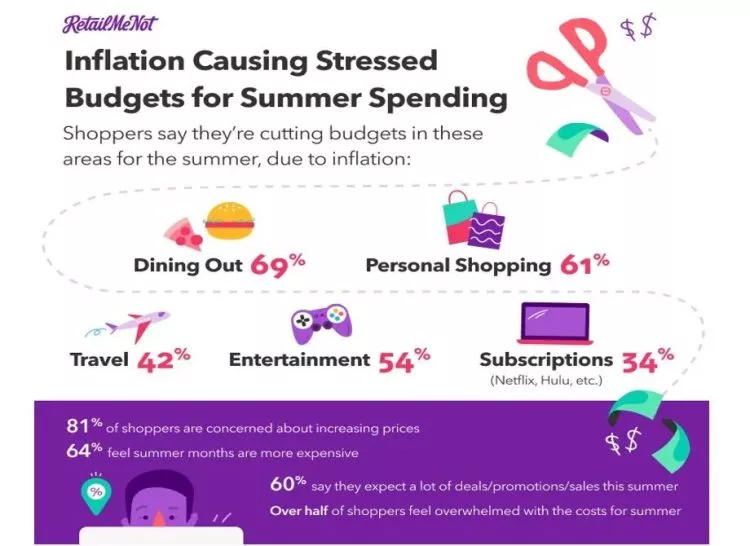 Image from RetailMeNot
"With prices going up so much right now, and with layoffs everywhere, I'm really afraid to spend a lot of money. Some unnecessary expenses, so save what you can this year." A Silicon Valley mom to Silicon Star People.
Sellers seek to be multi-hyphenate as high costs 'dissuade' them
In addition to consumers spending money more carefully, on the other end of the platform, the attitude of sellers towards Prime Day has also undergone some changes. This year, although the impact of the epidemic has largely subsided and the supply chain has gradually returned to normal, many sellers have chosen to "lie flat" in the Prime Day promotion.
"It's not that we're not interested in Prime Day this year, it's that our small shops just can't afford it anymore." A Chinese Amazon seller gushed in a cross-border e-commerce forum. Due to the soaring cost of various sales on Amazon's platform this year, forcing sellers to beat a retreat.
Amazon in this Prime Day on the proposed "special discount activity price for the current price of at least 80%, to meet the lowest price in the past 30 days" requirement, in many sellers' view is undoubtedly forcing themselves to "do charity". After all, in the background of the price of goods has tended to be transparent throughout the network, the price reduction of 20% plus advertising expenses, the profit margin has been almost minimal. And from last year's situation, price cuts and advertising to bring sellers the traffic and revenue is not as good as expected.
Amazon's product recommendation mechanism changes are one of the important reasons behind. In the middle of last year, Amazon launched a large-scale sealing action, the existence of malicious brush single, false propaganda behavior of sellers to catch a seal, the action involves hundreds of thousands of sellers, known as the industry is "a decade of industry shock". The company's main goal is to provide a comprehensive range of products and services to the market.
Since the blocking incident, Amazon advertising revenue has skyrocketed, 2021 full-year $31.2 billion in advertising revenue has made it leap to become the third largest advertising company after Google and Facebook. But as the saying goes, the wool comes off the sheep's back, and the sources of Amazon's advertising revenue spike have all come from sellers.
Recently, NBC News mentioned that a company that makes computer accessory products, where the cost per click to place an ad on Amazon was only about 0.14 cents in 2014, had soared to about $1.60 by early 2022. Many businesses have had to dramatically increase their ad spend in exchange for greater traffic, with data showing that in 2016, merchants spent an average of just 1.1% of sales revenue on ads, a figure that has climbed to 4.6% by 2021.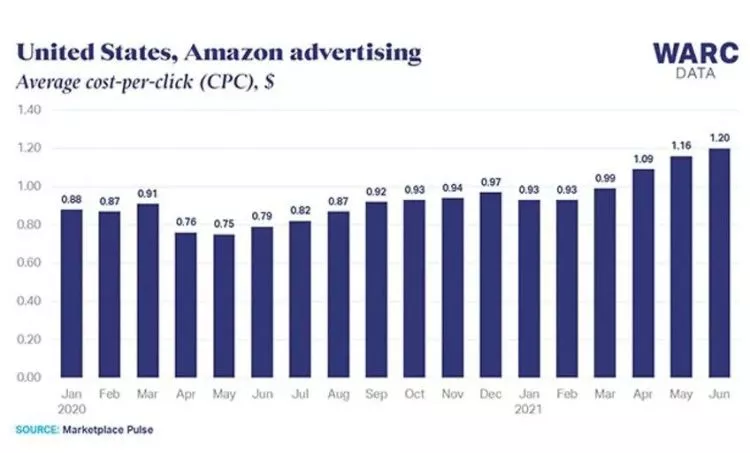 According to Marketplacepulse, while sellers' ad spending on Amazon increased significantly in 2021, the However, the average conversion rate for ads is fluctuating steadily at around 12%. That is, traffic from ads isn't converting into sales in a big way. In addition, due to the activities of everyone in the price pressures, resulting in many sellers up the volume but the profit is smaller, have lamented the "big promotion a lonely".
In addition to advertising costs, the increasing logistics management costs are also making sellers "headache". On January 18 this year, Amazon officially implemented an increase in logistics management fees (FBA), with line item increases of up to 150%. Not only that, Amazon also introduced a fuel and inflation surcharge for the first time, trying to offset inflation and cost increases by passing on fees to sellers.
"It would be nice to not lose money this year, it's definitely worse than last year. Several of the items we're participating in Prime Day this time around are taking advantage of this time to clear inventory, because there's still a premium to be paid for big-ticket items that take up inventory that don't get out in a hurry." Amazon senior operations Mike told Silicon Star People.
Mike has been involved in the cross-border e-commerce industry since he graduated, and he often shares his industry observations on his public website "Cross-border e-commerce strategy". For those new sellers who are actively preparing for this year's battle, Mike also offers his views this time.
"New sellers are definitely still taking this year's sale seriously, but I'd advise everyone to keep their minds at ease. Overseas shoppers generally tend to buy higher-priced items with a lot of room for price cuts on Prime Day, so if you're doing small items that are under $20 and have a strong gift attribute, then don't expect too much of a Prime Day blowout."
In fact, Amazon isn't the only option for sellers these days either. With overseas e-commerce shopping platforms opening up "rolls" under the epidemic, many veteran sellers are already planning for multi-hyphenate growth, setting their sights on emerging platforms such as Shopify, Walmart, Shein and others.
After Walmart officially announced the opening of its marketplace to international sellers in March last year, the number of international sellers who have entered Walmart began to increase rapidly. Last April, Chinese sellers accounted for just 6 percent of all new sellers at Walmart worldwide; by May of this year, that percentage had grown to 51 percent.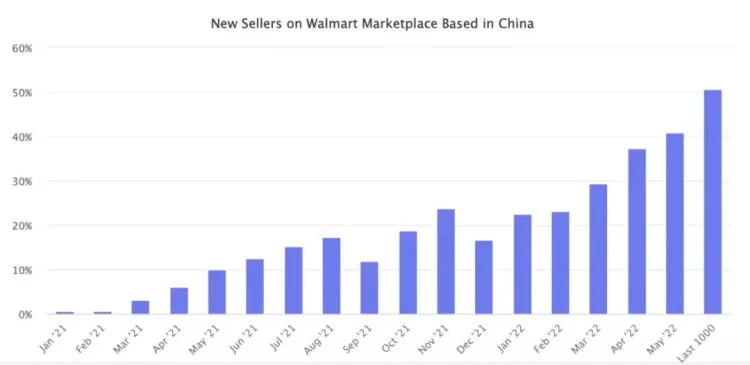 Image from Marketplacepulse
In addition, a large number of strong sellers have started to open standalone sites on Shopify, exploring independent brand paths that are not dependent on the platform. And some small commodity sellers have started to work with emerging platforms represented by Shein, which has thinner margins, but wins in terms of time and effort.
All the signs seem to indicate that Amazon e-commerce is in a "mid-life crisis". In the internal, soaring costs sellers are suffering; in the external, overseas e-commerce platform competition gradually white-hot, the battle for sellers and consumers more and more intense.
Finally, did you all get your hands on Prime Day this year, and what did you think of the discounts this year? Feel free to discuss in the comments!