Recently, celebrities and fashion bloggers from home and abroad have been wearing the same outfit to show off their popular outfits. It's so common that you can meet several of them on the street - a polo shirt with a shirt collar and a t-shirt shape.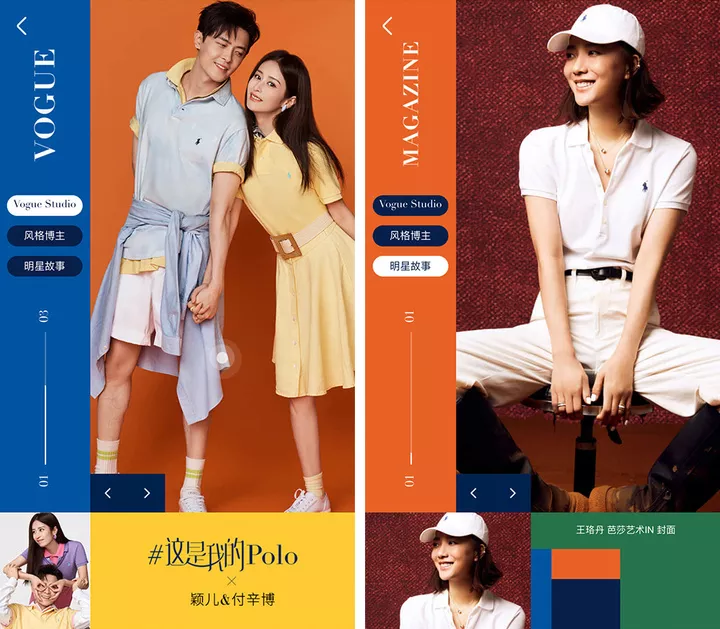 However, they all wore the same polo shirt - with a picture of a polo player embroidered on the left chest, commonly known as the 'pony tag'. The polo shirt with the 'pony tag' is from American brand Ralph Lauren.
This year, the Ralph Lauren polo shirt turns 50 years old, marking the 50th year that the garment has been given the name 'Polo Shirt'. In those 50 years, it has been a sports 'connection' and has been actively 'endorsed' by countless films and celebrities.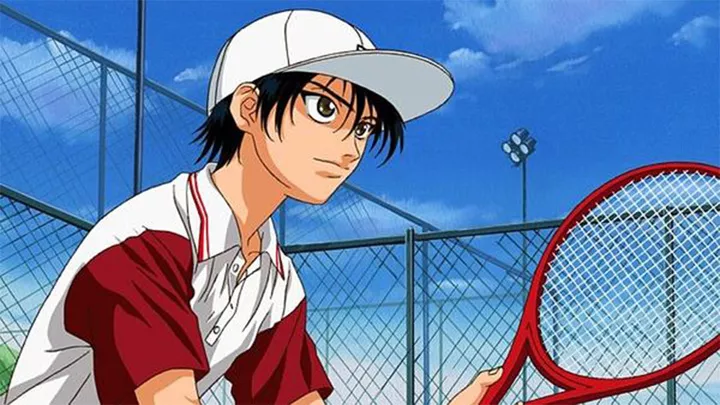 ▲ Image from: The movie Call Me By Your Name
Taking advantage of this rare 50th birthday, Ralph Lauren has a new book out, Ralph Lauren's Polo Shirt, and a young-looking flash store in Korea.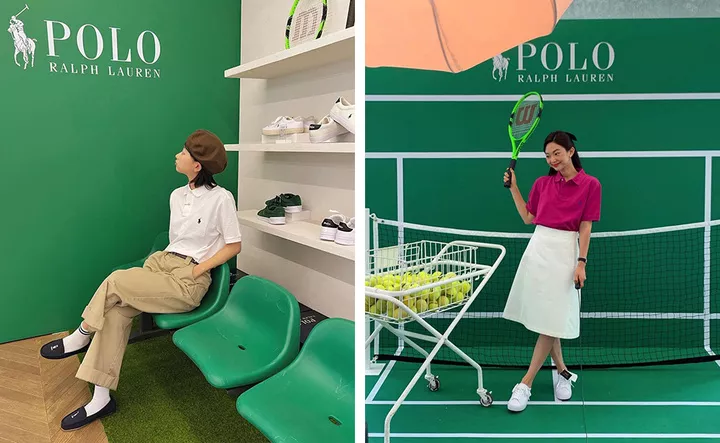 ▲ Polo Ralph Lauren Korea flash store. Image via: Instagram @midnight_blanc/@feve_r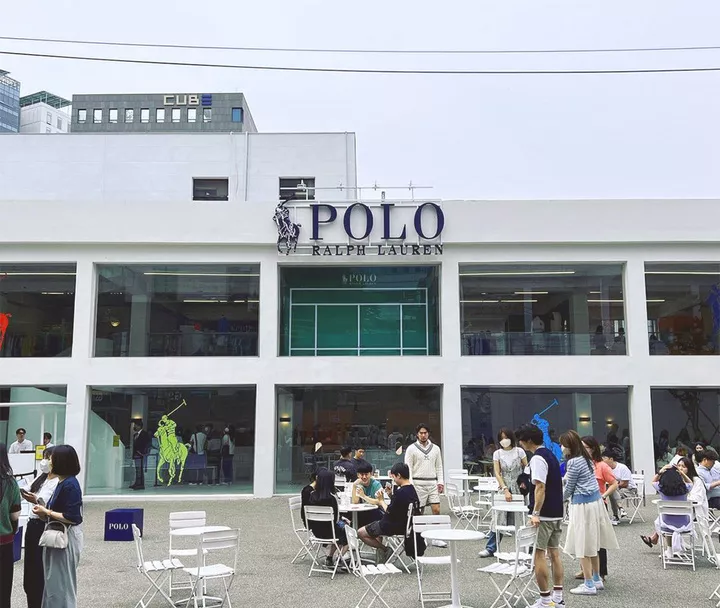 ▲ Polo Ralph Lauren Korea flash store. Image via: Instagram @travelworldfoto
I've heard too many people say that wearing a polo shirt is not good, like "PTA dress code", the hall hall gas ...... However, the polo shirt has quietly changed its mind, transformed into a boy's and girl's pretend tool, senior intellectual style must-have single product.
If you don't believe me, let's take a look at the 'transformation' of a polo shirt.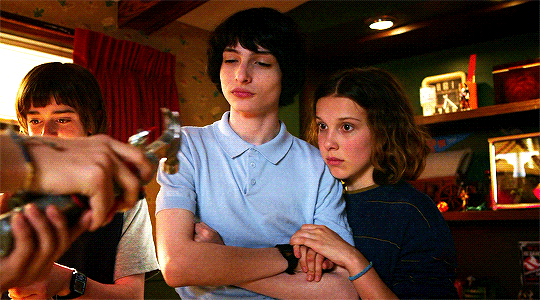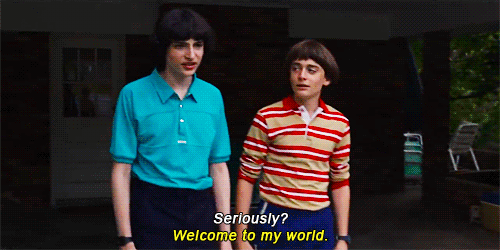 ▲ Image from: Season 3 of the American series Stranger Things
01 A dress, a cultural phenomenon
Ralph Lauren is not the only brand that makes polo shirts. Italian brands such as Loro Piana and Bottega Veneta are more expensive than it, while Uniqlo and Zara are very affordable, so why is Ralph Lauren's polo shirt, which costs $1,000 on average, the only one to make a book?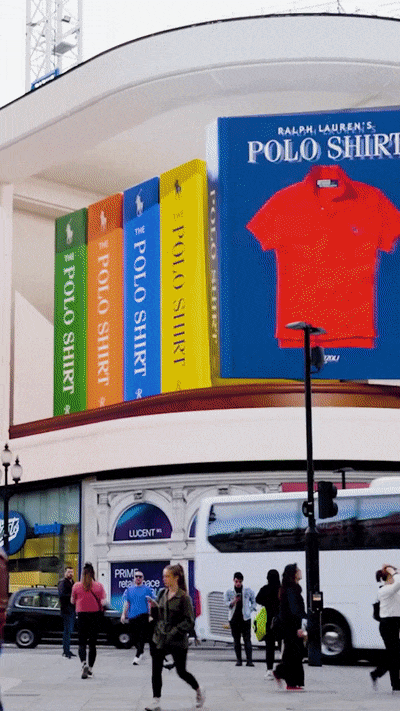 ▲ Ralph Lauren puts a giant version of this new book into a 3D billboard in London's Piccadilly Circus. Image via: Instagram @poloralphlauren
This is inseparable from Ralph Lauren's core philosophy of 'lifestyle focused'.
Ralph Lauren has never been a very 'fashionable' brand, and even though his Purple Label high end line prides itself on its premium tailoring, when it comes to being at the forefront of trends and pushing the envelope, Ralph Lauren is a few blocks behind other fashion brands, I'm afraid.
What I do is all about lifestyle - living the best life you can and enjoying the fullness of life around you. From the way you dress to the way you live to the path you love to take in life.

Mr. Ralph Lauren (Founder of Ralph Lauren)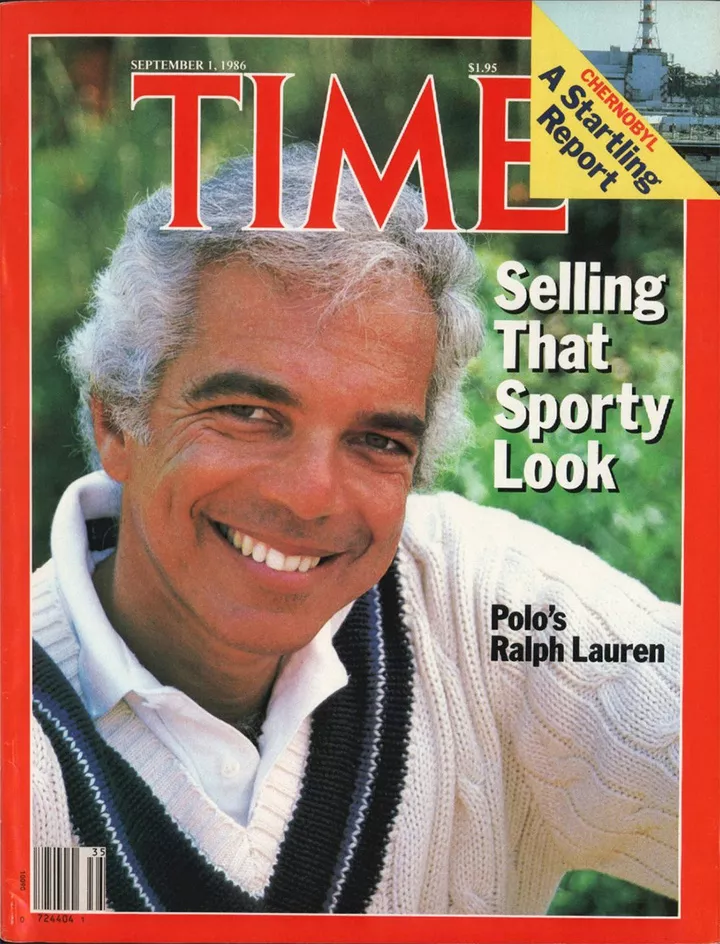 Mr. Ralph Lauren in a polo shirt on the cover of Time magazine in 1986. Photo from: Time
So the question is, what kind of lifestyle does Ralph Lauren, who considers the polo shirt to be the gold standard, point to behind this? The answer is also hidden in this book.
The book is dedicated to the New York subculture gang Lo-Life, a group of teenagers who liked to wear Ralph Lauren as well as 'Polo' patterned clothes. One of the group's original leaders - Victor Thirstin Howl III Dejesus - said something along the lines of "Wearing a polo shirt means you have some ability, and that you're rich."
In other words, Ralph Lauren isn't selling polo shirts, it's selling the American celebrity lifestyle.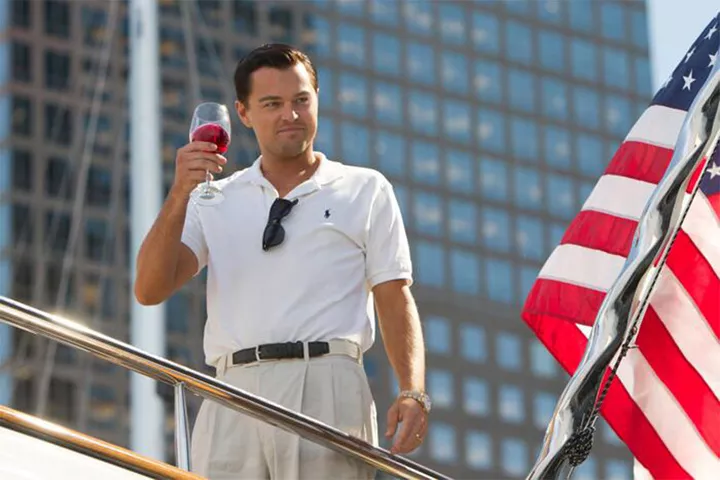 ▲ Leonardo's classic shot in the movie "The Wolf of Wall Street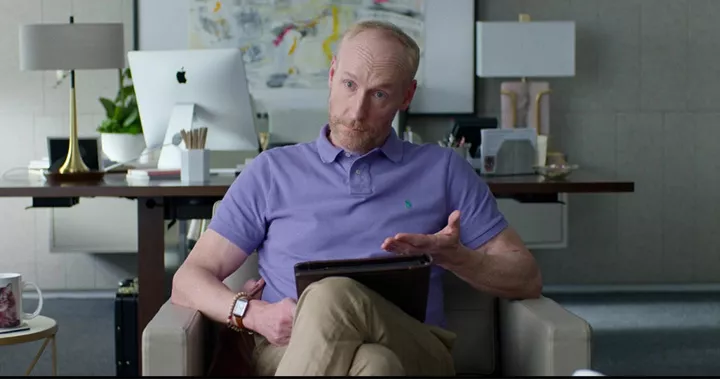 ▲ 2022 American film Father of the Bride
So the question is, how does Mr. Ralph Lauren, born in the Bronx, New York's famous ghetto, go about selling the high society lifestyle to Americans and the world with his own eponymous brand?
Polo, a popular sport among the upper classes at the time, became the breaking point.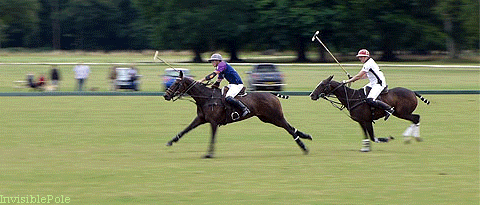 Polo is a niche sport that combines equestrianism with ball games and dates back as far as Persian times, when the early unregulated game looked like a large group of people running around on ponies.
In the 1850s, with the strong support of British Lieutenant Joseph Sherer, modern polo took off in the northeastern Indian state of Manipur, and the first polo club was established in classic English style.
The polo shirt took shape when local Indians used buttons to fasten their collars in order to be more mobile during polo. Old photographs from the 1870s show that Indians were already wearing jerseys similar to the polo shirt.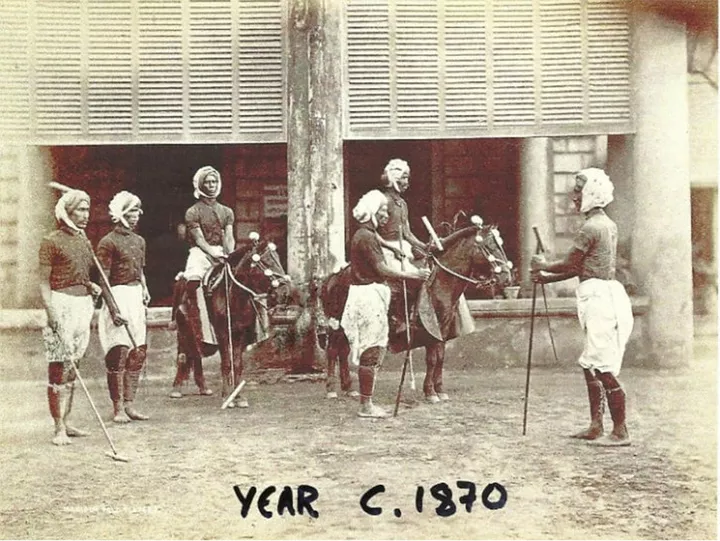 The game then spread around the world and soon Americans were among the polo enthusiasts.
In early 1876, James Gordon Bennett, publisher of the New York Herald, brought back mallets, balls, and a copy of the rules of polo from England, introducing the sport to America, though only to the upper classes.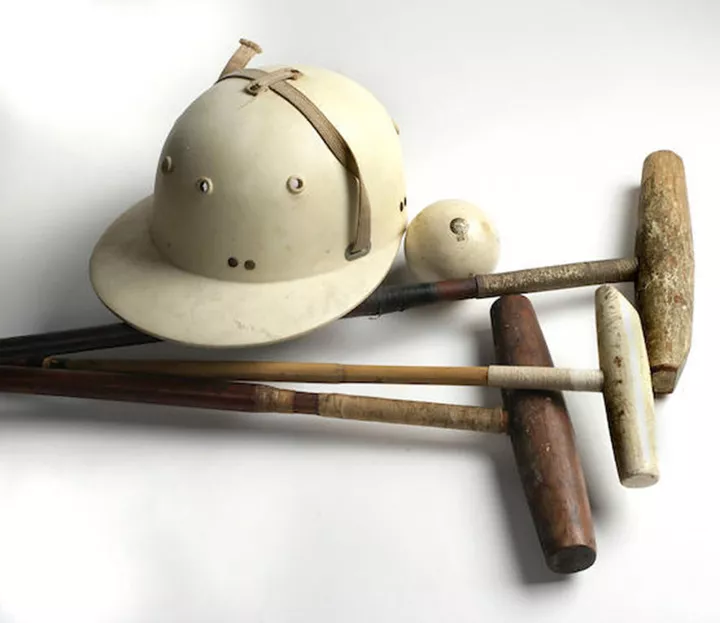 ▲ Mallets and balls for polo. Image from: Tumblr
Another American went to England in 1896 to watch a polo match, but what he saw was the dress code of the polo players. The detail of the shirt collar being fixed, he saw a great opportunity to reform the sports dress code.
The American was John E. Brooks, grandson of the founder and then president of Brooks Brothers, which soon introduced men's shirts with buttoned collar tips and the first commercially available mass-produced button-down polo shirts.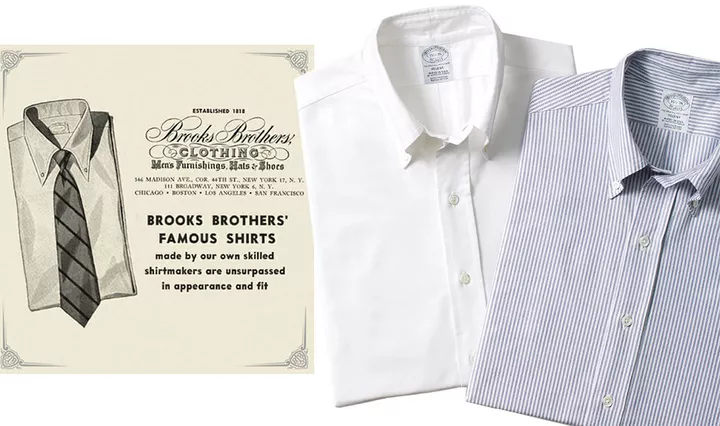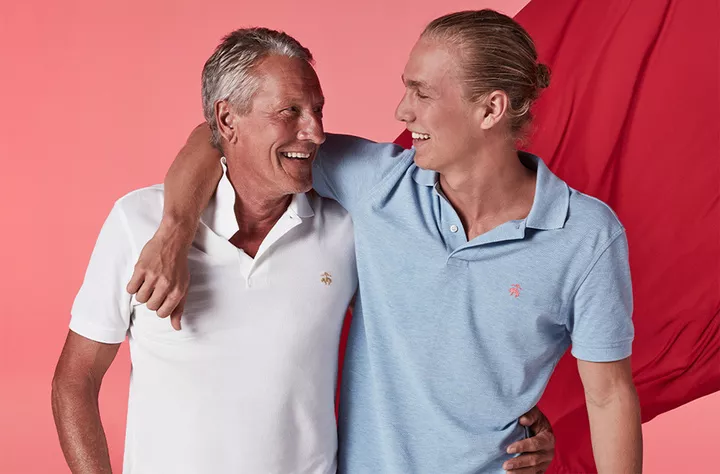 And there's a bit of a connection between Mr. Ralph Lauren and Booker Brothers - before starting his own brand, Mr. Ralph Lauren worked briefly as a sales assistant at Booker Brothers, and was naturally exposed to the polo shirt.
In the decades that followed, the polo became the standard for tennis attire thanks to the star power of two famous tennis players, the Frenchman Jean René Lacoste and the Englishman Fred Perry.
These two athletes went on to create their own brands, Lacoste (Crocodile) and Fred Perry, who uses the laurel as his logo.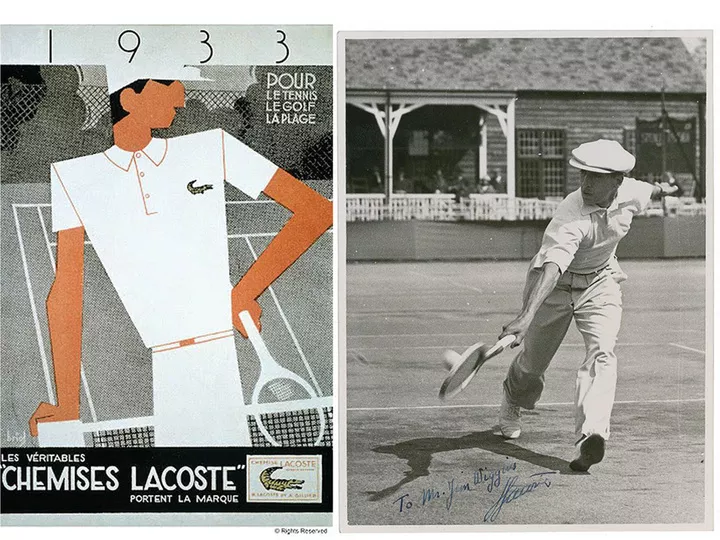 ▲ Lacoste's polo shirt and Mr. Lacoste playing tennis. Photo from: Heddels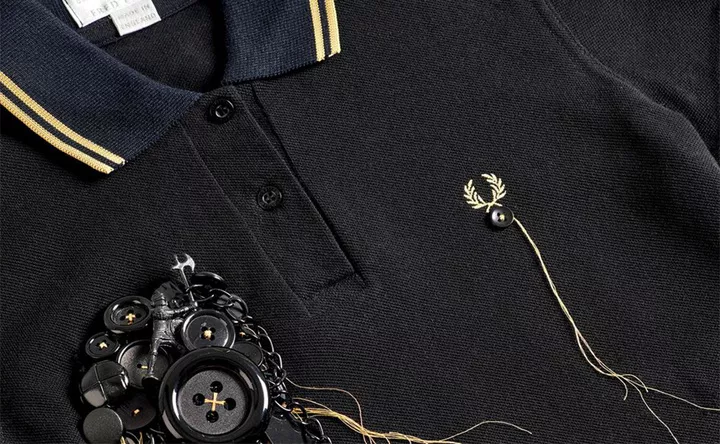 ▲ Fred Perry's polo shirt. Image from: London Design Museum
Mr. Lacoste married Simone Thion de la Chaume, then a golf champion, in 1930, which is somewhat related to the fact that the polo shirt later became a golf shirt as well.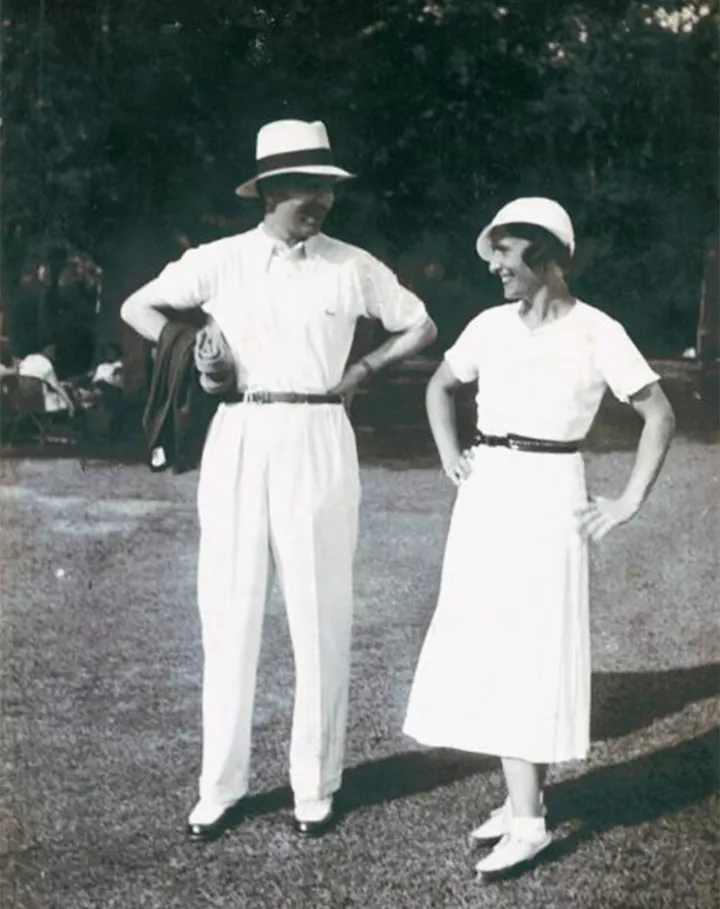 ▲ Mr. Lacoste and golf champion Simone Thion de la Chaume. Photo from: Lacoste
It wasn't until 1972, five years after Ralph Lauren was founded, that the golden polo shirt was finally released.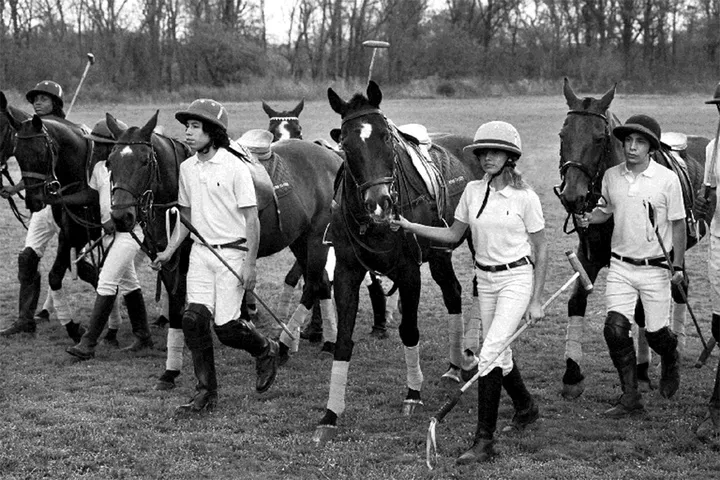 This polo shirt features a polo player motif on the left chest, with 900 stitches of fine machine embroidery. The polo player motif is also available in a variety of colours, in accordance with the 24 colourways available at the time.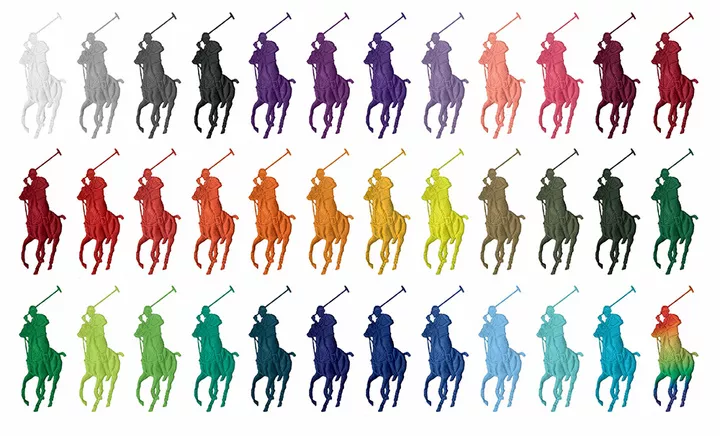 Polo shirts are to Ralph Lauren what Mickey Mouse is to Disney, or the Empire State Building is to New York City.

-- "Ralph Lauren's Polo Shirt" (Ralph Lauren's Polo Shirt)
02 Not all polo shirts can be called Ralph Lauren polo shirts
They all make polo shirts, what's so special about this one from the Ralph Lauren brand? The answer is still in this new book, and it's on this book cover in a variety of colors.
Since they're all coming out with a book, it would be too much to say that they don't put their own polo shirt selling point on the most prominent cover. To make that selling point stand out, the only text on the book cover is the title at the top and the publisher's name at the bottom.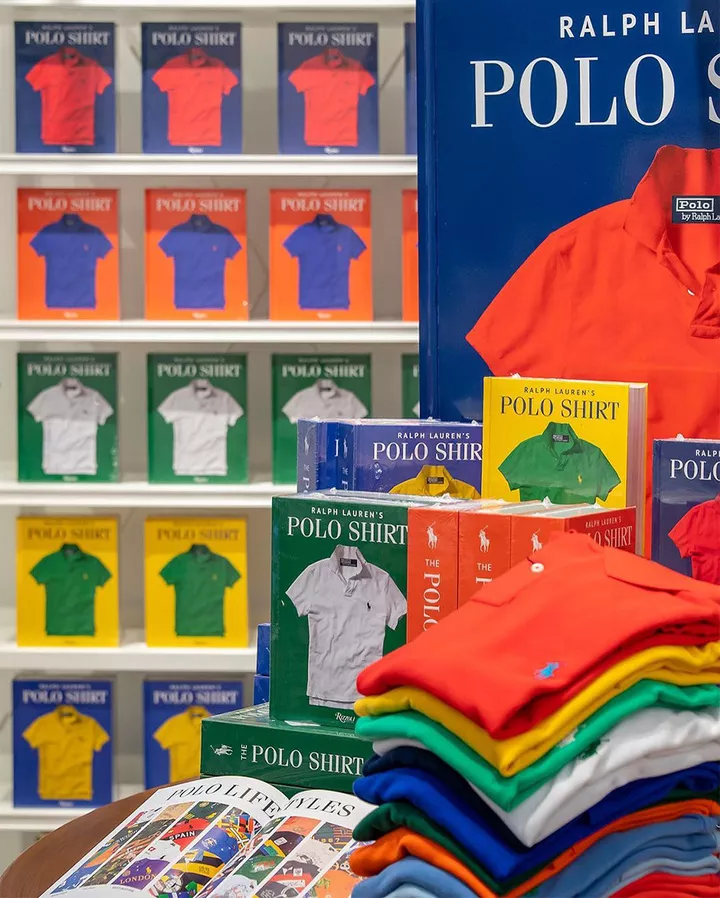 ▲Ralph Lauren's Polo Shirt*. Image via: Instagram @poloralphlauren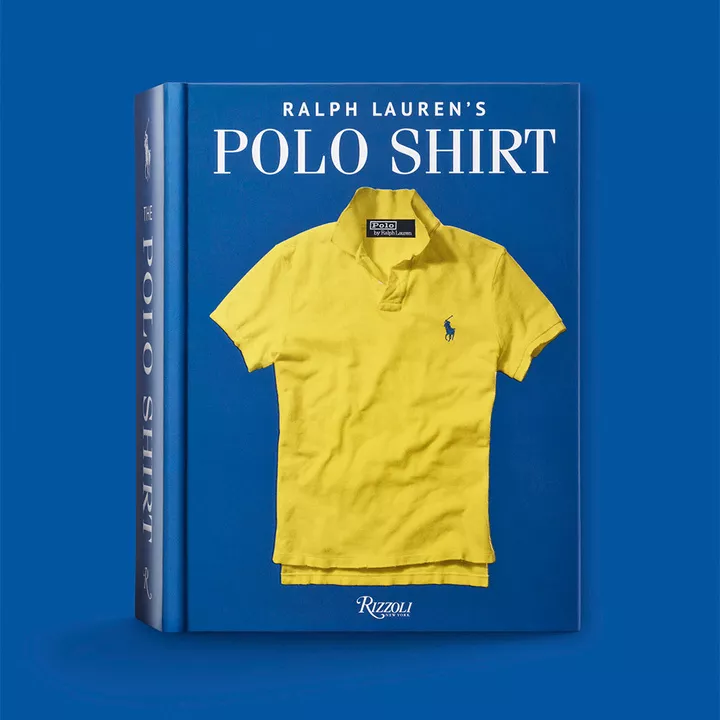 ▲《拉夫劳伦的 Polo 衫》(Ralph Lauren's Polo Shirt) . 图片来自:CR Fashionbook
The text aside, the only thing on the cover is a flat Ralph Lauren polo shirt, and a worn one at that, with toothed wear all around the edges and unironed, a bit wrinkled overall, and with the collar up. However, the pony logo is as fine as new.
If we bought a Ralph Lauren polo shirt, wore it for a few years, then washed and dried it once again and threw it on the bed, it would probably look like this in the cover photo.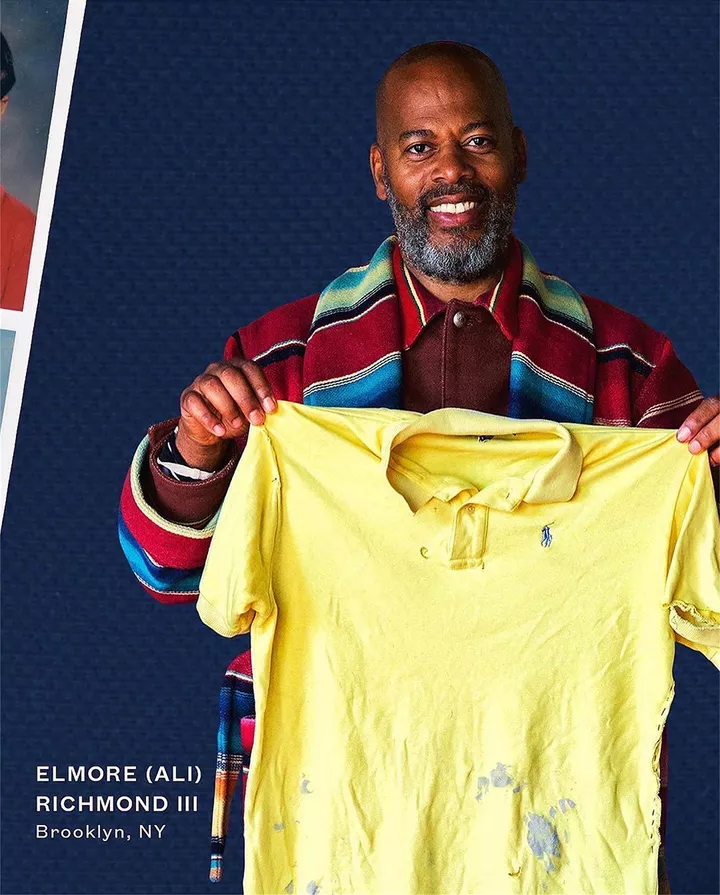 Elmore RichMond of Brooklyn shows off his collection of polo shirts. Photo via: Instagram @poloralphlauren
What kind of selling point is that when it wears out and gets old over time?
However, turn the clock back to 1972, when the Ralph Lauren Polo was introduced, and the ability to age the polo was a real selling point.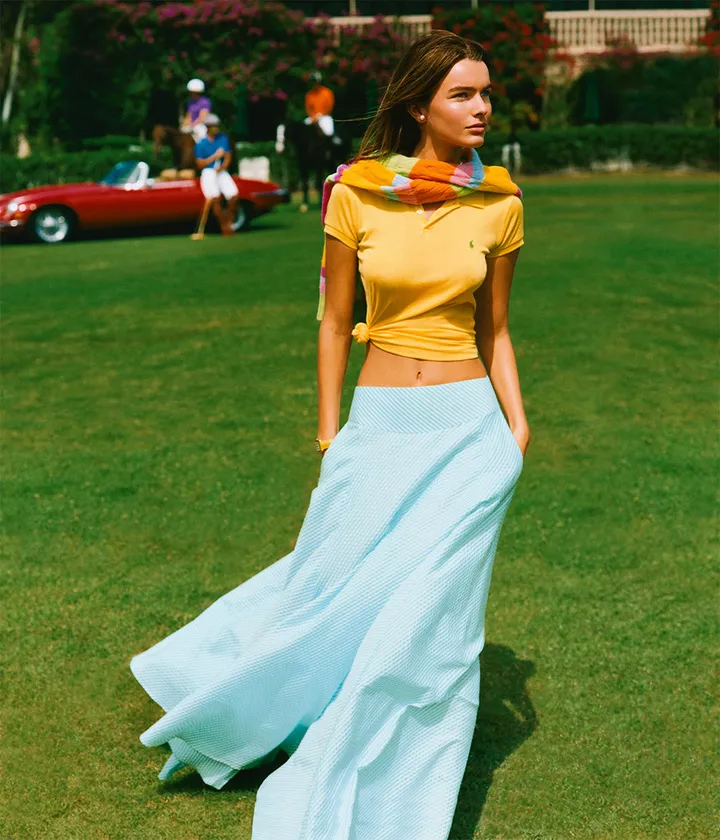 After advances in textile technology throughout the 1960s, polyester fabric (scientifically known as polyester) was favored by many brands making polo shirts because it was less likely to fade and would still look like new after a long time. Polo shirts that were originally made from cotton beaded jersey (also known as pk fabric) also turned to polyester.
Mr. Ralph Lauren is very much against the trends led by polyester fabrics, and he sees the process of aging his clothes as a precious memory of living with his own polo shirt. Therefore, he launched a collection of polo shirts with the tagline "It gets better with age".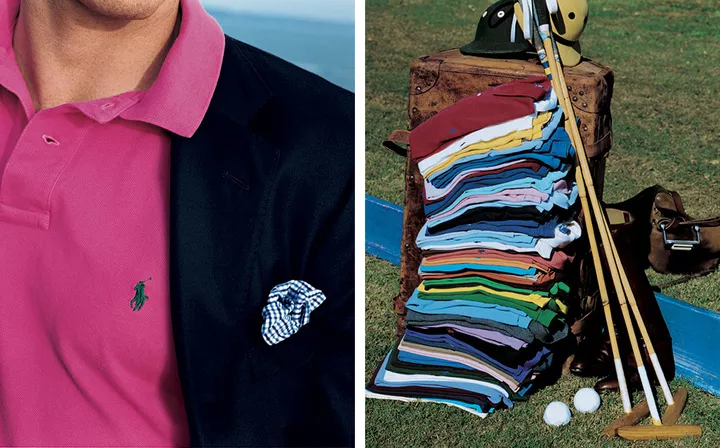 Clearly, the idea resonated strongly with the public and the line of polo shirts, which stuck to natural cotton materials, became a best-selling item at the time. As a new product, it came later and made its mark on the crowd of polo shirts.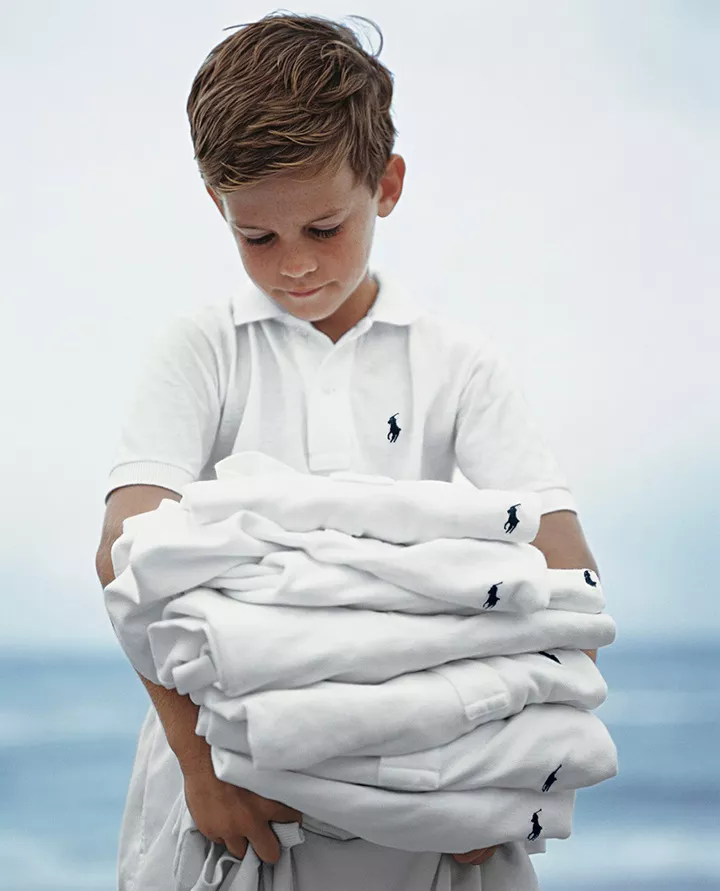 The Ralph Lauren polo shirt, made from cotton beaded jersey, is also well thought out.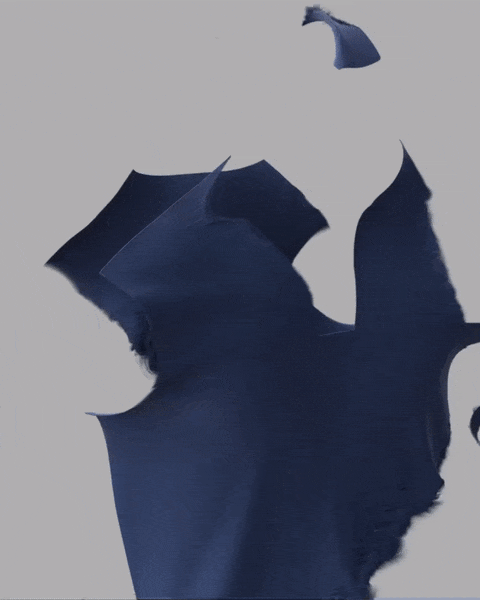 ▲ Ralph Lauren Polo Shirt Custom Ad. Image via: Instagram @poloralphlauren
The English name pique comes from the French word for "quilt" because of the honeycomb-like, bumpy texture of the fabric, which mimics the hand-stitched patterns found on Marseille quilts.
The practical value of this pattern is very strong. The uneven structure of the surface of this beaded ground fabric helps to breathe and absorb sweat, but the bottom layer close to the skin has a very smooth feel and is very skin-friendly to wear. In fact, it is two layers of fabric made in two different weaves, which are then laminated into one lightweight fabric through a special construction.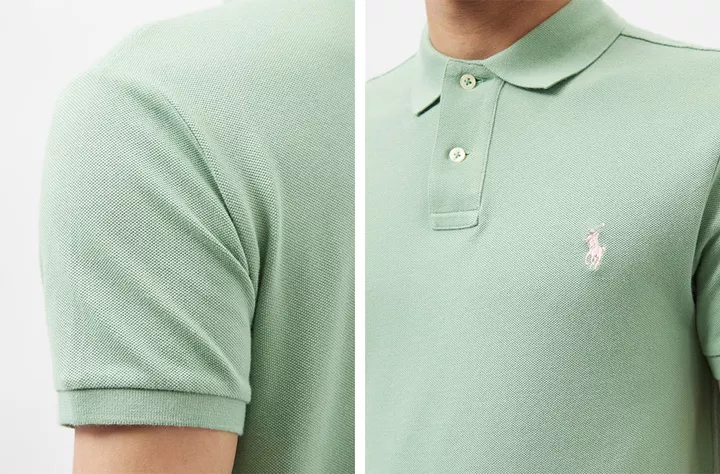 The Ralph Lauren Polo is made from a premium cotton fabric that is soft to the touch and has a weave that is neither too loose nor too tight.
Therefore, the folds of the flat dress on the cover look soft, and if the dress is spread out so that people can see the angular folds, I think the folds will become invisible "thorns" on the body, which will be diabolical everywhere.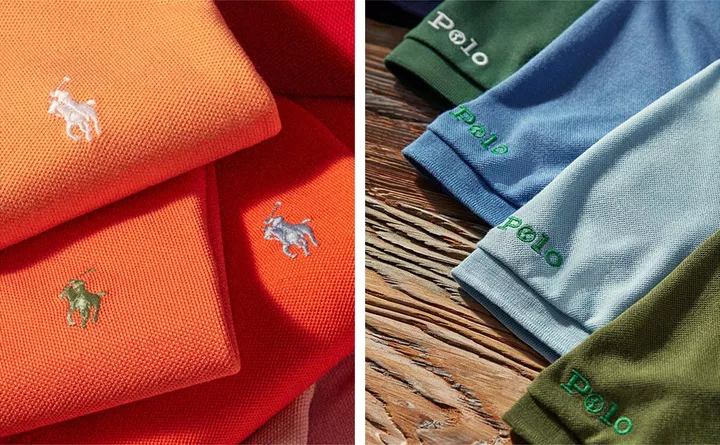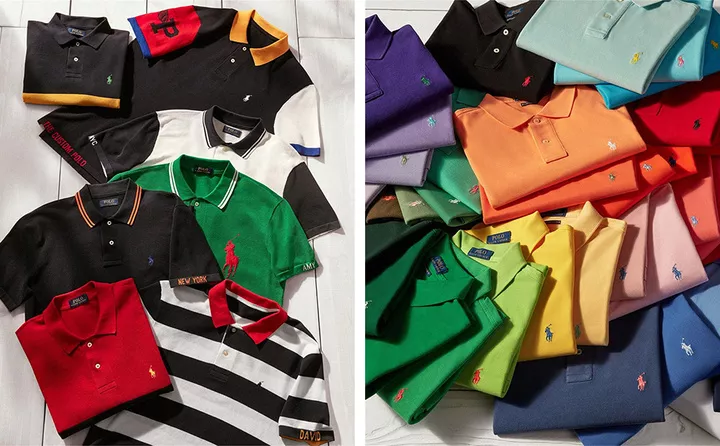 ▲ Image via: Instagram @poloralphlauren
Polo shirts made of beaded knits that are too soft can cause the collar of the polo shirt to collapse and the body to lack sinew, making it look uninspiring. However, in the photo on the cover, the collar is not collapsed at all, and the overall body of the shirt looks straight and shapely.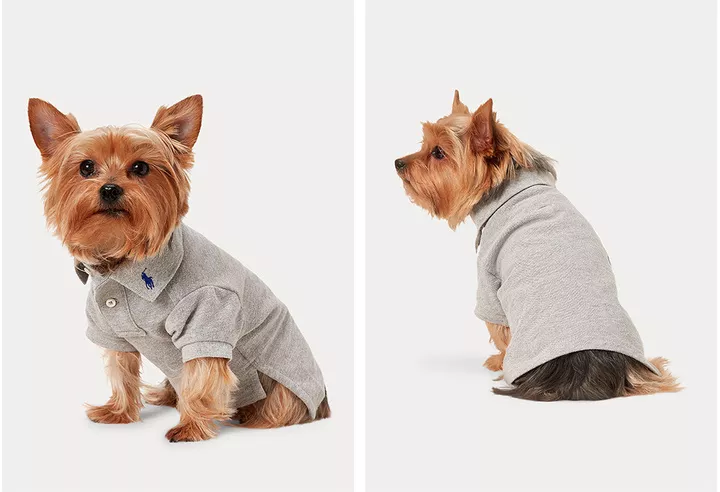 A collar turned up is also a very courageous statement. That's because in dress etiquette, collar turn-ups are at the top of the list of no-nos in polo shirts.
That is, until Beckham caused a huge controversy in 2016 when he was photographed in Ginza, Tokyo with a polo shirt collar turned up. Since then, this new, tradition-breaking way of dressing has begun to be embraced by a few.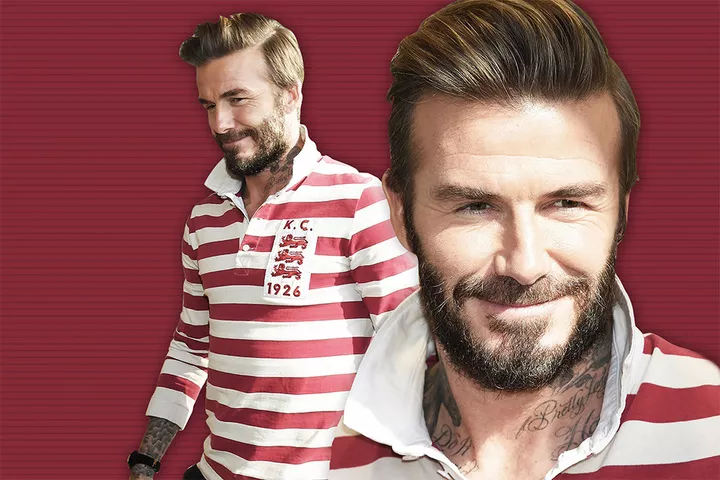 The first time I wore a polo shirt with the collar turned up, David Beckham was wearing it. Image from: GQ
Kanye West and Pauly D., who turned up the collar of their polo shirts. Photo from: NSS Magazine
The following year, Miuccia brought up the trend of polo shirts with turned-up collars with Prada's Spring/Summer 2018 collection. The polo shirt with the turned-up collar on the cover of Ralph Lauren's new book is perhaps also a tribute to this new idea of rejecting traditional rules and regulations.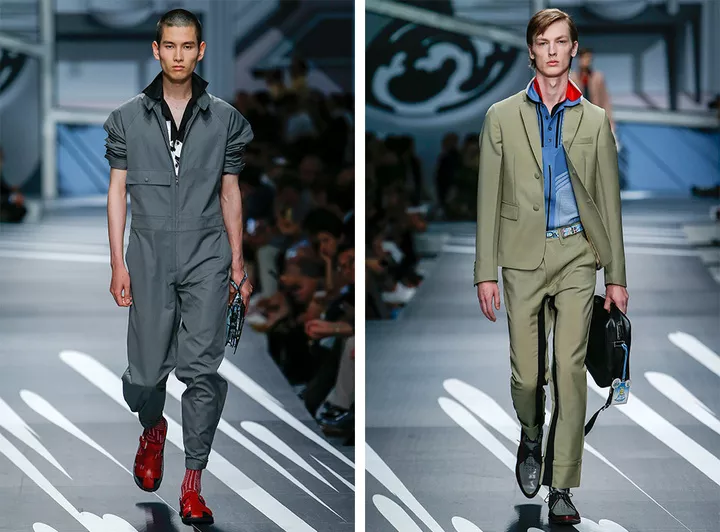 ▲ Prada Spring Summer 2018 Menswear Collection. Image from: Vogue
Last but not least is the most obvious selling point of the Ralph Lauren - a fit that is a little longer in the back than the front.
Laying the garment flat, you can clearly see that the front is so much shorter than the back and has a small slit triangle in the middle. This design allows men with more muscular backs to wear the garment more snugly, and also makes it less likely to flare out when tucked into the waist of the pants.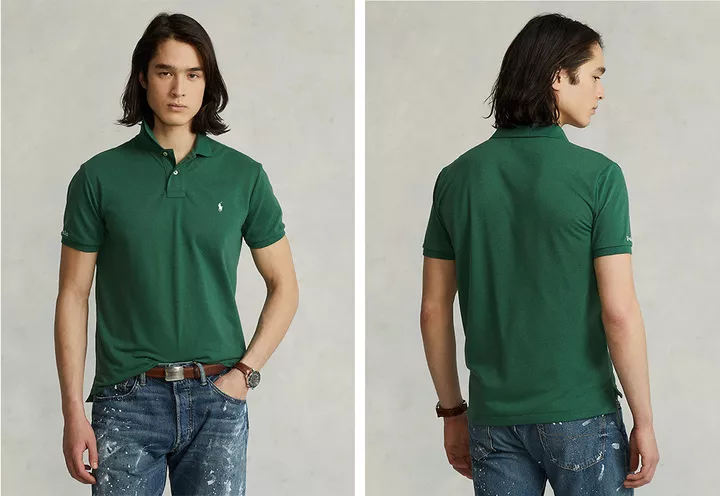 This slitted little triangle will also have herringbone webbing sewn on the back in the same color as the pony tag embroidery, so that the garment won't split awkwardly on the side after strenuous exercise or extended wear.
This design approach is presented with subtle differences in many different silhouettes in loose, slim and skinny fits.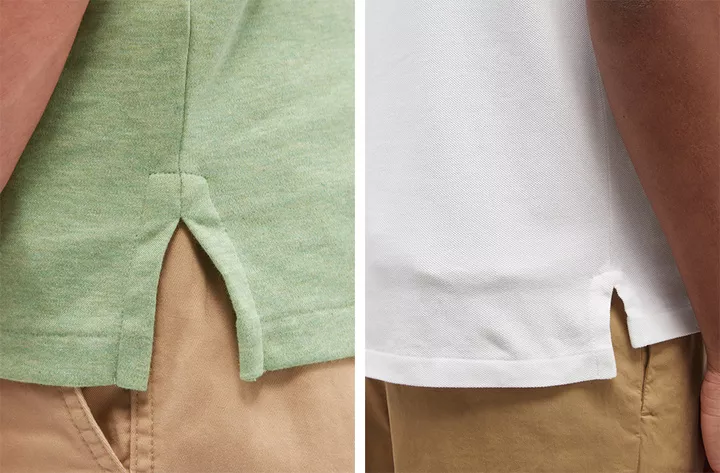 It is this pursuit of perfection, down to the smallest detail, that makes the Ralph Lauren polo shirt, 50 years later, still associated with the positive keywords of elegance, class and elegance.
03 I heard that polo shirts are ugly and old-fashioned
When you pick the right polo shirt, you are still a few thousand miles away from a successful outfit. But with a few tips and tricks, polo shirts can be worn in a matter of minutes.
The European and American formula for wearing a polo shirt does not work in China because of body type and aesthetics. After all, wearing a tight polo shirt may be equated with sexiness in Europe and America, but in China it is linked to the words "middle-aged" and "old fashioned".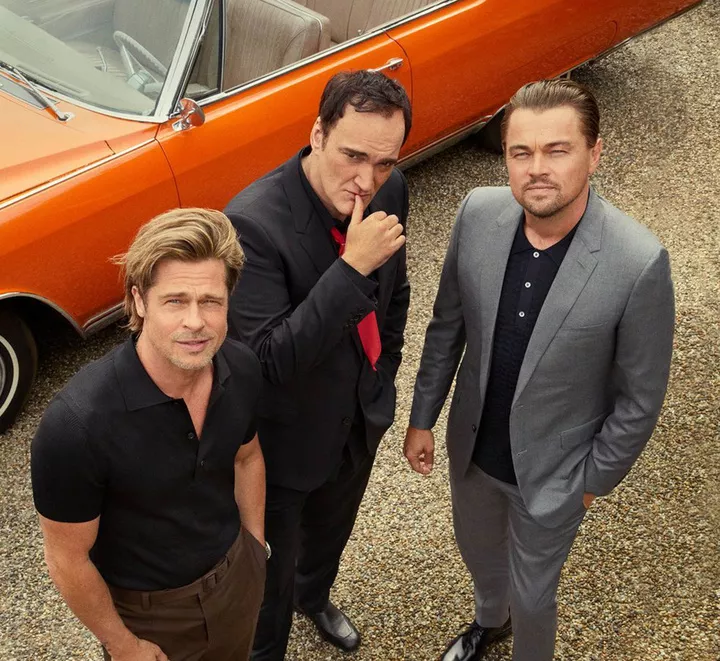 ▲ Pitt, Leonardo and director Quentin in polo shirts. Photo from: Esquire
Wearing a slim-fitting and slightly loose-fitting polo shirt is arguably the number one piece of outfit advice of the moment.
How to make a polo shirt more stylish? Let's take a look at South Korea, which is also Asian in shape - the love for polo shirts is not only reflected in the celebrity bloggers who frequently post pictures of their outfits, but also in the niche brands that often make their polo shirts pop.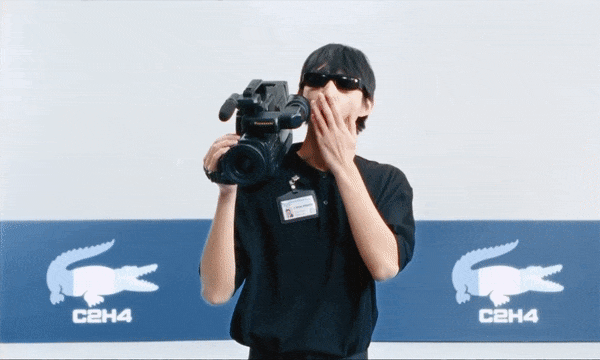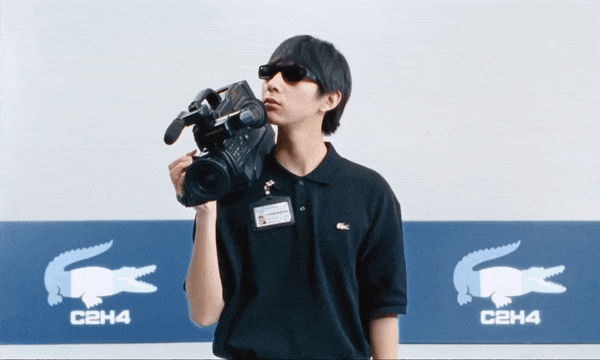 ▲ Korean brand C2H4 and Lacoste's collaborative collection. Image via: Instagram @c2h4
搭配 Tip 1:净色牛仔裤搭配最经典
If you were to pick one of the least wrong underwear for a polo shirt, jeans would be the first choice. Whether it's a washed-out light blue, or the usual navy and grey-black jeans, pair them with a simple polo shirt and you're ready to go.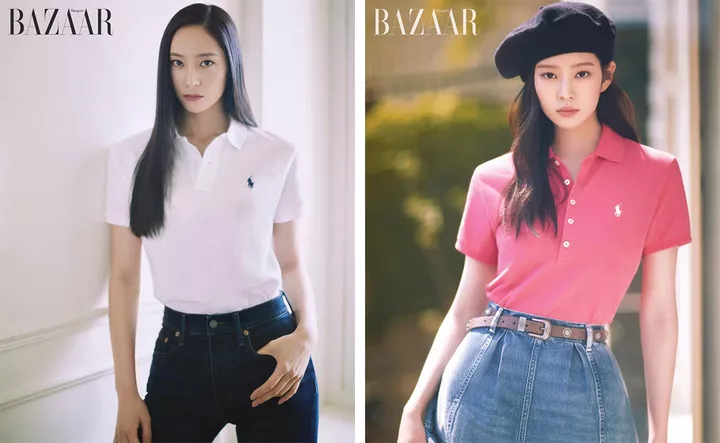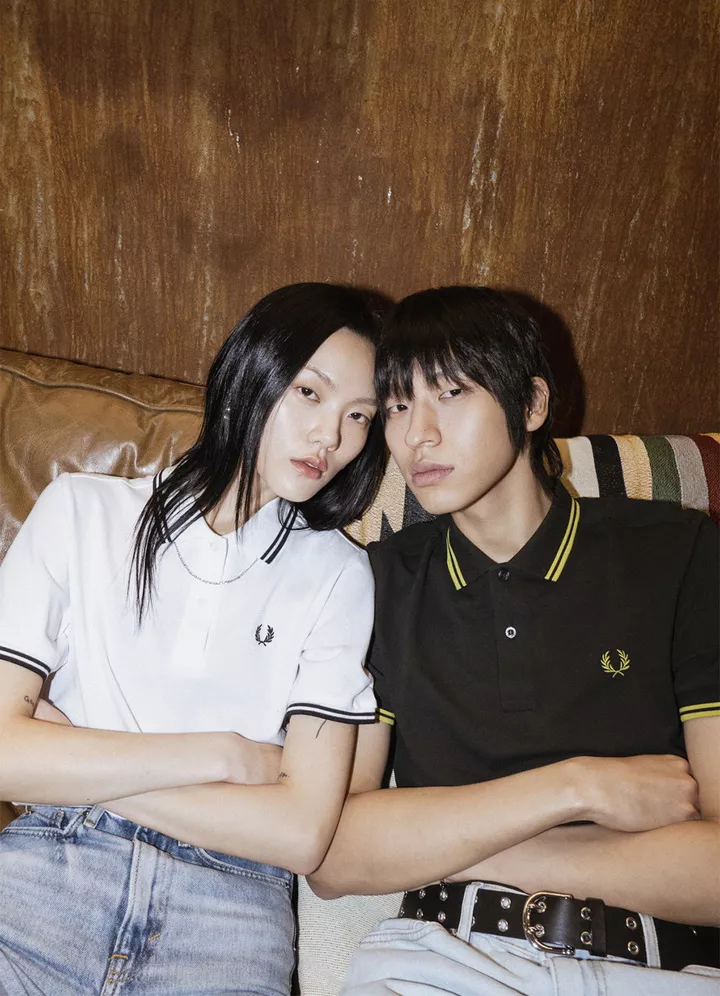 ▲ Fred Perry Spring/Summer 2022 Lookbook
For a little spruce up, try tying a denim shirt or jacket around your waist.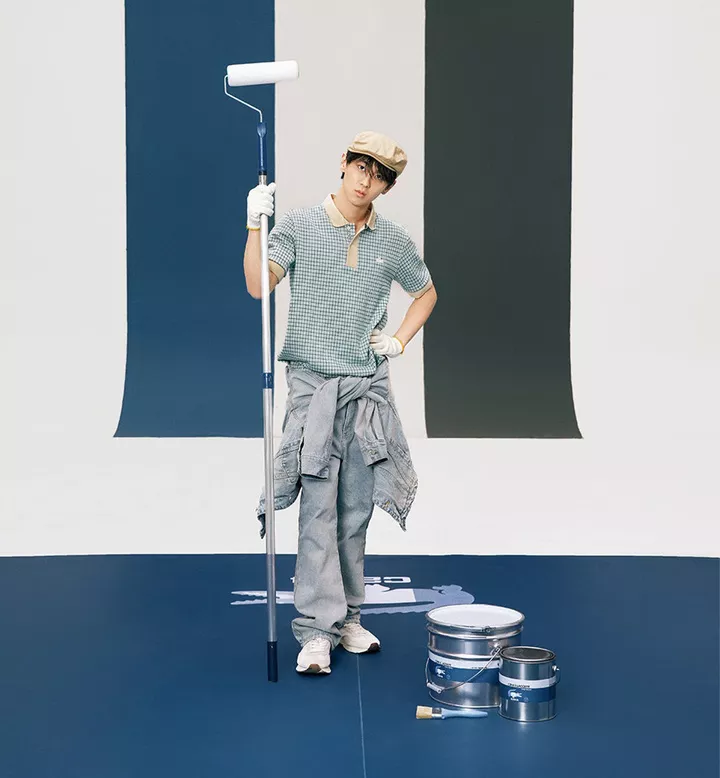 ▲ Korean brand C2H4 and Lacoste's collaboration collection. Photo from: C2H4 official website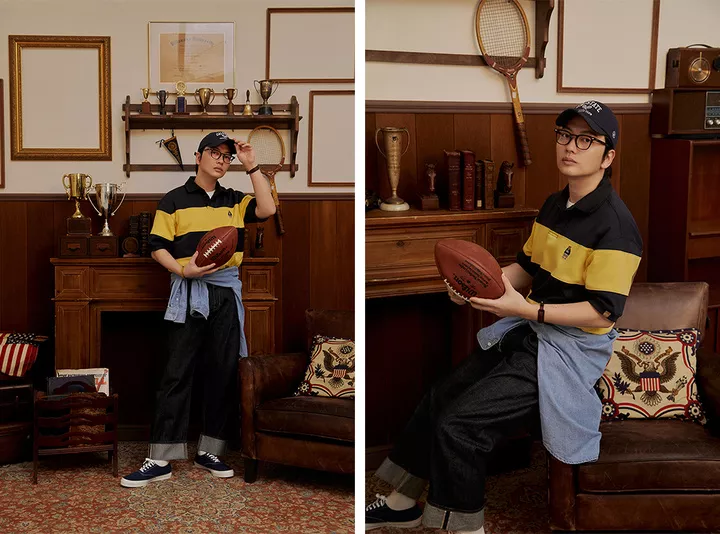 ▲ Korean Brand WHO.A.U Spring/Summer 2022 Style Book
Matching Tip 2: Look younger with lighter colored bottoms
Bright white and beige bottoms can be a great match for polo shirts of all colors. Pair it with a pair of clean white shoes and you're instantly transformed into an energetic teenage boy or girl on the tennis court.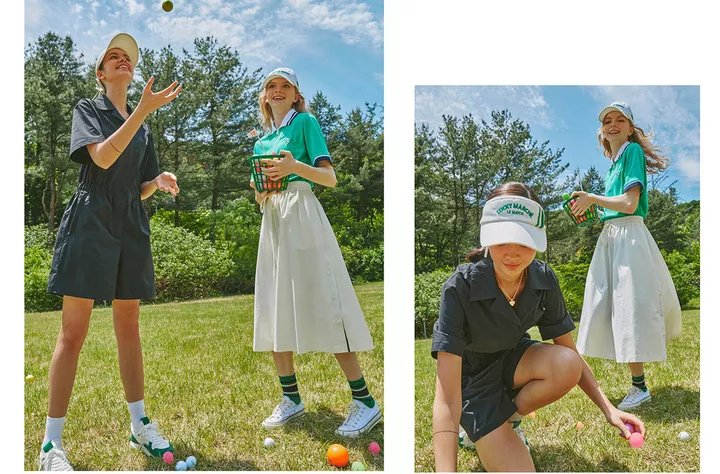 ▲ Korean brand Lucky Marché Spring/Summer 2022 lookbook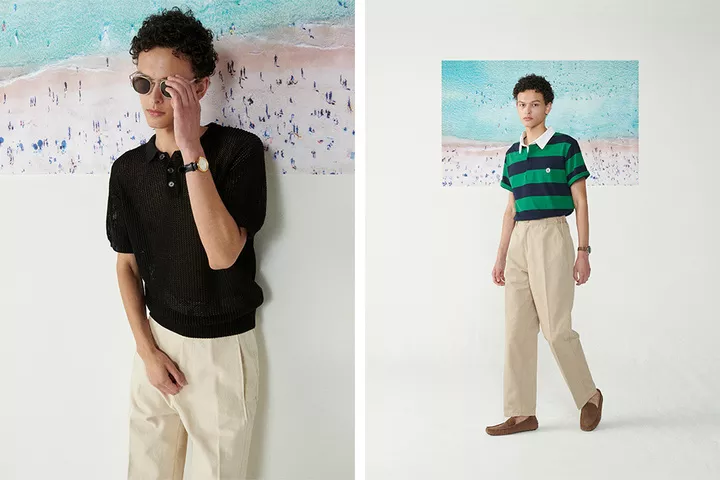 ▲ Korean Brand Agent Peek 2022 Summer Lookbook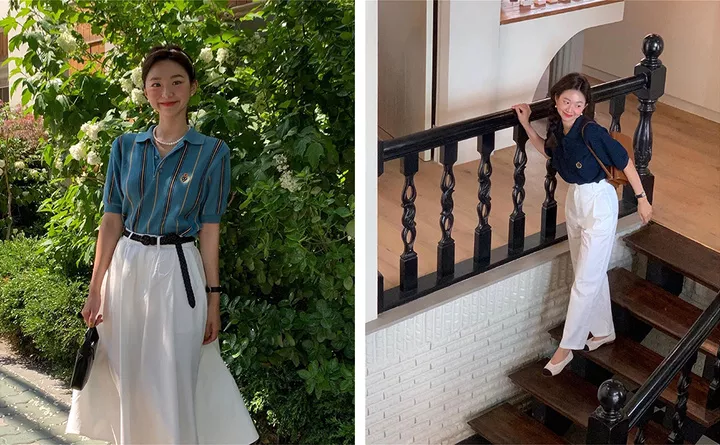 ▲ Image via: Instagram @feve__r
Equally good with white are khaki slacks.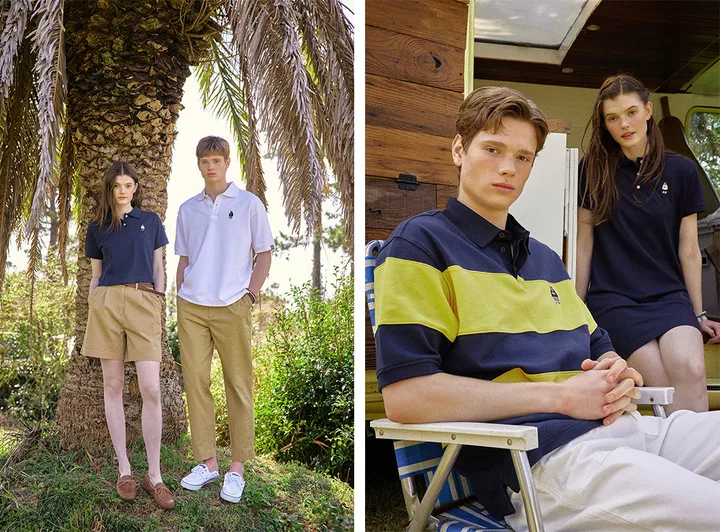 ▲Korean brand WHO.A.U 2022 Summer Style Manual
We recommend tying a leather belt around your waist, wearing a pair of small leather shoes and a pair of long white socks, and then pairing it with the same vintage temperament of a leather bag, beret or small silk scarf and other small things to wake up the polo shirt unique retro temperament.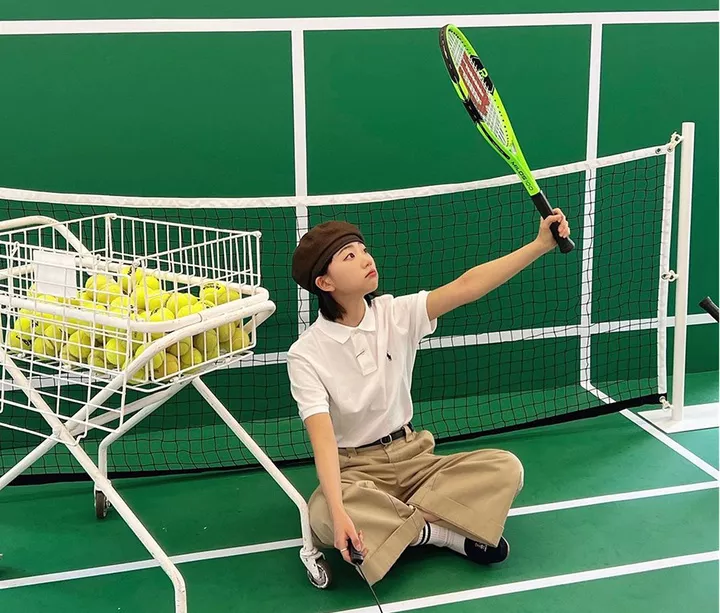 ▲ Image via: Instagram @midnight_blanc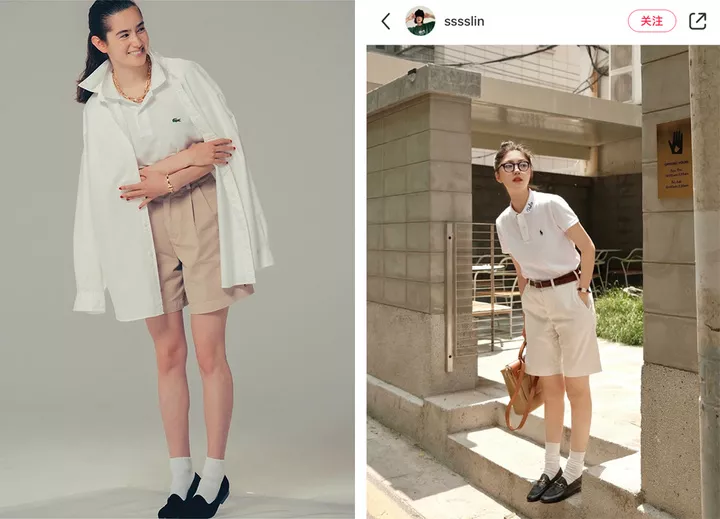 ▲ Image via: Instagram @popeye_magazine_official / Little Red Book @sssslin
Matching Tip 3: Wearing the same color saves you time and shows off your sophistication
Wearing a light colored polo shirt in the summer and pairing it with a bottom half in the same color makes it seem like it's no longer a polo shirt as a simple top, but a whole stylish suit with style.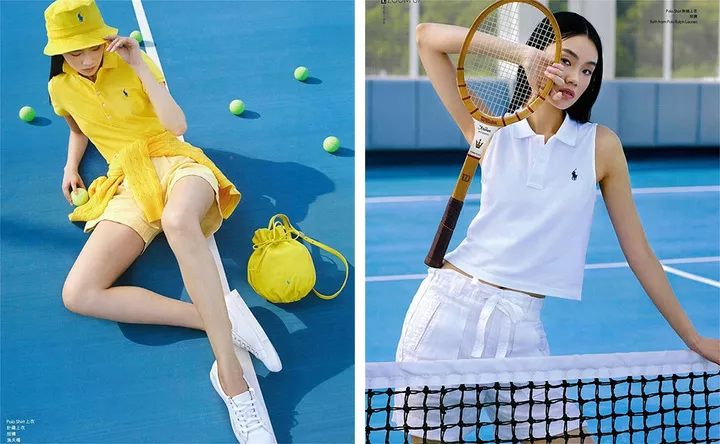 ▲ Image via: Instagram @poloralphlauren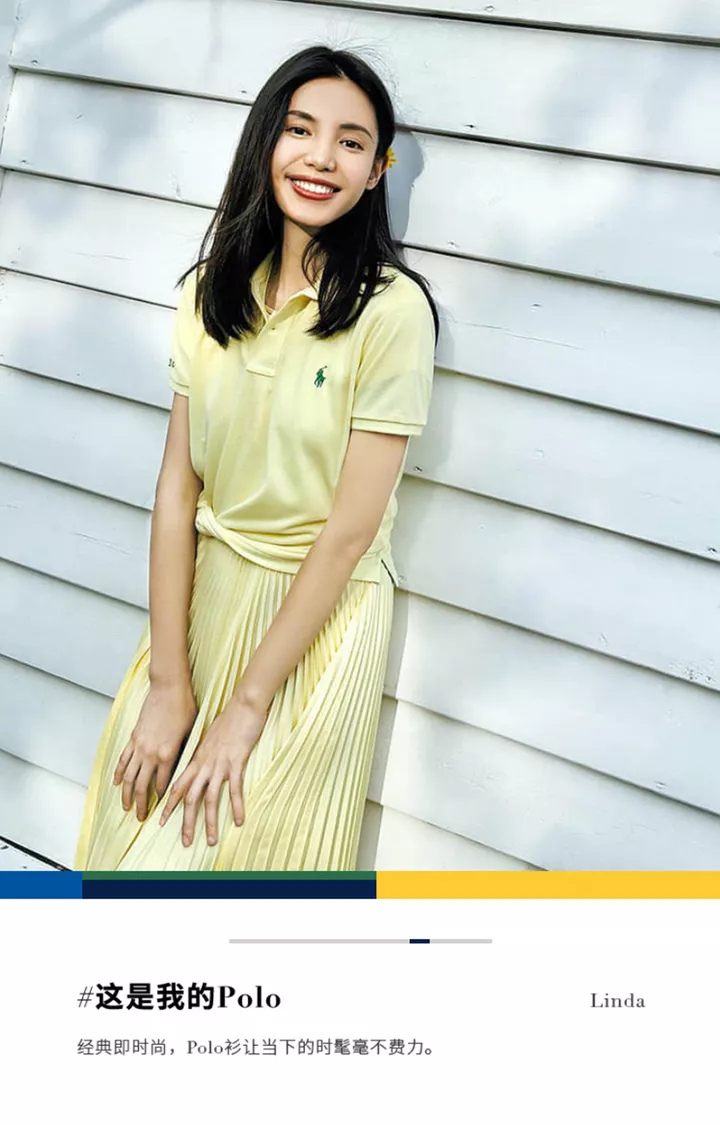 ▲ Image from: Ralph Lauren Official Public Website
搭配 Tip 4:巧用针织衫增加搭配层次感
Knitwear draped over the shoulders or tied around the waist is a common and effective way to wear a polo shirt.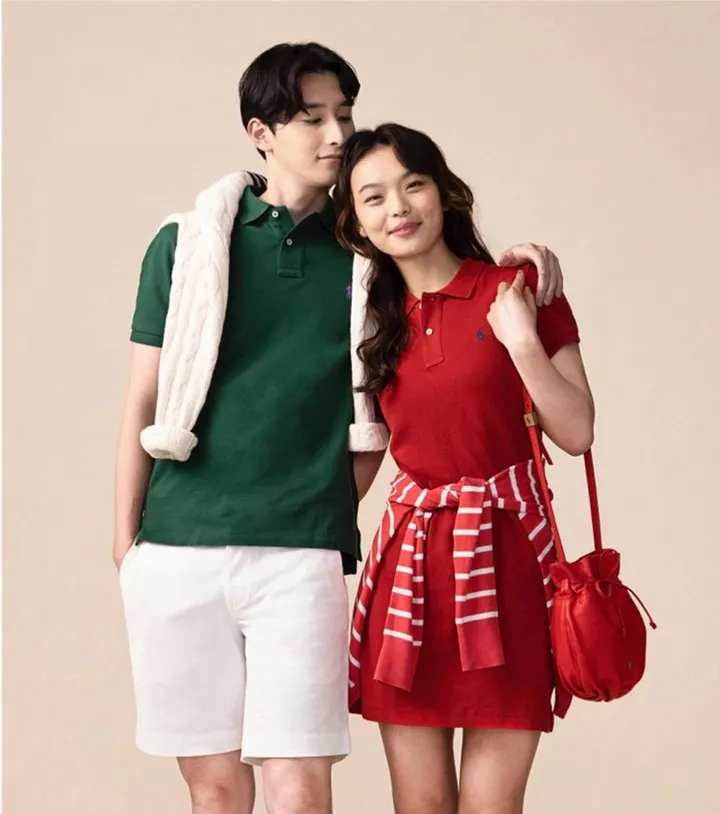 ▲ Ralph Lauren's 520-themed campaign this year. Image via: Instagram @kemmei0421
In Ralph Lauren's May release, the girl in the denim-backed pants, styled with her knit tied around her waist, is equally appropriate for adults.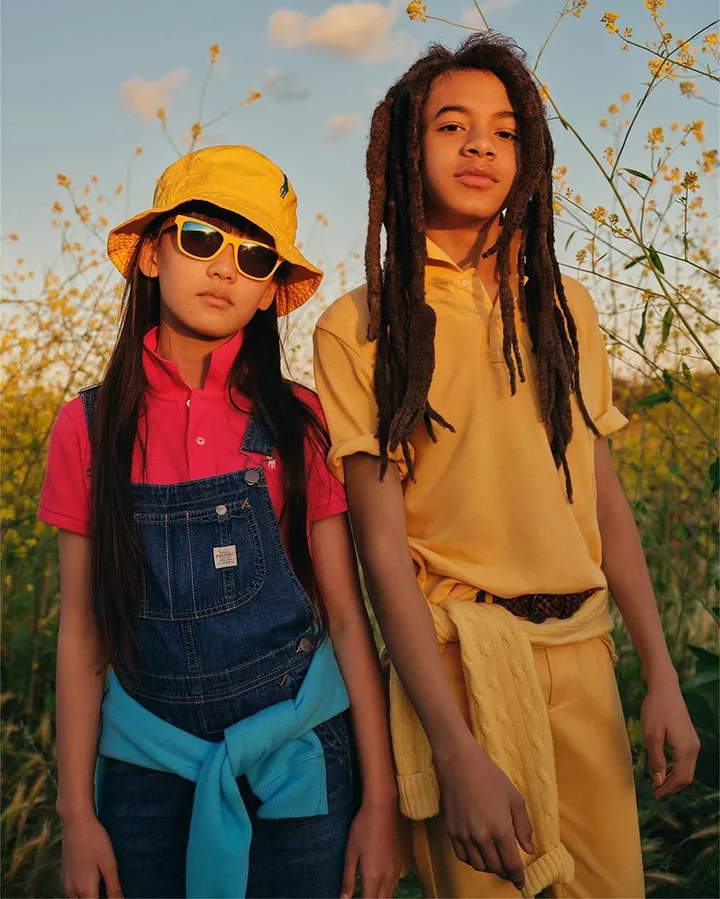 ▲ Ralph Lauren Spring/Summer 2022. Image via: Instagram @poloralphlauren
with Tip 5: If you're not afraid of the heat, try a premium layered look.
In the official Ralph Lauren campaign this year, the most common look is to layer multiple polo shirts in different colours. But in the heat of summer, this is not only a bad way to dress yourself in terms of temperature, but it also requires constant care to achieve a flattering look when layered.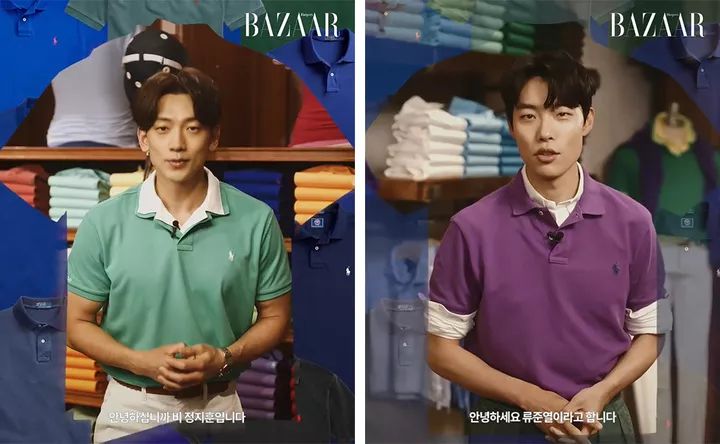 The Korean star wearing a Ralph Lauren polo shirt for a Bazaar photo shoot. Photo via: Instagram @maidennoirr
However, switching to a simple white t-shirt to wear underneath is a trick that has been adopted by many brand matchbooks, focusing the eye on the neckline for a fresher, cleaner look.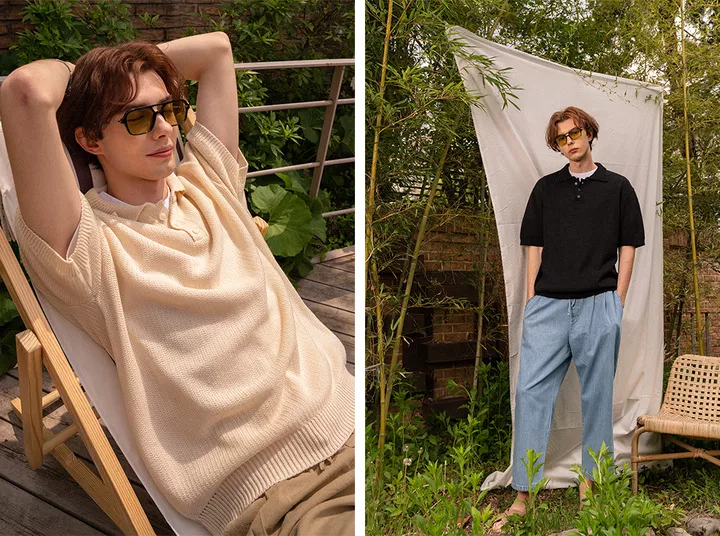 ▲ Korean brand Halbkreis 2022 Summer Style Book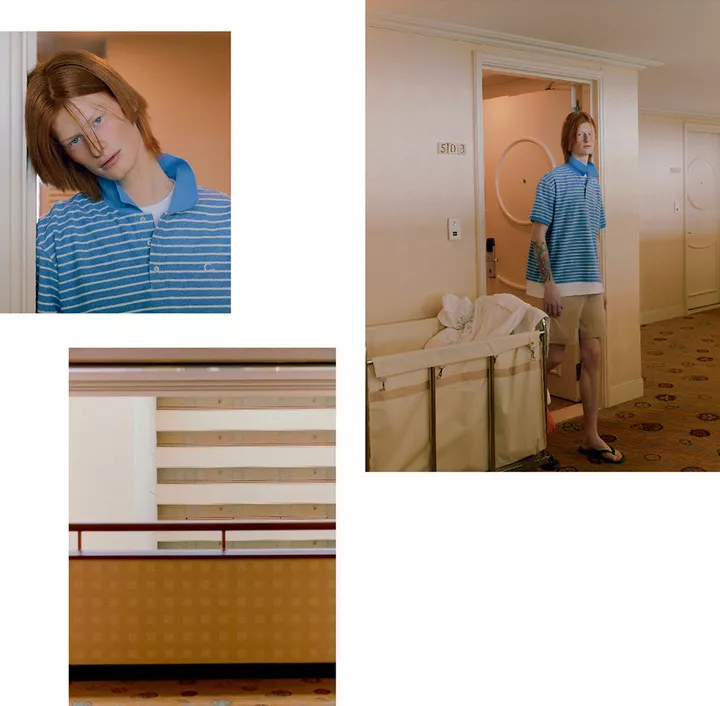 ▲ Korean Brand CLOVE 2022 Summer Style Manual
Wearing a classic woolen vest or pullover over it is a popular way to style it this year, creating an intellectual chic look. It's also excellent for photos.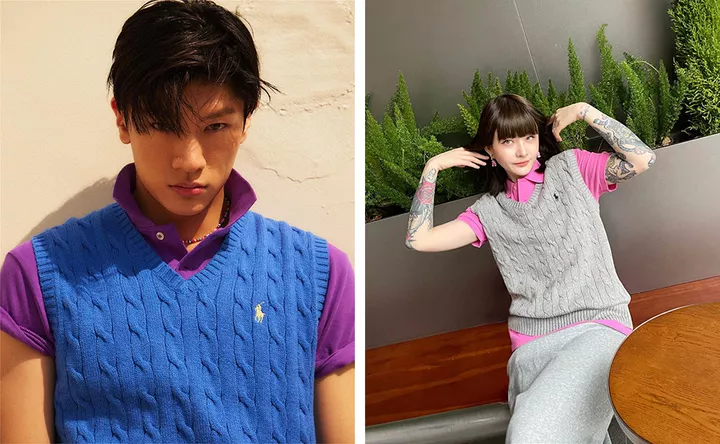 ▲ Image via: Instagram @poloralphlauren / Official Ralph Lauren Public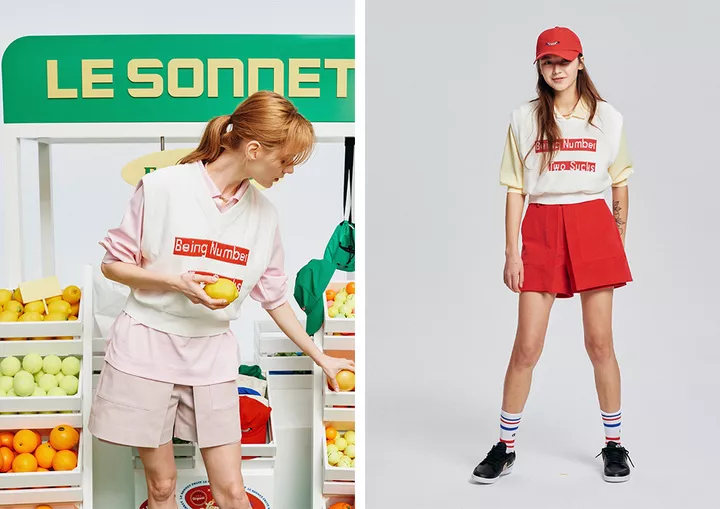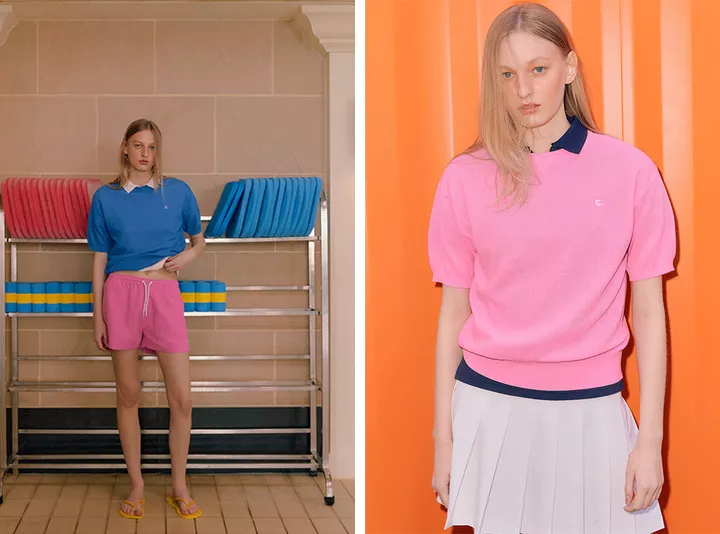 ▲ Korean Brand CLOVE 2022 Summer Style Manual
"Good clothes add to you, they don't add to you." This saying holds true when it comes to wearing polo shirts.
After all, a polo shirt is not just a white t-shirt, it carries in itself a model of elegance polished over decades. It may be able to be interpreted in millions of styles, but it does not necessarily suit millions of people. It is only when this polo shirt is worn with care, on you and me, that it gives us a boost in both image and temperament, that it is a classic that suits us.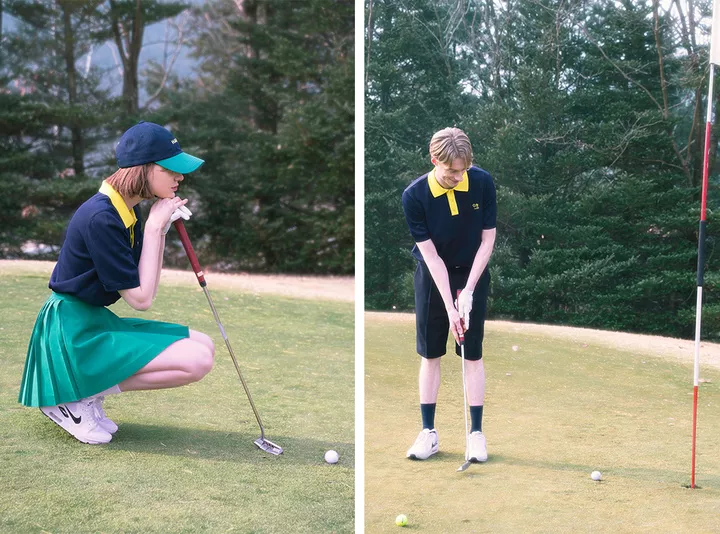 ▲ Korean brand Out of bounds spring/summer lookbook
As Ralph Lauren wrote on the back cover of his new book - "It's never a piece of clothing, it's a way of life" - polo shirts and other fashion items are always just a primer, finding your own style is the main chapter of life.