Just this past late May, a wave of fashion insiders took to social media to 'show off their wealth' - posting photos of thick stacks of $100 dollar bills. There were also those who took videos, recording themselves swiping and counting their money and their voices.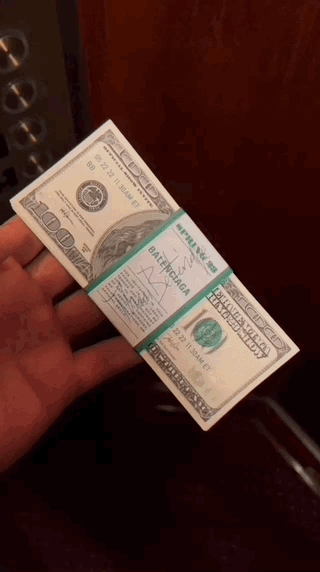 ▲ Video by Thom Bettridge, Creative Director of global shopping site SSENSE. Image via: Instagram @thomthomclub
The same wave of people who are counting money to their hands, but in March this year to send a burst screen iPhone 6 of various photos and videos, that screen shattered really let people's hearts to break, this repair costs have to spend a lot of money.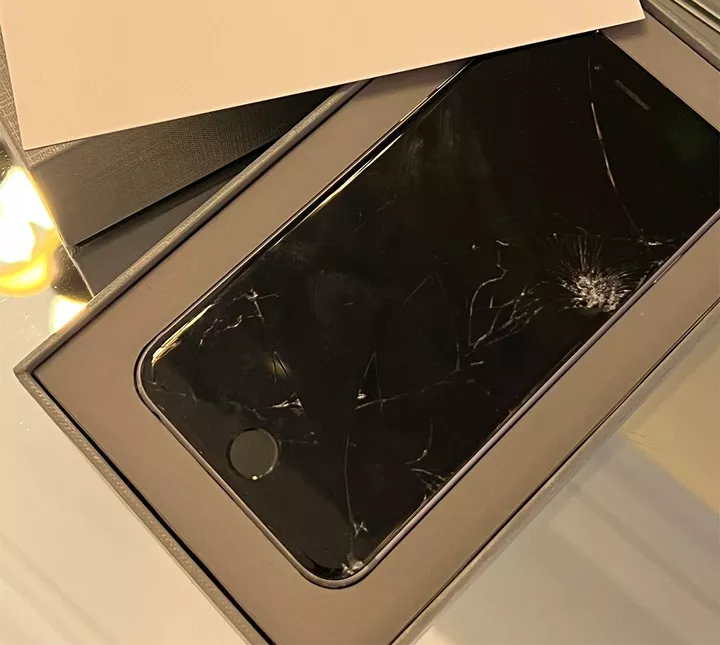 ▲ Exploding screen iPhone 6. image via: Twitter @bryanboy
Are they part of some mystery club? No, they were invited to the Balenciaga show, and the iPhone 6 and the dollar bills were invitations to the show. iPhone 6 is the original and genuine one, so I have to say - it's amazing that a phone with a burst screen can be bought by a luxury brand as an invitation to the show. The iPhone 6 is a genuine iPhone 6.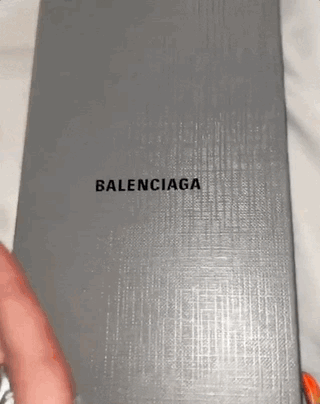 ▲ Jamie-maree Shipton, who received an invitation to the Parisian house. photo via: Twitter @hansoheeglobal
The iPhone 6 invitations brought this wave of people from all over the world to see a show in a man-made snowstorm where the models could barely walk - the Parisian House Fall/Winter 2022 ready-to-wear collection - on March 6 this year.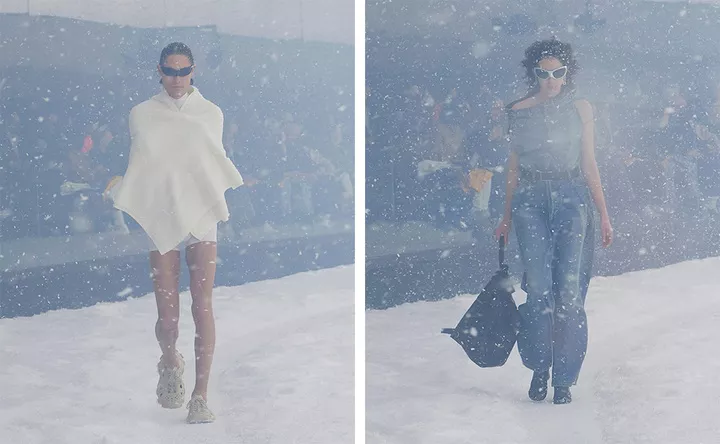 The fashion show for the Ready-to-Wear Fall/Winter 2022 collection. Image from: Vogue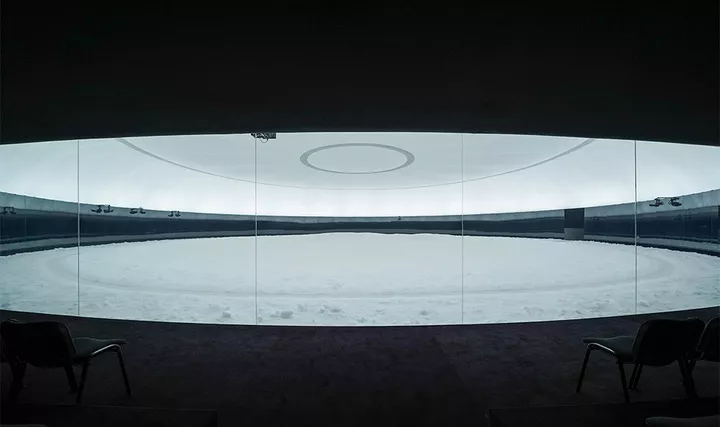 The venue for the Paris House Fall/Winter 2022 Ready-to-Wear collection. Image from: Dezeen
Demna has been influenced by her father's dream of being a banker since she was a child, and the stock exchange is a natural place for this New York dream. The Stock Exchange became a symbolic place for this New York dream.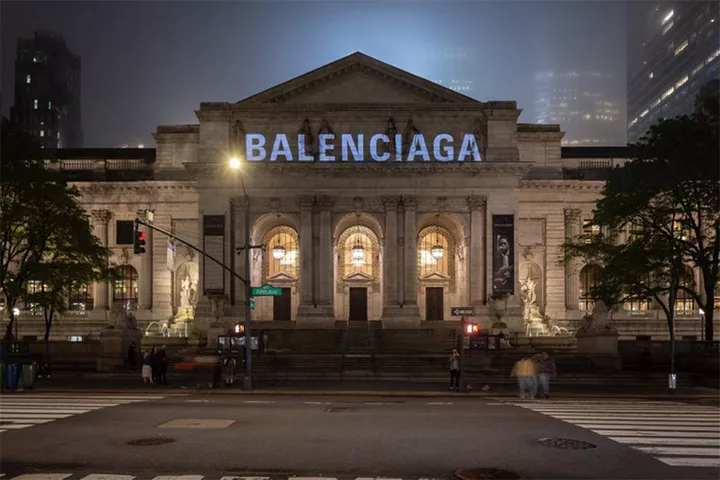 ▲ The New York Stock Exchange with the logo of the House of Paris on the projection. Image from: Hypebae
So on the day of the walk, a group of rubber-covered models, wearing Garde-Robe's new collection (classic wardrobe for office workers) and the Adidas collaboration (street mash-up style), walked up to the sound of stock exchange bells and a cacophony of background music inside the Wall Street Stock Exchange in New York.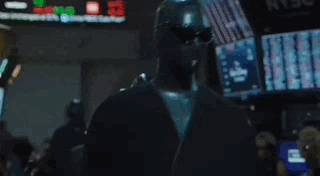 The collection was presented at the Balenciaga Spring Resort 2023 runway show. Image via: YouTube @Balenciaga
It's all going to the stock exchange, and it's outrageous not to give out money. The Parisian house now seems to be very reliable, preparing a large stack of thick American money - in fact, a fake version of the invitations to guests, with information on the location and time of the show, so that they can bring their 'money' to the show on time.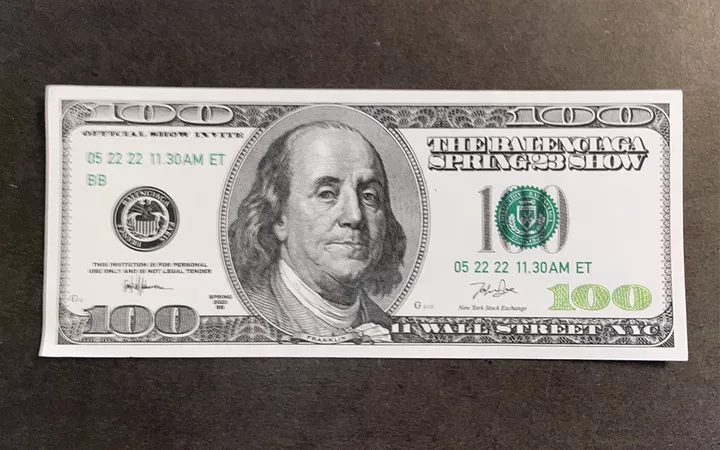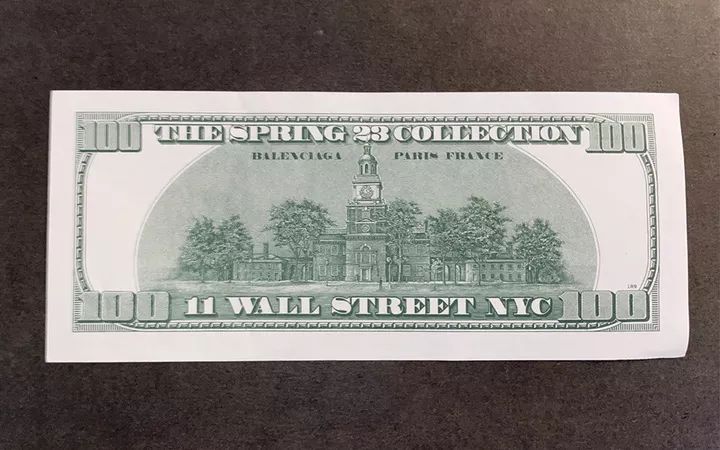 ▲ Front and back of the Parisienne fake money invitation. Image from: Grailed
Today, let's not talk about dreams, not money, and let's talk about money - about what money can do, about the taste of money, and about invitations that can be designed with money.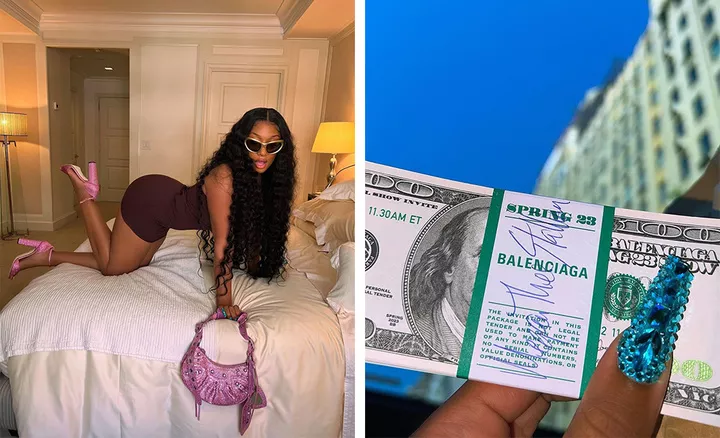 ▲ Singer Megan Thee Stallion posts both a selfie and a Parisian invitation. Photo via: Instagram @theestallion
Money is "all-powerful" and so are fake dollar bills
Before the show, many wondered how Demna took down the New York Stock Exchange, and Demna later didn't shy away from spilling the beans: "It was really super easy, hey, money talks."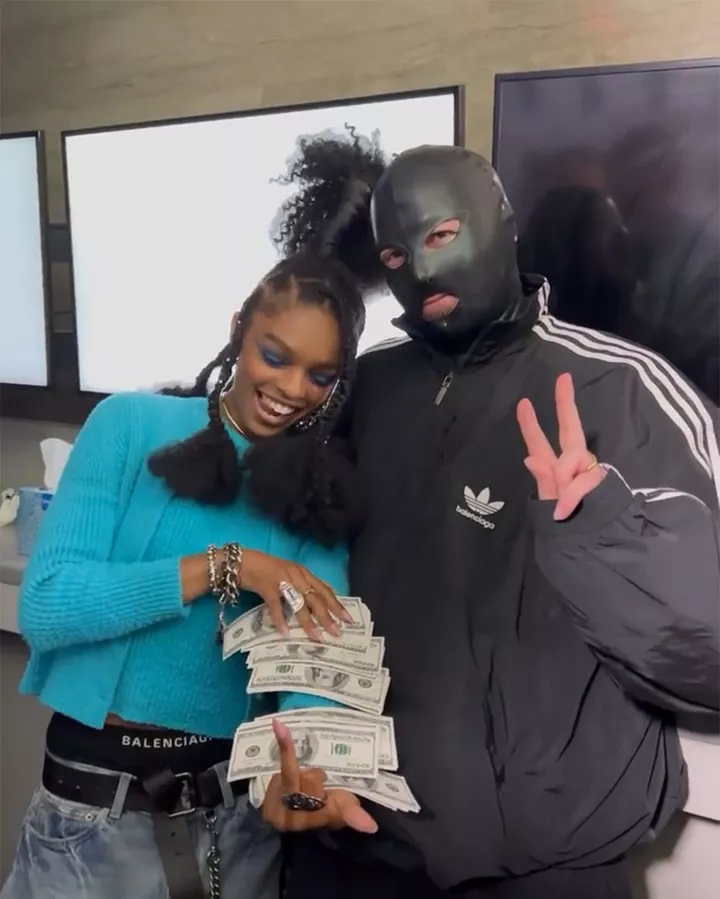 ▲ Demna Gvasalia (pictured right) in a rubber suit to match Selah Marley's 'Show Off'. Image via: YouTube @demnagram
There are also those who argue that Demna is doing this clothing line as a criticism of the evil capitalism. I'm sorry, but again, these people are wrong about Demna's intentions.
For Demna, the most important challenge for creative people in fashion is to create desirable products that create the desire to buy. When it comes to the things that evoke the most desire, what could be better than money?
Demna also set up a money counting machine, put in a stack of US dollar bills and made the most lust-worthy promotional video for the show.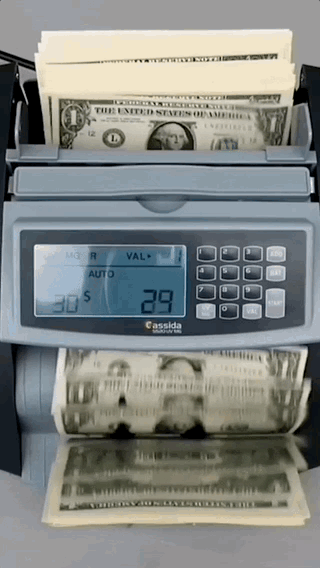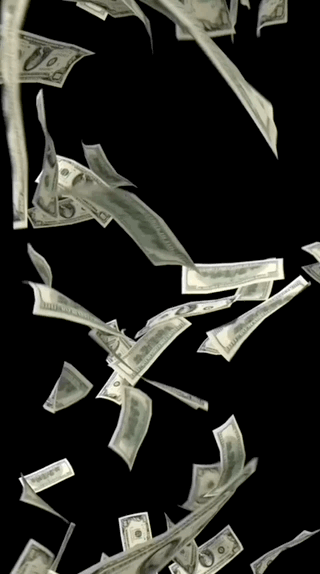 ▲ Paris House runway promo video. Image from: YouTube @demnagram
The desire for money is the greatest human fetish.

-- Demna Gvasalia, Creative Director, House of Paris
The counterfeit banknotes printed by Imprimerie du Marais, I'm afraid that if the serial numbers were not deliberately replaced with these informative texts, you wouldn't be able to see the difference when you hold up a magnifying glass. The company that prints the counterfeit banknotes is an old printing company based in Paris under the name Imprimerie du Marais.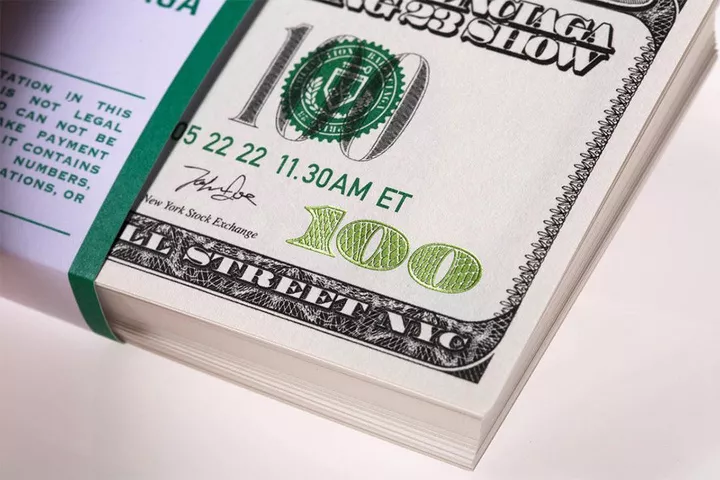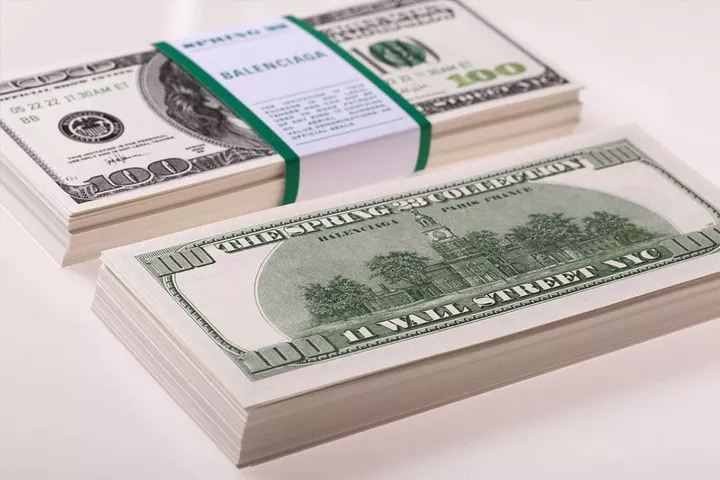 ▲ Detail image released by printing company Imprimerie du Marais. Image from: YouTube @imprimeriedumarais
The company's name sounds strange, but its clients are more famous than ever - Dior, Givenchy, Kenzo Takada, Majella, Acne Studios, Isabel Marant, etc. This time, Parisian House is among the long list.
To attract so many big names in fashion, Imprimerie du Marais is also quite amazingly powerful and very daring to innovate. For example, last year it created a fake passport for fashion house Balmain's international airport-themed runway show, with details that rivaled the real thing.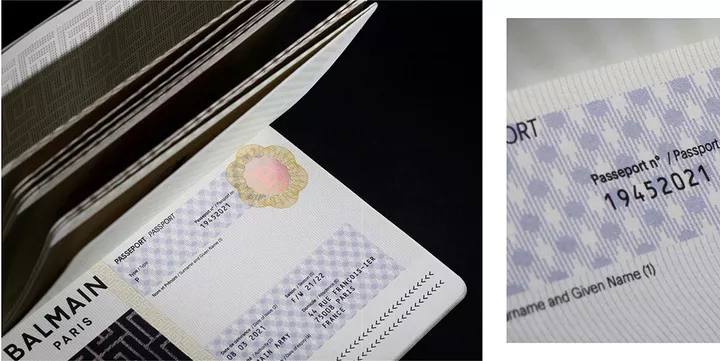 The official Instagram of Imprimerie du Marais recently posted a 34-second video of fake bills being made. It's really hard not to get excited when you see this oversized piece of paper cut into a single bill and stacked up in stacks of hundred dollar bills.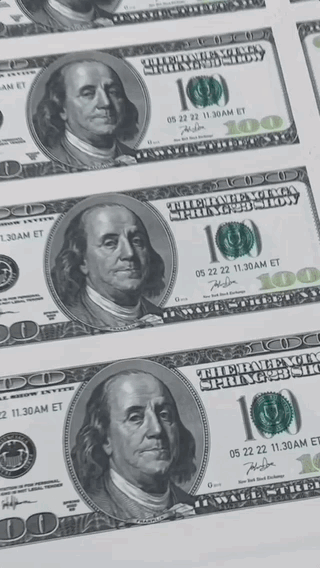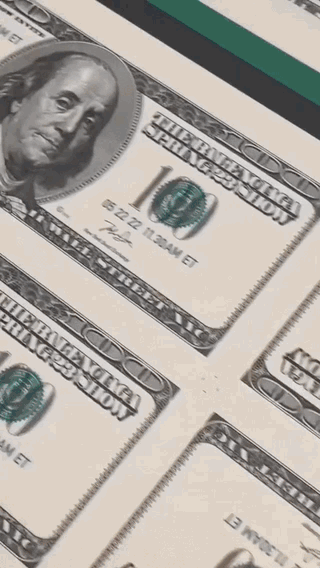 ▲ Production video posted by printing company Imprimerie du Marais. Image from: YouTube @imprimeriedumarais
However, this isn't the first time Parisienne has played with fake money, let alone the first time a fashion brand has talked seriously about 'money'.
The always creative fashion house Maison Margiela launched its $11 bill wallet back in 2008. This year, it's back with the bill-inspired sneaker Future High Top Sneakers.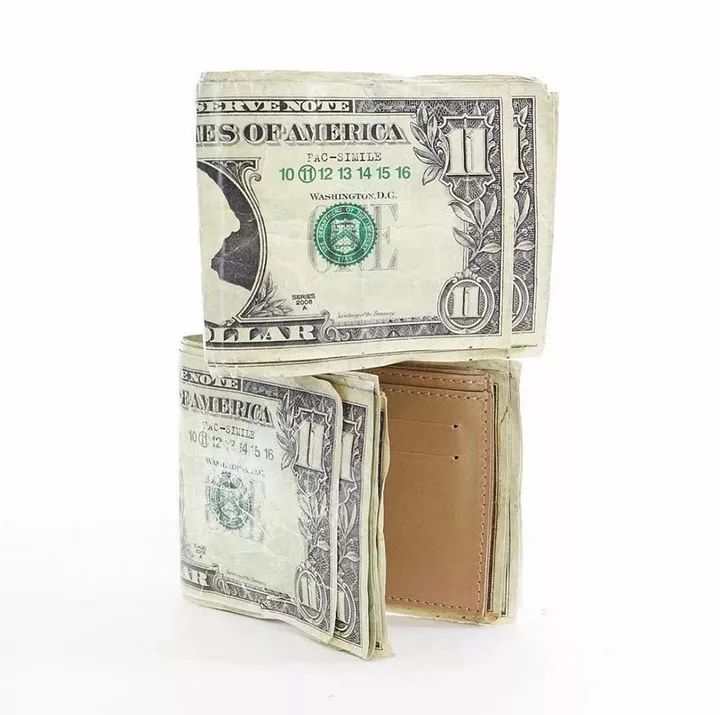 ▲ Maison Margiela bill wallet. Image via: Instagram @archived.dreams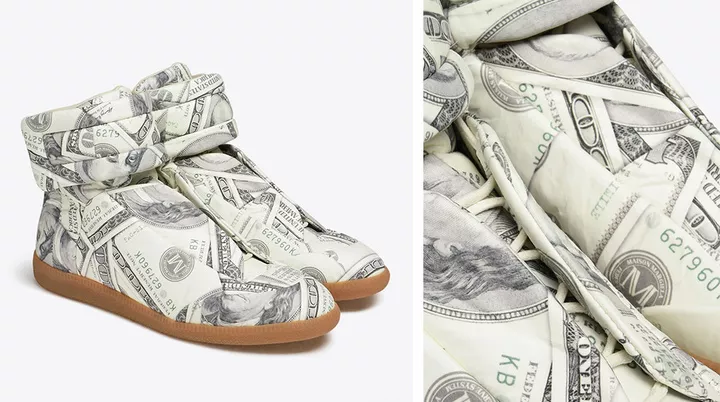 ▲ Maison Margiela Future High Top Sneakers. Image from: Maison Margiela
The American designer brand Jeremy Scott's Fall/Winter 2001 collection featured a long trench coat and the Forum Wings 1.0, a collaboration with Adidas in 2003, was also covered in dollar bills.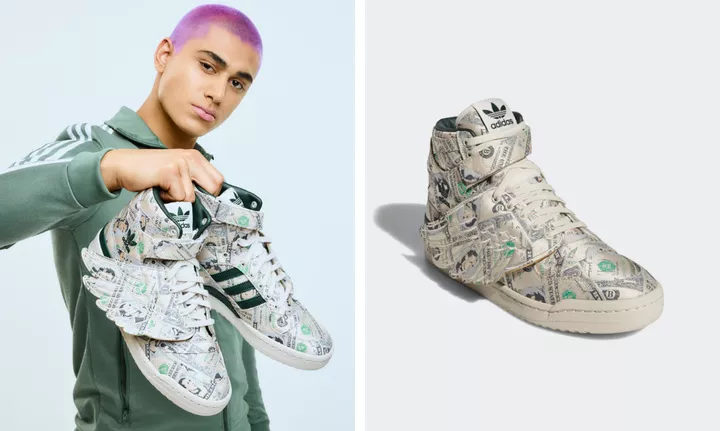 ▲ Jeremy Scott 与 Adidas 合作推出的 Forum Wings 1.0. 图片来自:Mans World India
Kim Kardashian also wore this banknote trench coat with the banknote boots from Parisienne 2018.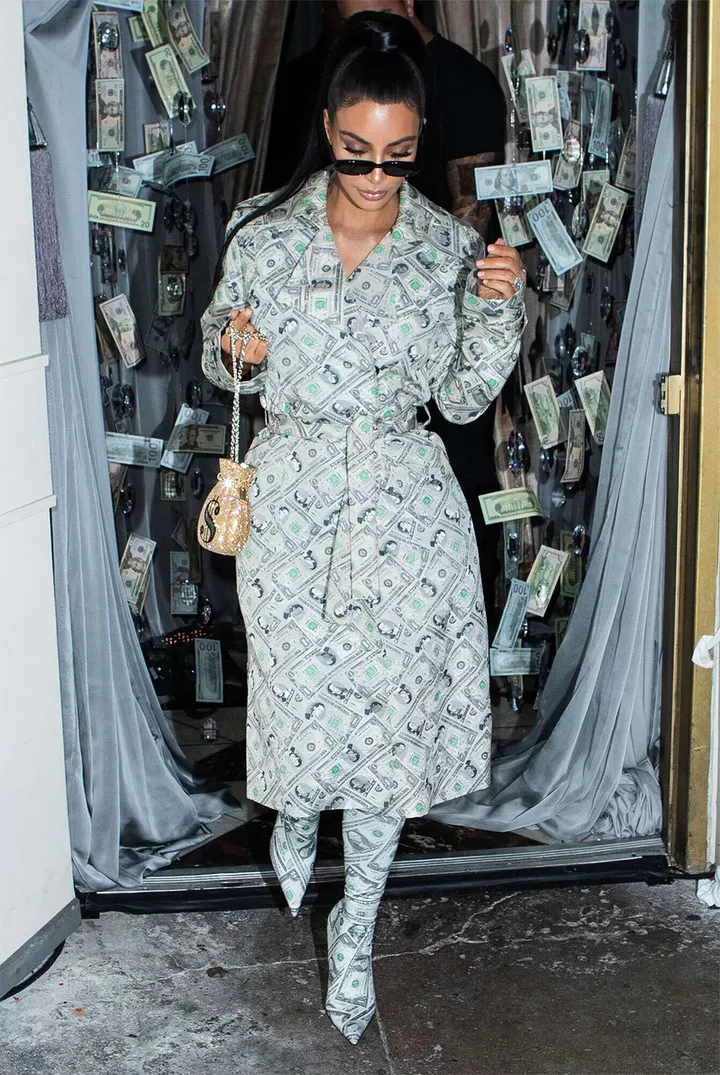 The Parisian house's love affair with the dollar bill is even stronger - a BB Round bag for 2018, a dollar print shirt and a $1 faux fur scarf for 2021.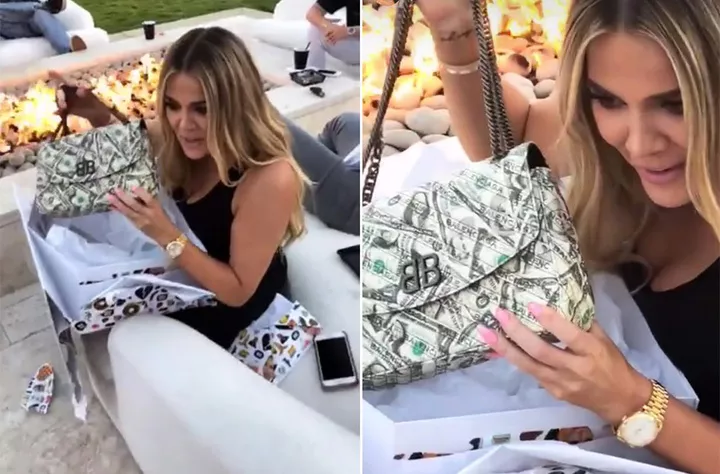 Khloe Kardashian received a BB Round bag from Parisienne for her birthday. Image via: Page Six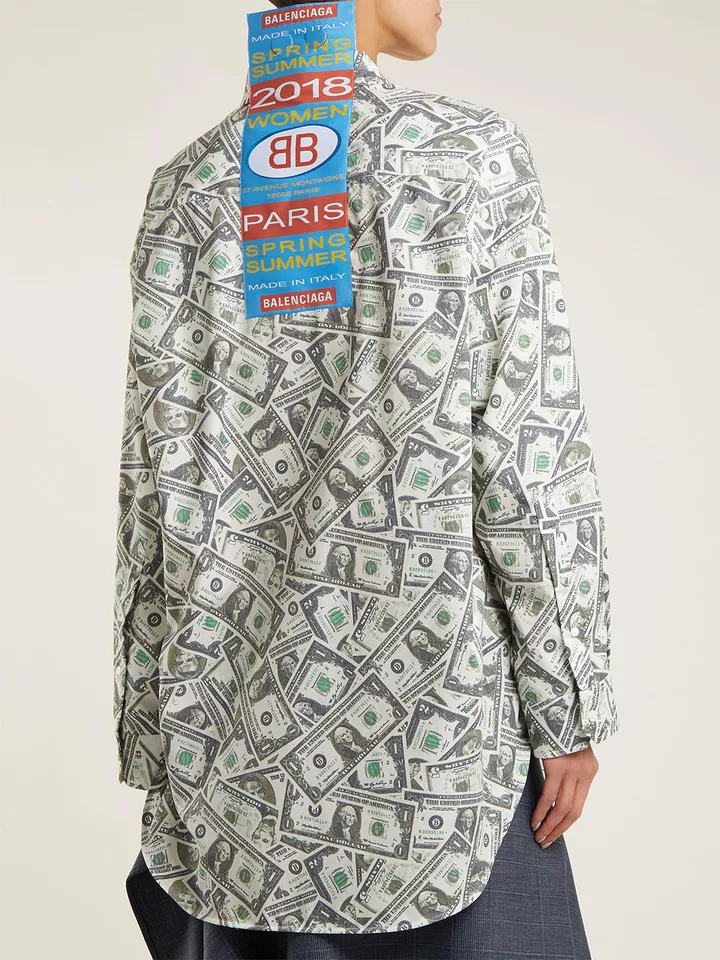 ▲ Dollar Print Shirt by Parisienne. Image from: Lyst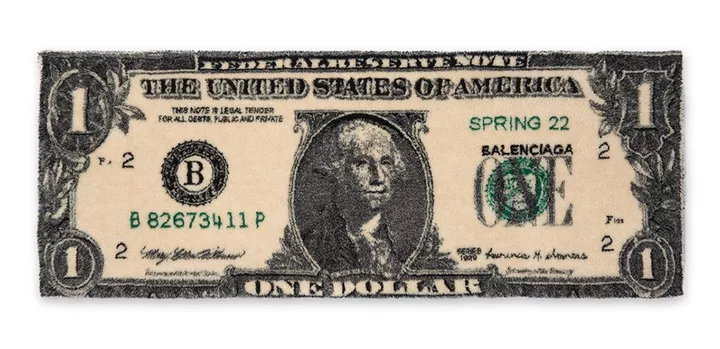 If this is a dollar bill themed design contest, the contest is still far from being over. What else will the designers come up with using fake bills? Let's wait and see.
A bill that doesn't smell like money doesn't even deserve a fake bill
Looking like 'money' and sounding like 'money' didn't satisfy Demna, who also wanted the invitations to smell like money this time.
Demna immediately thought of Sissel Tolaas, an old friend and partner of the House of Paris, and a very knowledgeable scent artist, on how to make fake notes with color and scent.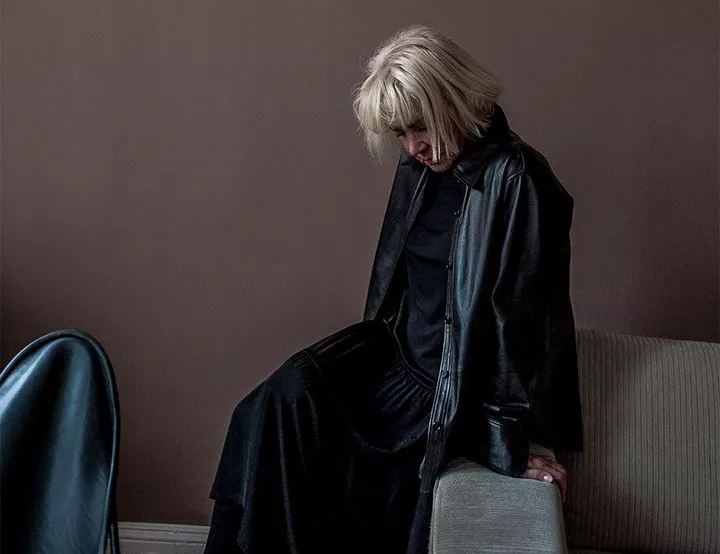 Sissel is a Norwegian-born German who speaks 9 languages and studied mathematics, chemistry, linguistics and fine arts at different universities in just 7 years. After that she traveled for 7 years collecting different scent samples around the world and then using her knowledge of chemistry to extract and replicate the scents.
Her collection of scents also included the sweat that David Beckham shed onto his Adidas sneakers. She made homemade cheese from the smell and also served it to VIPs at the Olympics.
In 2004, with the support of International Flavors and Fragrances (IFF), she founded the laboratory SMELL RE_searchLab, which has built up an archive of at least 7,000 real scents.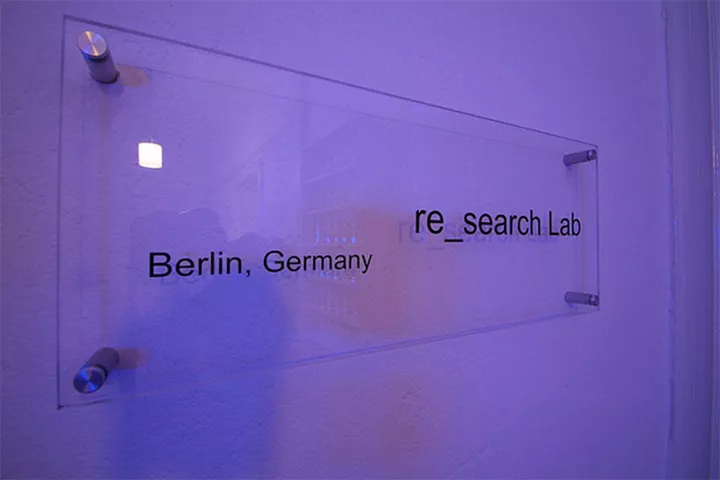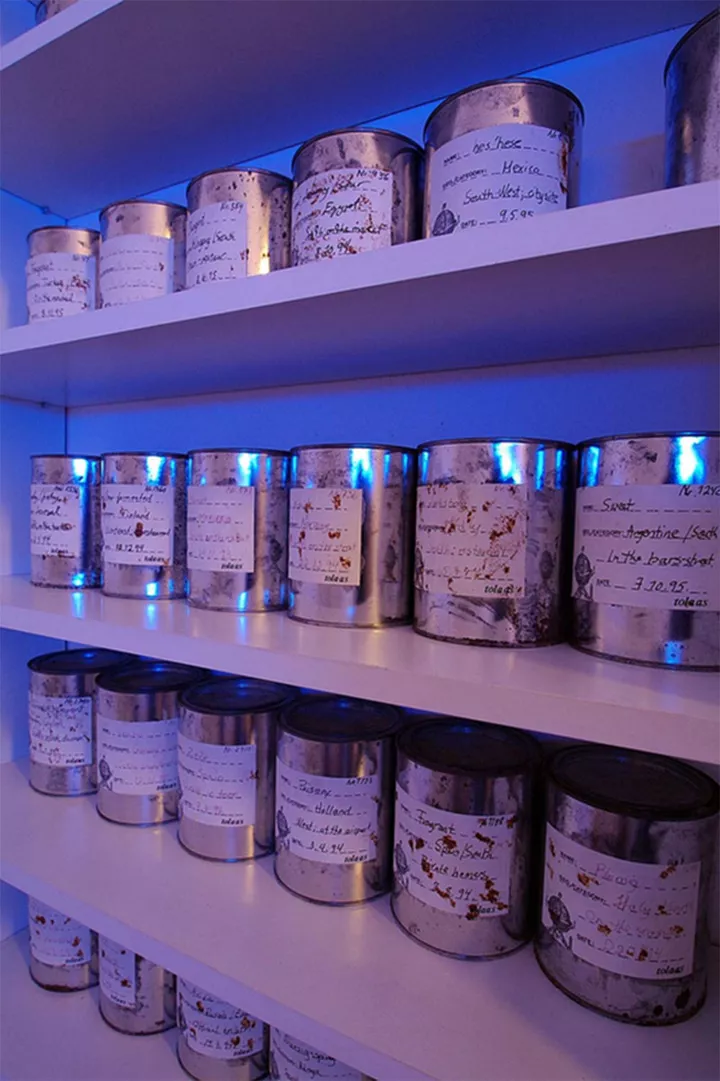 The first thing that comes to mind when a profession is related to scent is perfumers. But Sissel doesn't make perfume, nor does she like to wear perfume, because she believes that perfume distorts the reality of the world, which she wants to reveal and show to the public.
Every breath tells us something about the world, but we almost always forget how to smell.

--- Scent artist Sissel Tolaas
The common denominator of "the love of exposing the real world" has finally brought Sissel and Demna together.
Their first collaboration began in 2019 when the Parisian house's Spring/Summer 2020 collection created 'power dressing' and therefore wanted to exude a whiff of 'power' on the runway.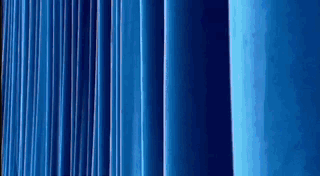 ▲ Live from the Parisienne Spring/Summer 2020 fashion show. Image via: YouTube @lamodeenimages
There is no better Sissel for this job, and she ended up developing 4 special scents - blood, antiseptic, petrol and money. By this time, Sissel Paris became obsessed with the smell of money.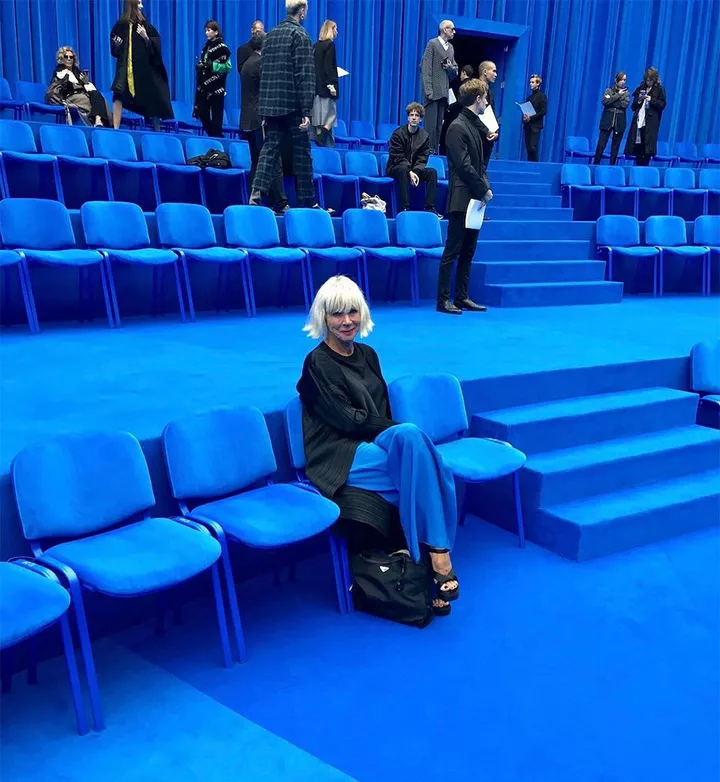 ▲ Sissel Tolaas on the set of the Parisian House show. Image via: Instagram @sssl_berlin
The following year, they collaborated again for the Fall/Winter 2020 show, this time with Sissel dubbing the entire space along with the earth exploding in various climatic disasters for the Parisian house.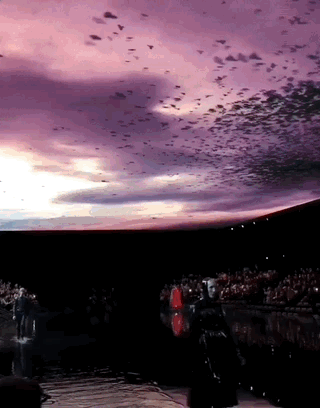 ▲ Live from the Parisienne Fall/Winter 2020 fashion show. Image via: Instagram @sssl_berlin
Is it true that Sissel does the money smell and other exotic smells that are a Parisian house special? No. You can smell it even when you buy a ticket to the exhibition.
She started a global touring exhibition, RE_\\_________, last year, with the first stop in Oslo, Norway, and is expected to move to Philadelphia, USA by the end of this year, with later locations to be announced.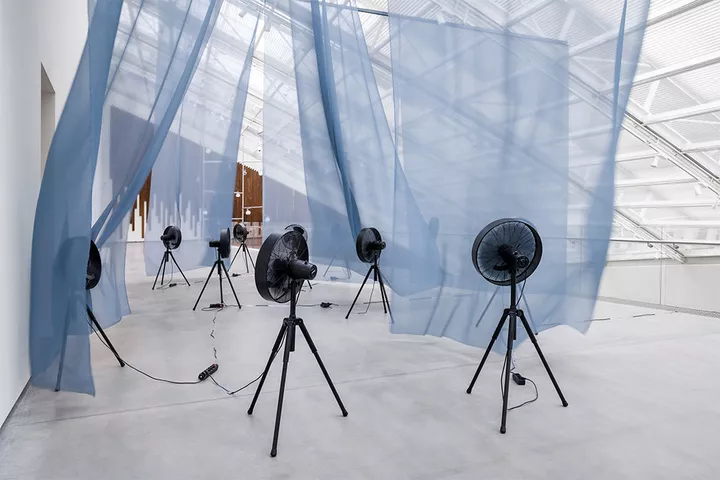 This exhibition in Oslo contains seven indoor and outdoor spaces. A hand-washing sink is located at the entrance to the museum's lobby, and visitors are asked to wash their hands with Sissel's skin-scented soap.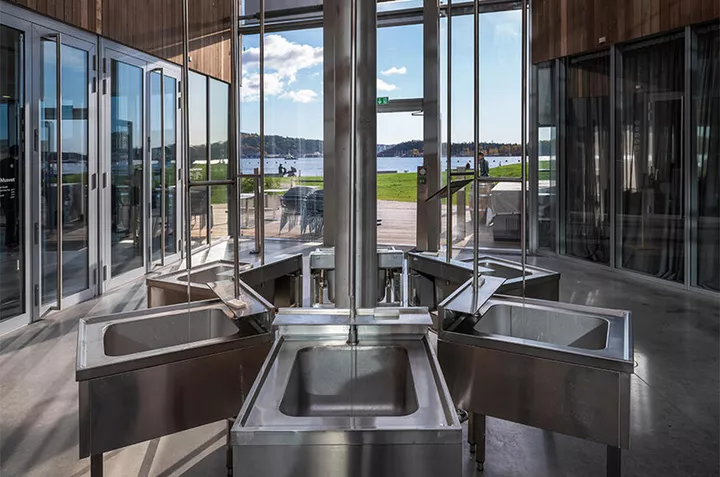 The outdoor space, which you enter immediately after, will have a money smelling sauna, which will smell like money after the sauna and leave Sissel's body odor on your hands. There is also a pool arranged next to it so that everyone can wash the money smell off their bodies.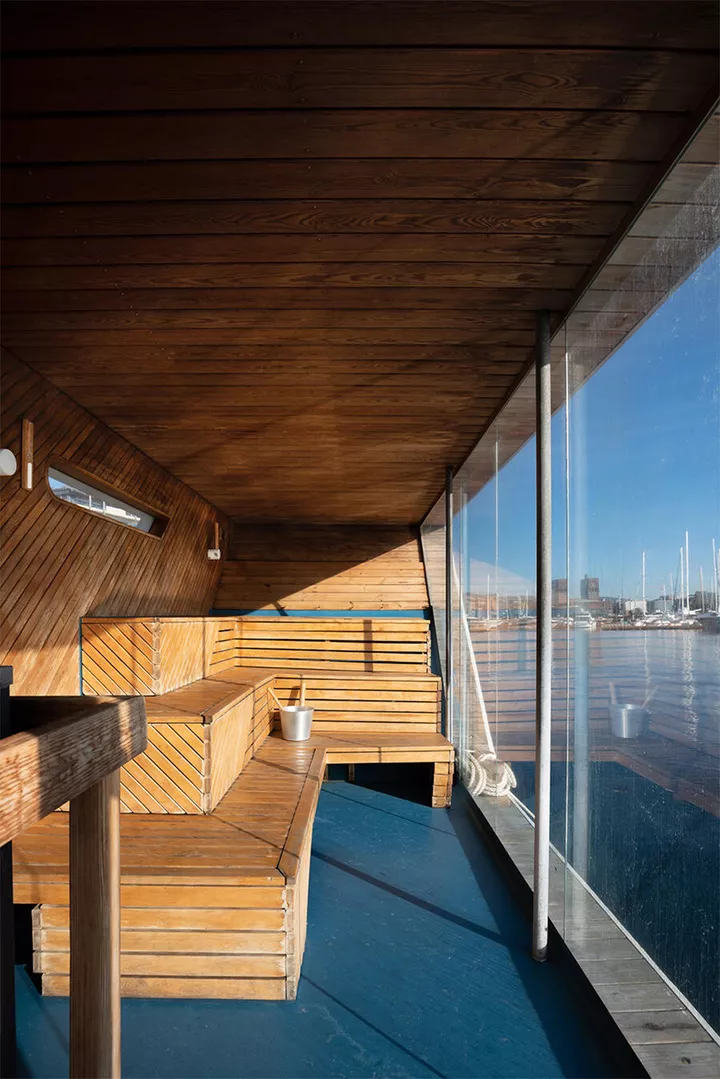 Will we come out of this smell of money as much as this invitation after wearing a bill print shirt from Parisian house and taking a sauna inside this smell exhibition?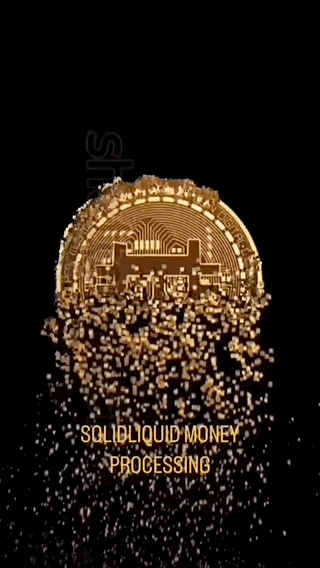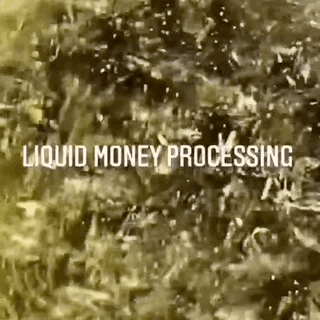 ▲ The process of making the Golden Money flavor. Photo via: Instagram @sssl_berlin
Invitations made into cards are tough to innovate and not environmentally friendly
Traditional invitations are beautifully printed, with the paper going to convey key information such as the time and location of the event. The invitation serves as the beginning of the entire event and usually forms the first impression of the guests of the upcoming event and is kept after the event as a souvenir of that event. This phenomenon would have been more evident in the past, when the internet was not yet developed.
Thoughtfully designed invitations also generate conversation and discussion, and invariably drive traffic to the brand. As an example, the invitation to Off-White's Fall/Winter 2019 collection show used a translucent envelope filled with real bills - a $10 and a 200 Euro.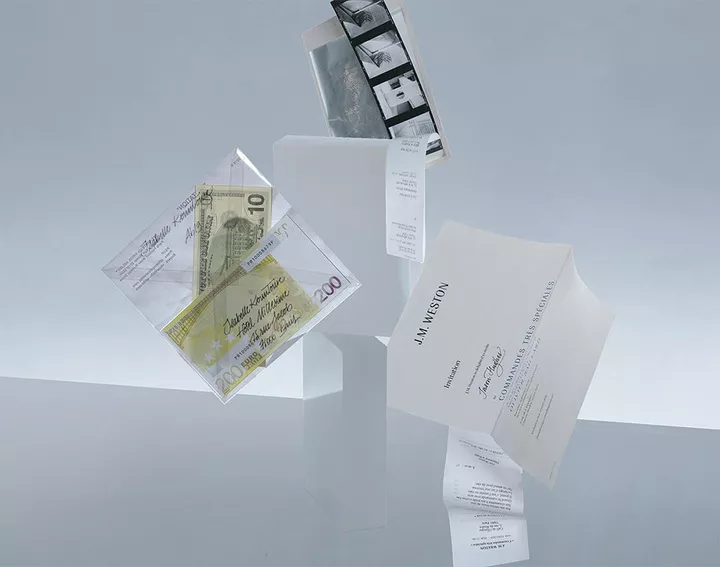 ▲ Invitations to the Off-White, Alyx and J.M. Weston Fall/Winter 2019 Collection Fashion Show. Image from: Wallpaper
At a time when ideas such as imitation airline tickets, shopping vouchers and stellar recognition letters are all over the place, some fashion brands, represented by Parisian house, are no longer satisfied with the 1.0 version of paper invitations and have started to play with the 2.0 version - items with commemorative meaning.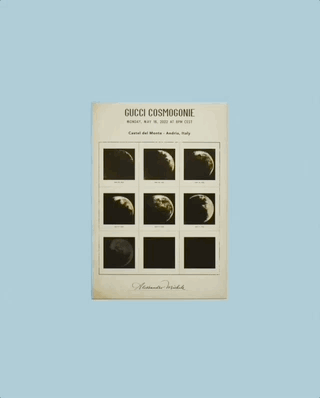 Gucci's Stellar Letter of Acceptance invitation. Image via: Instagram @gucci
Replacing invitations with food is starting to take off in 2019. Some of the most iconic are Jacquemus' bread, Gucci's fruit and vegetable gift bags and Fendi's bespoke pasta.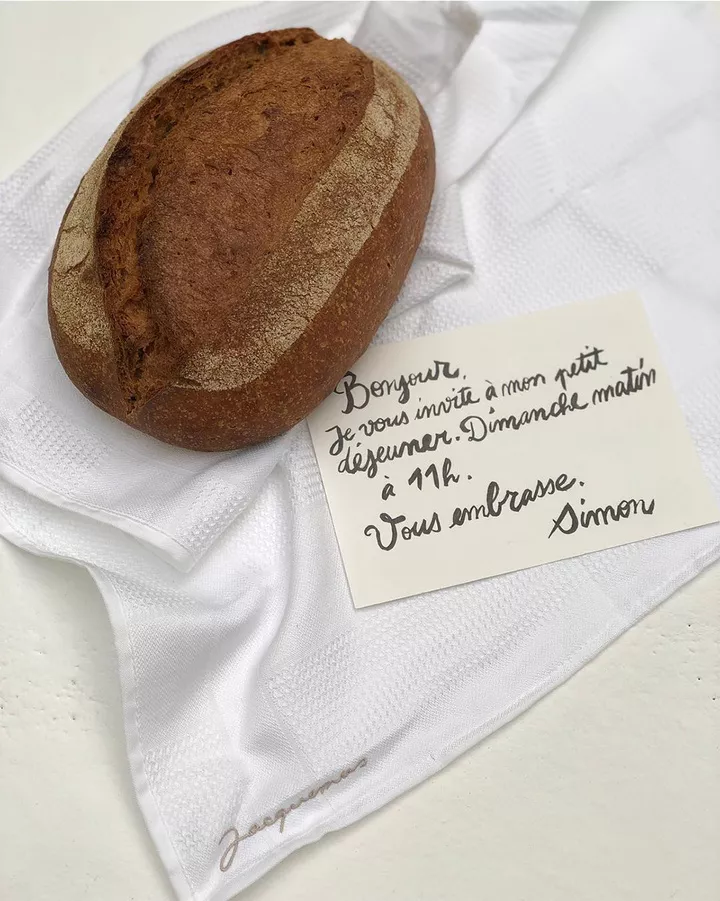 ▲ Jacquemus' Bread Invitation. Image via: Instagram @jacquemus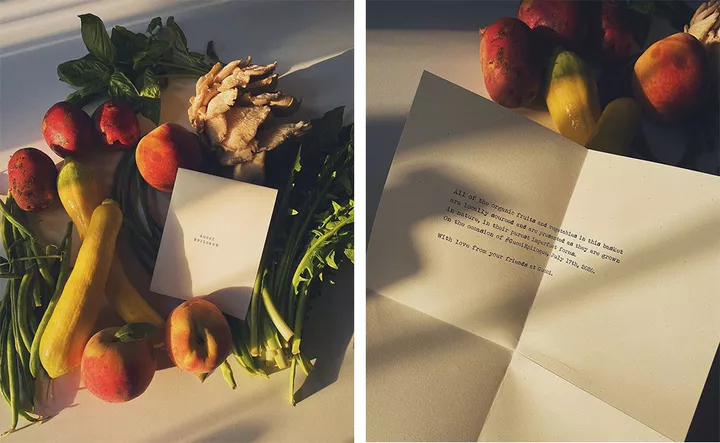 ▲ Gucci's Fruit and Vegetable Invitation. Image via: Facebook @DietPrada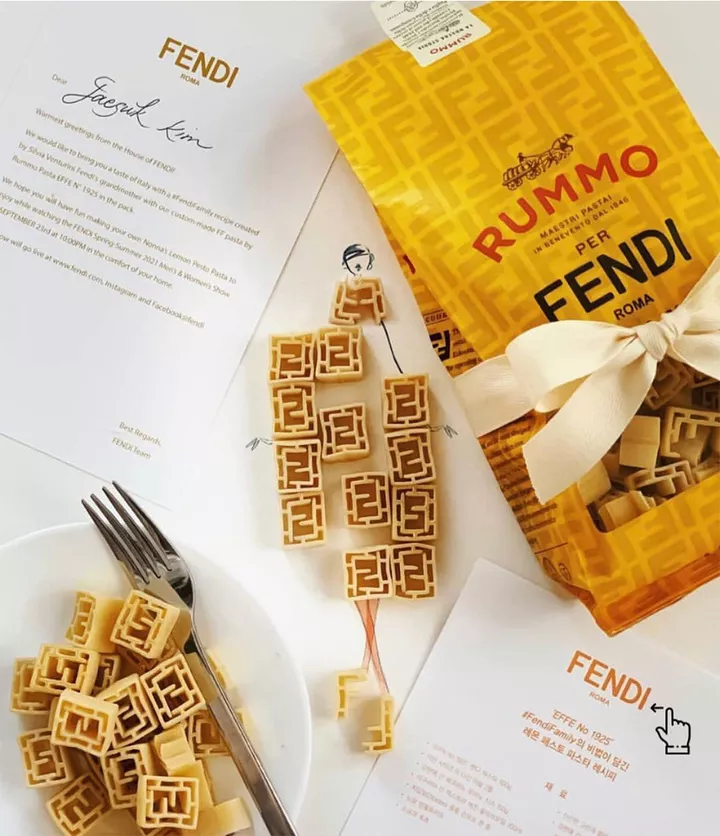 Virgil Abloh's invitations for LV are more like a gift, and there are always surprises when you open the box. Counterclockwise clocks, wooden airplane models, game cards and more have all made their way through the history of LV invitations, and almost every Virgil Abloh-led invitation has become a high-priced resale item on the second-hand market.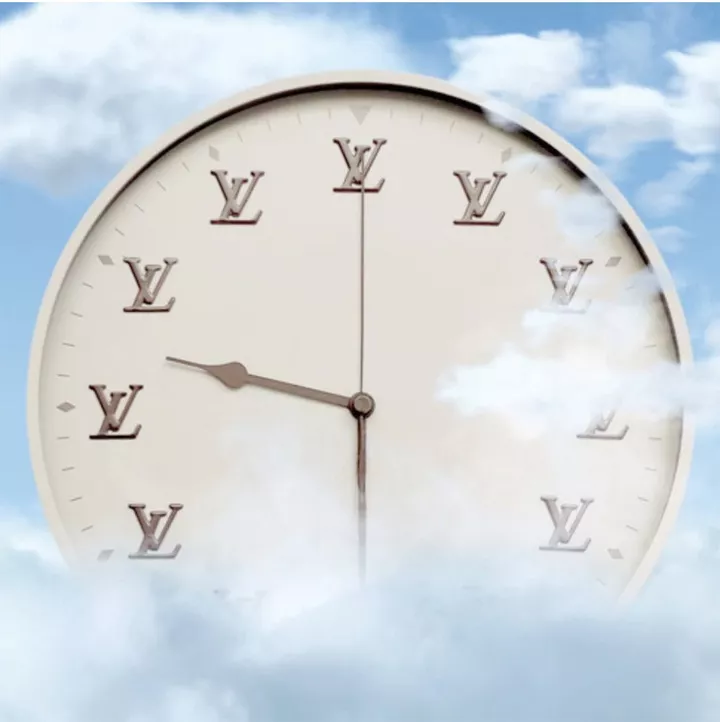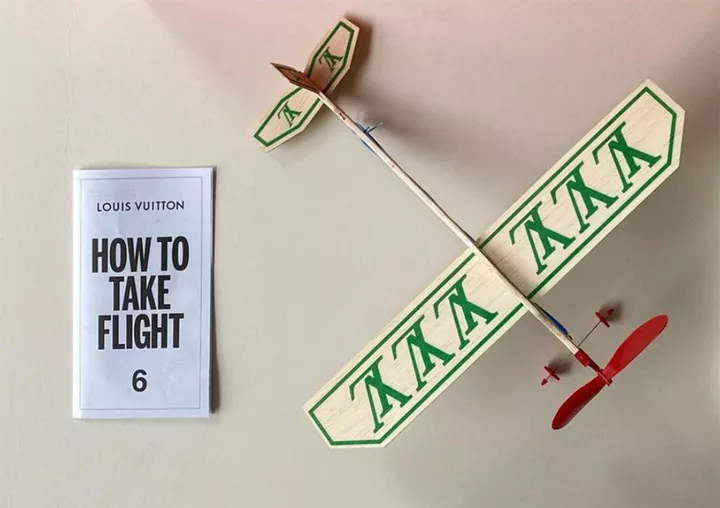 Invitations that go natural have also become a popular choice for some brands - Dries Von Noten, Stella McCartney and Mathieu Mirano to name a few.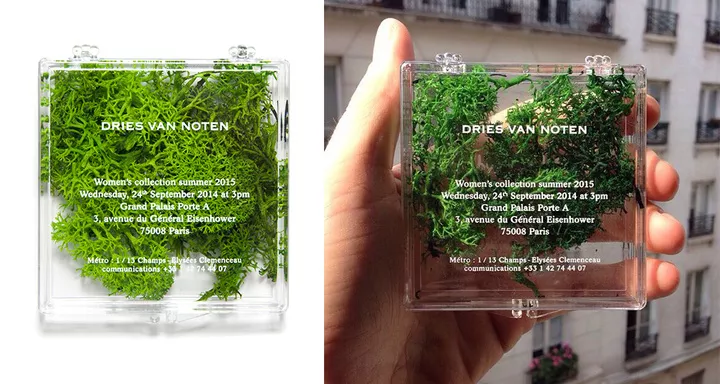 ▲ Invitation from Dries Von Noten. Image from: Artclair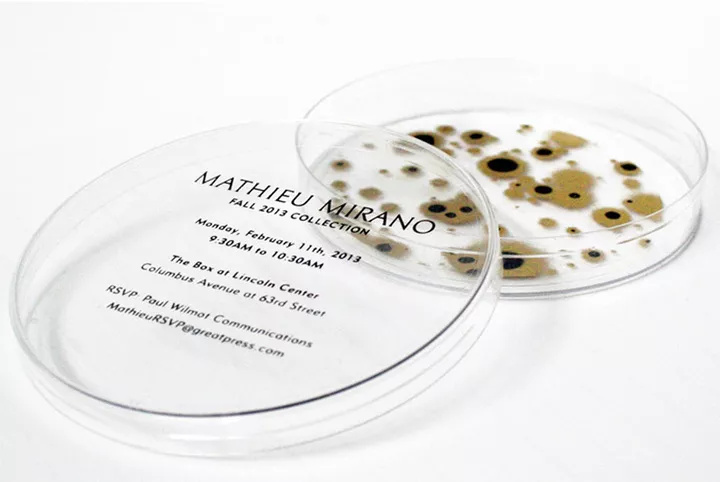 ▲ Mathieu Mirano 的细菌培养皿邀请函. 图片来自:Bizbash
Practicality comes first, and it's a good idea to give guests clothing and day-to-day items, such as sunscreen from Jacquemus, pajamas from Prada and a matchbox from Chloé.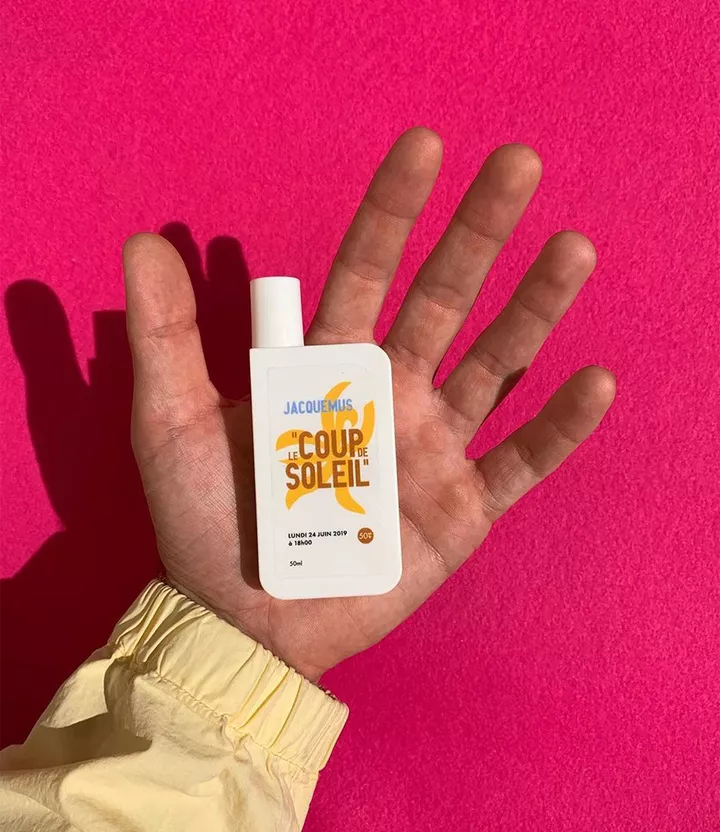 ▲ Invitation to Jacquemus' Sunscreen. Image from: Vogue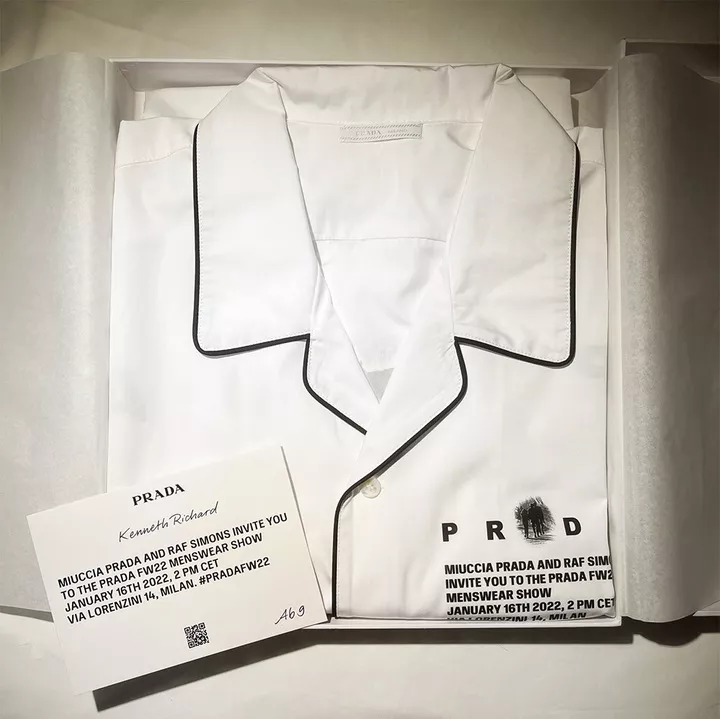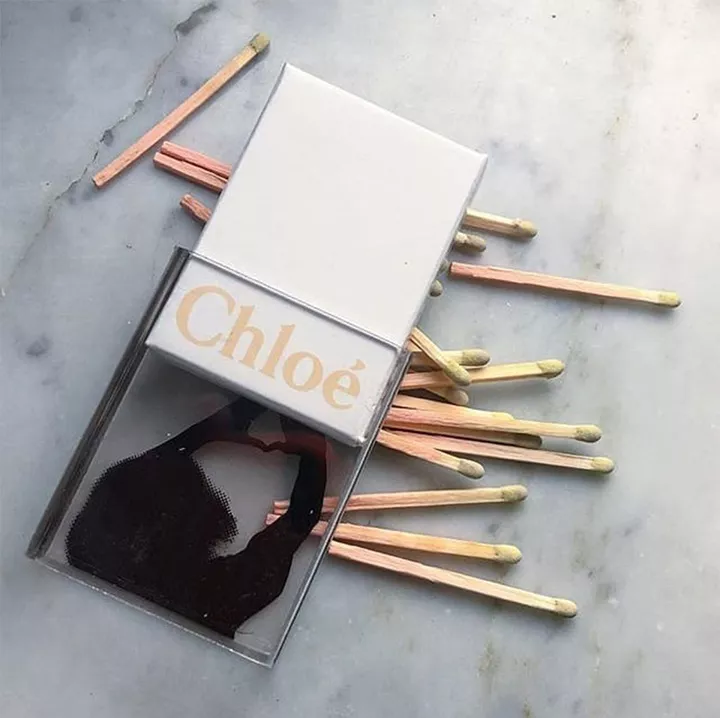 ▲ Chloé's Matchbox Invitation. Image via: Instagram @fash0n
Maison Margiela's invitations always have unexpected and fresh ideas, but when you see the dates on them, you realize that it's an idea from years ago that is still very relevant today. The most impressive thing was the projection pen, which could only be seen by pointing it at the wall with the light on.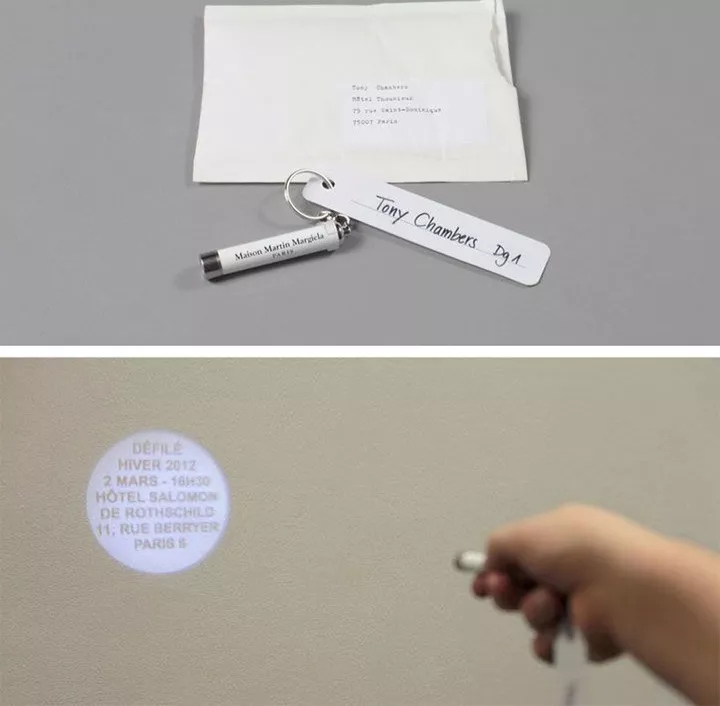 ▲ Maison Margiela's Projection Pen Invitation. Image via: Instagram @contemporaryfashionarchive
But the most eco-friendly and money-saving of all was the invitation to Gucci's Fall/Winter 2020 Milan show, a WhatsApp message from the brand's creative director Alessandro Michel, which wasn't even physical, so it wasn't even a waste.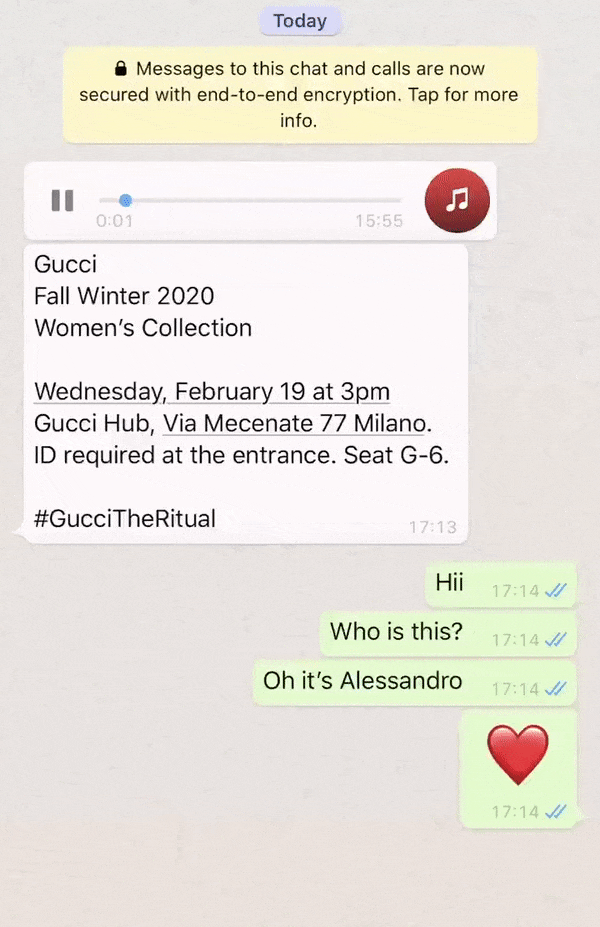 The evolution of the invitations is also an important step in the rejuvenation strategy of the big fashion brands - instead of sticking to the traditional rules and regulations, which have to be presented in black on white paper, they have switched to the language of the younger generation now, using objects and ways that everyone feels.
The design of the invitation is, in essence, kinda like the posters we see everyday - if it's well designed, we get excited about the movie and even start guessing the plot of the movie from the poster. A well-designed invitation also adds value to the brand image.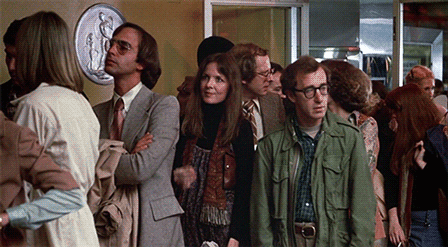 The movie "Annie Hall" is a movie about a woman who is a woman who is a woman. Image from: The movie "Annie Hall
And such invitation design should not be limited to fashion show events, personal events such as wedding banquets and business events such as new product launches can be used. Receiving a well-designed object is like receiving a brand business card, a souvenir of the event and a full of sincerity along with the invitation message.