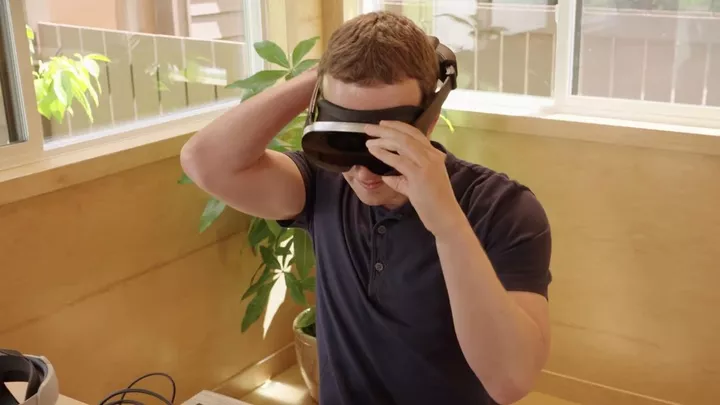 It wasn't too long ago that Meta's CEO Zuckerberg shared a video of his new experience on Facebook with the very same VR headset prototypes that are in development at the company's lab, Reality Labs.
I didn't expect the turnaround to come so quickly, as shortly afterwards analyst Ming-Chi Kuo of Tianfeng International said on Twitter that Meta's Metaverse hardware/headset business would slow down.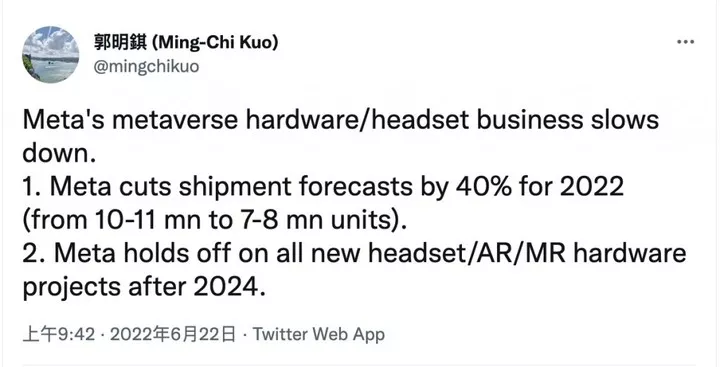 ▲Image from: Twitter
The analysis mentions that Meta will not only lower its 2022 shipment forecast by 40% (from 10-11 million units to 7-8 million), but that Meta is also delaying all new headset/AR/MR hardware projects beyond 2024.
News of the Meta shipment cut quickly caused a ripple effect, with Gore, which has a long-standing relationship with Meta and is involved in the development, design and production of VR devices at the company that's charging into the meta-universe, quickly flashing down in early trading right after Ming-Chi Kuo issued his analysis.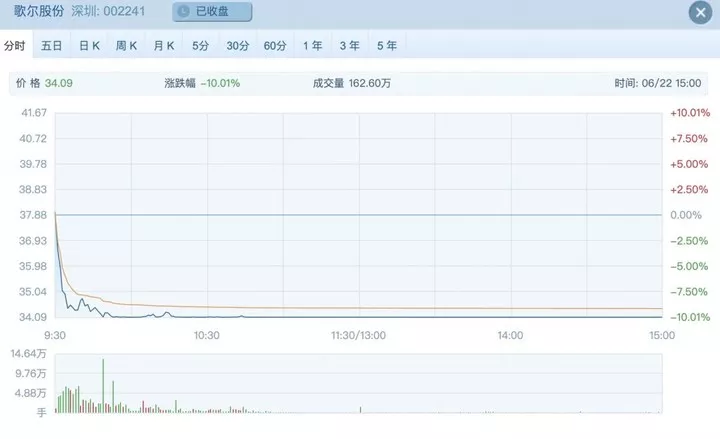 ▲Image from: Tencent Securities
However, the person in charge of Goer later responded to this, saying that the company has taken note of the information released by well-known analysts about the customer's products, and that the company's current production and operation and orders are relatively normal, and the main business progress is also in line with expectations, without any plans to adjust the semi-annual performance guidance.
The brief twists and turns caused ripples, but for Meta, the road to the metaverse may not be as smooth as first thought, but it's a road that will be followed nonetheless.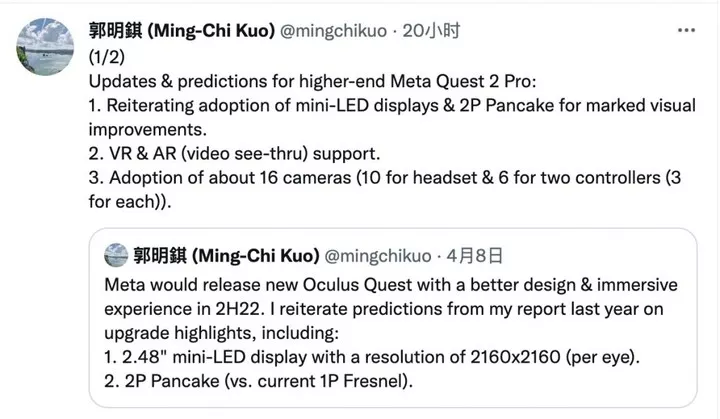 ▲Image from: Meta
In fact, analyst Ming-Chi Kuo has updated his predictions made back in April this year before stating that Meta business would slow down, with the latest prediction analyzing the configuration and performance of the high-end Meta Quest 2 Pro. In addition to reiterating the use of a mini-LED display and 2P Pancake for significantly improved visuals, as well as there will be VR & AR (video see-through) support.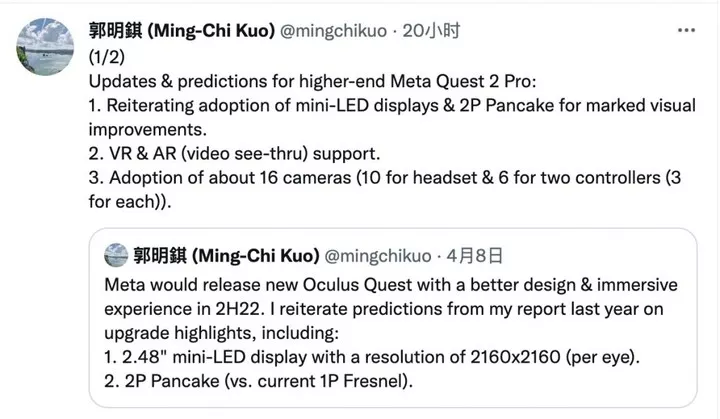 ▲Image from: Twitter
The news also mentions that the high-end headset will feature about 16 cameras (10 in the headset and 6 total (3 each) in the two controllers); be powered by Qualcomm XR2 processors; have eye tracking, facial expression recognition and 3D sensing support; be priced at $799 or more; and will be in mass production in the third quarter of 2022 to ship about 2 million units in the second half of 2022.

▲ Image from: Twitter
It's worth noting that Ming-Chi Kuo took to Twitter a while ago to explain and correct his previous analysis more clearly, mentioning that the shipment predictions he made were based on his own research and judgment, not official data; he lowered his 2022 Meta VR/headset shipment predictions by 25-35% to 7-8 million units (mentioned here as an error in the previous tweet).
▲Image from: Twitter
Ming-Chi Kuo's latest correction also mentions that Meta orders are declining primarily in 2H22, and given Meta's reduced hardware investment and recession risk, he's lowered his forecast for Meta VR/headset shipments by 40-50% for 2H22, and sees Meta headset shipments scheduled for after 2024 being delayed.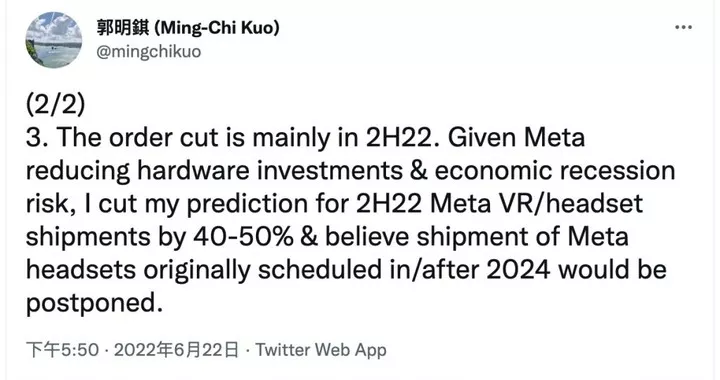 ▲Image from: Twitter
Whether the Meta Quest 2 Pro will be available to consumers as expected is yet to be seen, but as you can see from the previous video of Zuckerberg conducting a demo, it may still be a good distance from what consumers expect and the meta-universe that Meta wants to achieve.
Several of the VR headset prototypes featured in the Meta demo were used to tackle different technical challenges that will hopefully provide a visual experience indistinguishable from reality in the future.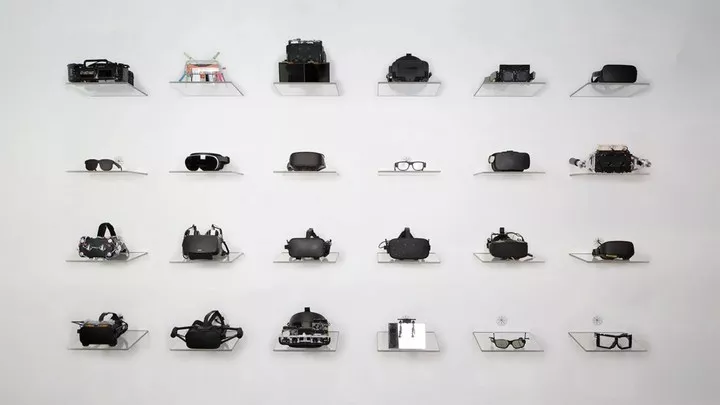 ▲Image from: Meta
In terms of retinal resolution, Meta Reality Labs has developed a prototype called "Butterscotch" (butterscotch) that provides 55 pixels per degree of field of view, about 2.5 times better than the Quest 2; Half Dome 3, which replaces the mechanical lens system with an electronic LCD lens, focusing on a zoom system through built-in eye tracking.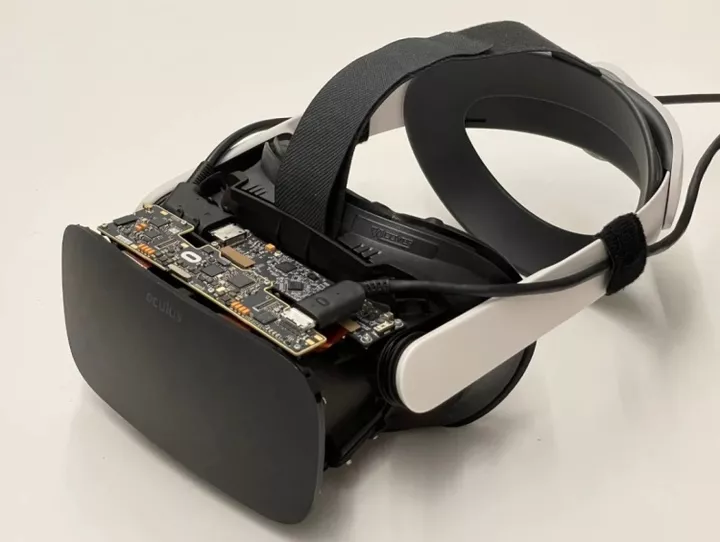 ▲Image from: Meta
With a maximum brightness of 20,000 nits, the Starburst prototype is one of the brightest HDR displays ever built, supporting ultra-high brightness and high dynamic range imaging.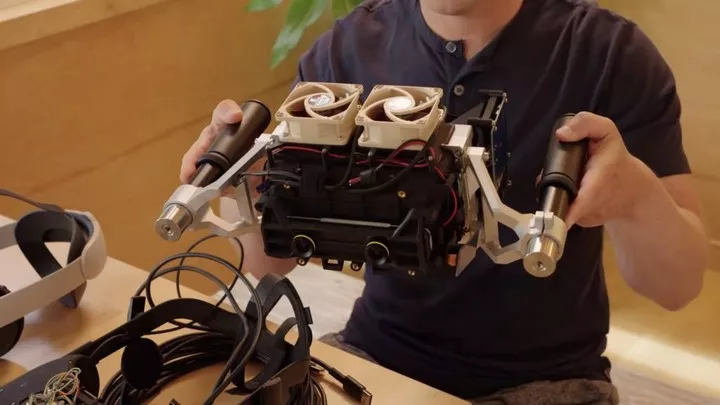 ▲ Starburst prototype, image from: Meta
While these prototypes are all breakthroughs in their respective areas of focus, they have many limitations, such as the most obvious bodies are all still bulky, and Meta's goal is to integrate all of these technologies into a single device that also has all the cameras and processors needed to run these next-generation technologies in a standalone headset, as well as a battery that's long enough to last longer, and a form factor that's smaller than any device of its type currently on the market.

▲Image from: Meta
But Zuckerberg also said, "I don't think it's going to be that long before we're able to create scenarios that are basically perfect fidelity."
It is clear that this is only the future and a dream for Meta at the moment. Interestingly enough, the demo video still hasn't undone the long-standing decline in Meta's share price. But it's still a dream to have, in case it comes true.