Bitcoin fell to the lowest level in about 18 months, as the withdrawal freeze on the Celsius lending platform intensified people's concern that the systemic risk of the cryptocurrency ecosystem would accelerate the collapse of the digital asset market. Bitcoin, the world's largest digital currency, once fell 15% to $23336, the lowest level since december2020. Other cryptocurrencies also fell as broader selling pressures continued.
The MVIs cryptocompare digital asset 100 index, which includes the top 100 cryptocurrencies, once fell 15%. According to coingecko, the total market value of cryptocurrencies exceeded $3trillion last November, but by Monday morning, New York time, it had fallen below $1trillion.
"The fundamentals that support stability and recovery do not yet exist," said Steven McClurg, co-founder and chief investment officer of Valkyrie investments, a cryptocurrency fund. "Things could get worse before they get better."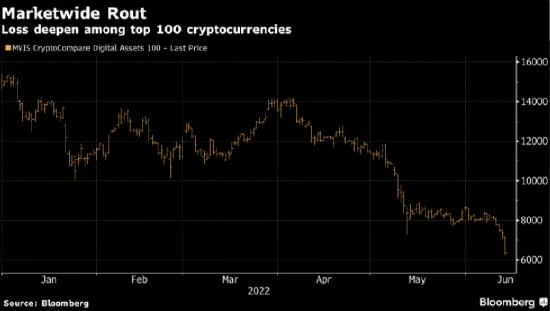 Cryptocurrency stocks also fell. MicroStrategy Inc., a software company that regards buying bitcoin as one of its corporate strategies, once fell by 28%; Jack Dorsey's block Inc. once fell 10%; Bitcoin mining companies marathon digital Holdings Inc. and riot blockchain Inc. fell 19% and 16% respectively.
Due to transaction processing problems, coin security, the largest cryptocurrency trading platform, suspended bitcoin network withdrawal; Other networks withdraw money as usual.
After data on Friday showed that US inflation jumped to a 40 year high in May, traders increased their bets that the Federal Reserve would tighten policy more actively. Cryptocurrencies, which have fallen in recent months as the Federal Reserve tightened policy, have been hit hard. The collapse of terra/luna ecosystem last month and Celsius' withdrawal suspension on Monday morning Asian time further shocked investors' confidence in this market.
"If you want to go long, you may consider going long to see the price difference or going short to see the price difference to limit the risk of (bitcoin futures)," said Rick bensignor, President of bensignor investment strategies and former strategist of Morgan Stanley. "If you dive, there is no reliable support nearby."
Ethereum once fell by 20% to its lowest level since January 2021. Avalanche once fell by 20%, Solana once fell by 19%, and dog coin once fell by 20%.