This looks like a flat pair of grey slip-ons.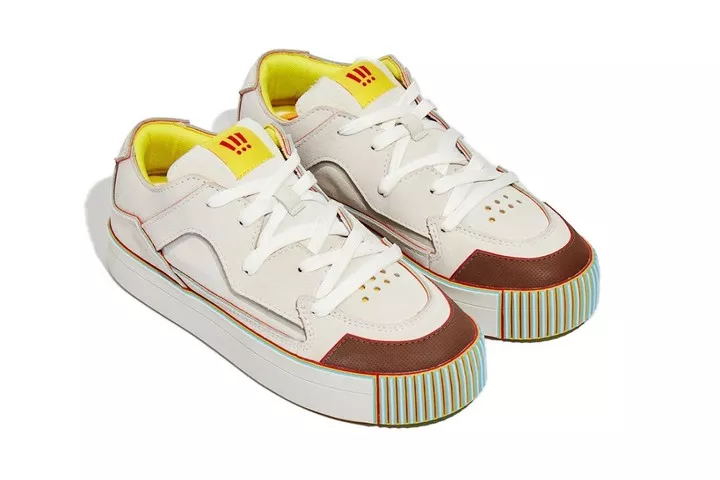 As it wears longer and longer, it will get better and better looking.
The surface grey suede is worn and a bright yellow-blue-red color follows.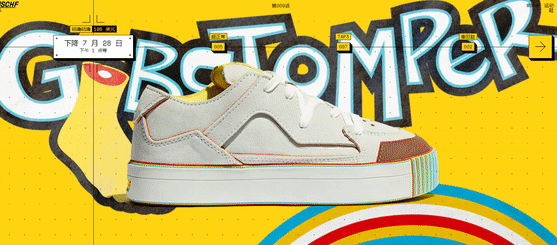 It is called "Gobstomper", inspired by the multi-layered candy called "Gobstopper", so it can also be called "candy shoes".
This interesting design comes from a creative team that has repeatedly offended Nike and Vans, and has spoofed Musk and Zuckerberg.
Receive a half-finished pair and create or destroy it
The "Candy Shoes" were created by Brooklyn creative team MSCHF and celebrity talk show host Jimmy Fallon and are priced at $195.
To get the candy shoes looking good as soon as possible, you can wear them for skateboarding, dancing or just wandering around. If you're too lazy to take a step, you can move your hands and just get on the blades.
Interestingly, the 'candy shoes' are a pair of skateboarding shoes, but Jimmy Fallon, who can't skateboard himself, tried skateboarding in the candy shoes and ended up with a bruised nose in the promotional photos.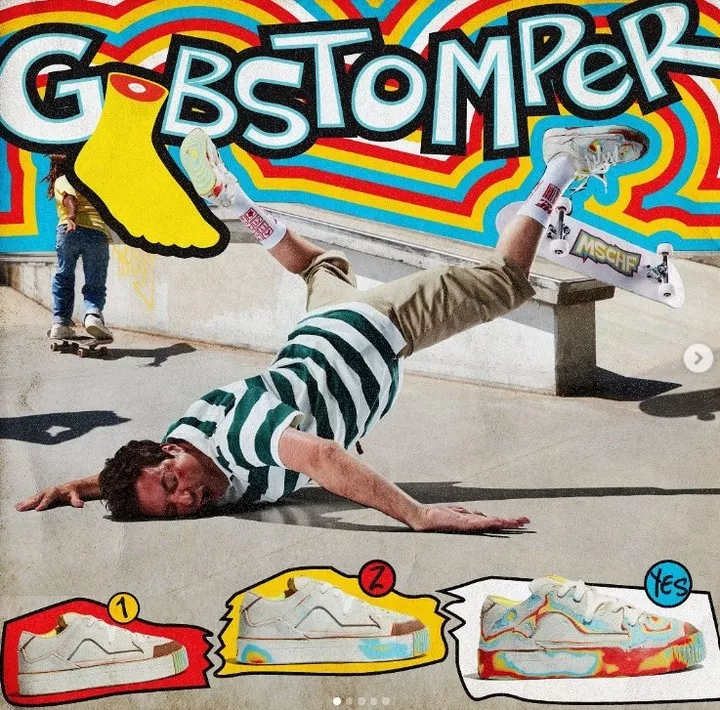 It's a humorous approach unique to MSCHF, half-joking and slightly sarcastic, a style you'll become more familiar with later on.
To talk about design philosophy in a serious way is to see 'destruction' and 'wear and tear' as a kind of 're-creation'.
As Daniel Greenberg, co-founder of MSCHF, puts it.
So many people wash their sneakers every day. We want you to damage it, wear it out, destroy it, which instead enriches it. If you keep it clean, it's still a nice pair of skate shoes, but just plain grey skate shoes.
DIY shoes, or sneaker customization, is a trend that has seen better days.
Similar to the wear and tear shoe idea is Nike's 'Rip and Tear'.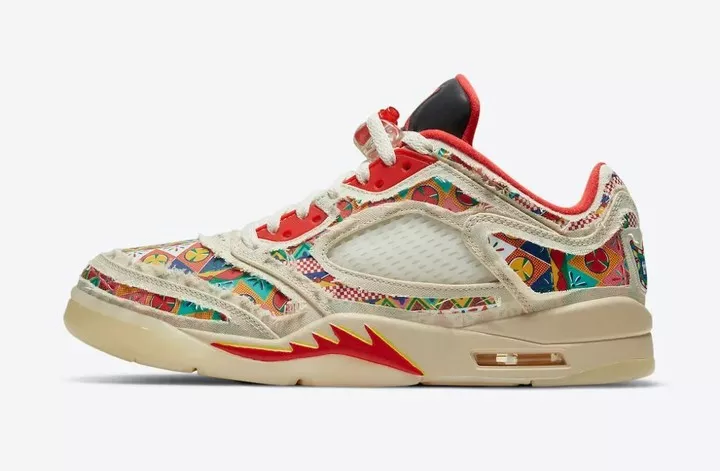 In early 2021, Nike released the Chinese New Year Air Jordan 5 with a pattern resembling firecracker wrapping paper hidden beneath a translucent upper, the latter of which can be torn off with the aid of small scissors. If the edges are not so cleanly torn, the artificially created 'do-over' feel is also a unique and personal imprint.
Nike's Dunk, AF1, Air Max, etc., released a similar rip-roaring design.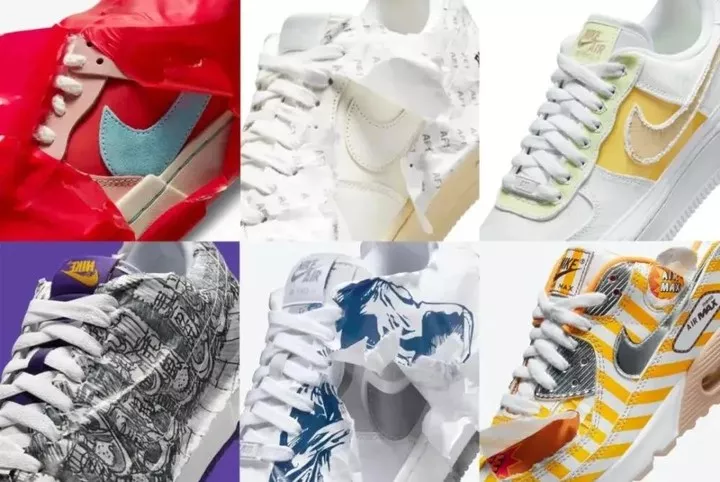 In June 2021, Nike released a new 'tear-off', the Air Force '1/1', which is no longer a disposable tear-off, but comes with a full set of black velcro and laces, with interchangeable Swoosh, heel graphics, and Air Force 1 labels.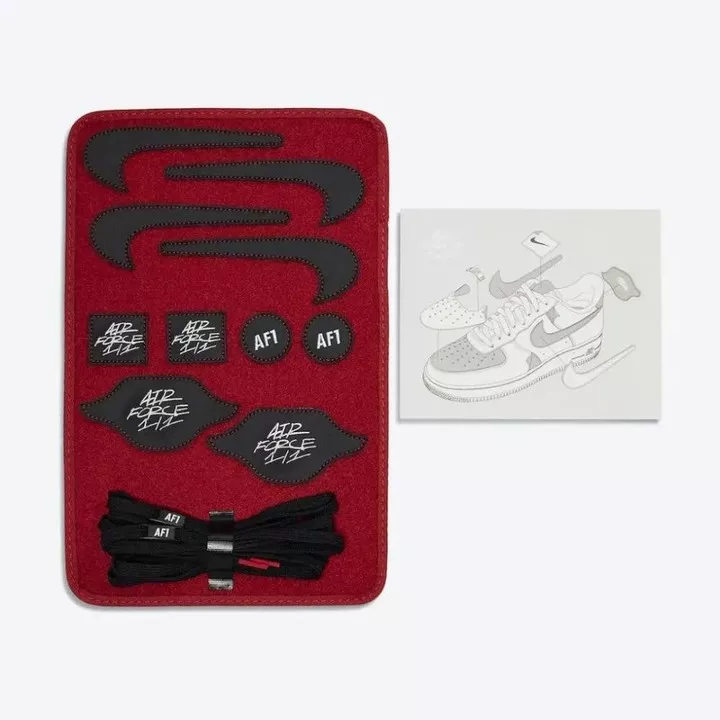 Deconstructionism is implicit in the naming as it goes from the Air Force 1 to the Air Force 1/1.
In addition, Nike offers a custom service for members on its website, "Nike By You," which allows for a variety of colorways and materials to be changed based on classic shoes, and there are instructional videos on the website about design, including how to add accent colors, how to brighten up neutral styles, and more.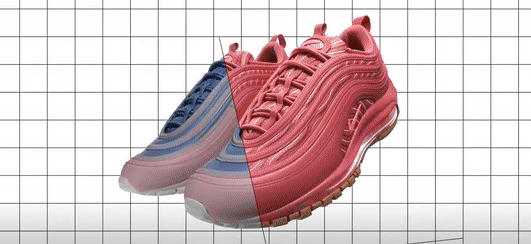 But there is no standard answer to the customization of the shoe itself, as Nike itself says: "Add creativity to some parts, leave some parts blank, and create a more self-styled shoe.
The word bespoke is self-styled on the outside and inspired on the inside.
Back in 2017, Vans launched a custom device that could emboss any pattern, photo or design onto the shoe. Once the user selects a custom design, they can also adjust the size ratio, and the whole process takes less than 15 minutes.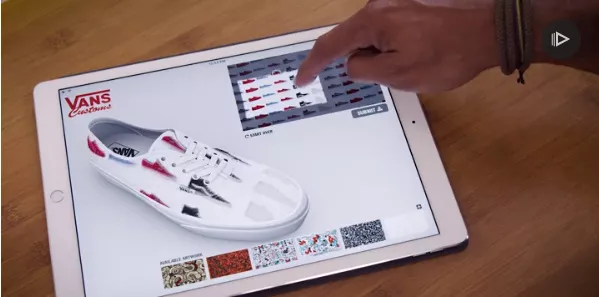 It's a return to the original Vans brand.
On the first day of Vans' first store in Anaheim, California, in 1966, a consumer said he wanted a different shoe than the one on display, and Vans co-founder Paul Van Doren replied, "Bring me the fabric for the shoe you want to make for an extra 50 cents."
Machines make the process more straightforward and faster than a human. Brands can see what consumers want through extensive interaction with them, which will provide more inspiration for the brand. Like Vans' iconic checkerboard pattern, which originally came from children drawing on shoes.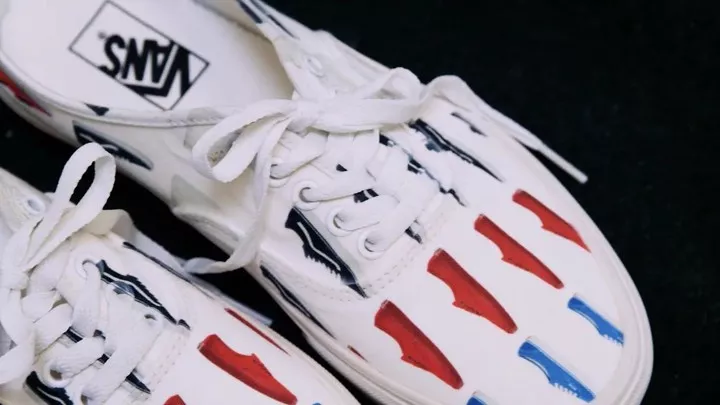 Of course, DIY services can also be provided not by the brand, but truly Do It Yourself.
After the trolling of Parisian house's $1,850 'Raggedy Style' shoes, the ins account @saffycreatives gave a brainy DIY instruction manual -
Prepare a pair of Converse Chuck Taylor All Stars, give them to a skateboarder you trust, wait patiently for that player to wear them out until they're worn out enough, and finally, all you need is a marker to write the Parisienne logo on them and you're done.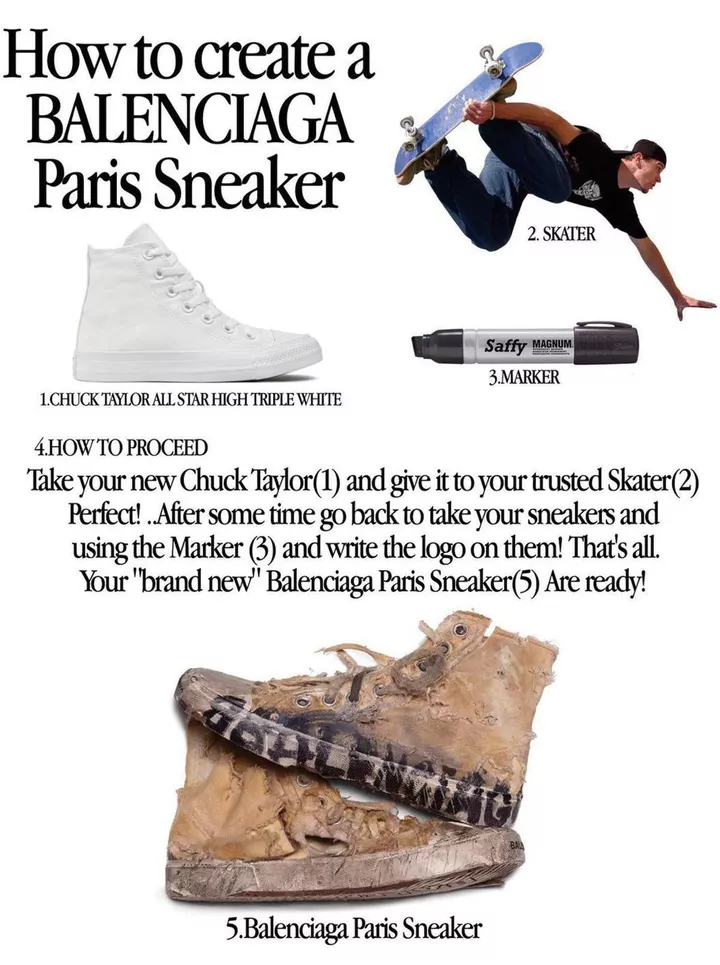 Plus, life experienced internet users add that an active dog or a cranky person can serve as a 'flat replacement' for a skateboarder.
Besides Parisian, @saffycreatives has also posted DIY guides for Smiley Basketball, Supreme accessories and more. There's no need to worry about the usefulness of the guides, it's fun to get involved in the spoofing.
Through DIY, we sometimes have a sense of fashion participation and sometimes flirt with fashion in turn. DIY, in itself, represents endless possibilities.
Be your own shoe, start by offending the big names
The creative team MSCHF, pronounced mischief, has been making the rounds frequently with its "mischief" type of creativity, especially in the area of sneakers.
It's hard to tell if it's serious about making shoes, because it has so many 'priors'.
In March 2021, MSCHF and rapper Lil Nas X released a "Satanic Shoe" based on the Nike Air Max 97, which sold out in less than a minute for $1,018, with only 666 pairs available.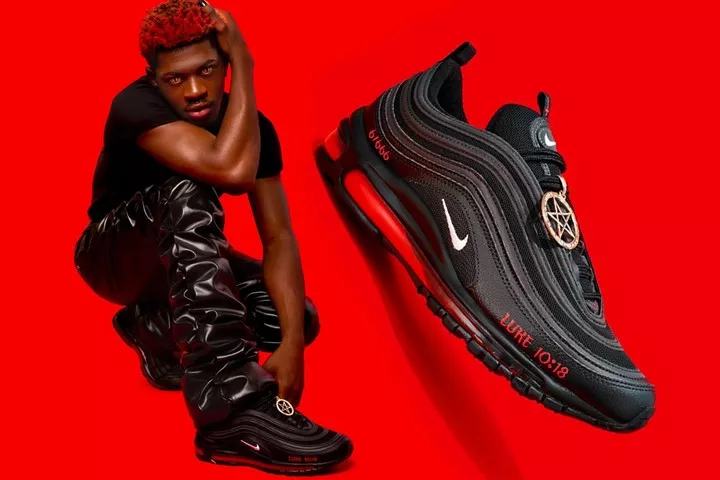 The shoe is as religious as the name suggests: the tongue is adorned with a bronze pentagram, the words 'Luke 10:18' are on the side, and the Air air cushion is filled with 60ml of red ink and a drop of real-life blood (yes, you read that right).
What's more, with the Nike swoosh logo on the shoe, Nike is forced to associate itself with religion, which is tantamount to "people sitting at home, but pots and pans coming from heaven".
Preceding the Satanic shoe is MSCHF's Air Max 97 'Jesus shoe', priced at $1,000, MSCHF fills the air cushion with 60ml of Jordan River water, echoing 'Jesus who walked on water'.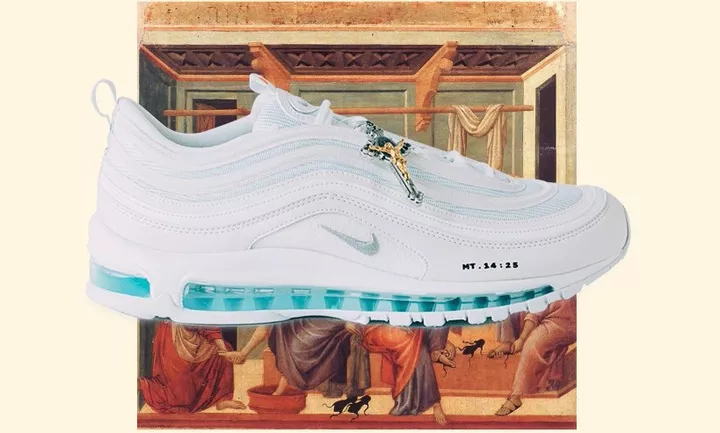 Whether it's Jesus or Satan, Nike wants to clear the air. Nike sued MSCHF and stated, "MSCHF modified these shoes without Nike's authorization, and Nike has nothing to do with Satanic or Jesus shoes."
MSCHF does not feel justified and is not overly arrogant. They see the sneakers as "artwork that represents equality, inclusion, and ideals" and feel they have achieved their artistic purpose, settlement is the best way to get out of a lawsuit , so that time could be spent on new art projects.
Nike isn't the only big name that MSCHF has offended.
In April, MSCHF and rapper Tyga released the 'Wavy Baby' boardshorts, which are clearly 'borrowed' from the Vans Old Skool, but feature a curved outsole design on the sole, along with distorted upper stitching and leather trim for a quirky look.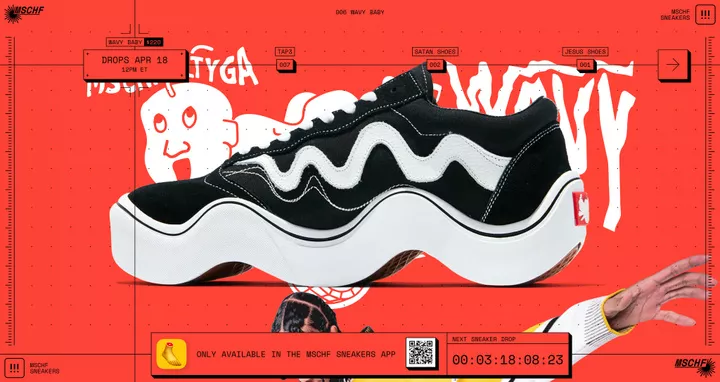 This pair of shoes with a very distorted visual effect can really be worn on your feet. MSCHF had a lot of trial and error in order to achieve a distorted and practical effect, and did not forget the "disclaimer" after the release.
"When you wear these shoes, you agree to waive all rights to claim for foot injuries."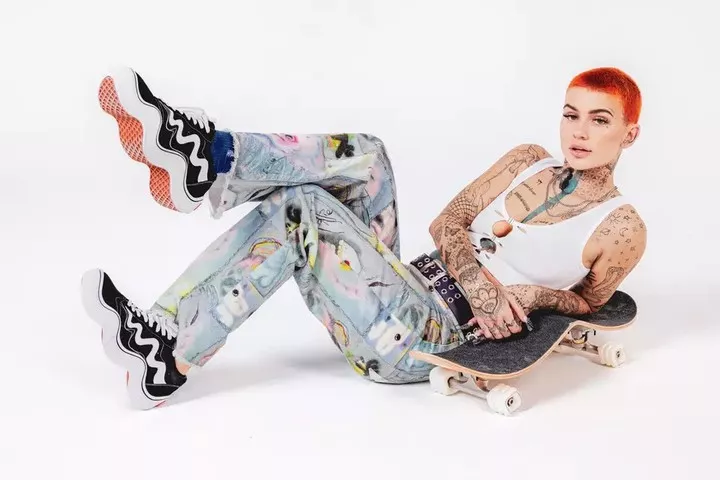 Not surprisingly, 'Wavy Baby' was sued by Vans and a US court granted a restraining order against 'Wavy Baby'.
Having been sued many times, MSCHF 'learned their lesson', or perhaps their extensive experience of rubbing it in the face was a source of inspiration.
MSCHF's TAP3 sneaker is "specifically designed to prevent lawsuits". Squinting at it, it may bear some resemblance to the Air Force 1. But with subtle modifications, notably the tape covering the logo section, it escapes suspicion of copyright infringement, and MSCHF consulted their legal counsel specifically for this purpose.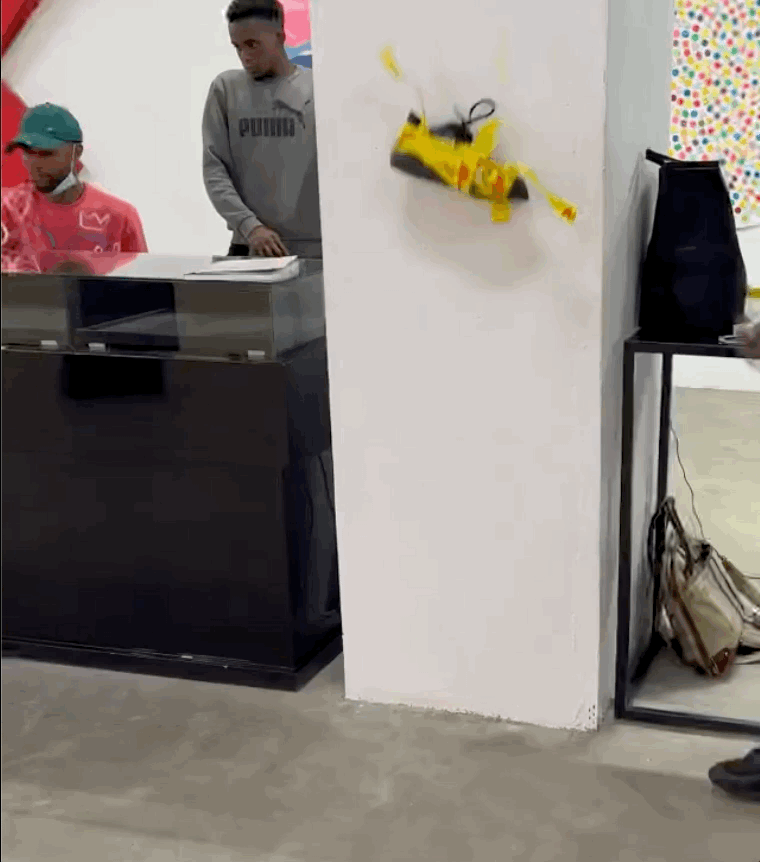 In contrast, the Satan Shoes, Jesus Shoes, and Twisted Vans are more like performance art, while the Candy Shoes and TAP3 are seriously made to be worn, or at least are cool designs in their own right. We can even say that those performance art shoes are also MSCHF's elaborate transformation.
MSCHF co-founder Daniel Greenberg is a self-proclaimed sneakerhead, and in his opinion, the market environment for sneakers is very stale:.
They invite celebrities to change the colors or the logo, that's all ...... Sneakers are a culture and a focal point for a lot of things, and we want to continue to use them as an object to create our own infrastructure and build them from the ground up.
You can't say whether MSCHF shoes are good or not until you put them on your feet, but subversion and creativity are their credo.
Using the Internet in a satirical way
Sneakers are not the only target of MSCHF, for the internet, art, celebrities, MSCHF also do their own artistic expression in a similar way.
MSCHF's creative projects have gone viral on the Internet, and each one has been described as a breakout hit.
In 2019, MSCHF partnered with internet artist Guo Evendong to auction off a Samsung NC10 laptop infected with "six 21st century viruses" that reportedly caused a cumulative $95 billion in damage from the six viruses for $1.35 million.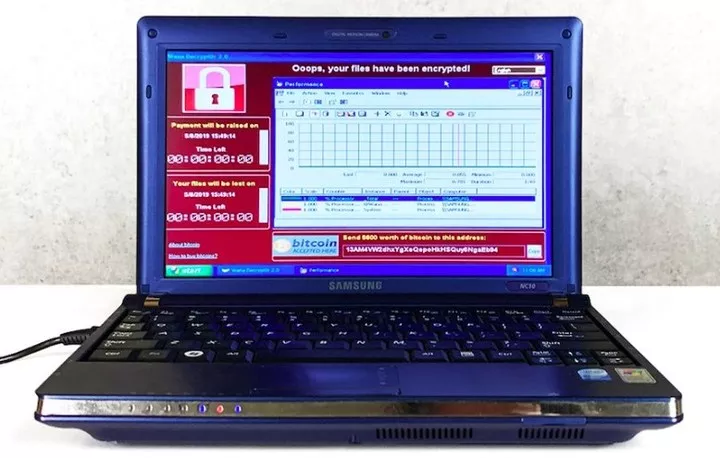 The computer was named 'The Persistence of Chaos' and the virus was not a 'natural' infection, but was 'injected' by a cyber security firm at a cost of $10,000.
With its ports and Internet capabilities all but disabled, this '21st century's most miserable computer' exists, in and of itself, to turn the invisible threats of the digital world into physical entities, a figurative tombstone to the history of the Internet.
In May 2020, MSCHF purchased Damien Hirst's prints for $30,000, cut out the 88 dots on them, and sold those -- each dot sold for $480, leaving only the 88 holes and the artist's signature on the painting to be auctioned for $126,500.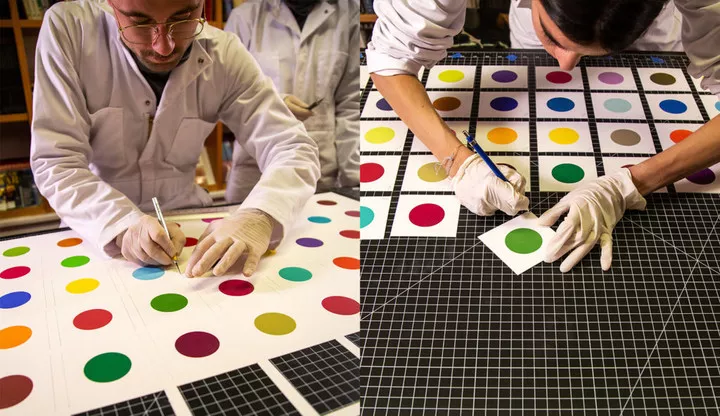 One could argue that they have civilianized art, that the point of art is to circulate and share, that everyone buys a part of an expensive artwork at a lower price, rather than having the artwork exclusive to a few or simply hanging on the wall.
One could also argue that it was a speculative game where MSCHF split and auctioned off the artwork and made a fortune from successfully marketing it. Even more ironically, buyers sold their polka dots on eBay for several times the price.
In October 2021, MSCHF offered 999 reproductions of Andy Warhol's Fairies, purchased for $20,000, all for sale for $250, with 1 lucky buyer out of 1,000 always winning the real thing - much better odds than winning the lottery.
But buyers may never know if they're lucky, as MSCHF claims that "maybe an expert can identify it, but it's very difficult," and it treats both originals and reproductions as forgeries.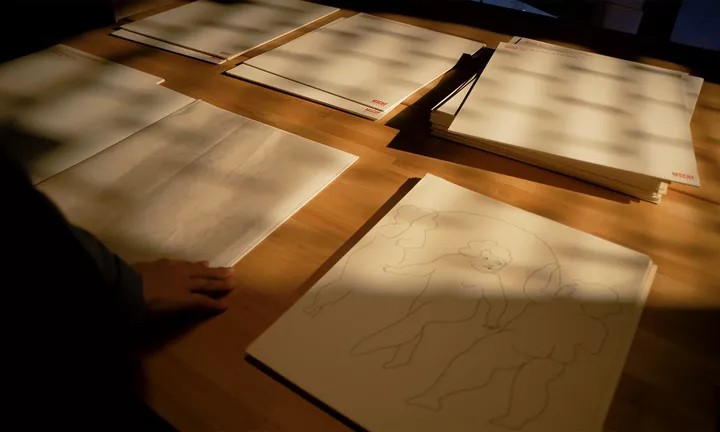 The only thing for sure is that MSCHF made a solid $230,000 out of it, and Andy Warhol, himself a representative of the commercialization of art, was out of his mind on this one.
Recently, MSCHF sold $10 'Billionaire Ice Creams' in New York and Los Angeles, where you could buy ice creams in the mold of Bezos, Bill Gates, Musk, Zuckerberg and Jack Ma.
"Eating the rich" is associated with class conflict and anti-capitalism, but the $10 price tag is also very "capitalist".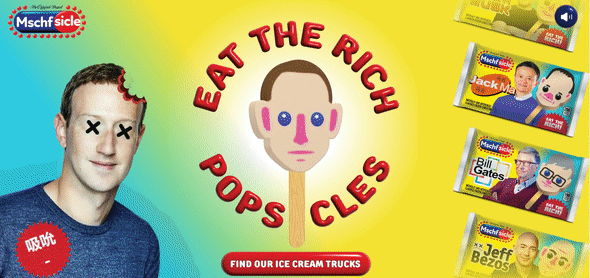 Some see it as an irrelevant novelty experience, others think MSCHF is making money off of people's hatred of giants.
MSCHF co-founder Daniel Greenberg notes, "Some people like Musk, some people hate him, but the common denominator is that they all want to try ice cream. So it's not that different."
This phrase explains much of the phenomenon of Internet culture.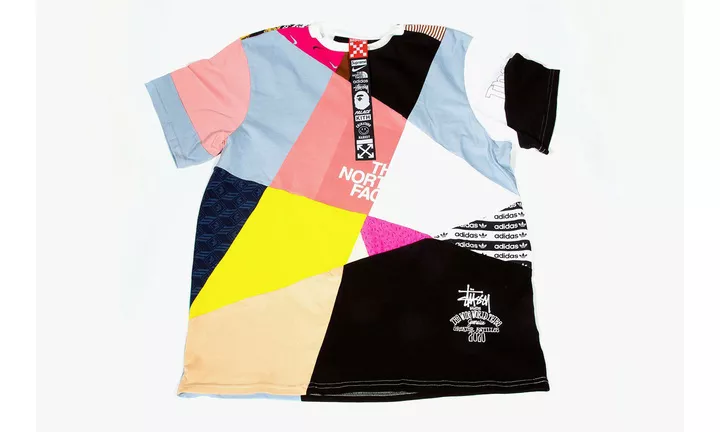 MSCHF also has a series of creative experiments, such as a "patchwork T-shirt" made from the clothes of 10 popular brands like Supreme to satirize the co-branding mess, and a "sawtooth vinyl" collaboration with The Weekend, where you can listen to a single on a vinyl record player or actually use it as a saw blade.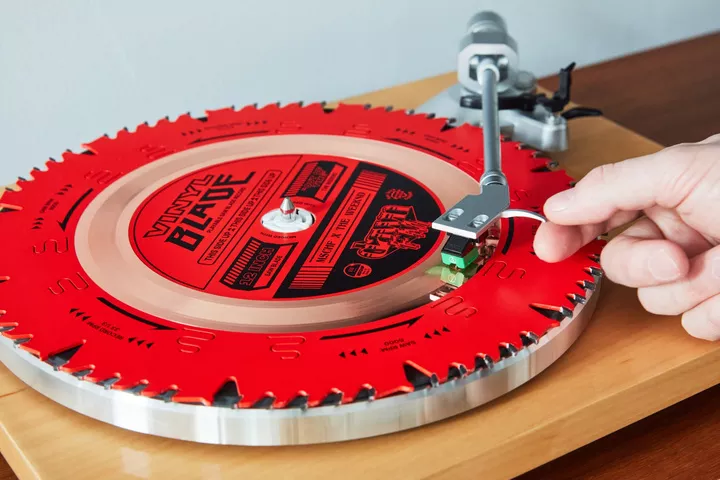 A general overview of their creative projects may give you a mixed view of MSCHF.
They satirize the phenomenon of the Internet, but are also the beneficiaries of it; they enliven the art market, but their behavior is not lacking in speculative overtones.
They are indeed anti-traditional, but not necessarily much ahead of their time. Most creative projects give alternative expressions from popular culture and popular brands, but still inside the popular framework.
MSCHF is like the ha-ha mirror of the times, portraying their observations of the present through distortion, and the onlooker can probably tell what is standing on the opposite side of the ha-ha mirror.
Controversial designs, eye-popping ideas, ironic style humor, somewhere between legacy and speculative ...... These make up MSCHF.
It's easy to be associated with art, and it's easy to feel like art; it's part of trendy culture to look at trends in the opposite way.
We don't know if MSCHF is submissive or rebellious, serious or spoof, mainstream or niche, but it does appeal to most people with its quirky charm. After all, Why So Serious?