Sneaker iterations are updated almost year-round, and no matter how unhelpful they are at least the rhythm of a prolific artist releasing an album.
Nike, however, has a very subdued collection: the NikeCraft, a joint collaboration with artist Tom Sachs, which only does something big once every few years.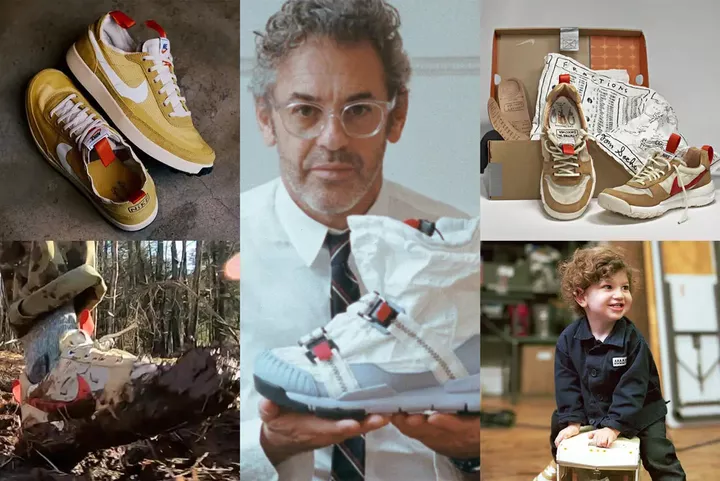 This year marks the 50th anniversary of Nike and the 10th anniversary of the NikeCraft line.
The first time I saw the "Mars Shoes", I was expecting a pair of tasteless, generic models.
Ah, that's it?
In January, the NikeCraft General Purpose Shoe (or NikeCraft GPS for short, hereafter referred to as the 'General Purpose Shoe') design was revealed.
The doctored beige color with blue label accents has no overall visual impact and is more of an everyday commuter model. Many users said it was very plain and quite disappointing.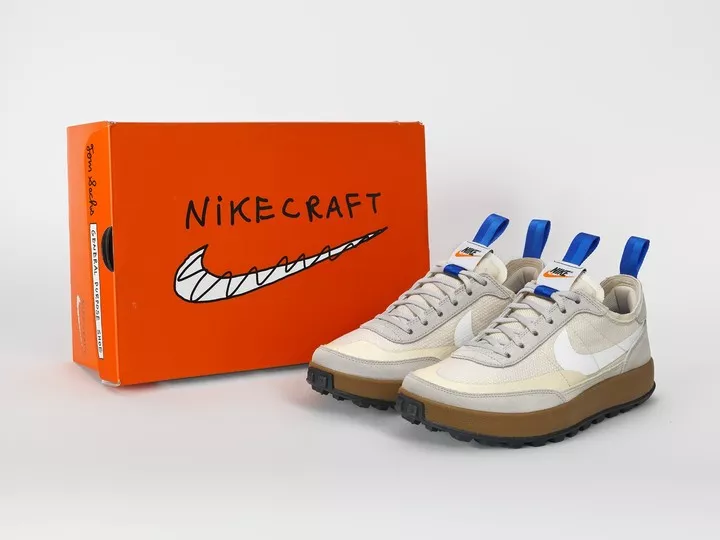 Highsnobiety editor Sam Cole calls it Sachs' "blandest offering yet", saying that if you remove the label, you wouldn't even be able to tell it was an artist co-branded model.
Sachs also knows that this new shoe makes no waves inside, and that's exactly what he intends.
He placed an ad in the New York Times explaining the design concept, with a large headline that read "Boring" and even chose a photo of a weathered sneaker, in the style of Don Drapper from the American show "Mad Men".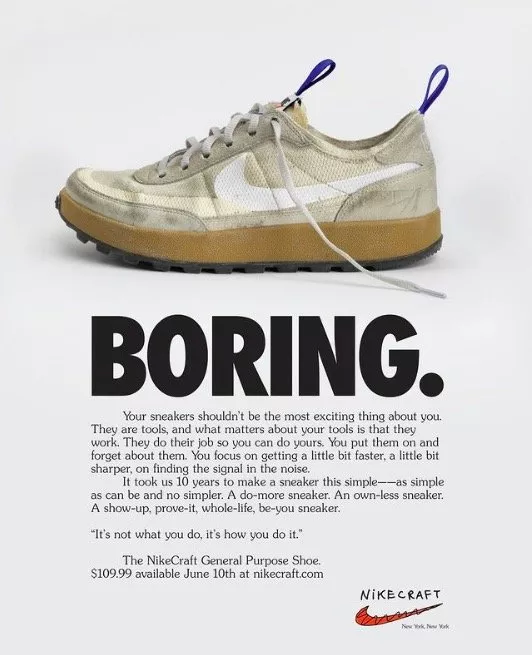 He said, It took us 10 years to make a pair of sneakers so easy.
Sneakers shouldn't be the most exciting thing on your body. They are tools, and the most important thing about tools is what they do.

Put them on, then forget about them. Focus on yourself, a little faster, a little sharper, to catch the signals in the noise.
Nike officials claim that the NikeCraft GPS is a low-profile, do-it-all shoe designed for every day situations.
It has a slightly upturned shape, uses a three-piece molded cup sole (consisting of a durable rubber outsole, soft rubber midsole, and EVA foam core), and the knit upper is breathable while keeping out the rain to some extent. It's "an ordinary shoe for extraordinary people".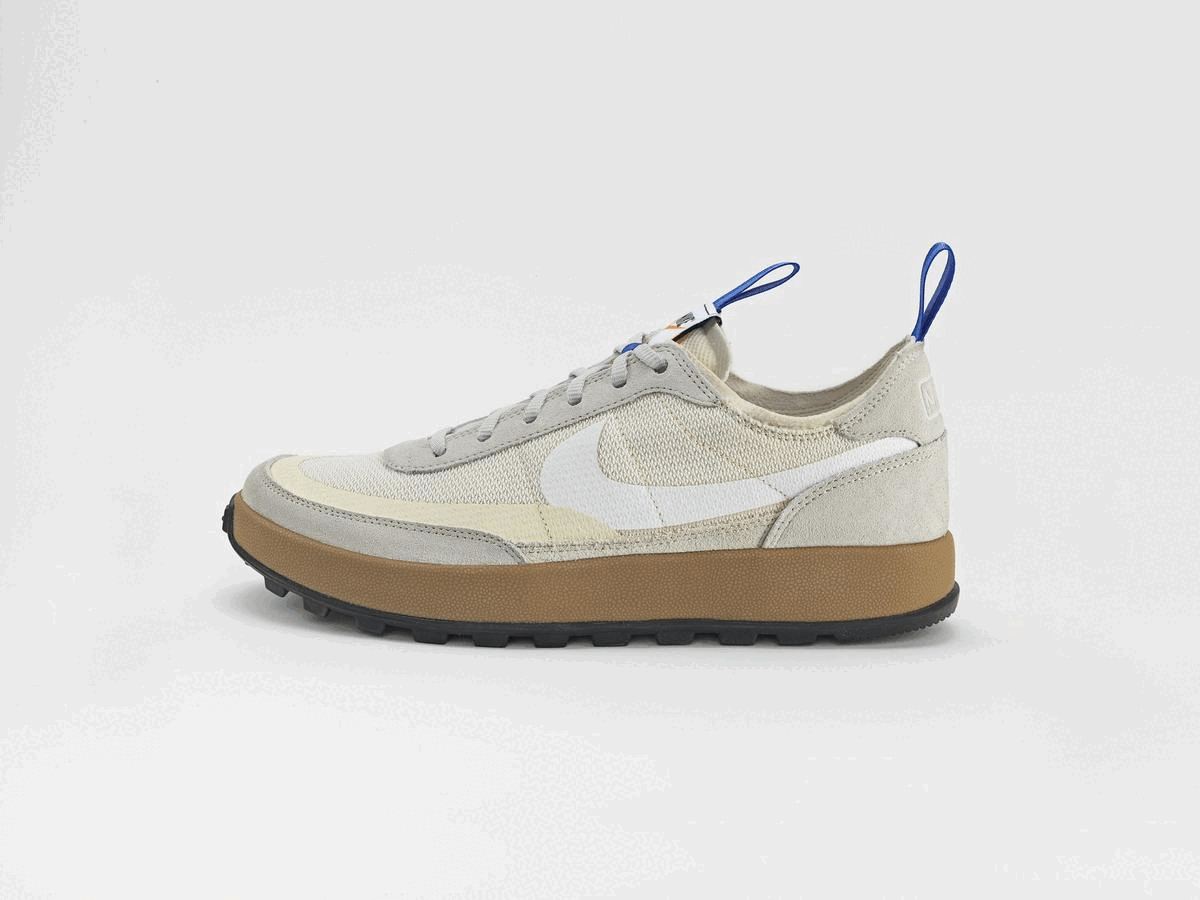 Although so common as to be non-existent, the Sachs addition is still too tempting - after all, the out-of-print 'Martian shoes' from the NikeCraft collection have already fetched a whopping price of nearly $10,000.
The mediocre, generic shoe also sold out quickly once it went on sale on June 10, originally at $109.99 and at one point going up to $1,000 on the secondary market - however, the price dropped back a bit after news of the August restock came out and is now around $400-$500.
Every time NikeCraft comes out with a new shoe, it becomes a 'working shoe' for the entire Tom Sachs studio, and this universal model is no exception.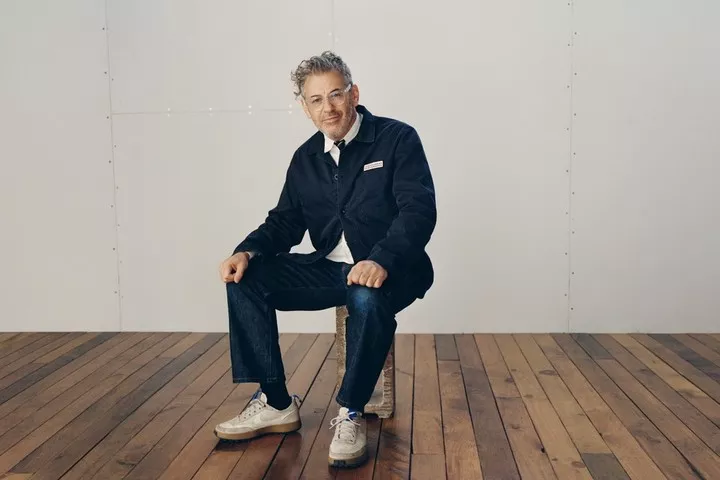 This current beige + blue colorway is inspired by the Sachs studio uniform. Nike revealed that other colorways will be released later.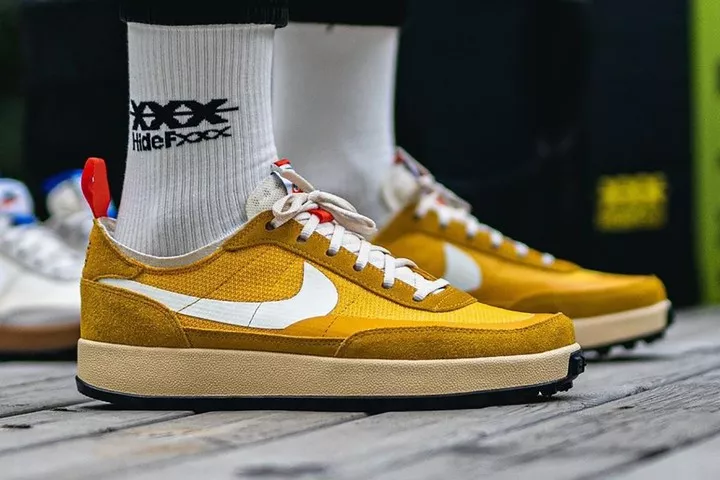 ▲ Hypebeast reveals NikeCraft GPS Mustard Yellow colorway version, unknown release details for now
It's not the new model that's too plain, it's the "Mars Space Shoes" that's cool!
Honestly, people are more excited to see Sachs' weird, experimental ideas than the 'groundedness' of the generic models.
That's what made the NikeCraft such a hit when it launched.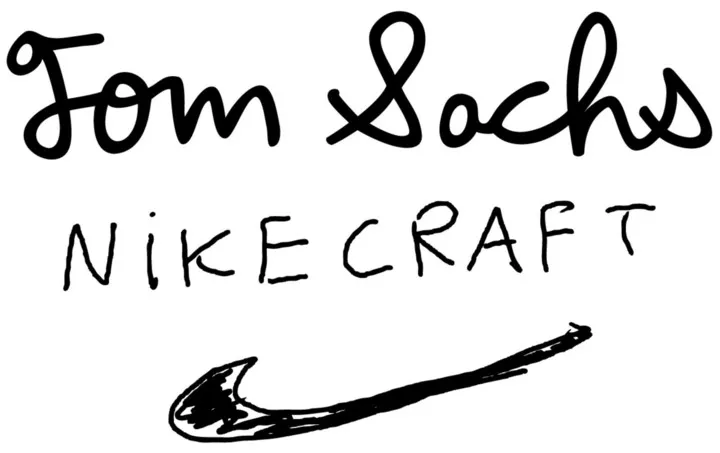 Back in 2005, Sachs met Nike's then-CEO Mark Parker.
But the real intention to work together came from an interview in Paris in 2009: when the two talked about the difference between individual craftsmanship and mass production, Sachs questioned the wearability of Nike sneakers, and Parker responded with "you're good, you're good".
I guess the motivation worked. Sachs, who knew nothing about sneaker design, started working on it and added his favorite space theme, and in 2012, the NikeCraft line was born.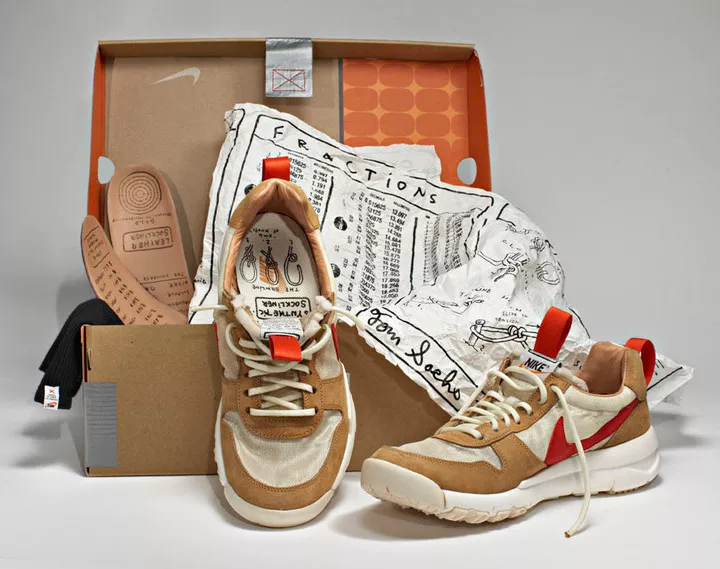 ▲「Mars Shoes」1.0
To Nike and Sachs, astronauts must be as fit as athletes to withstand the rigors of leaving Earth's atmosphere. Their daily work requires a great deal of effort and endurance; likewise, their equipment must be able to perform under the harshest conditions.
The first release, the 'Mars Shoes' NikeCraft Mars Yard 1.0, was inspired by Tommaso Rivellini, a mechanical engineer at the Jet Propulsion Laboratory in Pasadena, California, who developed the airbags used on the 1997 and 2004 Mars rovers.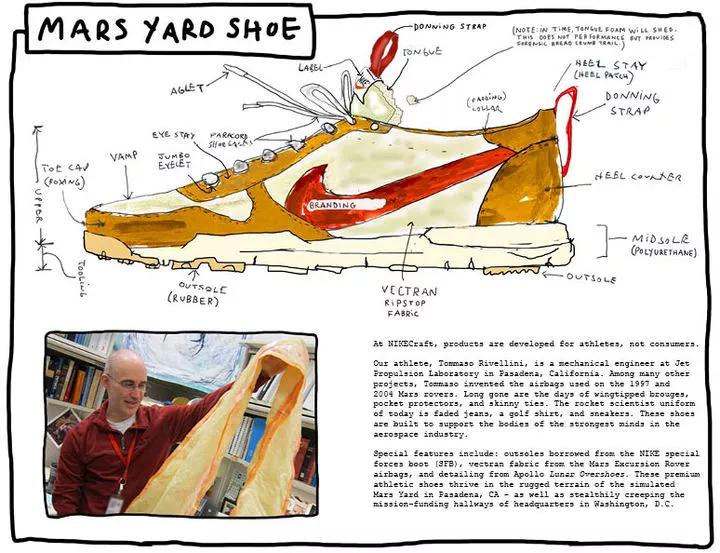 ▲「Mars Shoes」1.0 Design Concept
Sachs decided to use this airbag vectran fabric on the shoe and designed it to be suitable for walking on NASA's rugged Mars simulation field.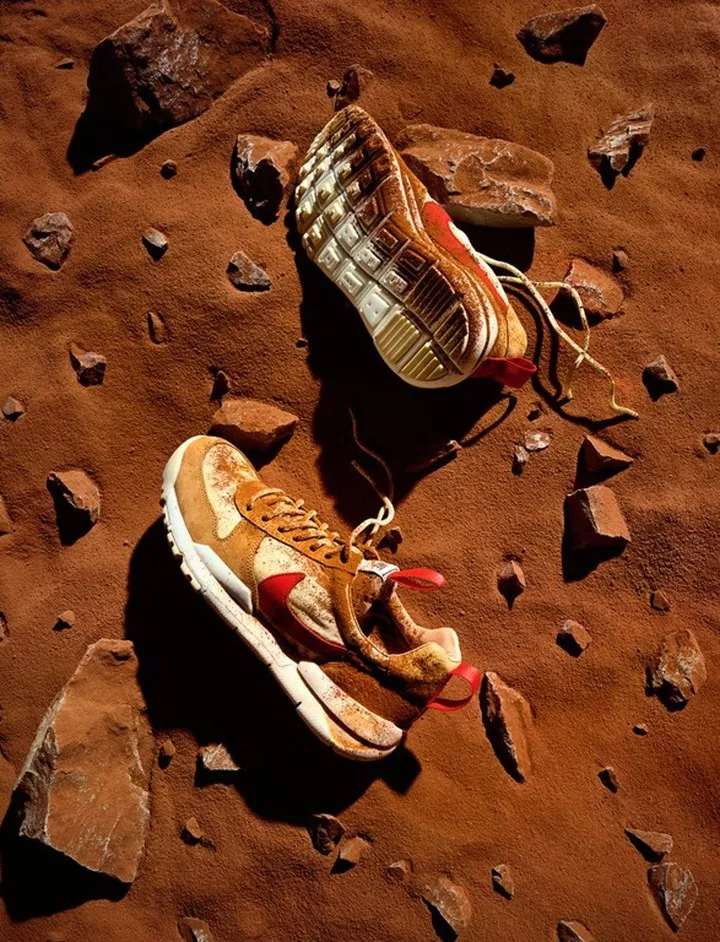 He said, "The uniform of today's rocket scientists is faded jeans, golf shirts and sneakers. These shoes are designed to support the most powerful minds in the aerospace industry."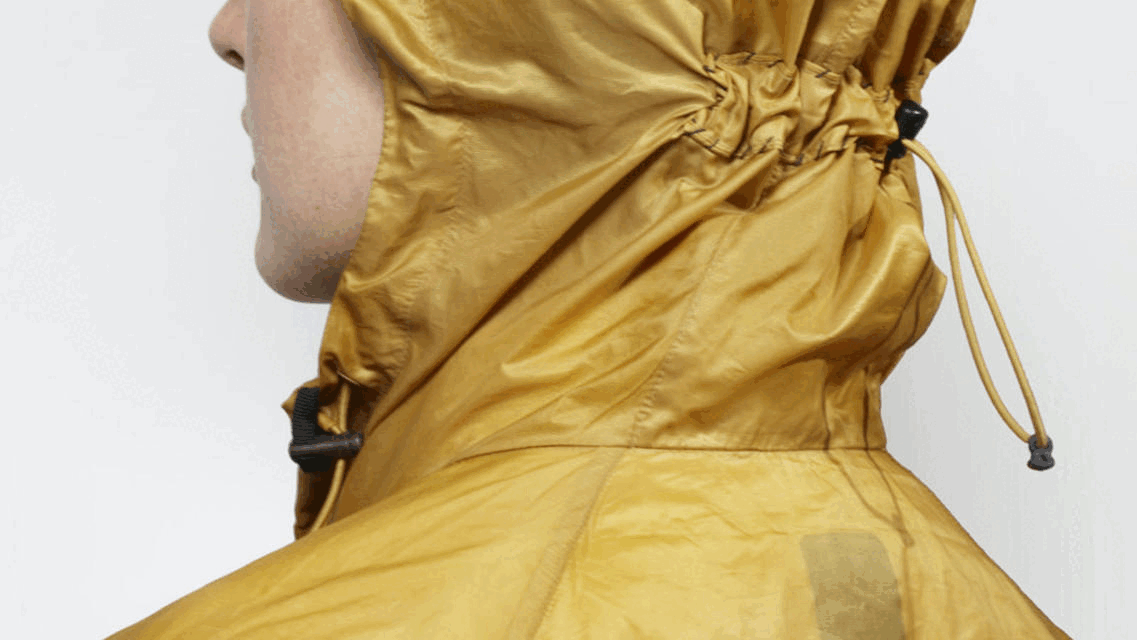 ▲ In addition to the "Mars Shoes", Nikecraft has also released a waterproof windbreaker, lightweight tote bag and more
In 2017, NikeCraft re-released the 'Mars Shoes' 2.0.
Under the guidance of Nike designers, Sachs spent five years testing the Martian shoes. He found that the 1.0 version passed the wear, strength, and folding tests, but the experience was still not as good as expected.
So, the 2.0 revision replaces the original airbag fabric with a more breathable polyester material and tweaks the sole design to make it more suitable for wearing in urban environments.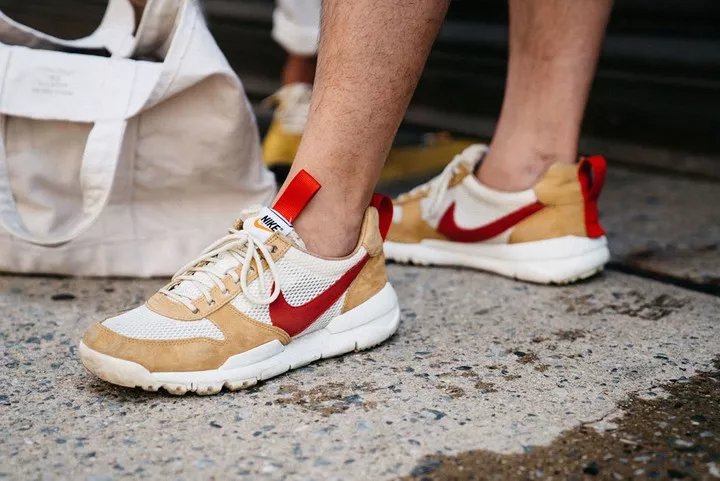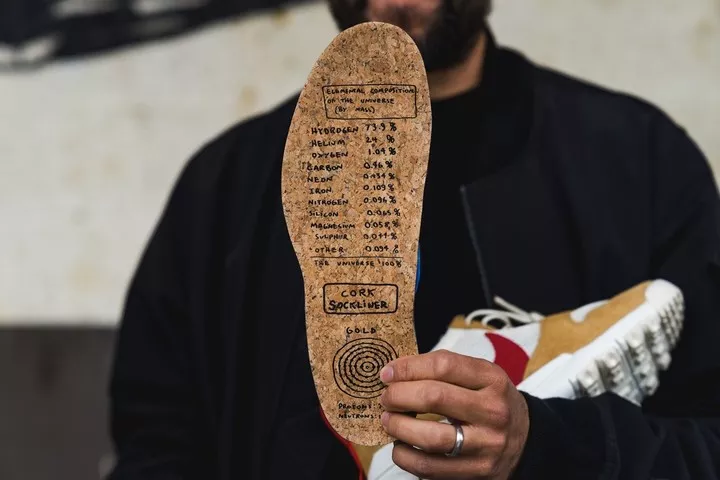 ▲ An insole made of cork has also been added for barefoot wear
For 2018, NikeCraft is releasing the 'Space Shoe' Mars Yard Overshoe in limited quantities.
This time it looks bolder and more interesting than the 'Mars Shoes', like the real astronaut counterpart.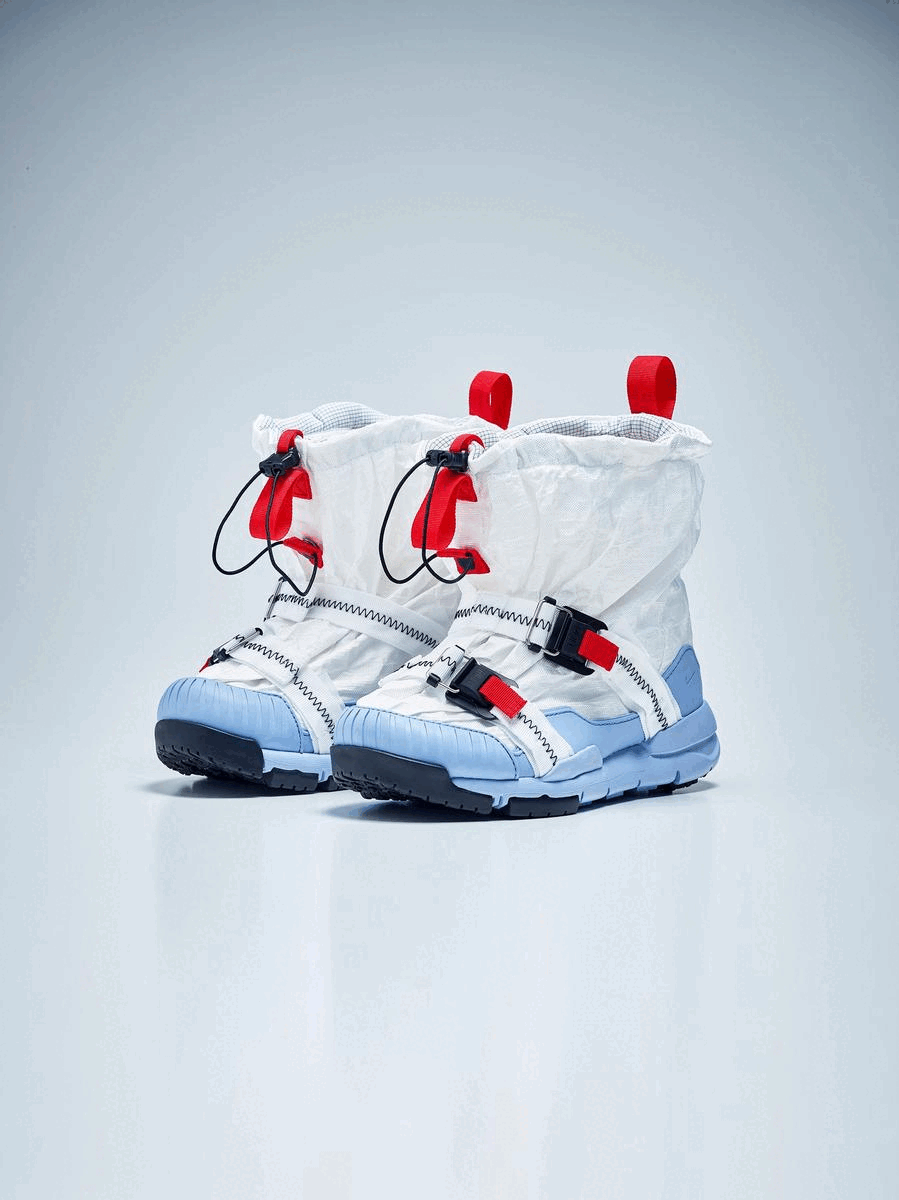 Sachs calls the shoe nicknamed 'March Yard' and designed it to get people to cope with the bad March weather in New York - winter is coming to an end, the snow is starting to melt and people walking around in shoes can get their feet cold and wet.
The Dyneema fabric keeps you warm and water resistant, and you can roll the shoe covers down if you feel hot. Even if you have to run around multiple places in a day to see New York Fashion Week, wearing these shoes is guaranteed to be elegant.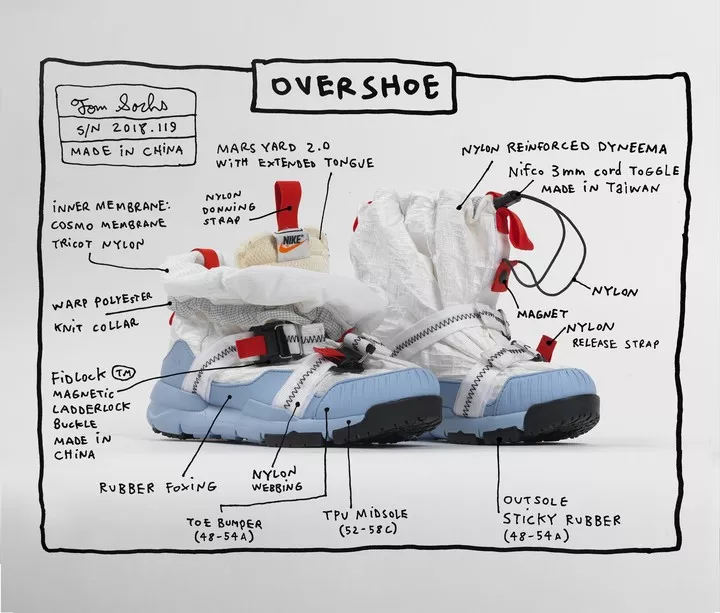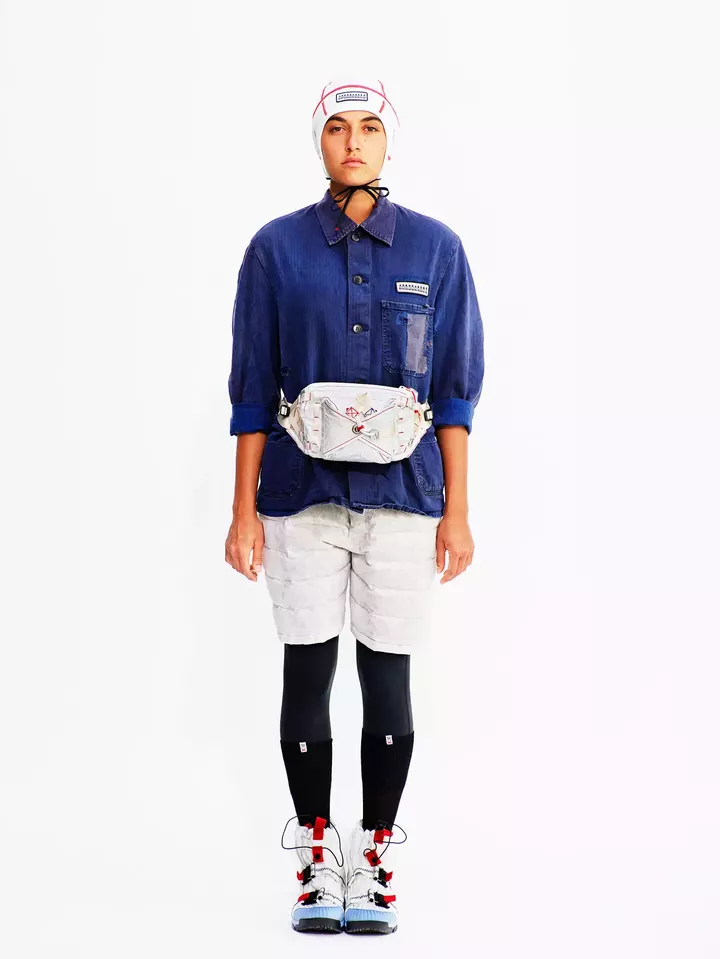 ▲ Also available are a quick-deployable raincoat (inspired by a parachute, stores as a fanny pack), and down shorts
For 2019, Nike and Sachs are launching corresponding kids' versions of each of the 3 sneakers NikeCraft has released, replacing the laces with easier-to-wear Velcro and supporting kids' walking with a flexible sole.
To Sachs, these little shoes are NikeCraft's way of supporting and nurturing young athletes.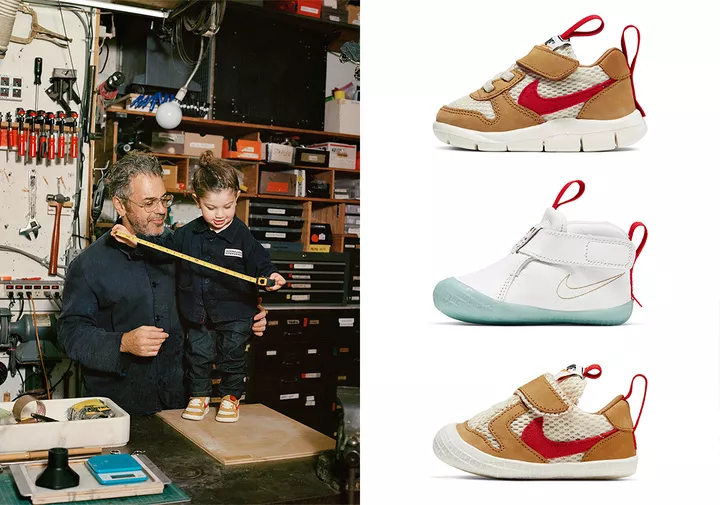 ▲ Inspired by his 10 year old son
The NikeCraft series isn't just about shoes, it's also a highly interactive and experimental project in its own right.
In conjunction with the release of Mars Shoes 1.0, Sachs did a 'Space Program: Mars' exhibition.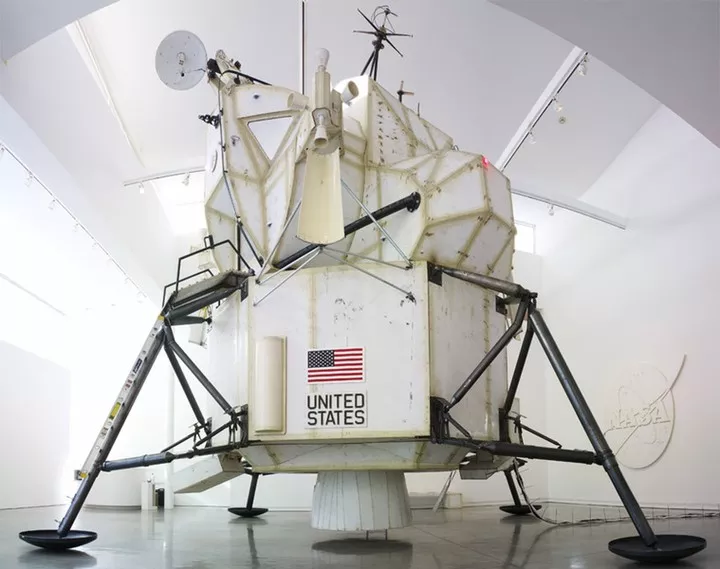 He makes art installations out of plywood and other materials, and the team wears NikeCraft products to show how astronauts survive and complete scientific exploration missions on Mars.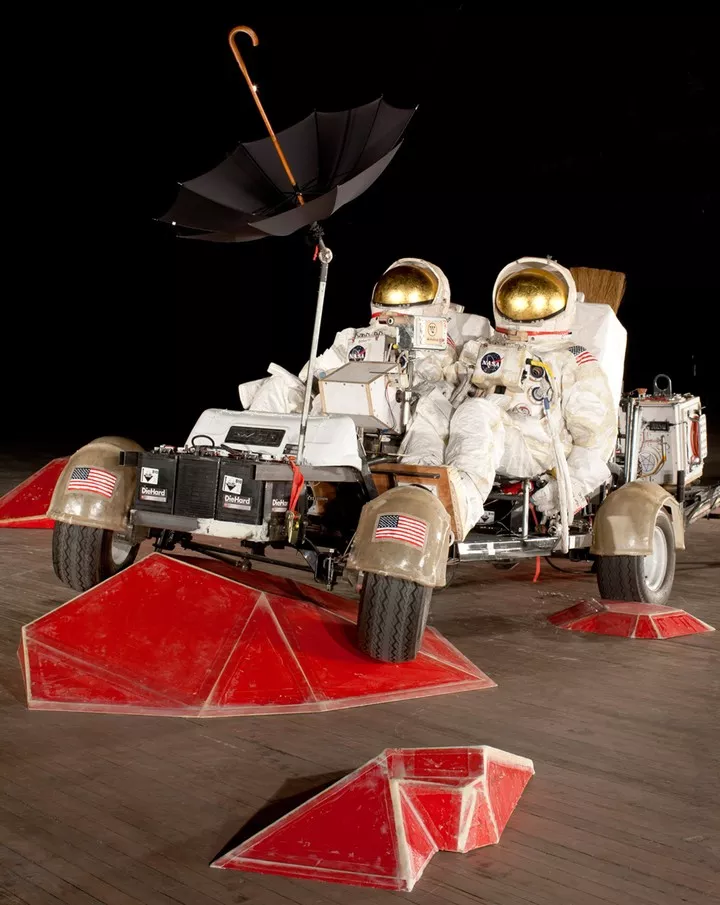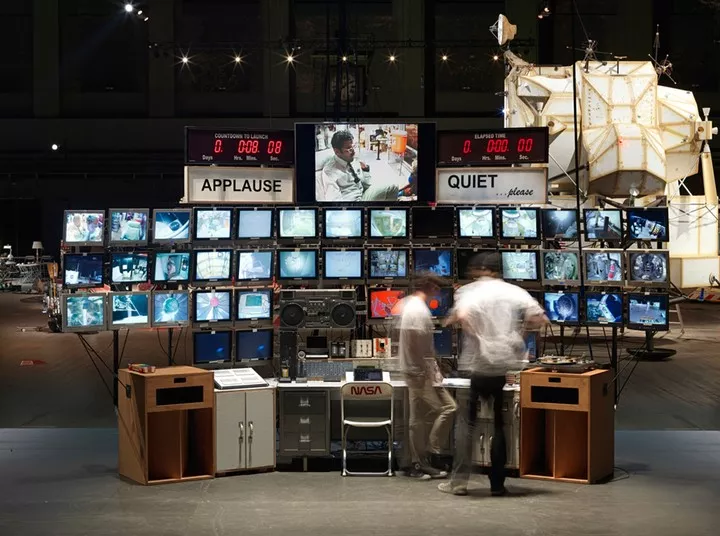 The "Space Program" exhibition series also has themes such as landing on the moon and exploring the moons of Jupiter.
And when Mars Shoes 2.0 relaunched, Nike partnered with Sachs to host a 'Space Camp', a series of physical and mental levels for participants.
Those who eventually complete the 1-hour course will receive early priority to purchase Mars Shoes 2.0.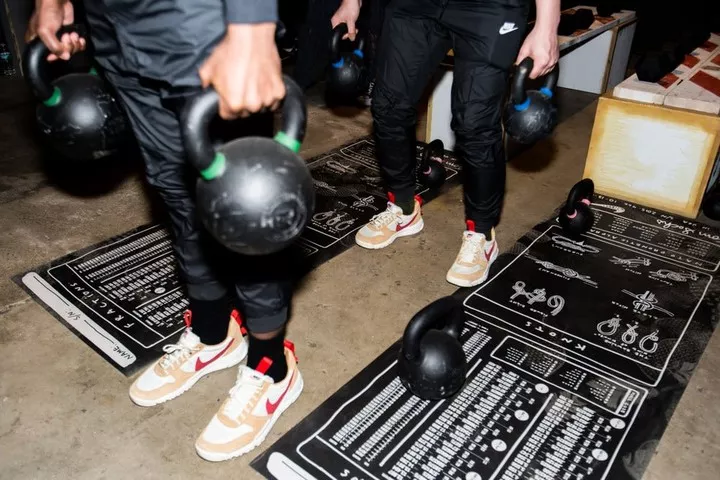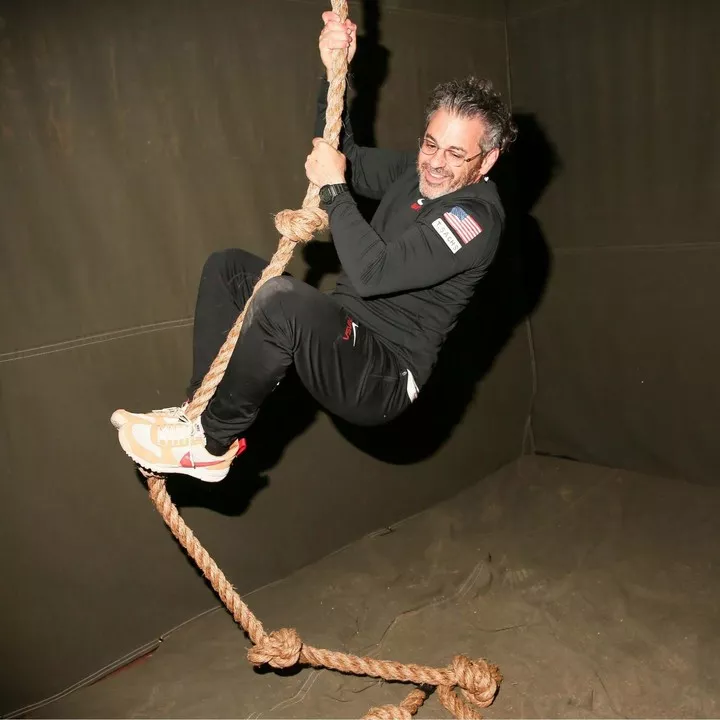 In 2020, NikeCraft also launched an Instagram campaign inviting people to sign up for a wear test on the 'Mars Yard 2.5', the 'Martian shoe'.
The first phase of the wear test was completed in April 2021. 150 testers signed up, took the Mars Shoes version 2.5 up and down the mountain, and gave feedback on how they really felt for a total of 216,000 hours.
The shoes are returned at the end of the test and Nike and Sachs will sanitize the dirty shoes, repair the worn out ones, as well as test them again.
From day one, Sachs wanted the NikeCraft line to make a more wearable and tougher sneaker.
While the world is talking about recycling sustainability, he insists that an item should first be durable enough to be reused (durabiliy), and only at the end is it back to be recycled (recycling).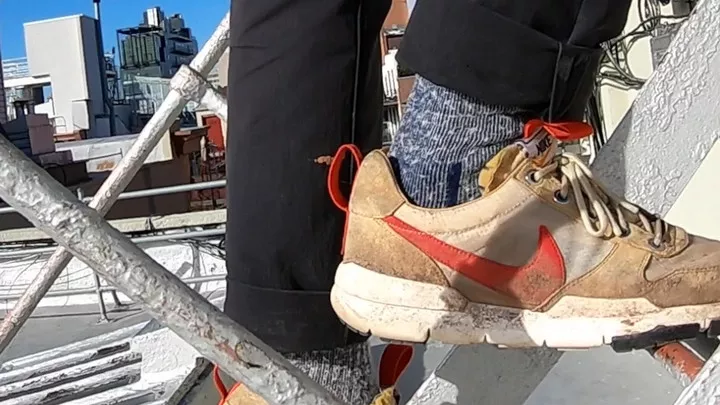 And NikeCraft is pushing boundaries, from the Mars Shoes 1.0 for astronauts and scientists, to the more urban walking Mars Shoes 2.0 and Space Shoes, to the recently sold out Universal model for everyone from all walks of life.
Ten years on, Sachs has gone from being a sneaker design amateur to an experienced expert. When it comes to working with Nike, he likens it to the collision of a small 19th-century workshop with a modern mass-production enterprise.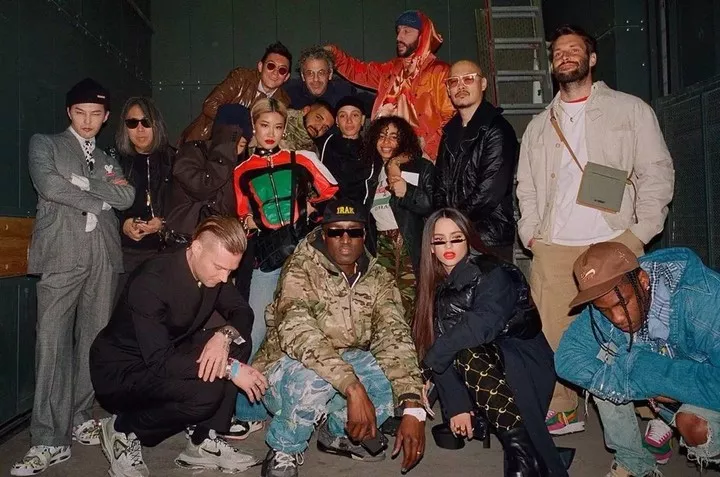 The newest addition to the Nike event, Sachs poses with trendsetters like Hiroshi Fujiwara, Kwon, Virgil Abloh, Travis Scott, Drake and more.
The name NikeCraft says it all: it's a collection with a 50/50 split in brand DNA, with Sachs bringing a vibrant new perspective and Nike responsible for bringing experience and competence in the manufacturing process.
They 'mess' each other up and bring inspiration to each other's way of thinking.
Living in the 'sugar rush' of consumerism
Let's not forget that outside of his crossover status as a sneaker designer, Sachs is also an artist settled in New York.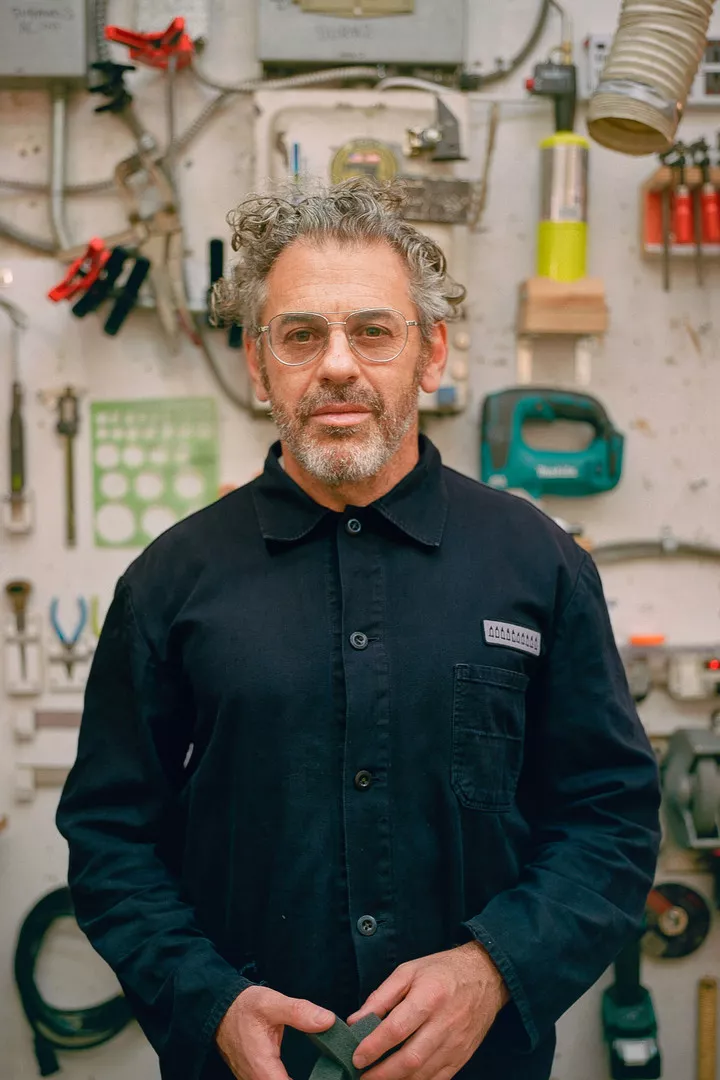 Back in the 1990s, Sachs came out of the ring with some critical consumerist artwork.
In 1994, for example, he helped Barney's Department Store decorate its Christmas windows by turning the Virgin Mary into Hello Kitty and putting a McDonald's logo on the stable where Jesus was born.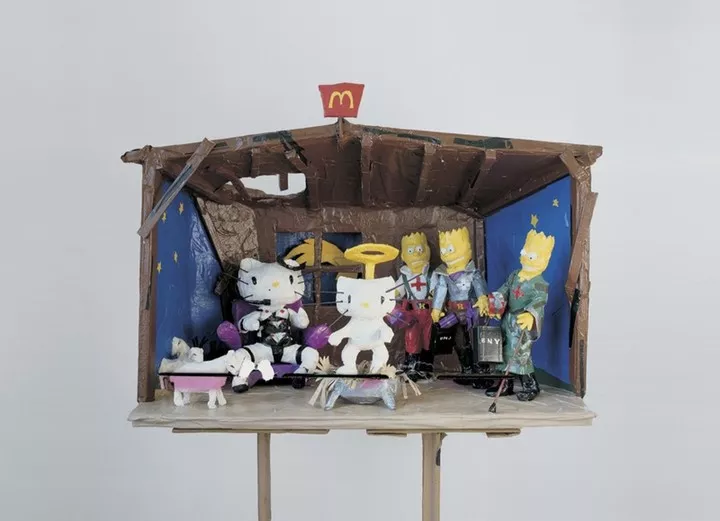 It also makes 'cultural prosthetics' such as Chanel guillotines, Hermes fast food and Prada toilets.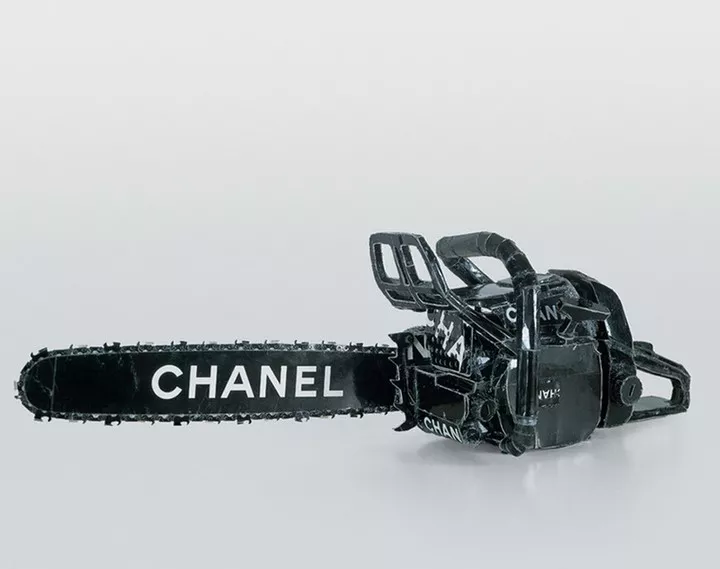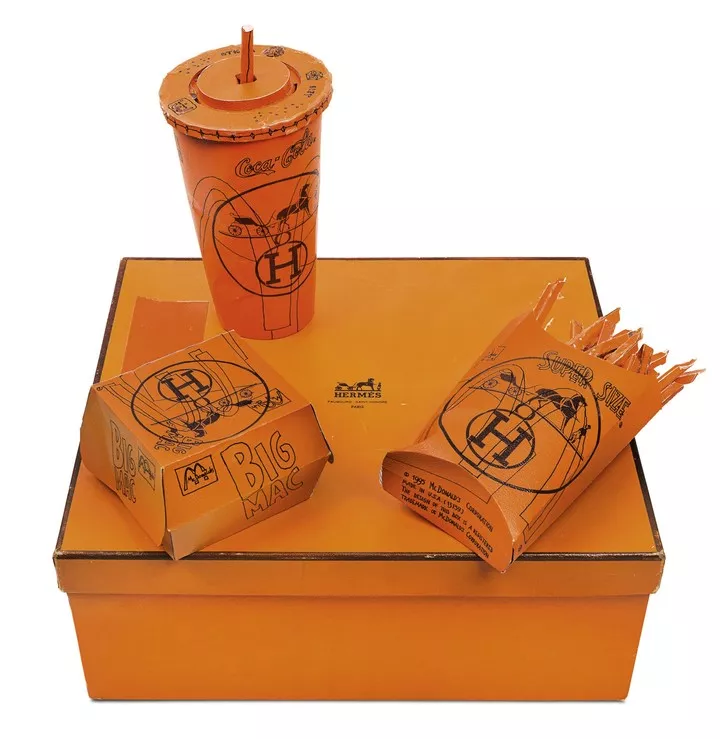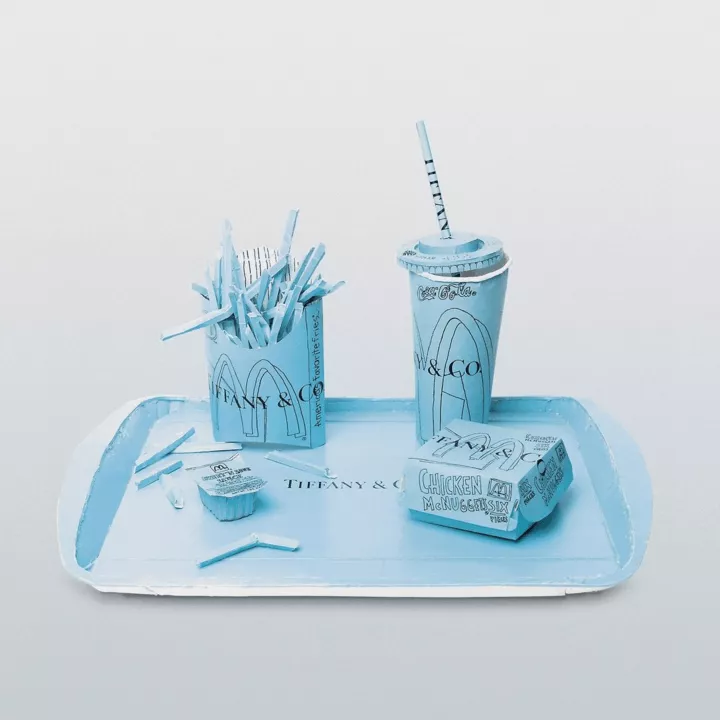 To the public at the time, it seemed unlikely that a partnership between him and a consumer brand like Nike would happen.
But Sachs is actually more of a bridge between brand and art - he once said in an interview that he understands deeply the 'toxicity' of consumerism, but that he really can't stay away from it, criticizing it and loving it at the same time, a paradoxical balance.
NASA's fatal attraction to Sachs was partly because he was born in the 1960s in the midst of the American moon landing program, and partly because NASA is a powerful brand that has the appeal of the "Chanel of science.
He has repeatedly said that he doesn't make art to get into museums or be seen by collectors, and has also repeatedly flirted with the idea that he can't make something as flawless as an iPhone, but Apple can't make his raggedy sculptures either.
Transposed and collaged with humor and fun, or reconstructed and recreated with simple materials, is Sachs' embrace and rethinking of consumerism.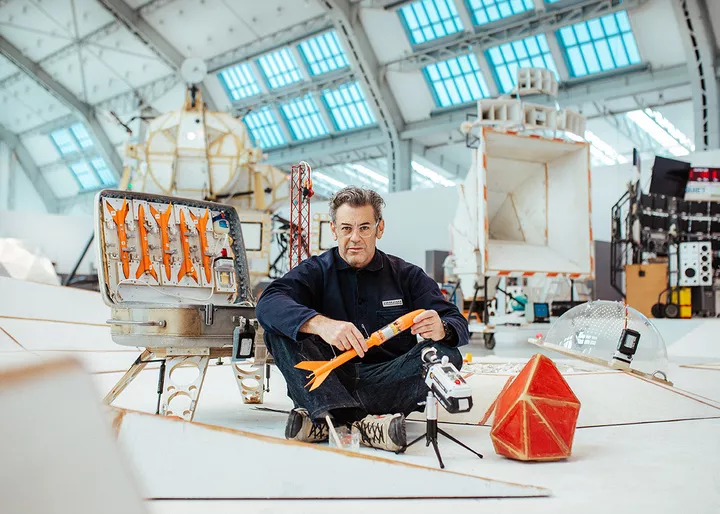 In the last year, Sachs has also released its NFT project 'Rocket Factory'.
One needs to purchase 3 parts, the head, body and tail, to make a complete rocket. Each part is marked with a different brand logo and can be mixed and matched or identical.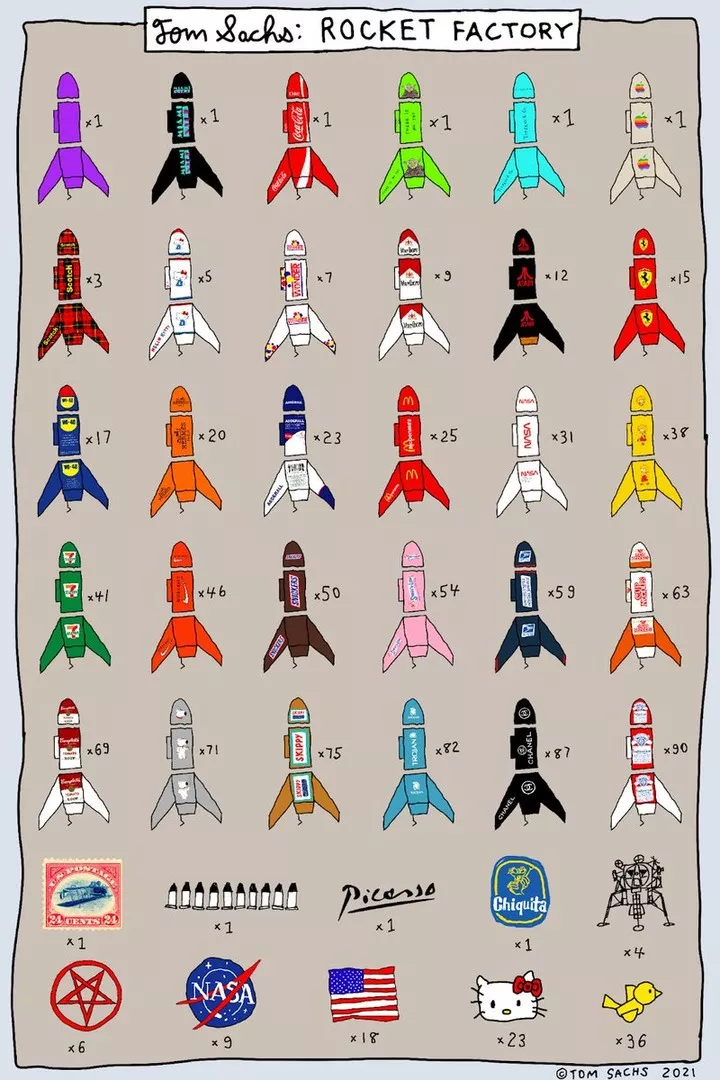 NFT owners can choose a launch date and Sachs Studios will build a mini-rocket and bring it to a park to complete the launch. The mini-rocket will eventually be recovered and sent to you with a video of the launch.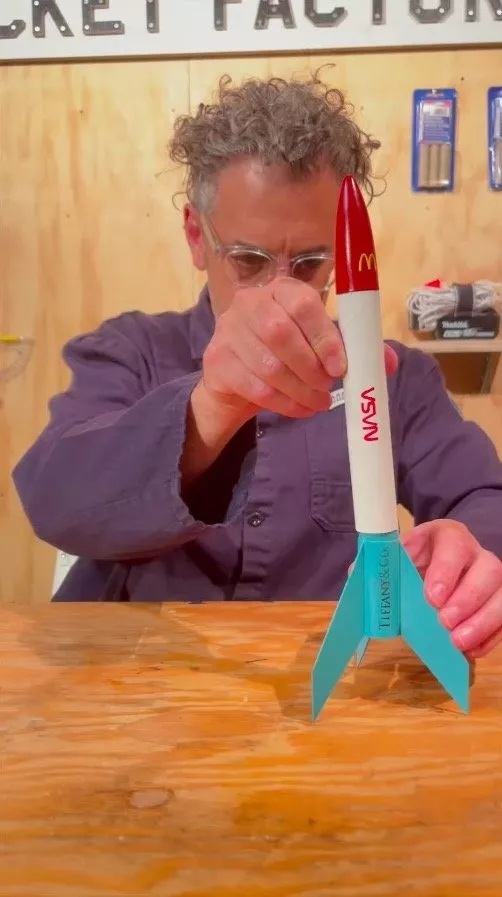 If you own the complete Nike Rocket NFT, you can redeem a free pair of NikeCraft GPS universal shoes; even Tiffany paid about $380,000 for one of the blue and green Rocket NFT sets. The whole thing just sounds very interesting.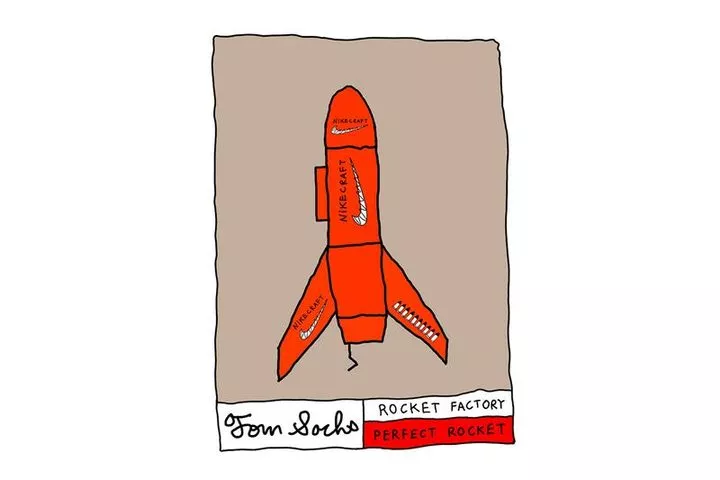 ▲ Complete Nike Rocket NFT, redeem a free pair of NikeCraft GPS Universal Shoes
But over the years of working with Nike, the consumer culture of shoe hype has caused problems for Sachs.
Sachs has always believed that the NikeCraft line was designed for athletes, not as a consumer symbol; and that the value of a shoe's existence should be to be worn to the last minute, not to sit on a shelf waiting to appreciate in value.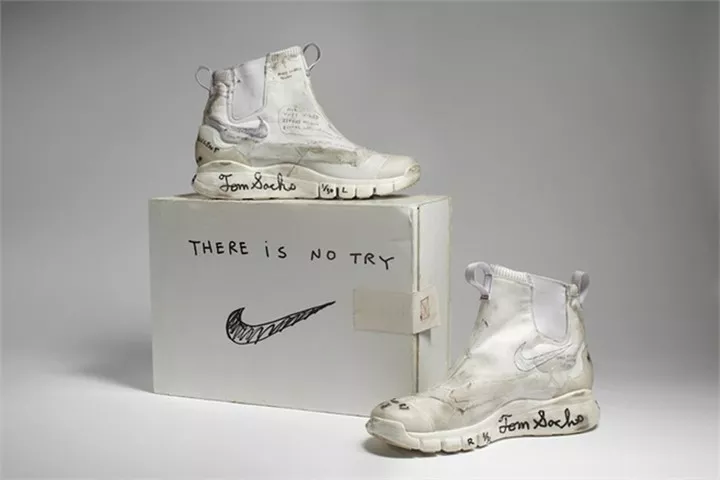 ▲ NikeCraft Series Prototype
In the case of the Mars Shoes 2.0, natural materials such as polyurethane, rubber, pigskin and nylon are used, not to help you hide the worn and dirty areas, but to show them off in plain sight.
The worn tears on the surface of the shoe, the wear on the sole, even the tongue peeling off like breadcrumbs ...... These weathered 'scars' are all life lessons and tell the story of the wearer.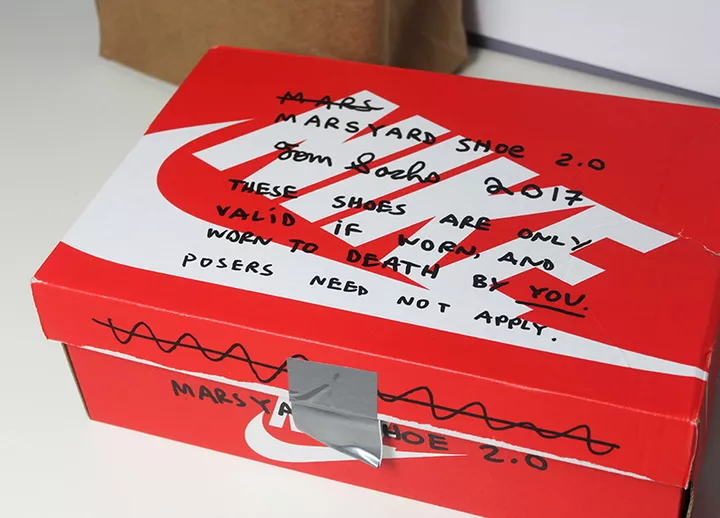 ▲ Mars Shoes 2.0 What it says on the shoe box: These shoes are only "alive" when they are worn by you, so pretenders need not apply.
In response to the NikeCraft GPS generic, Sachs again said.
I wanted to work with Nike in the beginning because we wanted to make sculptures that everyone could wear. It is a tool for everyday life and it is also democratic.
A host of netizens who have suffered from shoe hype have offered similar thoughts. Like @afamok said: don't just be "boring"! Make them available for purchase too! This experiment is pointless if these shoes aren't actually being worn on the feet.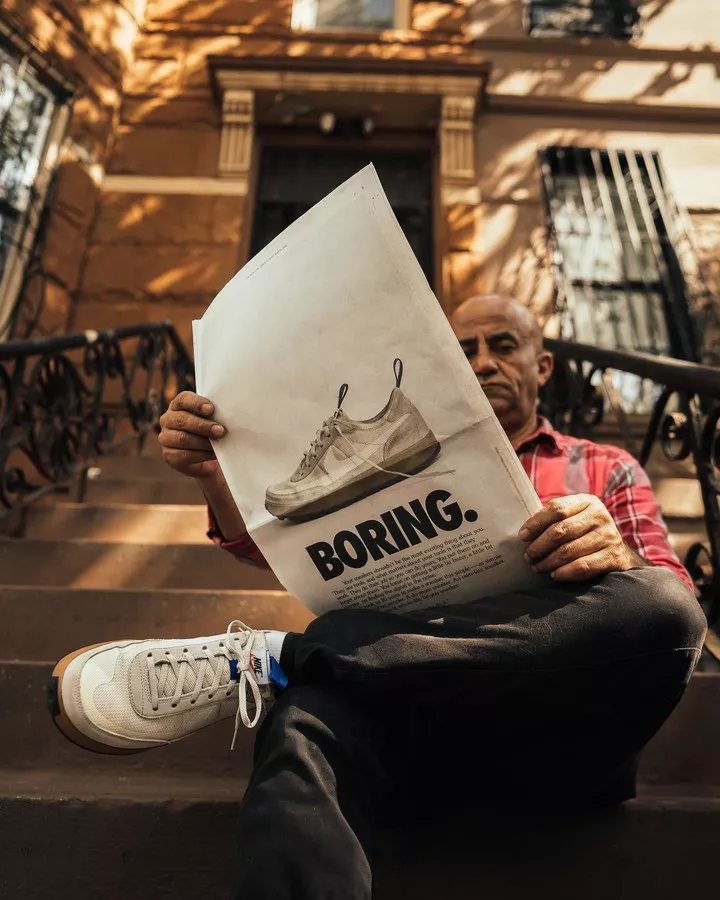 Alex French, editor of Fatherly.com, points out that Nike is actually the biggest gainer from the shoe hype economy.
The NikeCraft GPS universal model is a great and cool concept, but if the promises in the ad copy are empty and unfulfilled, it's just an art project that's more gimmick than reality.
I hope I'm wrong about this. I hope Nike makes enough generic shoes to meet the demand. I hope the shoe gets rid of the endless shoe hype culture. I hope NikeCraft GPS is the start of a meaningful conversation about value and consumption ...... If the answer is all yes, this is something to celebrate.
It will take some time to see how this all plays out.