Twitter CEO Parag Agrawal sent several tweets on Friday (13th), saying that although it is still expected that the acquisition of twitter by Tesla CEO musk is expected to be completed, it needs to be prepared for all possible situations. Before the US stock market on Friday local time, musk announced on twitter that he would temporarily suspend the plan to acquire twitter until more details were disclosed that spam and false accounts accounted for less than 5% of the total number of users of the platform.
Only two hours later, musk wrote again that "we are still committed to acquiring twitter". Foreign media quoted informed sources as saying that lawyers close to musk urged him to send follow-up tweets.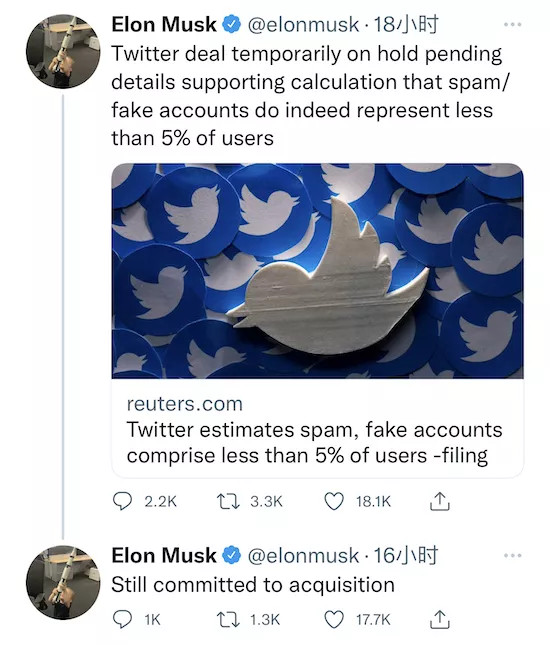 Two tweets triggered a huge shock in Twitter's share price. Twitter's share price plunged 9.57% on Friday and plunged 20% before trading. At present, the market value of the company is about $13 billion lower than the previously agreed bid of $44 billion.
Overnight, Tesla shares closed up 5.71%.
Twitter CEO: prepare for all situations
Agrawal wrote: "yesterday (Thursday, US Eastern local time), we announced changes in the leadership team and operations. Some people have been asking why the lame duck CEO still made these changes if we would be acquired anyway. The simple answer is: Although I expect the deal to be completed, we need to be prepared for all situations and always make the right decisions for twitter."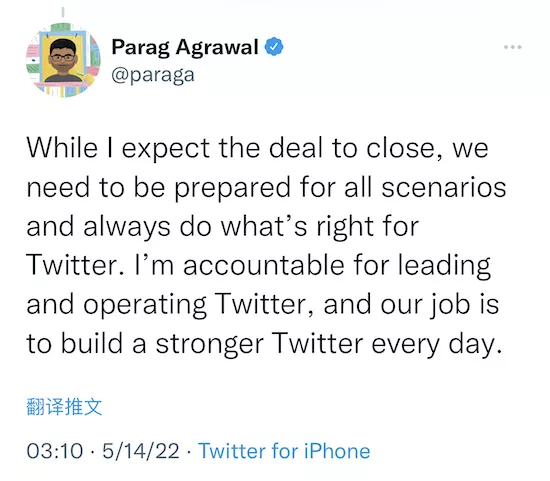 According to an internal notice from twitter, Agrawal announced on Thursday that two executives would leave and that the company would suspend most recruitment activities and seek to cut expenses.
"People also ask: why start cutting now rather than wait until the deal is completed?" Agrawal wrote, "our industry is facing a very challenging macro environment. I will not use the acquisition as an excuse to avoid the important decisions that need to be made for the healthy operation of the company, nor will other twitter leaders."
It is reported that musk did not inform relevant twitter personnel in advance before publishing the above tweets. Since it later said that it was "still committed to the acquisition", twitter will still provide musk with all relevant information according to the terms of the contract.
Dan ives, an analyst at wedbush securities, warned that Twitter's share price as a listed company would be worth about $20 if the deal failed.
Twitter shares closed at $40.72 on Friday, well below Musk's $54.20 offer last month.
Musk's calculation
What is uncertain is whether Musk's tweets should be seen as a negotiation strategy or an early warning to abandon the transaction?
In the past few years, master has tweeted many times on the news account, which is not a fake one.
More importantly, when musk agreed to buy twitter last month, he decided to give up due diligence in order to make the latter accept its "best and final offer".
Susannah Streeter, senior investment and market analyst at Hargreaves Lansdown, an investment bank, said: "given that Musk's initial acquisition seemed to be aimed at improving freedom of speech rather than creating wealth, it is really doubtful why it raised the issue of false accounts at this moment."
In view of the recent sharp decline in technology stocks and drastic changes in market environment and investor preferences, many Wall Street analysts believe that Musk's move is intended to seek a cheaper purchase price.
Under the pressure of high inflation in the United States, the interruption of global supply chain, the situation in Russia and Ukraine and the acceleration of interest rate hike by the Federal Reserve, US stocks have plummeted recently, and the Internet sector has borne the brunt. Since the beginning of the year, Google's parent company alphabet has fallen by nearly 20%, meta platfroms has fallen by more than 40%, and snap has plummeted by 47%.
In contrast, boosted by the acquisition news, twitter fell only 5.78% in the same period.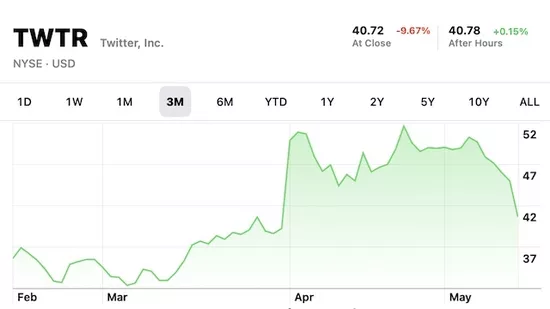 Toni sacconaghi, senior research analyst at Bernstein, also believes that this may be a negotiation strategy to seek a lower bid. "The market has fallen sharply. Musk may be using active user events as a negotiation strategy." He said.
In fact, since the closing on the 25th of last month, when twitter accepted Musk's offer, the NASDAQ has fallen by 11%.
Youssef squali, an analyst at truist securities, predicted that musk would try to reduce the offer by 15% - 20% to $46 or $43 per share. "This can significantly reduce its dependence on Tesla shares and improve its financing ability." Squally said.
According to the documents submitted to the securities and Exchange Commission, musk sold about $8.5 billion worth of Tesla shares at the end of last month to raise funds for the acquisition.
On the other hand, the recent sharp decline in Tesla's share price and the emergence of hidden worries at the regulatory level have indeed cast a shadow on the acquisition prospect.
In fact, the ebb and flow of overnight twitter and Tesla shares largely reflects that investors' expectations for the successful completion of the transaction are rapidly weakening.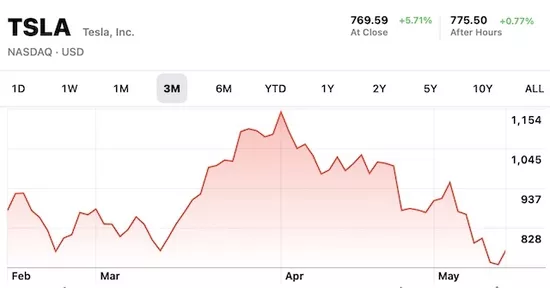 Since musk announced the acquisition plan, Tesla's share price has fallen by 29%.
Sarkozy Nagi believes that Tesla's shareholders are not happy to see musk as CEO of other companies, "which will distract him from company management."
Meanwhile, the U.S. Securities and Exchange Commission (SEC) is investigating Musk's delay in disclosing the increase in twitter stock trading. According to foreign media reports, musk disclosed to the SEC that he held more than 9% of twitter on the 4th of last month, at least 10 days later than the specified disclosure date.
The breakup fee may be more than $1 billion
According to the previous agreement reached between the two sides, if musk terminates the transaction or fails to deliver the acquisition funds as promised, it may need to pay twitter a $1 billion breakup fee.
On the other hand, if the seller commits fraud such as untrue information, resulting in the so-called "significant adverse impact", the buyer will be exempted from paying the above fees. At present, it is unclear whether the proportion of spam and false accounts on Twitter is significantly higher than 5%, and whether this will trigger the "significant adverse impact" clause.
Foreign media quoted M & A lawyers familiar with the matter as saying that if musk gave up the acquisition just because he felt that the price was too high, twitter could sue him for compensation of billions of dollars in addition to charging a fee of $1 billion.
A similar situation occurred in 2020. Due to the sharp impact of the epidemic, LVMH, a luxury group, intended to withdraw from the deal to buy Tiffany for us $16.2 billion in September that year. Tiffany sued and demanded enforcement of the agreement. Subsequently, LVMH filed a counterclaim, accusing Tiffany of mismanagement and paying high dividends to shareholders despite huge losses during the epidemic. Finally, the two sides reached a settlement and reduced the purchase price from US $16.2 billion to about US $15.8 billion. The transaction was finally completed in July 2021.
Author / Ge Weier