With the exception of the iPhone, which comes with its own A-series chip, Android manufacturers are mostly getting their SoCs from Qualcomm, MediaTek and Samsung.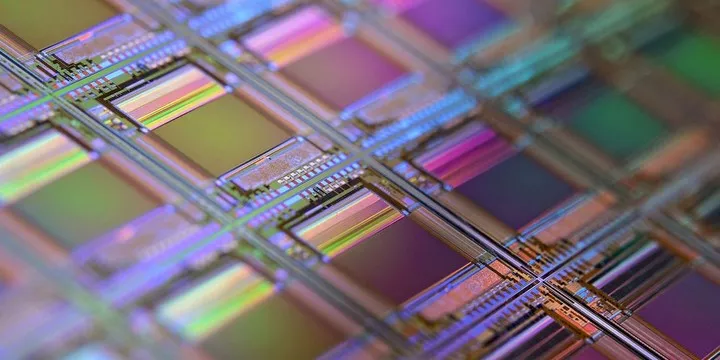 ▲ Image from: wccftech
Qualcomm, MediaTek and Samsung are not deeply involved in designing their own CPU and GPU architectures for SoCs, preferring to focus on Arm's public version architecture.
In this way, it creates a problem when the Arm public architecture is poorly designed, which can easily cause a chain reaction of flagship chips underperforming and eventually Android flagships also heating up and consuming power in a big way.

▲ Image from: Game of Thrones
This is compounded by the poor process yields of the chip foundries.
In recent years, Android high-end SoCs have also fallen into such a vicious cycle that Android flagships from various manufacturers have been dragged down in recent years.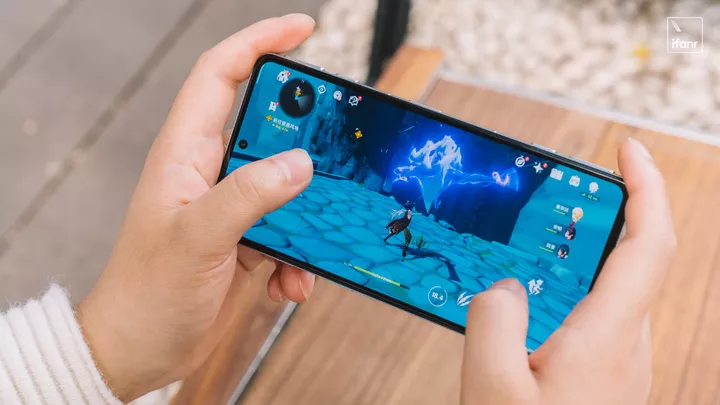 SoC knowledge, which was originally considered niche, is gradually becoming a shopping knowledge for the average consumer.
However, once Arm's public architecture is finalized, the disadvantage can be gradually reversed through optimization compared to the more difficult to catch up process.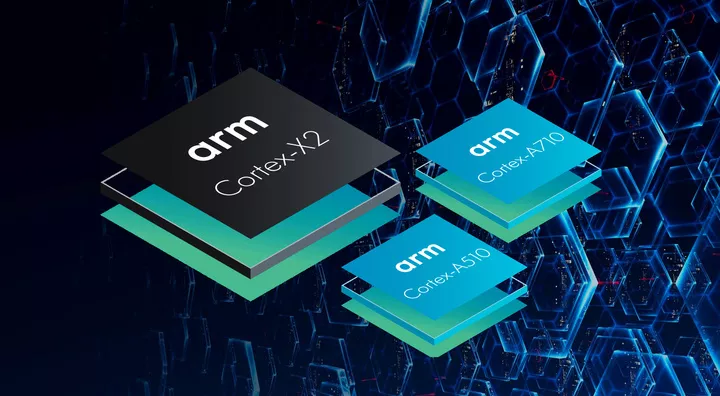 ▲ First generation Armv9 CPU cores Image from: Arm
Last year, Arm introduced the Armv9 instruction set to its public architecture, bringing three new public CPU cores, Cortex-X2, Cortex-A 710 and Cortex-A510.
Ultimately in Snapdragon 8 Gen1 and the Skyguard 9000, this new architecture is an improvement over its predecessor, but there's still plenty of room for optimization.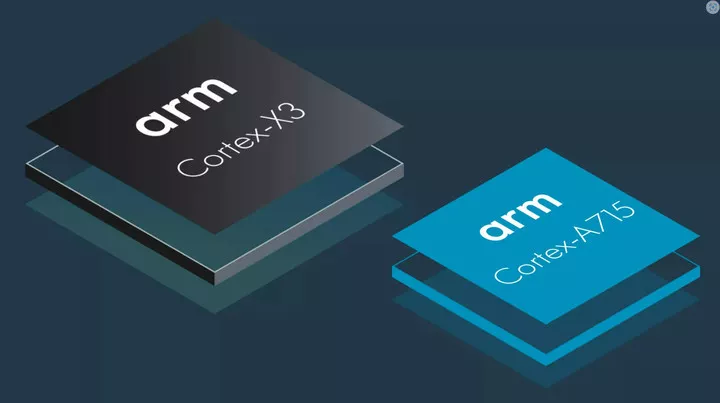 At the Total Compute Solutions 2022 conference the other day, Arm unveiled its latest generation of public architecture, including the new Cortex-A three CPU cores and a new family of GPUs.
The core of the new generation CPU architecture is almost as much about optimizations and enhancements as it is about GPUs, which are solidly innovative.
CPUs focused on improving energy efficiency ratio
The strength of Arm chips is their power efficiency ratio, but in recent years the advent of the mega-core Cortex-X has also started to bring a significant improvement in the absolute performance of Arm chips on mobile.
The new generation of Cortex-X3 is still there for peak performance, with a 25% performance increase at the same 3.3GHz clock frequency as the Cortex-X2.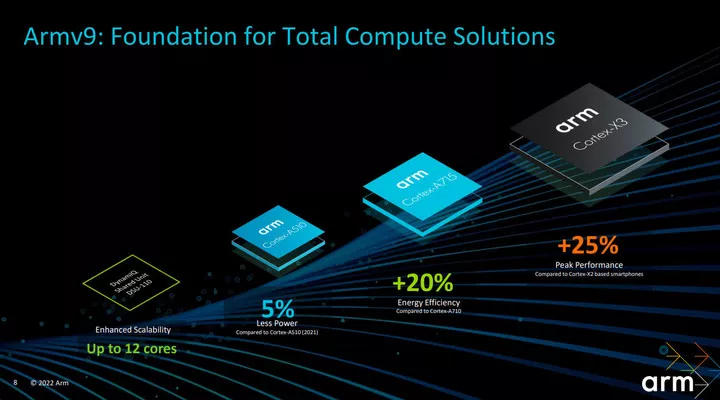 If the X3 is running at 3.6GHz, that's a 34% improvement over some mainstream notebook processors.
Clearly, the overclocking potential of the Cortex-X3 mega-core, along with its higher performance (and power consumption) is for Arm's PCs, not for the next generation of mobile flagship SoCs.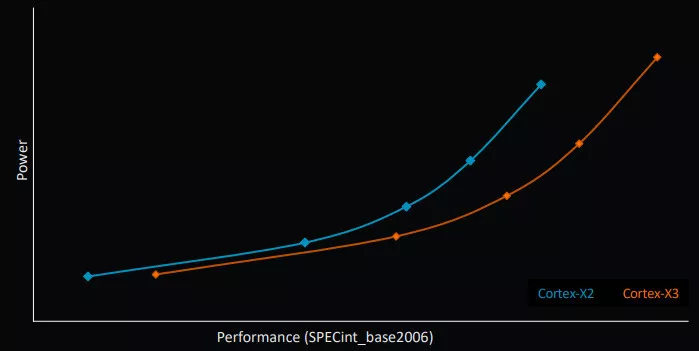 The big-core Cortex-A715 is more of an improvement on its predecessor, the A710, in terms of naming, with a focus around efficiency.
With the optimized core architecture, the Cortex-A715 delivers a 5% performance increase and a 20% reduction in power consumption.
The curve shows that the A715 has a better power efficiency ratio than the A710 in any state. For this reason, Arm also says that the A715 already has performance comparable to the X1 at the same frequency and cache.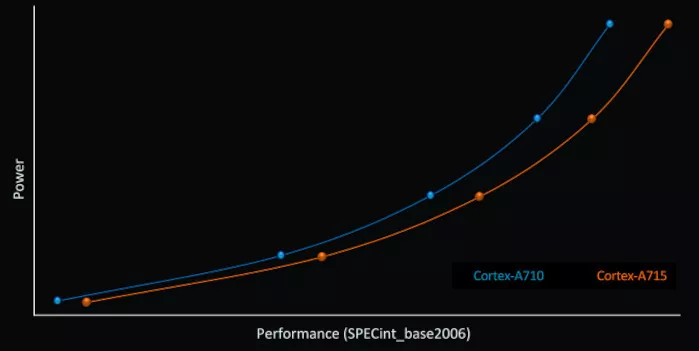 Also on the larger cores, Arm has completely removed support for 32-bit apps. As a result, the A715's instruction decoder is four times smaller than its predecessor, making the A715 core more efficient in terms of area, power, and execution.
The mid-core is still named Cortex-A510, but Arm has still made optimizations and called it a refreshed A510. (It feels more like a redo of the A510, after all, the previous one had a lot of problems.)
The new A510 core, with improved timing and optimized efficiency, results in a 5% reduction in power consumption. Most critically, the A510 has reintroduced support for 32-bit apps.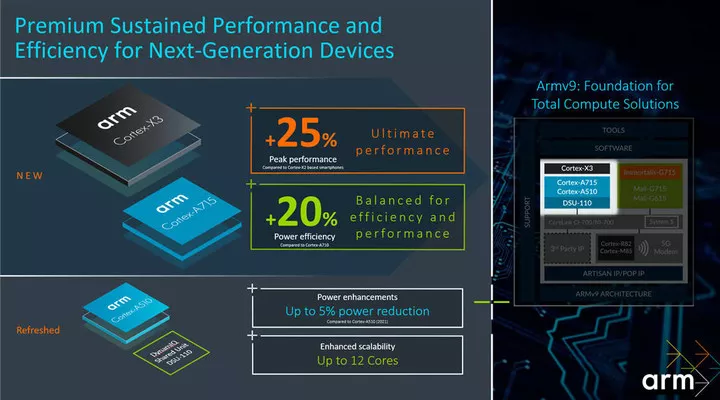 For this reason, the new A510 will also be used in other areas such as the Internet of Things, and again, not only for smartphones.
In addition to optimized iterations of three of its own Cortex cores, Arm's DSU (DynamIQ Shared Unit) has been updated to support 12 cores with 16MB of L3 cache.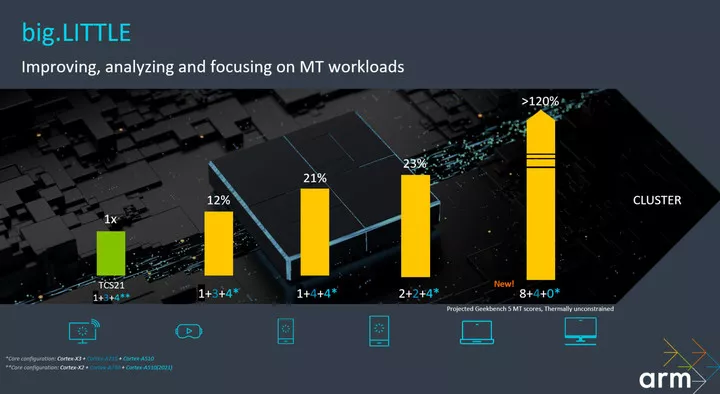 As a result, future Arm processors could have a wider variety of core combinations, from the common 1+3+4 triple-cluster architecture to 1+4+4, 2+2+4, and even 8+4+0 for some of the more powerful chips.
In general, Arm's new generation of Cortex cores are mostly optimizing the architecture of their predecessors, trying to provide better power efficiency ratios, and fixing some of their predecessors' illogical designs.
In addition, Arm's core designs are not limited to smartphones, but are beginning to expand the reach of each core, with the mega-core X3 focusing on the PC space and the mid-core A510 offering greater compatibility for areas such as the Internet of Things.
GPU optical tracking will become standard
In the past, Arm's public GPUs have been a little weaker relative to the CPU cores and more of a base configuration.
Arm's public Mali GPU continues to iterate, and in the last generation of flagship chips, the public version of Mali was close to Qualcomm's own Adreno in terms of performance.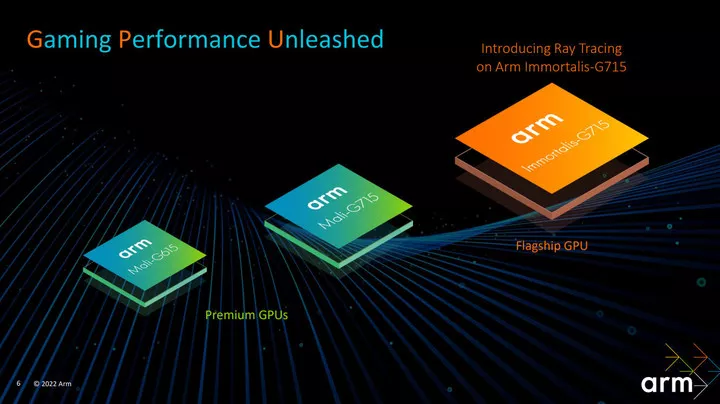 With the release of the next generation of CPU cores, Arm has updated its public GPUs with a new series of Immortalis flagships, as opposed to its previous routine upgrades.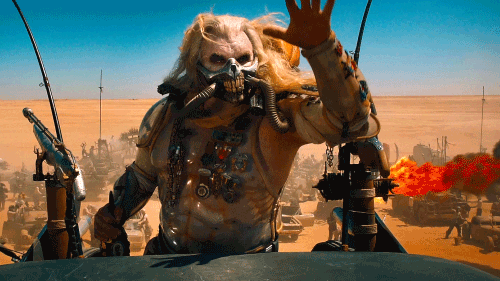 ▲ Immortan Joe image from: Mad Max 4
The biggest feature difference between the Immortalis series and Mali is the support for ray tracing, and in terms of cores, the Immortalis-G715 has at least 10 cores, while the Mali-G715 can carry 7 to 9 cores.
The disparity in core count, as well as hardware support for ray tracing, gives the Immortalis-G715 a broader usefulness, and, like the Cortex-X3, is more of an early build-out for the Arm desktop-class chip.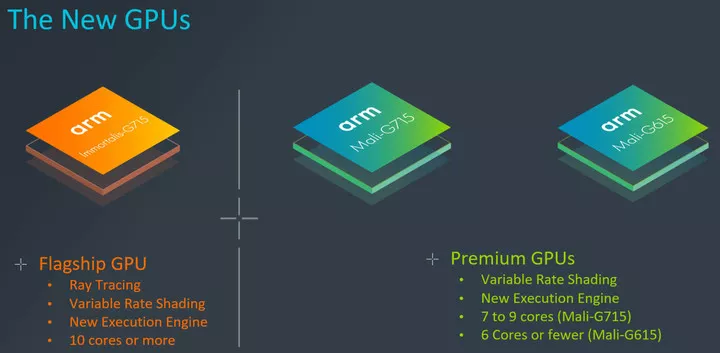 Andy Craigen, Director of Product Management at Arm claims Immortalis-G715 delivers a 3x performance increase through hardware acceleration using only 4% of the shader core area.
In fact, software-based ray tracing is available on Arm's previous generation Mali-G710 GPU. In addition, Samsung's Exynos 2200 has also partnered with AMD to introduce hardware support for ray tracing.
Both Arm and chip makers are moving ahead with ray tracing for mobile, but for now it's mostly a few demos for the public, and no clear action from game developers.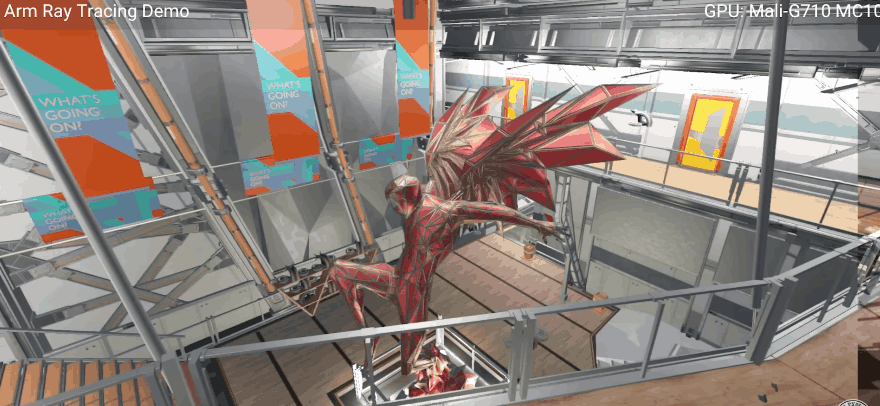 ▲ New GPU ray tracing demo demo (motion picture has compression), notice the change in light and shadow Image from: Arm
For 3D games on mobile, the extensive hardware light additions are a bit like the darkness before the dawn.
However, Arm's Paul Williamson, in an [interview] with TheVerge (https://www.theverge.com/2022/6/28/23186148/arm-immortalis-hardware-ray-tracing-mobile- features-specs), it was hinted that when terminals with Immortalis-G715 GPUs become available next year, there will be a corresponding product to provide an interesting experience.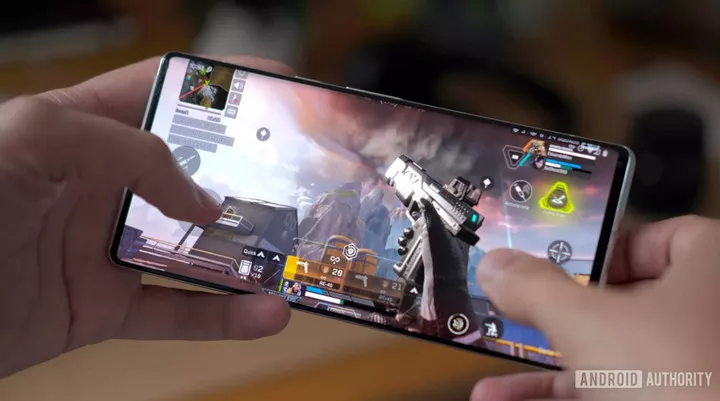 ▲ Image from: Android Authority
The regular Mali-G715 update, like the Cortex-A715, focuses on energy efficiency, with a 15% efficiency improvement over the G710.
Also, Arm has updated a GPU positioned slightly below the Mali-G715, the Mali-G615, the difference being that it has fewer cores (less than 6) and is aimed at mid-range Arm processors.
While the Mali-G715 and G615 are regular iterations, the Immortalis-G715, with its hardware support for optical chasing, is a real upgrade, with better computational performance for 3D images.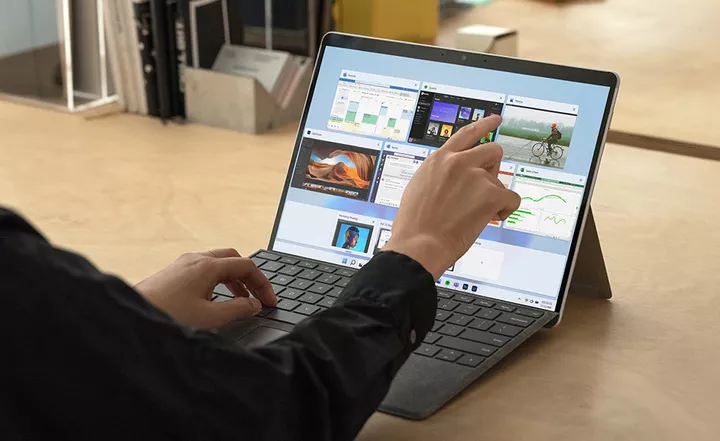 The Immortalis family of GPUs are similar to the Cortex-X Ultra Cores, more like Arm for desktop processors, and seem ready to start making their mark on the Arm PC.
Chipmakers are taking aim at the Arm PC space
In addition to Qualcomm, Samsung Exynos and MediaTek will all use Arm's public CPU and GPU architectures directly, but with different core frequencies and processes.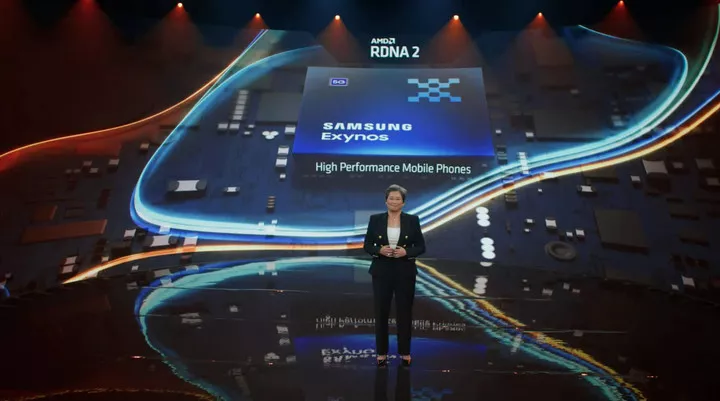 ▲ The addition of AMD didn't save the Exynos 2200 either
With Samsung's last generation Exynos 2200 starting to work with AMD on the Xclipse GPU, MediaTek is now the only company in the mainstream SoC market developing the Tiangui series based on the Arm public domain architecture.
Similar to Samsung's Exynos partnership with AMD, Qualcomm has directly acquired NUVIA, a company that designs its own Arm chip architecture, in order to start working on its own Arm architecture chips.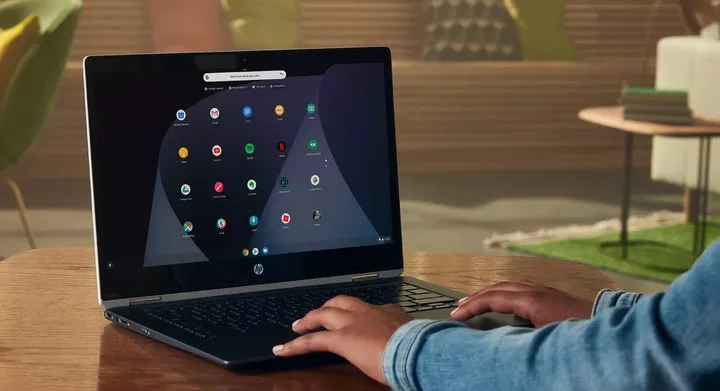 Qualcomm has also prepared a chip codenamed "Hamoa" internally, initially targeting the Apple M chip. The CPU will have its own IP cores, rather than the Arm public architecture.
Many analysts have also said that Qualcomm also has plans to introduce CPU cores from its own design IP into Snapdragon chips, provided of course that the performance is good enough.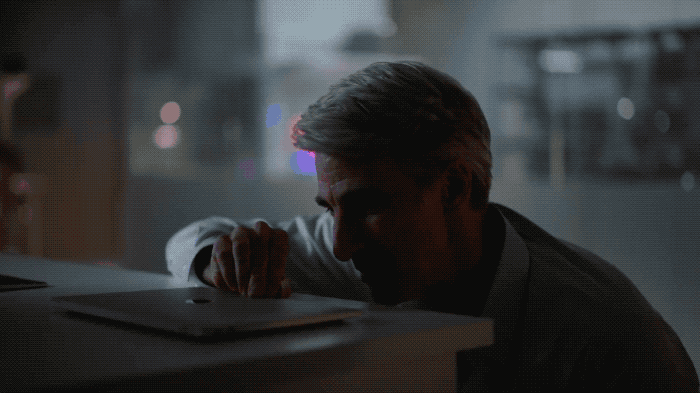 ▲ Apple chips already lead Qualcomm, MediaTek, Samsung
The reason why it's not a straightforward switch like Apple A chips typically are, is really due to the fact that Snapdragon chips have too much market share and the stakes are too high.
Today, Arm's public version of the architecture is more of a foundation, getting closer to being a reference for vendors.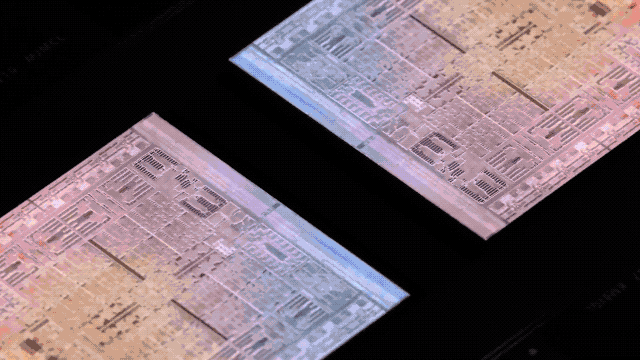 ▲ Apple chip is synonymous with 'differentiation'
Competent chip makers are also gradually starting to design their own core architectures in order to have a stronger differentiation, as with Apple's A and M chips, and thus gain more order volume.
The Arm public architecture is also starting to look at building the Arm ecosystem with the mega-core Cortex-X, the Immortalis family of GPUs with increased peak performance for the layout of the Arm PC processor, and the redesign of the Cortex-A510 with better backward compatibility.
The smartphone market has shifted to a stock market, and the high-potential Arm PC space could be the next growth area for both chipmakers like Qualcomm and core IP providers like Arm.