Unexpectedly, there was a big event in the mobile phone circle on Monday afternoon. Today, the State Administration of Market Supervision announced the case of Hubei Xingji times Technology Co., Ltd. (hereinafter referred to as "Xingji times") acquiring the equity of Zhuhai Meizu Technology Co., Ltd. (hereinafter referred to as "Meizu technology").
Access:
Shortly after the official announcement, the digital blogger @ digital chat station said, * "Meizu's 19 series new machine project has not been cut down, and it can be done with sufficient funds after the acquisition. * the stacking of materials will be the stacking of materials, after all, it will be Zhuhai big blue factory in the future".

According to the public information, Xingji times has signed an agreement with Meizu technology and the shareholders involved in the transaction. Xingji times plans to acquire 79.09% of the equity of Zhuhai Meizu, obtains independent control over Zhuhai Meizu, and huangxiuzhang's shareholding in Zhuhai Meizu will be reduced to 9.79%.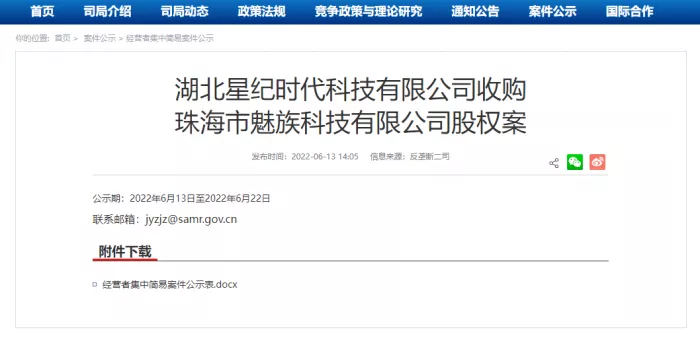 It is worth mentioning that at the summer new product launch held by Meizu not long ago, wanzhiqiang of Meizu technology introduced that Meizu 19 to be released this year will take the lead in supporting the Meizu 19 manager plan, Meizu users or consumers can participate in the design of Meizu 19 through Meizu community theme posts**
Subsequently, Meizu will hold activities around the world to invite participants to share their ideas of Meizu 19, and even provide them with keynote design support.
In 2021, Meizu 18 series was officially released, including Meizu 18, Meizu 18 pro, Meizu 18x, etc. in addition, Meizu 18S, Meizu 18S pro and other models were successively launched.