The sci-fi film Jurassic world 3: rule opens. By the time of publishing, 21816 reviews had been received for this film, Douban scored 6.5 points, and more than 45% of the audience gave 3 points for this film In terms of audience evaluation, many viewers said that the literary drama was awkward and set up a play, but fortunately there were also various dinosaurs and thrilling action scenes As the third part of the series (also the final work of the series), the content design of this work has added a lot of homage to the previous films of the IP and the part of small colored eggs, which has also made many old audiences who are familiar with the IP smile.
Access: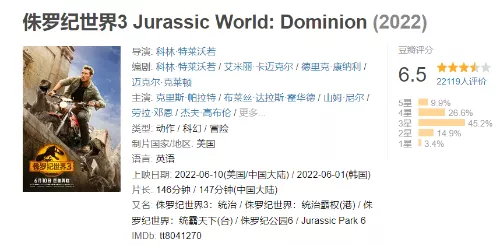 Jurassic world 3: rule takes place four years after the complete destruction of nubula island. Dinosaurs have fully entered the world and human society. Everyone can meet and touch them, which also triggered a series of stories.
The delicate balance between humans and dinosaurs is about to reshape the future, and will determine whether humans can survive with the most terrible creatures in history from now on, while still maintaining the status of the top predator on the earth.
Audience comments: