Many years ago, johnoliver called on the audience to join the struggle for the rights of network neutrality, and then the people flocking to comment led to the paralysis of the Federal Communications Commission (FCC) In the latest episode of "last week's tonight show" broadcast on Sunday, Xiao Jiong targeted the anti-monopoly cases of the two technology giants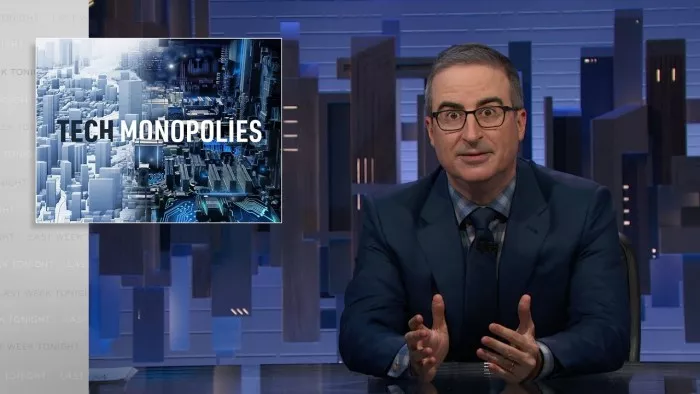 Video screenshot (from: HBO)
In the program, John Oliver briefly and comprehensively revealed how large technology enterprises dominate the Internet.
From Apple The program team clearly conveyed how such monopoly would stifle innovation and how legislators should launch an impact on the monopoly technology giant.
Although there are unlimited possibilities for start-ups, if a small number of enterprises firmly control the overall economy, they will run into invisible barriers.

If monopolies are allowed to develop, an innovative application, website, or application may never take the first step towards marketization. Because they may be maliciously suppressed, buried in the results page of search engines, or even crushed to death by technology giants like an ant.
Fortunately, Xiao Jiong pointed out on last week's tonight show that Congress is considering two new bills aimed at restricting such anti competitive acts.
One is the American choice and innovation act (AICO)( https://www.theverge.com/2022/6/10/23162438/american-innovation-choice-online-act-aico-klobuchar-grassley-senate ) ) The second is the open application market plan (oama) 。
Tech Monopolies _ Last Week Tonight with John Oliver _ HBO(via)
Relevant measures will prohibit large-scale technology enterprises from pushing their own businesses or requiring developers to exclusively launch their applications in a store.
For example, AICO will prohibit Amazon from favoring its own brands, and restrict the flow of products from independent sellers or suppress them in other forms.

In addition, the open application market act will force apple and Google to provide users in need with third-party app installation options other than the official app store.
John Oliver added: "these bills will open the door to innovation and return the Internet to the level it should have been when it was born.".
At present, Republicans and Democrats have generally expressed their support for the above-mentioned bill, but Chuck Schumer (D-NY), the leader of the majority party in the Senate, has not yet called everyone to vote.
Earlier this year, he promised to push for a vote on the new bill in the early summer. However, after being interfered by the bipartisan gun control bill, it is unknown how long the relevant arrangements will be put on hold.