A few days ago, Luo Yonghao complained in the live broadcasting room that Apple's products are now like that. I want to be their product leader. I am sure that this company's products can benefit countless people and go up more than three steps. He also said that I didn't have to be my own boss. The problem was that Apple didn't come, so I had to find a way to buy them.
Access:
LuoYongHao also said that there is no way to collect it, but people should have ideals, otherwise it is different from salted fish. A few days ago, LuoYongHao roast Apple The global developer conference said that Apple had released itself and copied fourorfive at one go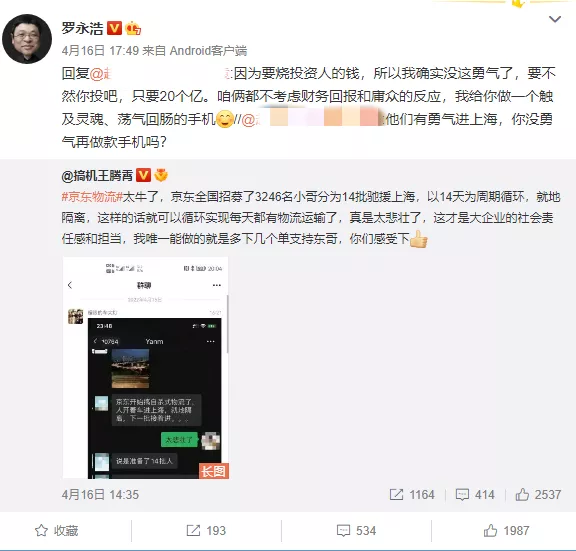 LuoYongHao stressed that jobs had made so many product innovations in those years, and the difficult decades in the middle were also regarded as stupid X by snobs; WebOS is completely copied by apple, but people today don't even know its existence.
He said: "the success or failure of an enterprise depends on its comprehensive capabilities and opportunities. It is useless to rely solely on products." Earlier, Luo Yonghao answered a netizen's question, "don't you have the courage to make another mobile phone?" Shi frankly said, "I really don't have the courage to burn the investors' money.".
He did not forget to joke, "if not, you can only invest RMB 2billion. We do not consider the financial return and the reaction of ordinary people. I will make you a soul touching and soul stirring mobile phone."
According to Lao Luo himself and Huang He, the CEO who made a friend, Lao Luo is about to return to the field of technology. The AR product he chose this time is indeed not a mobile phone