"I have tried the ox knife for several years. I can't kill the ox. after all, I was killed by the ox." After the official announcement of Geely's acquisition of Meizu, a Meizu Fan said at the Meizu forum This time, Huang Zhang did not appear to refute. Five years after Huang Zhang came out in 2017, Meizu has once again fallen into a small and beautiful abyss after major adjustment.
Wen sina science and technology Zhang Jun
Editor: Han Dapeng
In the eyes of Meizu insiders and Meizu fans, Huang Zhang has always been the spiritual leader of Meizu. He has also come out to rescue Meizu several times when Meizu is in danger. However, in the tide of the smart phone industry, Meizu has already become others.
According to the information publicized by the State Administration of market supervision, Xingji times under Li Shufu has signed an agreement with Meizu technology to acquire 79.09% of its equity. It is worth noting that if the transaction is completed, the shareholding of Huang Zhang, founder of Meizu technology, will be reduced from 49.08% to 9.79%, and Xingji era will obtain independent control over Meizu.
Geely likes Meizu. First, Meizu's foundation and accumulation in mobile phone hardware; The second is the imagination space of Meizu flyme in the vehicle machine system. With Geely's financial and resource support, Meizu has more confidence to compete with mainstream manufacturers on mobile phones.
However, without Huang Zhang, can Meizu continue to get the support of Huang Zhang fans?
Huang Zhang quits the power core
The rise and fall of Meizu is closely related to the retirement and comeback of its founder Huang Zhang.
In 2014, when Meizu was facing the first crisis, Huang Zhang came back and introduced investors such as Ali, starting the road of expansion from small and beautiful to popular. Under the aircraft sea strategy, Meizu's shipment grew rapidly from millions to 20million.
However, the rapid expansion also brought side effects, and Meizu fell into huge losses. In 2017, Huang Zhang announced on his microblog that he would return to the small and beautiful line, slashing the product line and changing the management.
Nowadays, Meizu has returned to a profitable State, but its position in the smart phone industry is much lower than before.
Regarding Huang Zhang, both the industry and Meizu fans may have two views. One school thinks that he is the spiritual leader of Meizu, creating the unique temperament of Meizu; Another school believes that the strategic mistakes of Huang Zhang caused Meizu's dilemma today.
Meizu fans expressed concern when Geely and Meizu both reported the acquisition scandal. "It may not be as easy to acquire as expected! How to smoothly transition between Meizu, which is deeply branded as a family business, and the Xingji era under Geely, is a huge test. This does not include the integration of the team and the optimization of human resources. As early as the Ali era, senior executives had extended the olive branch to Meizu, but when they heard that they wanted to transfer their voice, the stubborn Huang Zhang was the first to be rejected. Will Huang Zhang compromise now?"
From the information published this time, the stubborn Huang Zhang chose to compromise.
Before this transaction, Huang Zhang and Taobao China held 49.08% and 27.23% of the shares of Meizu respectively, and jointly controlled Meizu Zhuhai. After the completion of this transaction, Huang Zhang's shareholding in Meizu will be reduced to 9.79%, Taobao China will withdraw its shareholding and control over Meizu, and Xingji era will hold 79.09% of the equity of Meizu and obtain separate control over Meizu.
Compared with the confrontation when introducing Ali for Meizu for the first time, during the negotiation with Geely, Huang Zhang finally decided to withdraw from the power center of Meizu.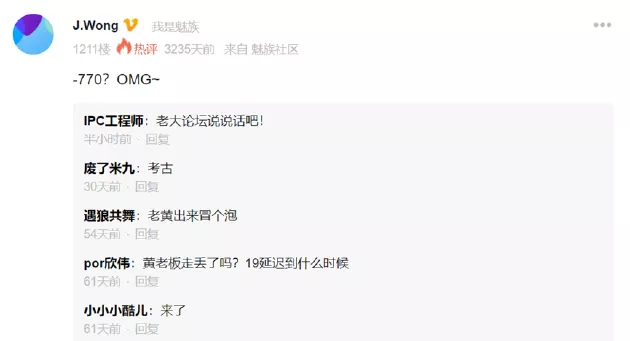 This may also be his best choice. Every time Meizu goes out of the mountain and retreats, it has to go through a great turbulence. This time, Huang Zhang can finally live a real retirement life.
After Geely's acquisition of Meizu was announced, Meizu fans called on Huang Zhang to appear on Meizu forum, but there was no response.
Is it a new trend for car companies to make mobile phones
The smart phone industry is experiencing both ice and fire.
On the one hand, a small number of mobile phone manufacturers such as Jinli and hammer have withdrawn from the historical stage; On the other hand, Xiaomi and Huawei have expanded their territory to build cars. Apple Rumors of car building also appear frequently.
In the absence of new stories, car building has become a trendy movement for mobile phone manufacturers and Internet enterprises. But it also triggered the defense and counterattack of car companies.
As early as September 2021, Geely officially announced its entry into the mobile phone field, and established the Xingji era. LiShufu, the chairman of Geely holdings, personally served as the chairman. When it comes to the reasons for joining the mobile phone field, LiShufu, chairman of Geely holdings, once said that mobile phones are fast iterative portable mobile terminals and application carriers for electronic product market verification and software innovation. In the future, close interaction between mobile phone and mobile phone software technology can be realized.
Geely likes Meizu. First, the foundation and accumulation of Meizu mobile phone hardware; The second is the imagination space of Meizu flyme in the vehicle machine system. After Geely's acquisition of Meizu, the two sides are expected to form a win-win situation in the connection between mobile phones and cars. In March, 2021, Meizu announced on the official wechat that it would build a vehicle system. "Flyme's new ecosystem, flyme for car, is already on the way."
In fact, it is not only Geely that wants to build mobile phones.
In February this year, Wei Lai was exposed to cross-border manufacturing of mobile phones. It is reported that this new car building force has initially set up a mobile phone business department, and more personnel recruitment is continuing.
Li Bin, chairman of Weilai, talked about the cross-border manufacturing of mobile phones in a video interview earlier. "The starting point for us to consider making mobile phones is very simple, that is, we want to give Weilai owners a mobile phone with the best car machine interconnection experience, rather than thinking from the perspective of commercial success." Li Bin said.
In the chat with the core users of Wei Lai, Li Bin revealed a more real idea. He said: "Mobile phones are now the most important device for velai users to connect to their cars. Not making mobile phones is equivalent to not having the keys to their homes in their own hands. Taking velai users as an example, more than 50% of them use Apple mobile phones, but apple is very closed to the automotive industry. Up to now, it has not opened the interface, making velai very passive. Think about 2025, when Apple cars come out, 60% or more of our users use Apple mobile phones, and we have no defense at all. Today If we don't make some preparations, it will be difficult to do so. " Li Bin said.
From the substantive action of making mobile phones, Geely is undoubtedly ahead of several car companies. Previously, the appearance pictures of Geely mobile phones had been exposed on the Internet; According to media reports, Geely mobile phones may come out this year or early next year.
According to various signs, the Geely mobile phone equipped with Meizu flyme may not be far away.