If Microsoft and Apple were anthropomorphized, Microsoft would probably be the IT guy who dresses very grounded and would have a hard time catching up with Apple in terms of fashion.
Yet this nail-biting decades-old 'fact' was overturned this July - Microsoft got cool!
It used to look like this when you opened Microsoft's Instagram, properly techy.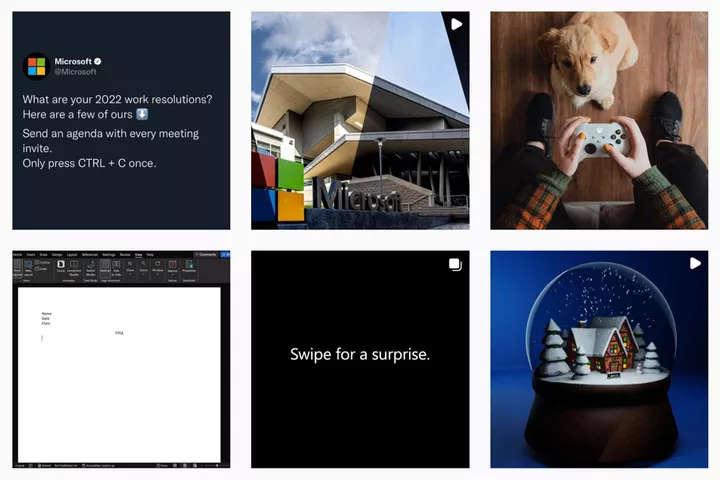 ▲ Microsoft Instagram at Christmas time last year
But after mid-July, the page visuals changed completely. If you didn't know the reason, you'd think Microsoft had been robbed.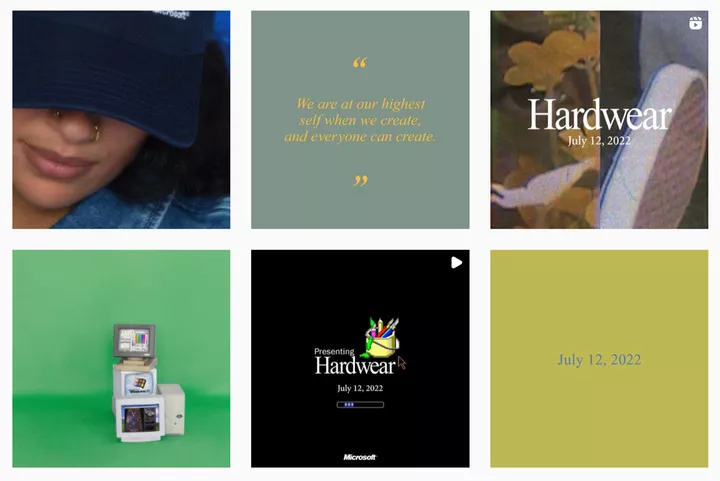 ▲ Microsoft Instagram after July
What exactly did Microsoft do?
It's doing something very similar to what the LV bosses did in 2018 - in 2018, Virgil Abloh, the founder of streetwear brand Off-White, was brought in as LV's artistic director, and since then LV has changed its face to a younger one, gaining a large consumer base from Generation Z.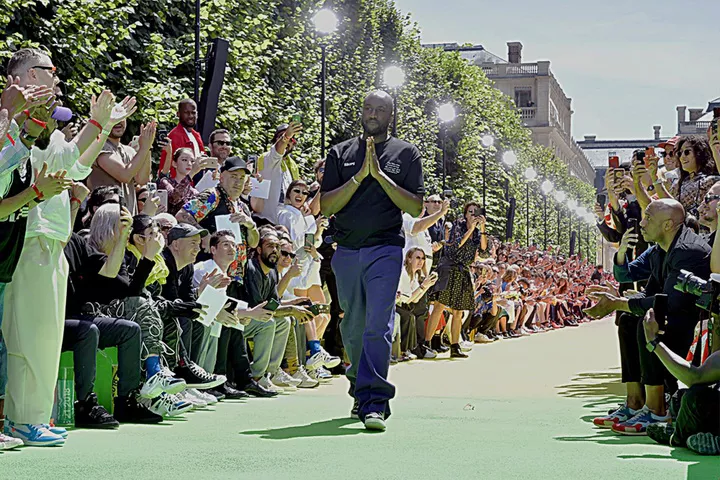 Microsoft didn't change its director, but it did bring in Gavin Mathieu, founder of LA streetwear brand Supervsn, to co-brand its clothing line, Hardwear.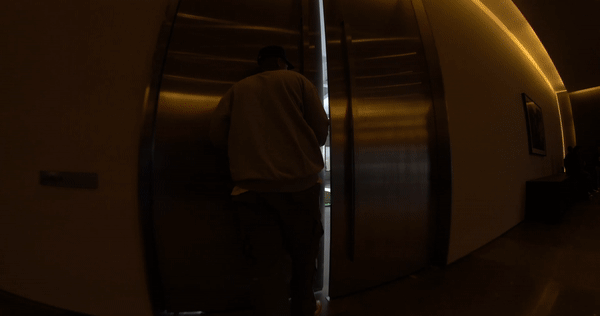 Gavin, who shares Virgil's skin tone, is also an all-rounder. Gavin, a former graphic designer, gave Microsoft a "buy one, get one free" deal - he was asked to design the costume and the entire visual design, which led to Microsoft's new look.
Gavin also modeled the lookbook himself and brought along Mark Peaced, an amazing photographer he's been working with for 10-15 years.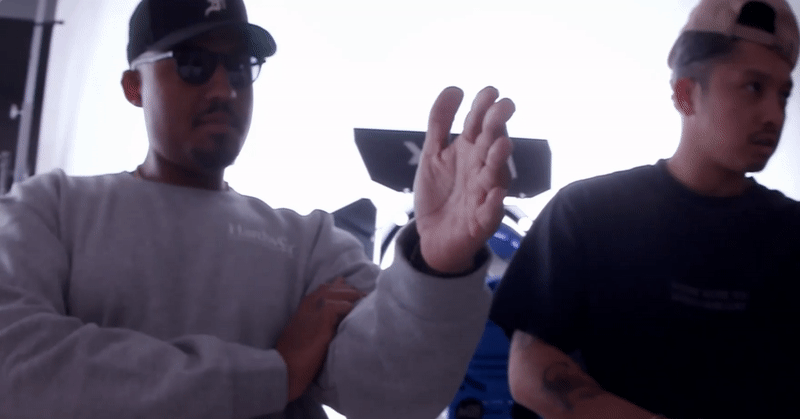 Gavin, who models and directs the shoot, is flanked by his royal photographer. Photo from: Microsoft
Gavin also arranged to add a little "spice" to the grass by sprinkling it with tiny white flowers.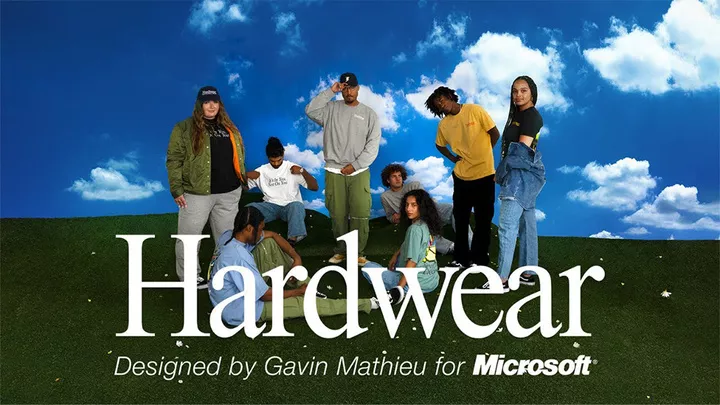 ▲ Hardwear promo header image. Image from: Microsoft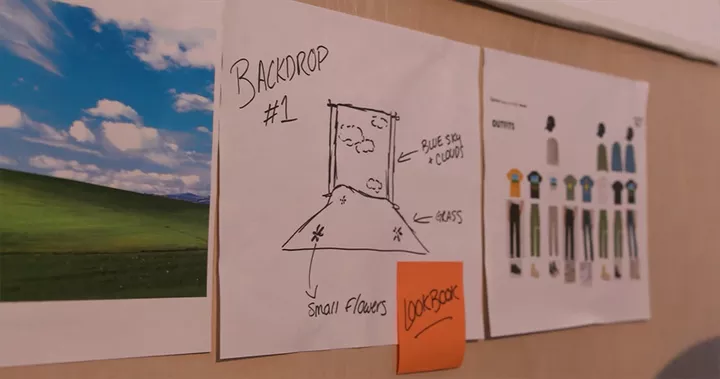 ▲ Gavin's sketch for the location. Image courtesy of YouTube @Microsoft
Microsoft interviewed Gavin on the green grass at the same time as the shoot, and realized that this capsule collection is really something.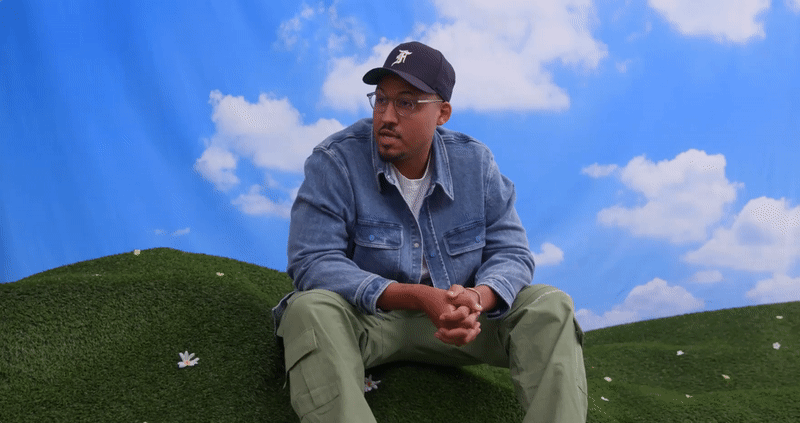 ▲ Gavin Mathieu, who is all over the Microsoft co-branded collection except for the hat. image via Microsoft
01 Clothes that are as energetic as "hardware"
The Hardwear capsule collection consists of nine pieces priced between $304-1013 ($45-$150). Each of these pieces is emblazoned with Hardwear in Microsoft's default font, Times New Roman.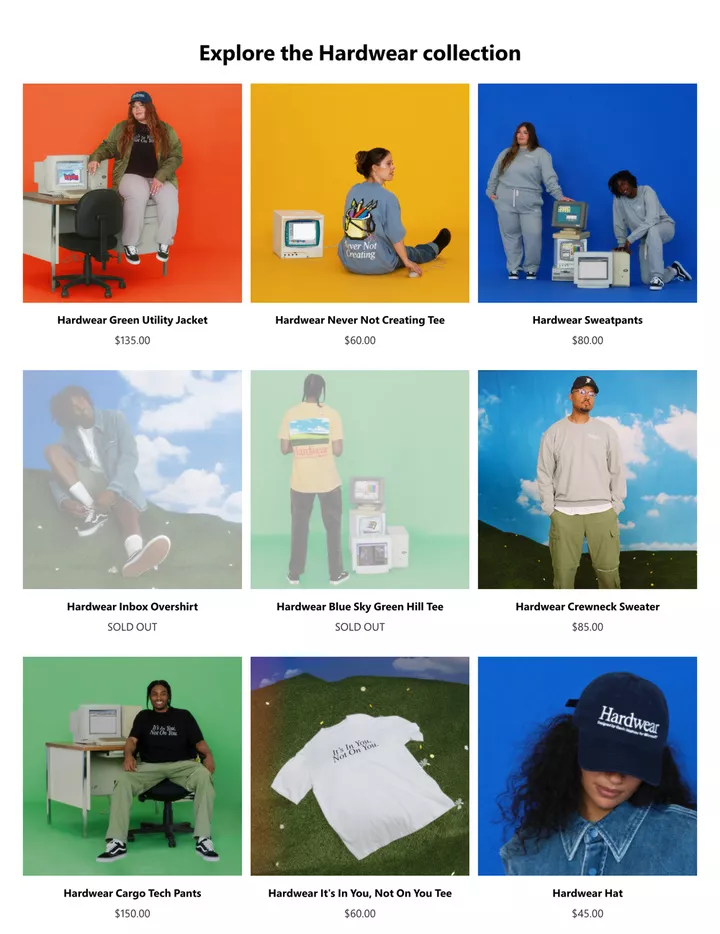 Hardwear is a word that looks familiar, but you can't even find it in the dictionary.
It actually comes from Hardcover, a high-frequency word in Microsoft's thesaurus, which means "hardware." The cover after Hardcover itself has the meaning of covering, wrapping, and the English wear interchanged with clothes, then it becomes Hardwear.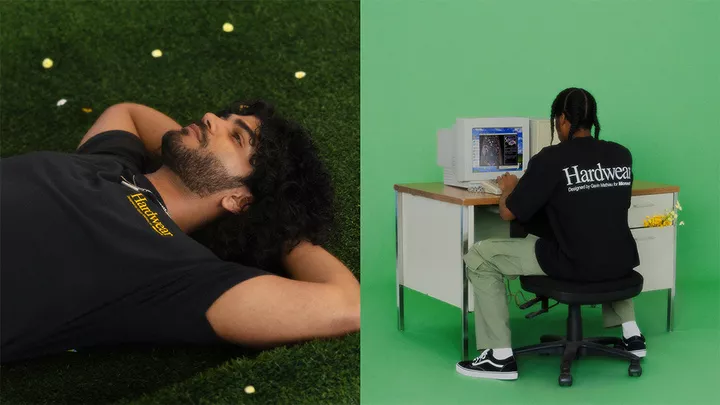 Clothing designed like hardware will focus more on the inside of the individual, rather than the superficiality of dressing. In essence, this is similar to the definition of Gavin's own brand, Supervsn - "a 100% energy company that energizes the masses".
Hardwear is therefore a collection that is so comfortable and at ease that you don't have to think about how to dress up.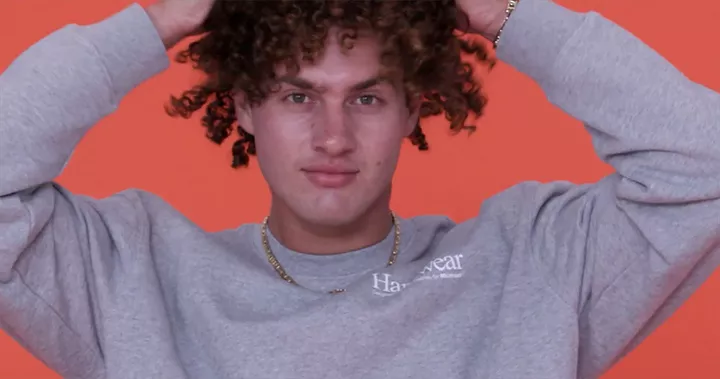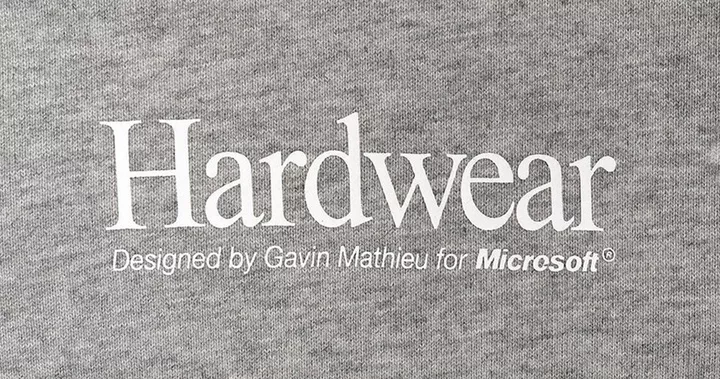 Such a style is what Gavin considers to be Normcore (nationally known as 'sexually cool') - "My style is Normcore, and it's because I woke up and I was thinking, man, let's put on sweats and get to work".
What Gavin calls the "studio painter's apron" is actually a super practical loose denim shirt with four pockets on the front and sides that can be worn alone or as a jacket. It's a slightly loose fit for guys, and a handsome boyfriend style for girls.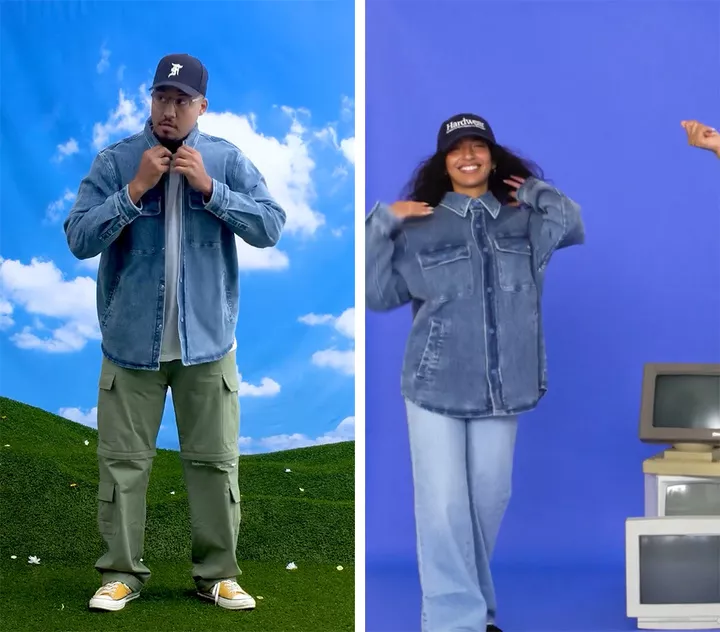 The white print Inbox on the left breast pocket of the shirt is actually derived from Microsoft's software Outlook, which is dedicated to sending and receiving emails.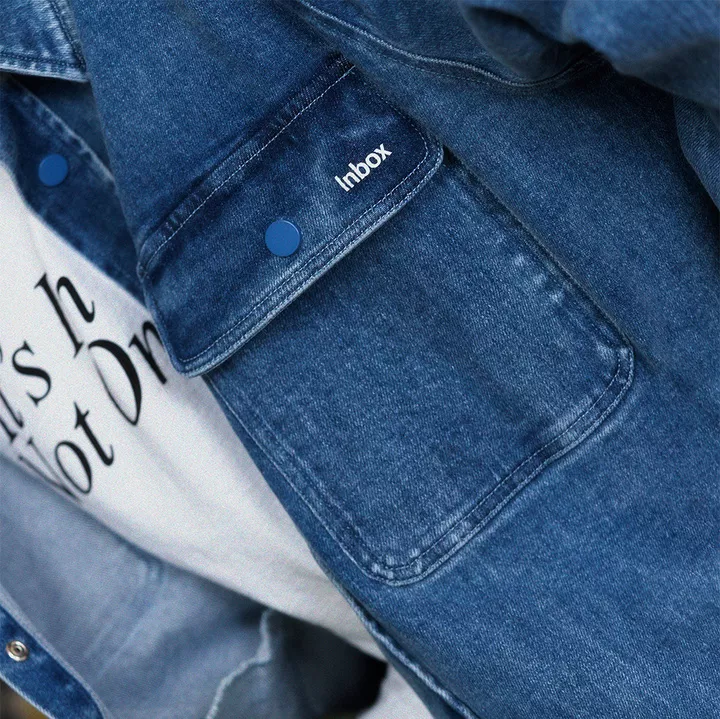 When we open Outlook, we usually click on the Inbox icon first and take a look inside. The English Inbox next to the picture of the Inbox looks like a pocket - oh, it's not a pocket, it's our Inbox!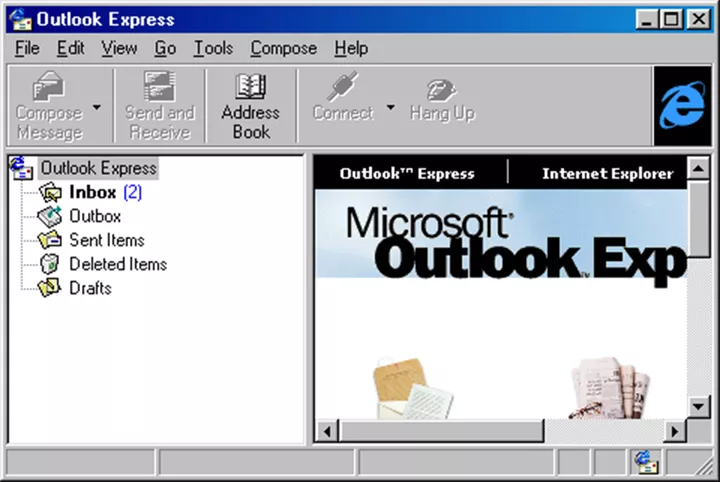 Gavin also wanted to "do something" about the inside, which is not even visible when you put it on.
The reverse side of the fabric near the back is printed with a quote - "This world is about creation. And this dress is also about creation. But the power is within you, not floating on the surface. So before you put on this dress, please remember that". Not forgetting to add a small series signature at the bottom, echoing the designer drop on the back of the jacket.
Netizens were also buried in this jacket, which even the details were very attentive, and it was snatched up quickly after the sale opened.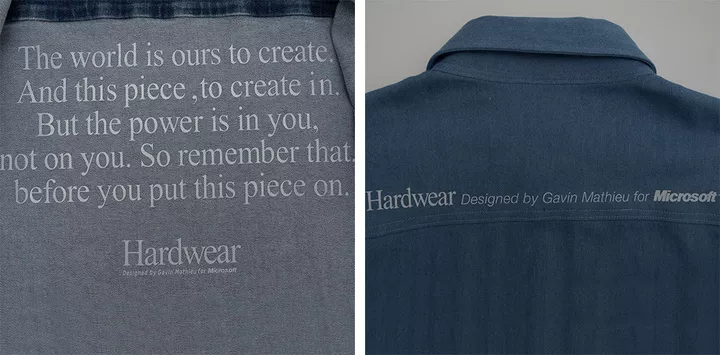 Another army green blazer was printed with the same quote on a bright orange lining. For the lookbook, Gavin also asked the model to show off the lining in a special way.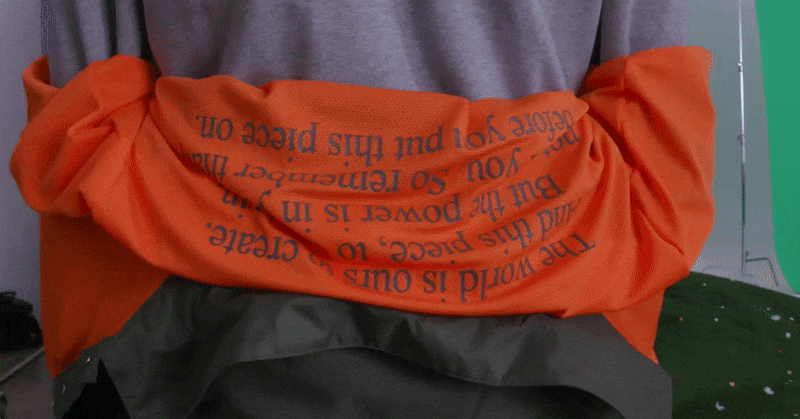 This jacket looks weird because it uses the glossy fabric of an aviator jacket, but instead of making a proper aviator jacket with a knitted collar, it turns into a denim jacket 'same style'. Again, it's a unisex, versatile jacket.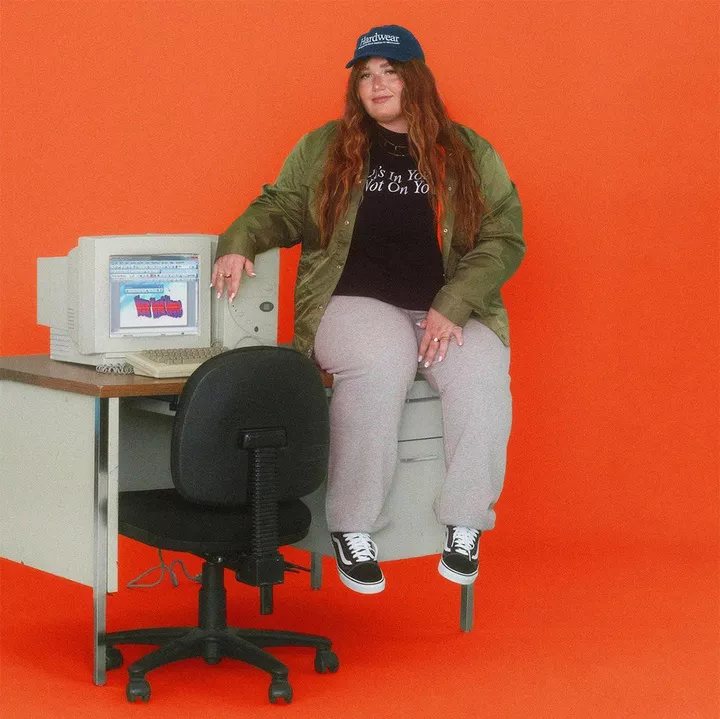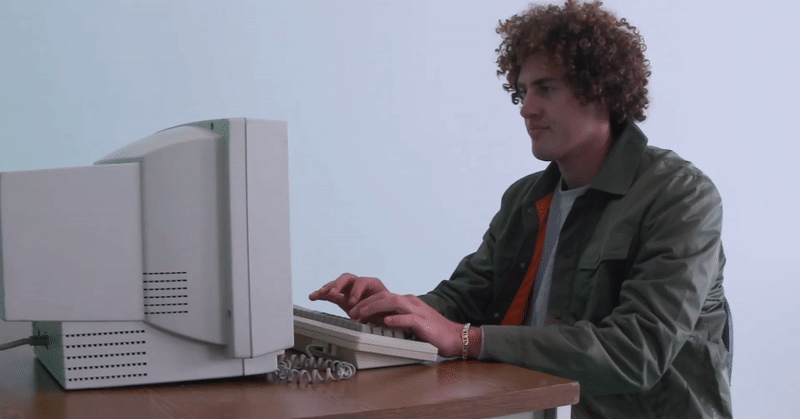 These work trousers, which are the same color set as the jacket, are the "most expensive item" in the collection.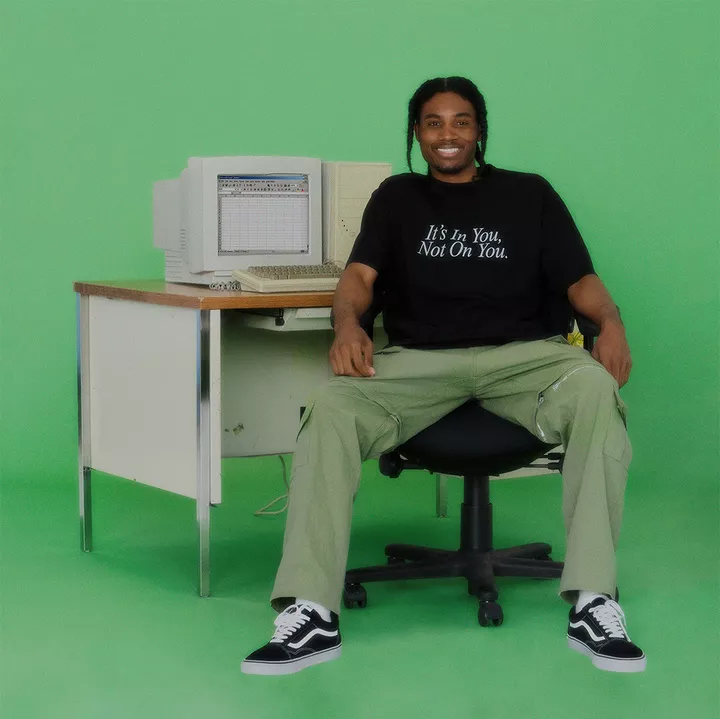 But there's a good reason why it's expensive, because once you unzip the knee, the trousers become knee-length shorts in seconds. It's like getting two pieces for the price of one ($1,013), and when you halve the price, the "most expensive item" becomes the "least expensive item" (except for the hat).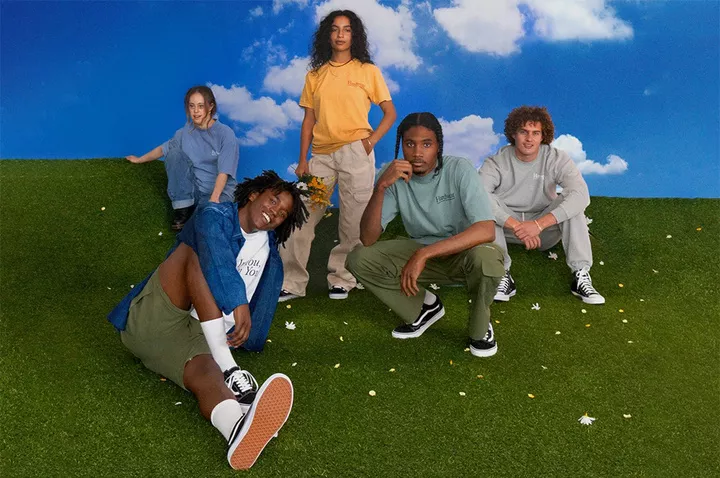 ▲ The army green shorts and trousers in the photo are actually the same
Of course, if you want to be trendy you can also do what the model did with one side of the shorts and the other side of the trousers and walk down the street with a 100% turnaround.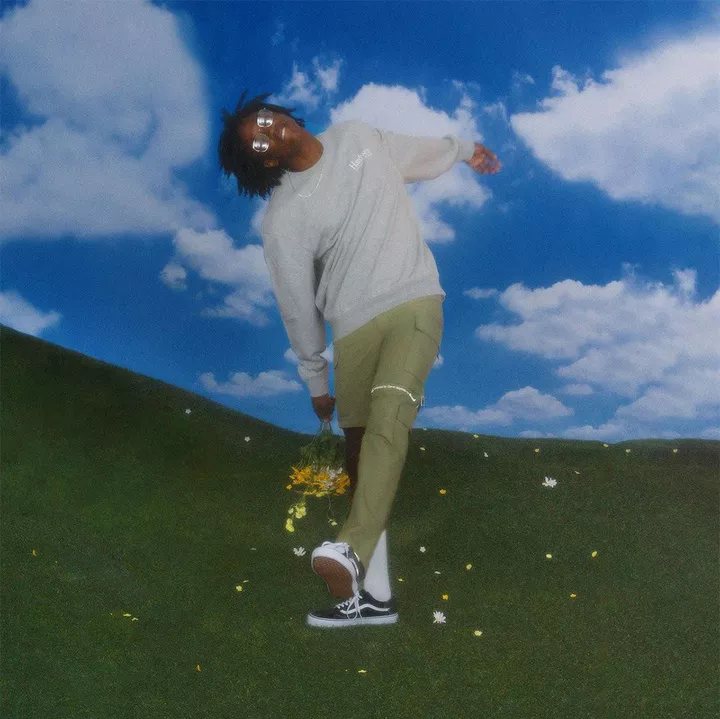 It's worth noting that the zipper work is really well done - the raised stopper design hides the zipper perfectly, whether worn as long pants or shorts.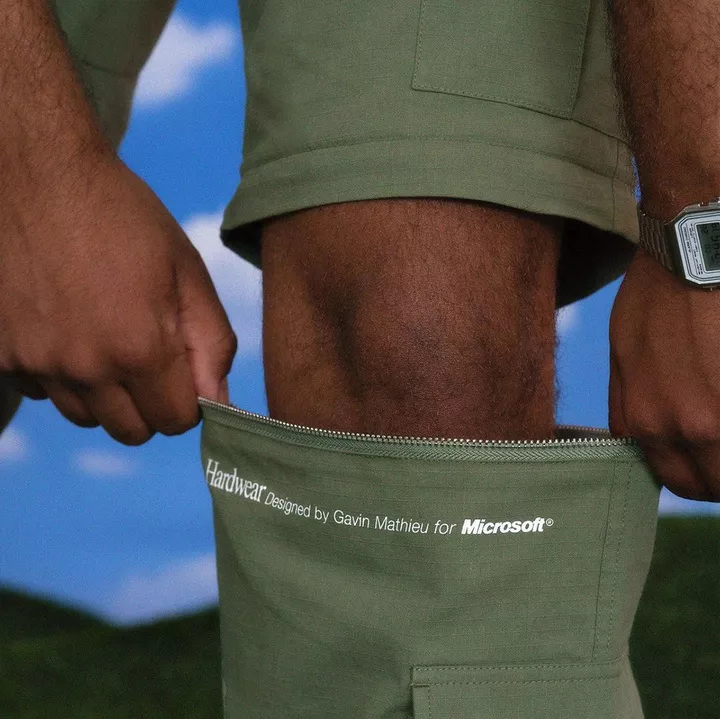 Tucked into these pants is also the jacket's bright orange lining - poke around the pockets and this bright orange pocket cloth comes out.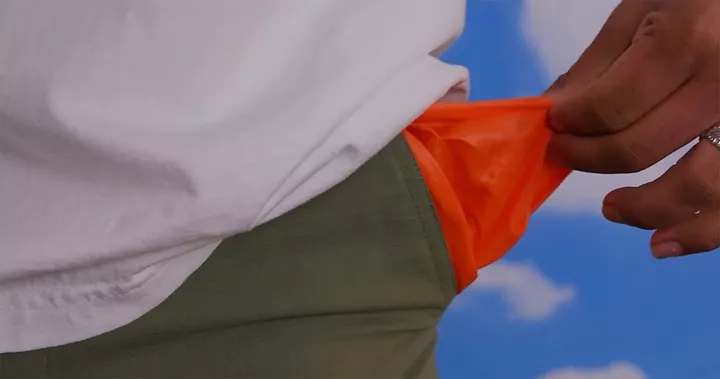 Unfortunately, the multi-wear work pants don't come in girls' sizes, and for the promotional photo shoot, the girls had to wear regular jeans with them.
The men's and women's grey jumper set is also a popular choice for couples' wear in the collection. The fabric is made from 100% cotton composition French terry cloth, which is excellent in terms of wicking and warmth, and is soft and comfortable to the touch close to the skin.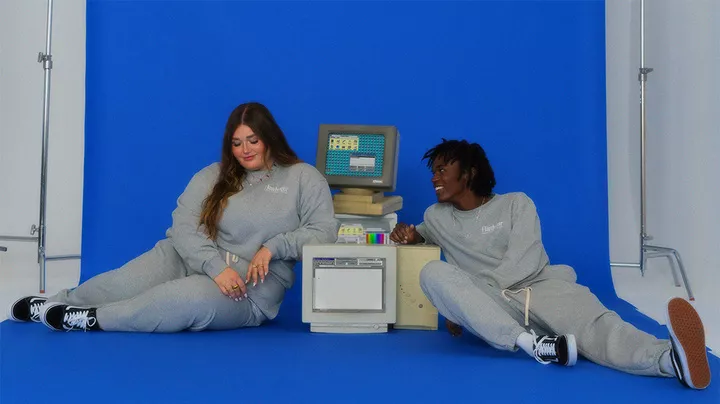 If you think a jumper with sweatpants is too casual, take a lesson from Gavin - wear a white T-shirt underneath, reveal a small section at the hem of the jumper, pair it with the work trousers from the collection underneath and wear a dark duck-tongued hat.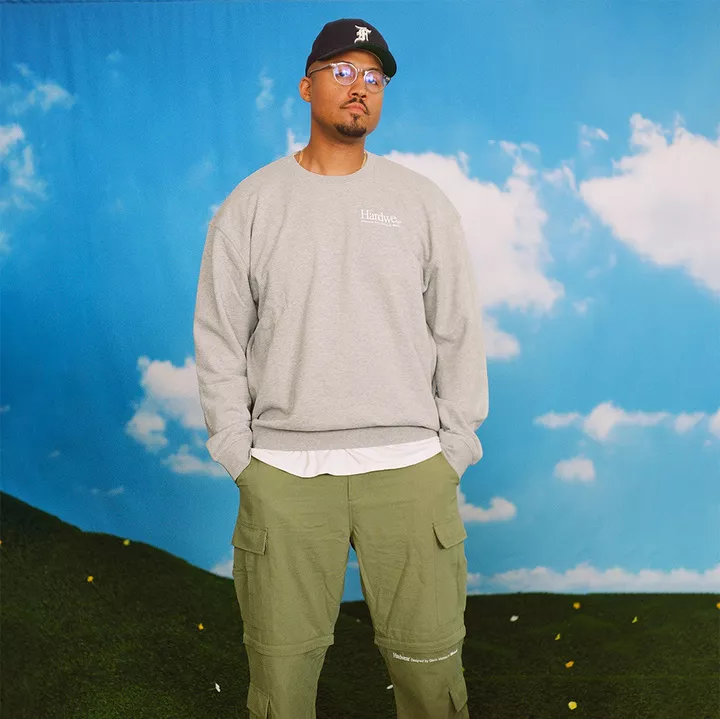 While the hat on Gavin's head is a joint Fear of God and New Era release from last year, there's a similarly styled hat in the collection - Hardcover and a designer drop embroidered in white on navy chinos.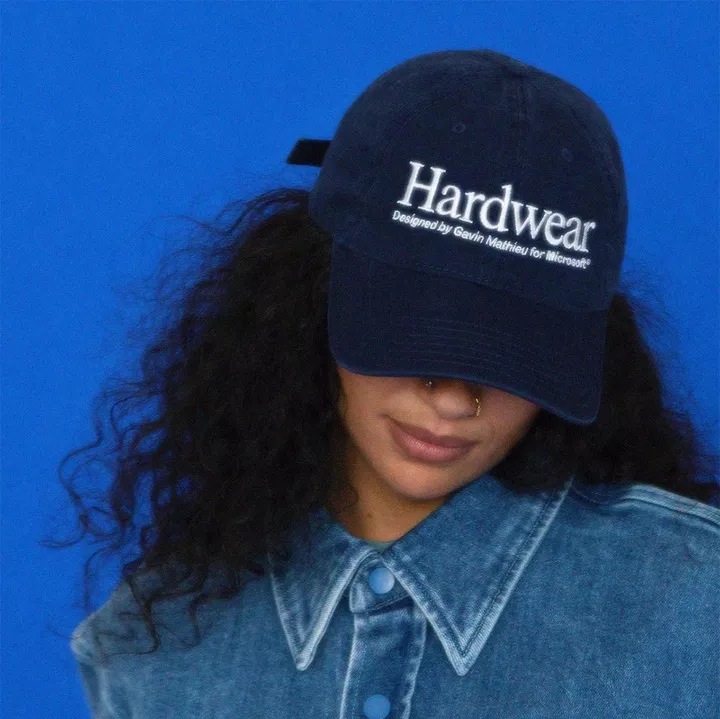 There are also 3 short-sleeved t-shirts available for $406 ($60).
The most popular is the t-shirt with the classic Microsoft desktop print on the back - Blue Sky Green Grass - available in mustard yellow and black colorways, which is now in a sold out state.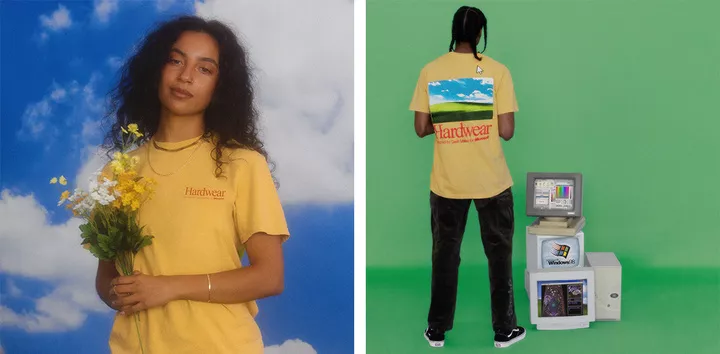 Interestingly, outside the desktop pattern box, the mouse cursor is printed several times larger - it is now going to jump out of the box even though it is normally confined within the screen.
This is a nod to thinking outside the box.

——Gavin Mathieu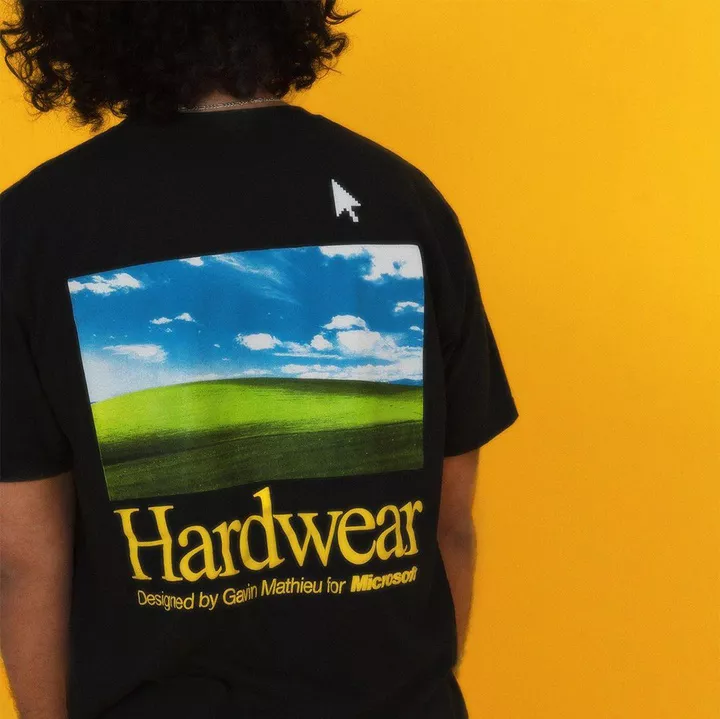 The other t-shirt looks exactly like the Blue Sky Green Grass t-shirt on the front, but has a giant version of the drawing software icon printed on the back with the words "Never Not Creating" underneath. To accentuate the vibrant red, yellow, blue and purple of the icon, the fabric color also goes the premium grey route, offering both grey blue and grey green colorways.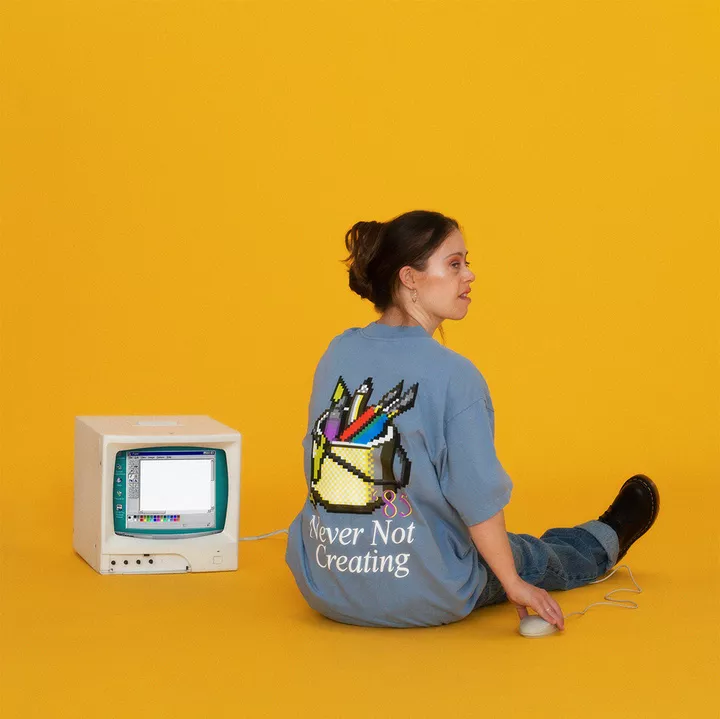 ▲ "Never Stop Creating" T-shirt in grey and blue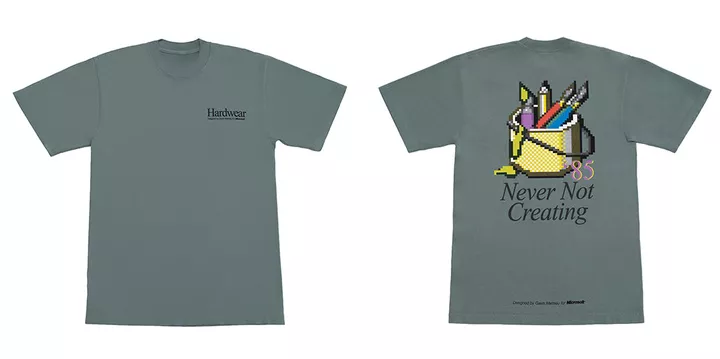 There are also black and white t-shirts with "It's In You, Not On You" printed on them, making them a versatile piece in the collection.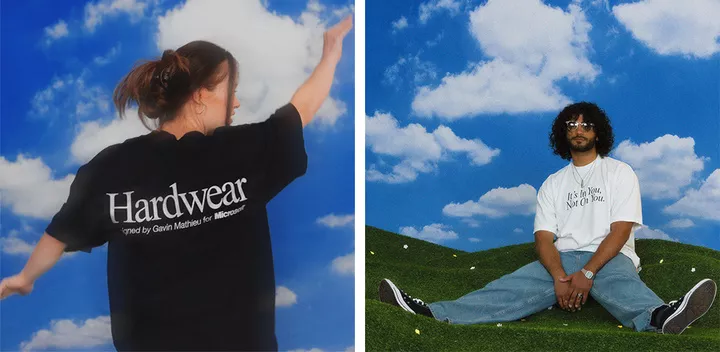 All of these styles have one thing in common - a fluorescent green wash label with oversized S, M, L and XL sizes, which Gavin "stole" from his own label, Supervsn. But there's something behind the Supervsn size chart, so I'd love to flip through the Hardwear collection's size wash labels and see if there's a surprise behind them.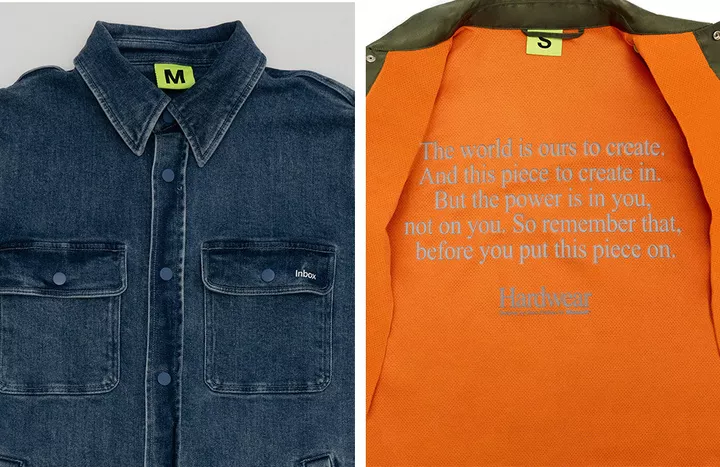 ▲ Denim shirts and jackets from the Hardwear collection. Image via: Instagram @microsoft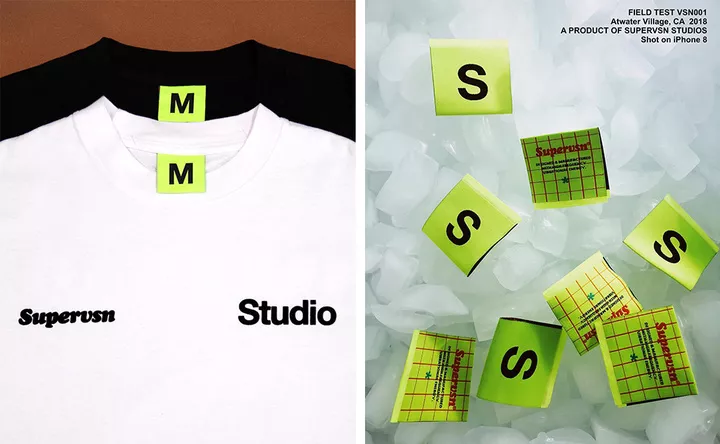 ▲ T-shirt and size wash label by Supervsn. Image via: Instagram @supervsn
This collection really is the 'perfect basic' that you can't go wrong with just throwing on every morning, wearing all day without any tight discomfort, and having cool looking details, and it's also a limited edition that you can only get at Microsoft.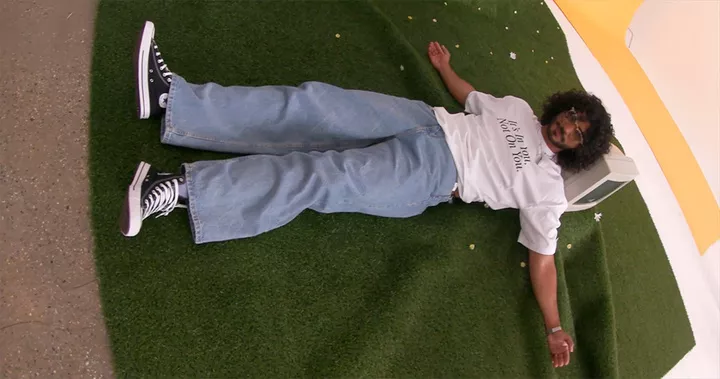 02. Age-revealing inspiration
Fashion is a reincarnation. What's awesome about this collection is that Gavin is stepping right at the beginning of that cycle at the moment.
On the day of the shoot, Gavin brought these sources of inspiration into the studio as well - old computers with Windows 98 systems, screens with Word documents, Excel sheets, Powerpoint slides, drawing software pages, and the old game Space Code from that era. The screens were filled with Word documents, Excel sheets, Powerpoint slides, drawing software pages, and the old game Space Code.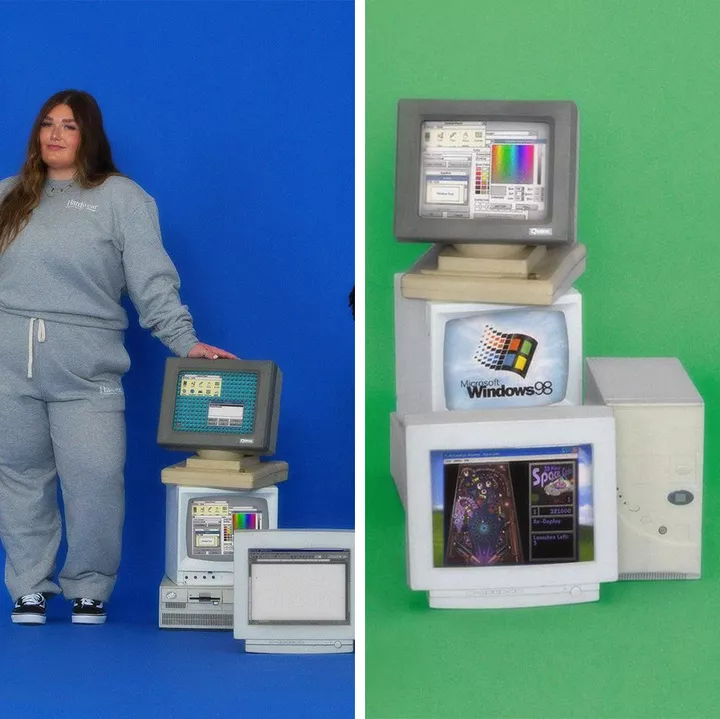 These inspirations from the 90's are full of "childhood kill" to the post 85's and 90's, but to the post 95's and 00's generation, they are almost unseen.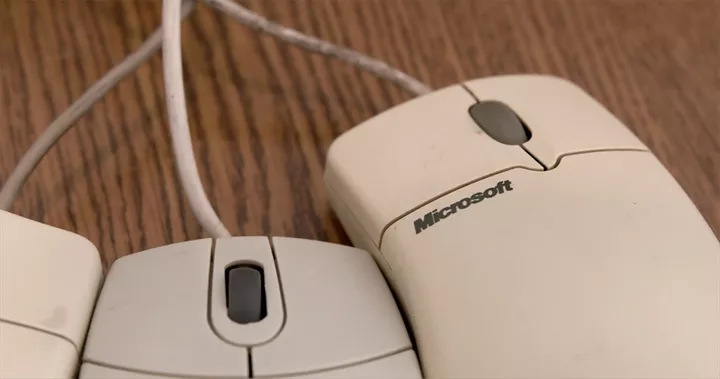 At 35 years old, Gavin is one of the post-85 generation himself. A self-taught designer, he first started designing with Ms Paint, the drawing software that came with his dad's computer.
During the design process for Hardwear, he first thought of the icon for the Windows 95 version of the drawing software - a yellowish barrel with three brushes inside. The number 85 was written on it because the year of birth of the drawing software was 1985.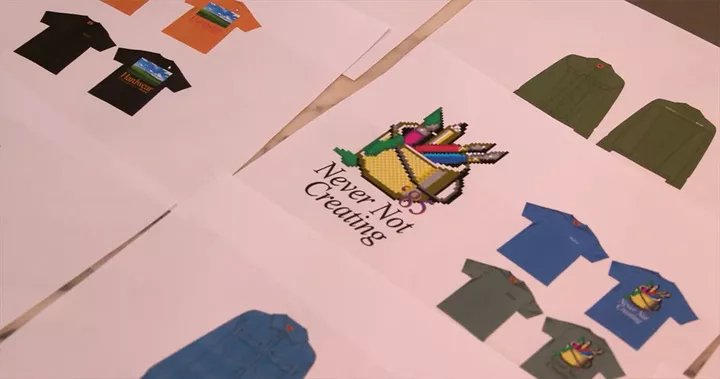 This icon existed briefly from 1995 to 2001, and disappeared with the retirement of Windows in 2001. But it was Gavin's precious childhood, from 8 to 14 years old, and drawing software was an important companion in his early days of design.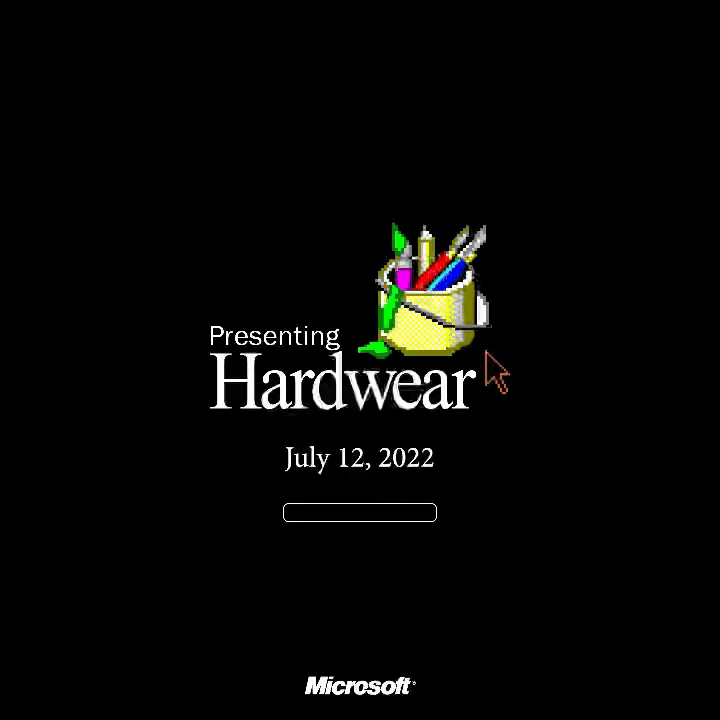 ▲ Hardwear's new promotional animation. Image via: Instagram @microsoft
That's because he was already using Adobe's Photoshop and Illustrator at the age of 15, when he also designed his own shop using Photozhop. Fast forward to 2013, and Gavin opened his first store, YOUth, in Fairfax, which became a showcase for young local creatives.
The store became a major turning point for Gavin, when he realized - "Oh, I can design almost anything. I can design my time. I can do a stage, I can do a studio, I can do anything I want to do, I can design a community'.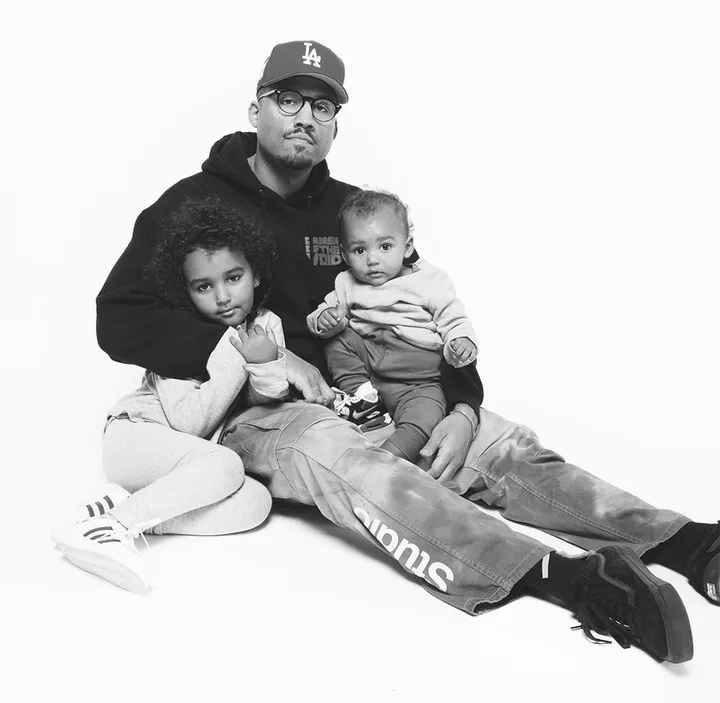 ▲ Gavin poses with his kids. Photo via: Instagram @mizzlesupervsn
Since then he has been on a "Never Not Creating" path, founding the label 4Hunnid with rapper YG, and having his own child, the streetwear brand Supervsn.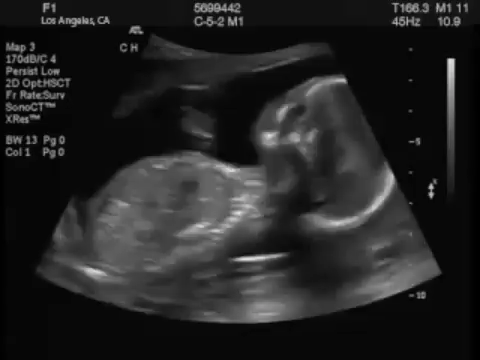 ▲ Supervsn branding video. Photo from: Instagram @supervsn
The phrase "never stop creating" is not only in the Hardwear line, but also on the back of Gavin's own label, Supervsn, but in a bold sans-serif font with a copyrighted ©️ underneath.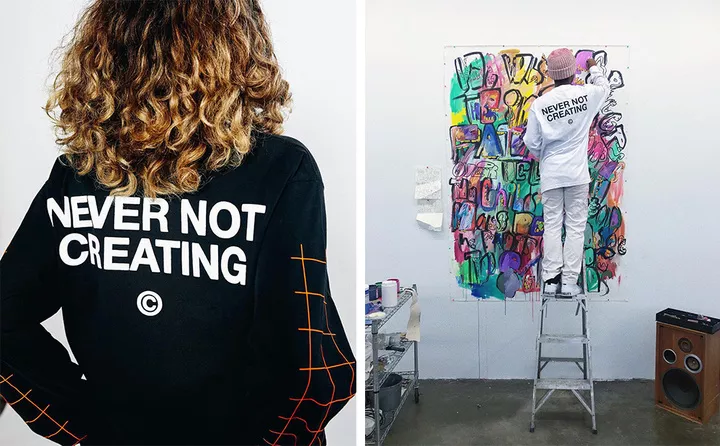 The slogan was also turned into a label on the packaging of a Gavin-designed tupperware box. The cooler, which is filled with brains, is printed on a white T-shirt with the slogan "Wealth is in our heads, not our pockets. Protect it." -- thus launching the 2019 'Wealth Collection'. This could be interpreted as saying that having a brain is really wealthy.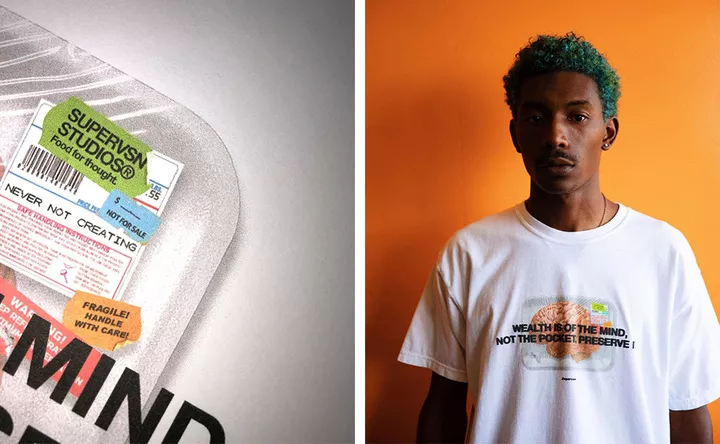 ▲ Supervsn 'Fortune Collection' white t-shirt. Image via: Instagram @supervsn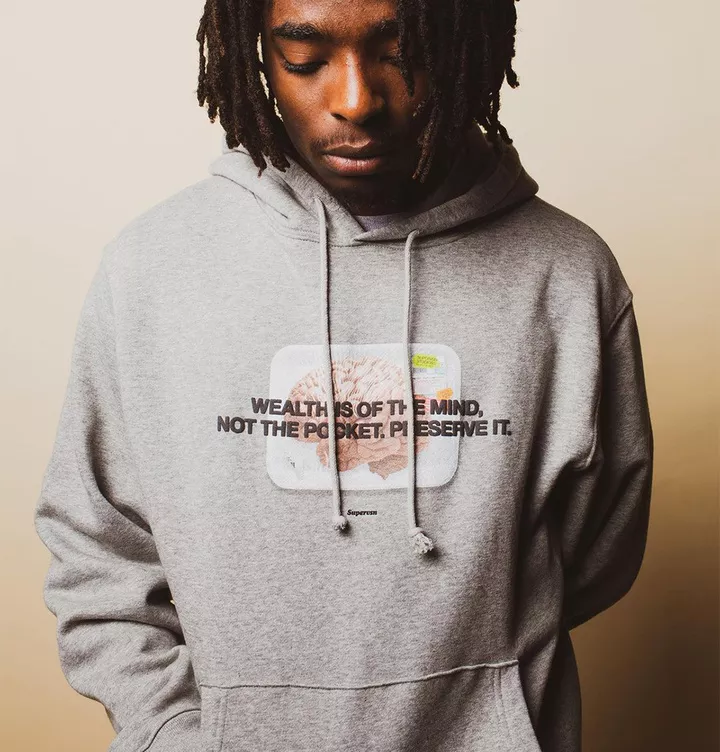 ▲ Supervsn 'Fortune Collection' Grey Hoodie. Image via: Instagram @supervsn
This 'Fortune Collection' T-shirt was shipped in an actual clamshell, with the brains on the T-shirt visible through the clear clamshell.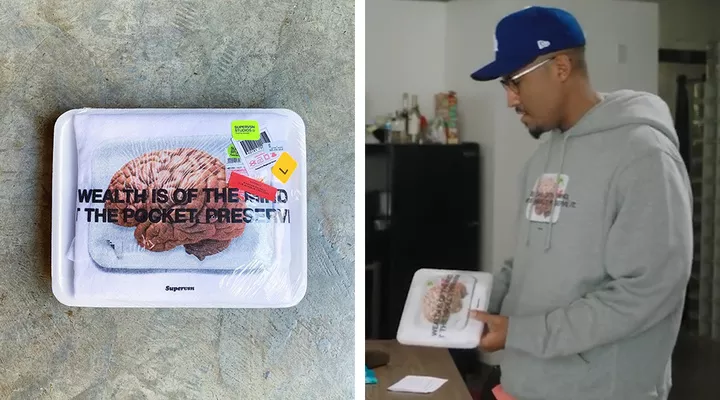 ▲ Gavin with the clamshell packaging. image via: YouTube @Complex
Since then Gavin has designed a number of pop-up clothes with slogans, but all of them are related to inner creativity, and Gavin wants to use them to remind us to be more mindful of our inner being and to fuel our spiritual tanks with energy at all times.
The Think Different slogan t-shirt is a product that Supervsn has had great feedback on and has been restocked repeatedly.
The dress was a response to Gavin's frustration with the Repost phenomenon on social media, and he used the capsule collection to speak out - think for yourself, don't just follow the crowd!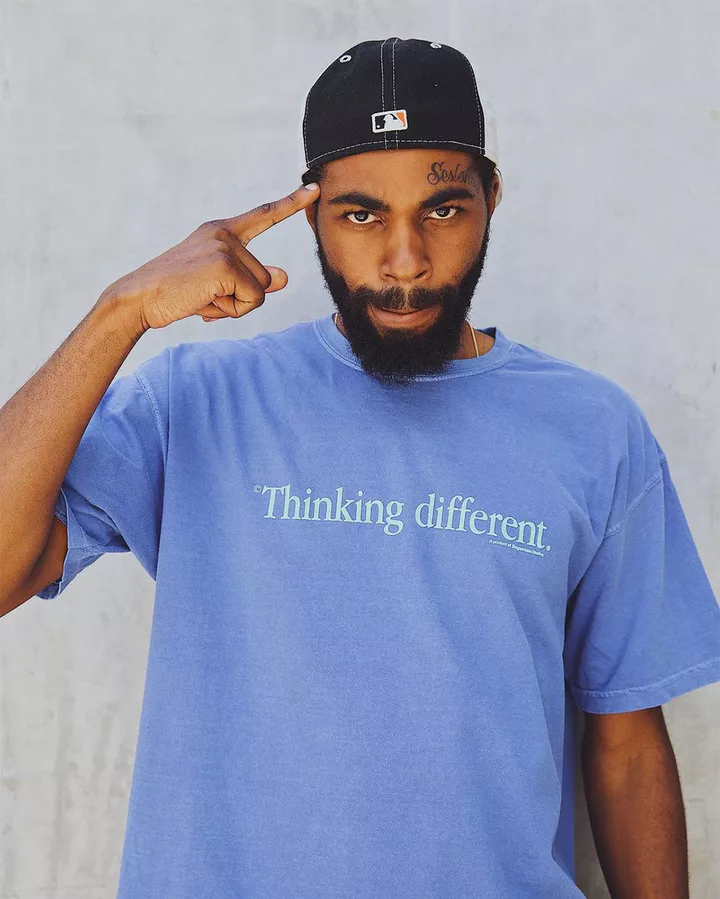 We've all seen interviews with Tupac, Nipsey, Steve Jobs, etc. We retweet, retweet ......

Creating is not just about telling someone to 'think differently', it's about actually thinking differently about yourself and how to apply what we've learned in your actions. The only way to truly show that someone has inspired you is through your actions, not just retweets. Action starts with shifting your mindset.

——Supervsn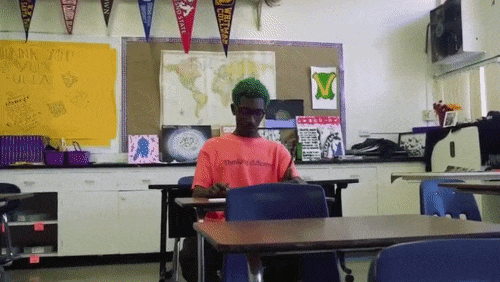 ▲ Think Different Capsule Series Microfilm. Image via: Instagram @supervsn
Going back to the Hardwear collection with Microsoft, Gavin's new tagline for the T-shirt, "It's In You, Not On You," becomes easy to understand - creativity lives within us, not just what it looks like.
As Gavin says in this interview, 'We all have a creative bone inside us'.
▲ Hardwear Collection T-shirt. Image from: Microsoft
03. Into the "streetwear chat room" of Microsoft
After the release of Microsoft's co-branded collection, a popular comment came from an industry insider on Twitter.
Microsoft has entered the streetwear chatroom. They've teamed up with Supervsn designer Gavin Mathieu to create a Normcore-inspired line. A case of doing it right.

--Clayton Chambers (brand marketing consultant)
Chatroom' is the perfect word to describe the joint collaboration between Microsoft and Gavin, as only their collaboration could make this new collection - Microsoft's pragmatism and Gavin's street style finally collide to create something that is recognized as 'cool' by the younger demographic and very wearable.
Microsoft, which hasn't brought in Gavin yet, has also sold clothes - Windows 95, Windows XP and drawing software-themed holiday sweaters that the Internet has called "ugly sweaters".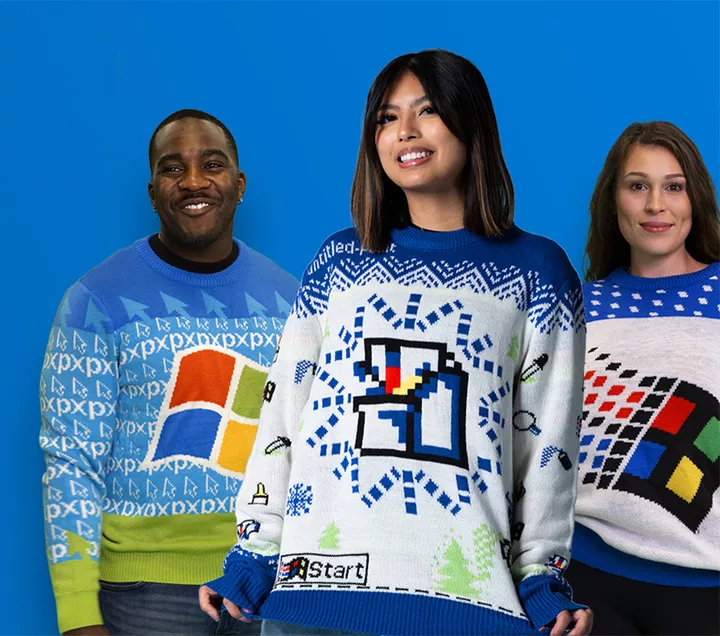 No comparison no harm, this now can feel the Hardwear series inside the will drawing software icon that dress, or cool.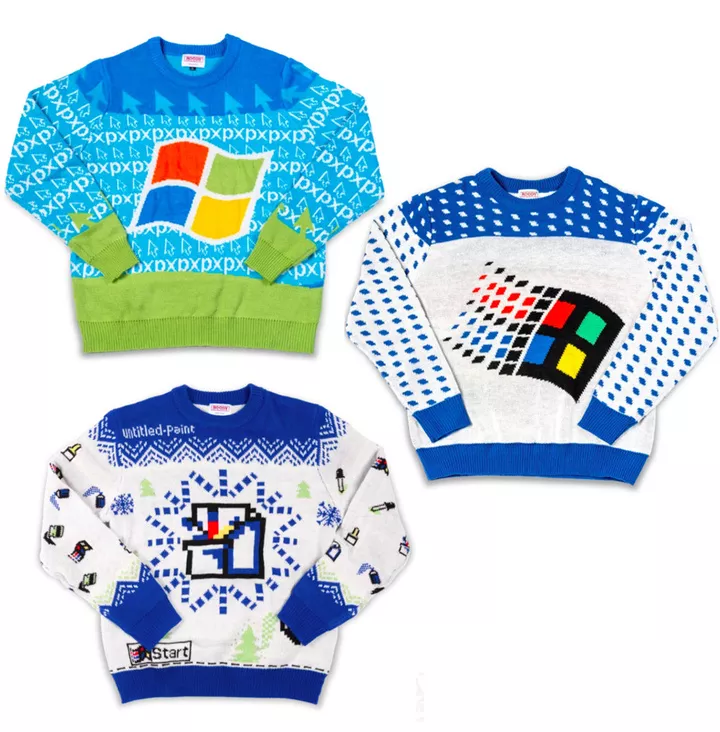 It's a good thing that these ugly sweaters haven't got their claws into that blue sky and green grass desktop wallpaper.
This wallpaper has an official working title - Bliss - and was Microsoft's default desktop when it launched Windows XP in 2001, and a billion people are said to have seen this photo.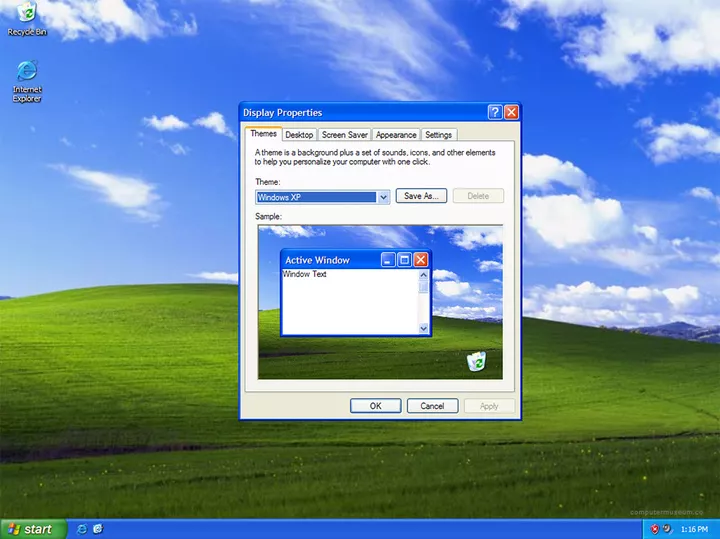 This one was taken by American photographer Charles O'Rear. He was driving along Highway 121 that day, intending to find his then-girlfriend (now wife), when he passed through southern Sonoma County and took this photo with his Mamiya RZ67 camera.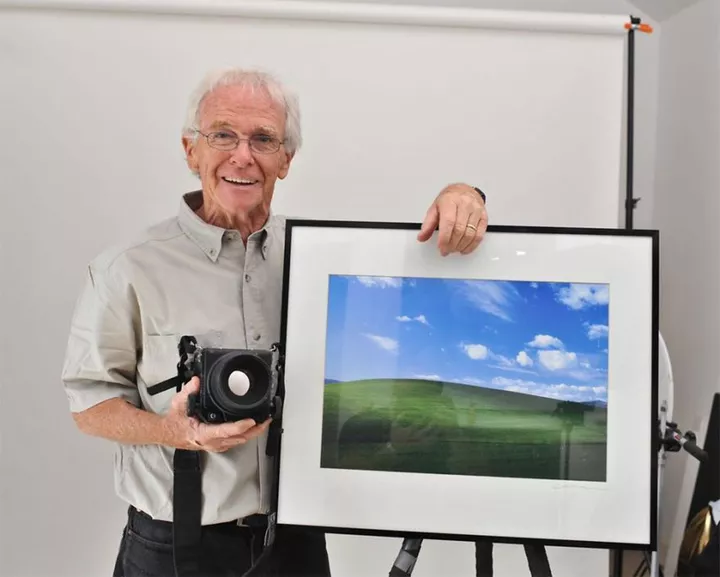 Because of the brightly colored Fujifilm used, the colors of the original image were just stunning. A few years after he uploaded the image to the website Corbis, he received the good news that Microsoft was going to buy it for a sky-high price.
Because the deal had a non-disclosure agreement, the exact sale price has not been made public to this day, and Artsy said in 2017 that it was the second-highest fee a living photographer had ever received for a single photograph.
▲ Image via: Instagram @kidd.gorgeous
This classic-too-classic photo is being interpreted in more interesting versions by the internet in the present day.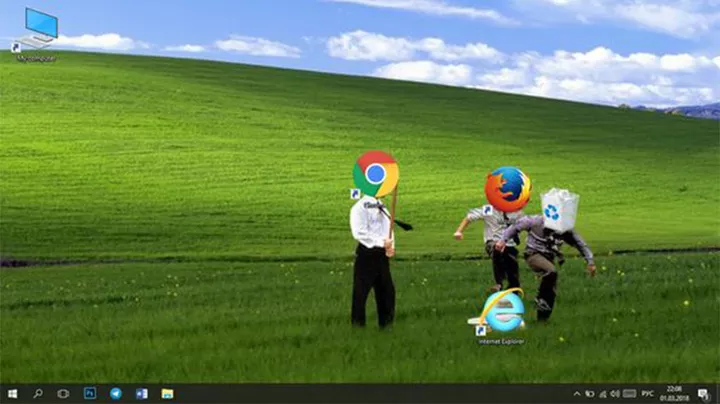 Perhaps because he has worked as a graphic designer, Gavin's clothing designs are a bit like graphic design on a canvas of clothing shapes, with simple, wearable patterns but distinctive, personalized patterns that could be an image or a slogan.
It's also Supervsn's secret to creating pop-ups. So much so that a VOGUE list of black-led brands introduces the brand with the phrase - "Supervsn Studio is based in Los Angeles and sells hoodies, sweatshirts and T-shirts with graphics.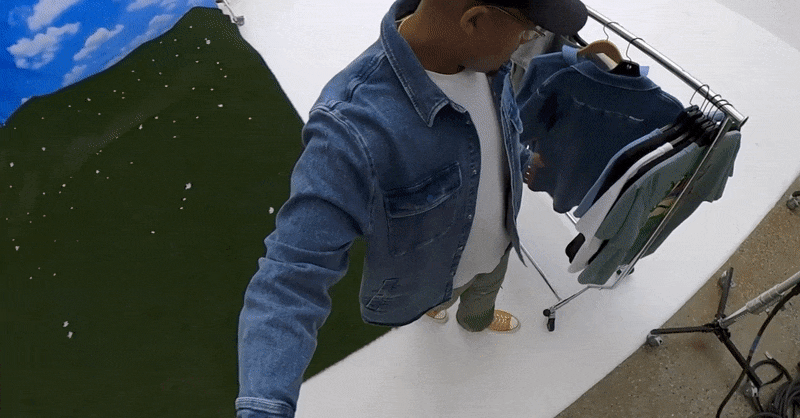 ▲ Gavin on the set of the shoot. Photo courtesy of YouTube @Microsoft
This is exactly what Microsoft wants. Microsoft launched an apparel line that doesn't require complicated clothing models or advanced matching skills, but rather a way to showcase the culture Microsoft has accumulated over the years, specifically in the clothing with patterns.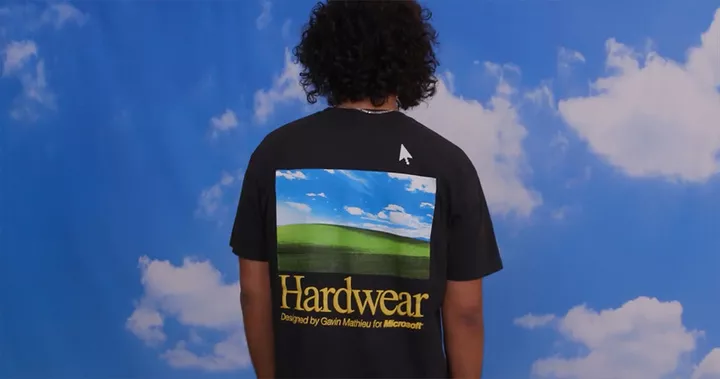 ▲ Microsoft desktop graphic on Hardwear collection t-shirt
Microsoft has accumulated so much good stuff in its history that it seems to be keeping a big vault, and if it can't turn it into a commodity that the public can use, then the vault will just become a museum. Over time, these great things will be forgotten by the public and will gradually lose their original value.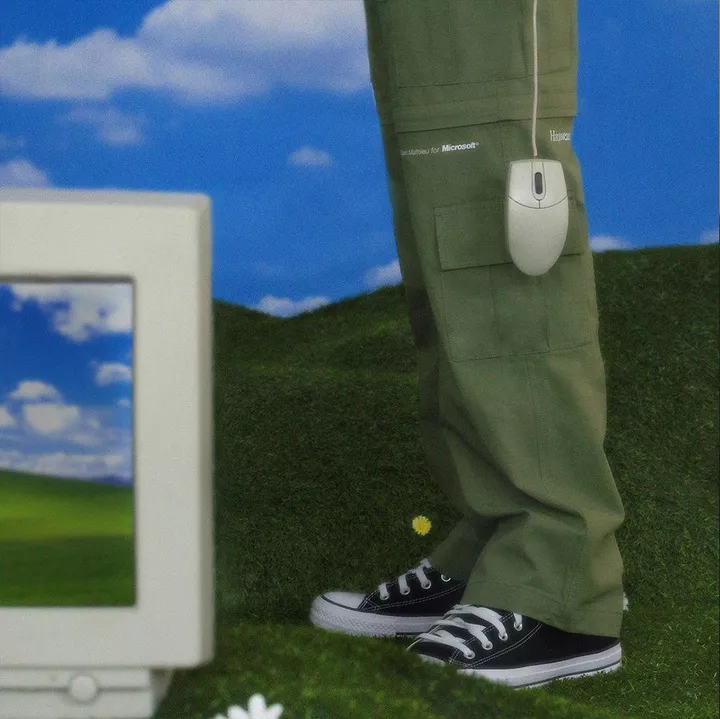 ▲ Hardwear Collection Work Pants Detail
Although there are only 9 items in the Hardwear collection, it is a successful test. In the words of Microsoft - "Each piece of clothing has a unique intention, and each style in the Hardwear collection has a deep meaning behind it.