According to Xinhua news agency, CCTV news and other reports, on the 13th local time, French President macron attended the European Defense Exhibition held in Paris and delivered a speech. He said that France and Europe have entered a wartime economic state. In the long run, Europeans need to make adjustments. He stressed that everything has changed. Under the current economic situation, Europeans can no longer live according to the pace and style of a year ago. In this economic state, Europeans should make faster progress and think about the pace of life and pressure in different ways, so as to quickly reorganize the necessary resources for European troops and allies.
The US inflation data in may once again raised concerns that central banks would be forced to adopt aggressive monetary tightening policies, and global stock markets fell sharply. On June 13, US stocks opened sharply lower. Boosted by the live broadcast with goods, New Oriental US stocks rose more than 6% at the opening. New Oriental Online Hong Kong shares rose by more than 100% in the previous session and closed up nearly 40%.
Finnish President: if Sweden's entry into NATO is postponed
Finland will not join NATO alone
On the 12th local time, Finnish President ninisto held a joint press conference with visiting NATO Secretary General Stoltenberg. Ninisto said that if Sweden's entry into NATO is postponed, Finland will not join NATO alone.
Stoltenberg said on the same day that taking into account the concerns of Turkey, NATO does not believe that the NATO summit to be held in Madrid at the end of June will be the deadline for approving Finland and Sweden to join NATO.
US stocks fell sharply during the session
Bitcoin hit a new low since december2020
According to US media reports, the Federal Reserve is likely to announce another interest rate hike at the interest rate meeting in mid June to curb the rising inflation rate. According to the US Department of labor, the US inflation rate is at the highest level in 40 years.
Analysts pointed out that the Biden administration has not yet persuaded Saudi Arabia and other OPEC member states to increase production, and it is difficult to stabilize the current soaring oil price by increasing production. As crude oil and natural gas prices continue to soar in the future, inflation in the United States may reach 10% in 2022. Facts have proved that the US government has been unable to lower the price of crude oil and lacks effective tools to curb inflation.
Meanwhile, the yield of us two-year Treasury bonds hit its highest level since 2007 in early trading on Monday, and exceeded the yield of 10-year Treasury bonds for the first time since April, which is usually regarded as a sign that the economic recession is coming.
On June 13 local time, the three major US stock indexes opened low. The NASDAQ index fell more than 4% during the session, falling below 3800 points and falling into the bear market area. Most of the popular Chinese stocks fell, and New Oriental bucked the trend and rose nearly 2%. Recently, New Oriental's "Oriental selection" live studio increased its fans by 1.57 million and its sales by 17.77 million yuan in three days with the help of "bilingual delivery". Major European stock indexes also fell collectively.
Cryptocurrency suffered a sell-off. According to Yingwei's financial data, bitcoin fell by more than 18% during the session, falling below $23000, a new low since December 2020.
According to bitcoin data, as of 23:00 on June 13, Beijing time, more than 217000 bitcoin trading positions had been closed in the past 24 hours, with a total amount of $955million (about 6.449 billion yuan).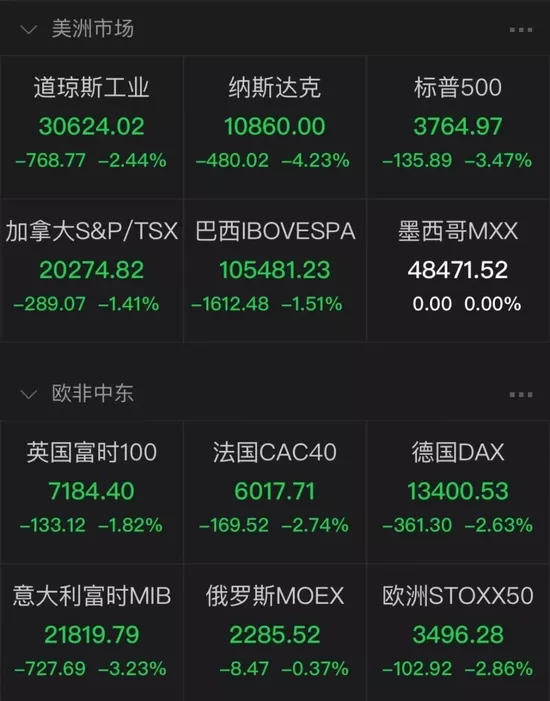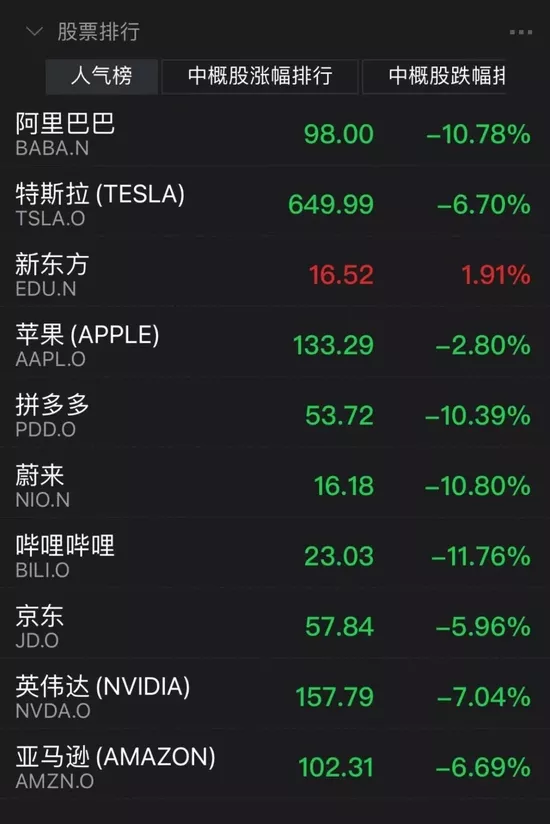 In terms of bulk commodities, international gold and silver futures prices and international oil prices fell one after another.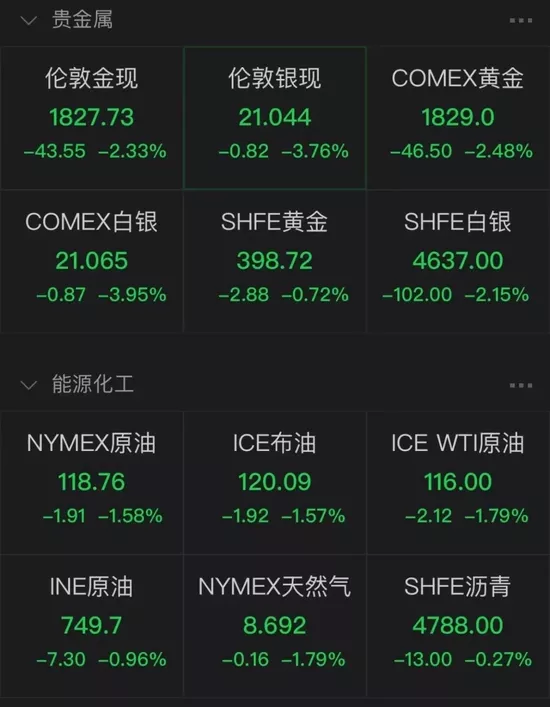 It is worth noting that in Europe, on the 13th local time, the British National Bureau of Statistics announced that Britain's gross domestic product (GDP) fell 0.3% month on month (MOM) in April compared with March, less than the previous economists' expectation of 0.1% growth.
Darren Morgan, head of economic statistics at the National Bureau of statistics, said that the gradual termination of the epidemic prevention testing and tracking program had led to a sharp decline in the health sector economy and pushed the British economy downward. In addition, the rise in fuel and energy prices has hit the British manufacturing industry. The continued rise in energy prices in the future will exacerbate inflation. The resulting cost of living crisis will make the British economy face a long-term downturn.
(the pictures in the text are from wind, and the data is as of 22:49 on June 13, Beijing time)