The game website spades challenge just shared the search results of Google "game console" in all States of the United States, and found many game details It can be seen that Sony Playstation 5 is currently the most popular game console in the United States, especially in California, New York and Texas. Even under the influence of covid pandemic and supply chain disruption, the machine still achieved a global sales volume of 20million +.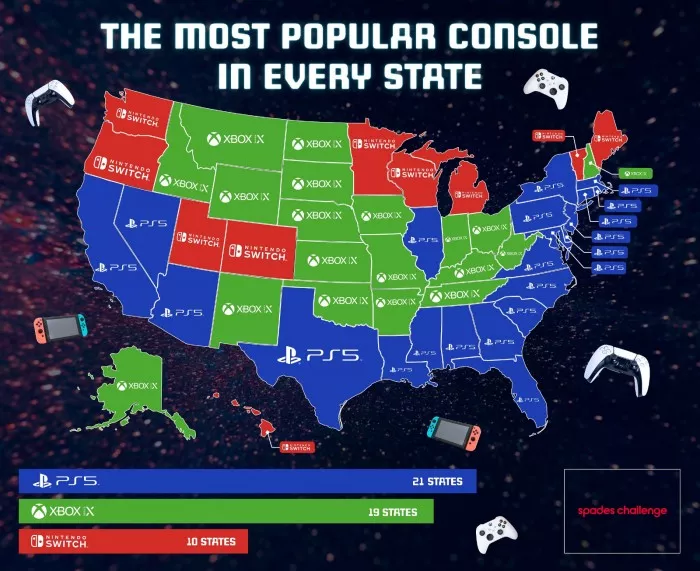 (from: spades challenge)
Followed by Microsoft xbox The series X, which ranks second among the 19 / 50 states in the United States, is also the most popular game model in Ohio, Tennessee and Indiana.
In the U.S. market, the sales volume of ps5 and xsx are close (677 / 6220000 sets respectively). If we look at the world, the xsx lags far behind the ps5 (only 13million units have been sold).
Interestingly, Nintendo switch, which ranked third, took the top position among the 10 states in the United States, and was popular in Michigan, Washington and Colorado.
In addition, as a game console launched in 2016, the global sales of switch exceeded 107million. Spades challenge spokesperson said:
From these data, it is clear that the mainframe war has not ended easily, and the tendencies of all States in the United States are different.

The sales data of the past year and the latest survey show that the ps5 is still the leader in the game console market.

It will also be quite interesting that it will catch up with the switch's sales volume of more than 100 million in a few years.
Neowin pointed out that as many people were forced to stay at home and follow the policy of social alienation during the covid epidemic prevention period, the demand of players for game consoles also increased significantly.
As Sony and Microsoft released sub era consoles (ps5 CD-ROM / digital version + Xbox series X | s) during the pandemic, it further aroused the desire of players to buy.