One study found that severe traumatic brain injury (TBI) increased the risk of dementia In the United States alone, about 1.7 million people suffer from TBI every year. Older adolescents (15-19 years old) and the elderly (65 years old and above) are most likely to suffer from TBI.
Traumatic brain damage occurs when the brain is suddenly traumatized. Traumatic fracture may also occur when the head collides with an object quickly and forcefully, or when an object pierces the skull and penetrates brain tissue. Immediate and delayed symptoms include confusion, blurred vision, and difficulty concentrating. A recent study has even shown that traumatic fractures may even have consequences decades later.
According to [neurology] published in the official journal of the American Academy of Neurology on May 11, 2022( https://n.neurology.org/content/98/23/e2377 ) 》According to a new study in the online edition, people hospitalized with severe brain trauma may have a greater chance of developing dementia than those who have not suffered brain trauma. Major brain injury was defined as cerebral hemorrhage and hospitalization for three days or more. The researchers found no increase in the risk of people with minor trauma, defined as concussion, who were hospitalized for no more than one day.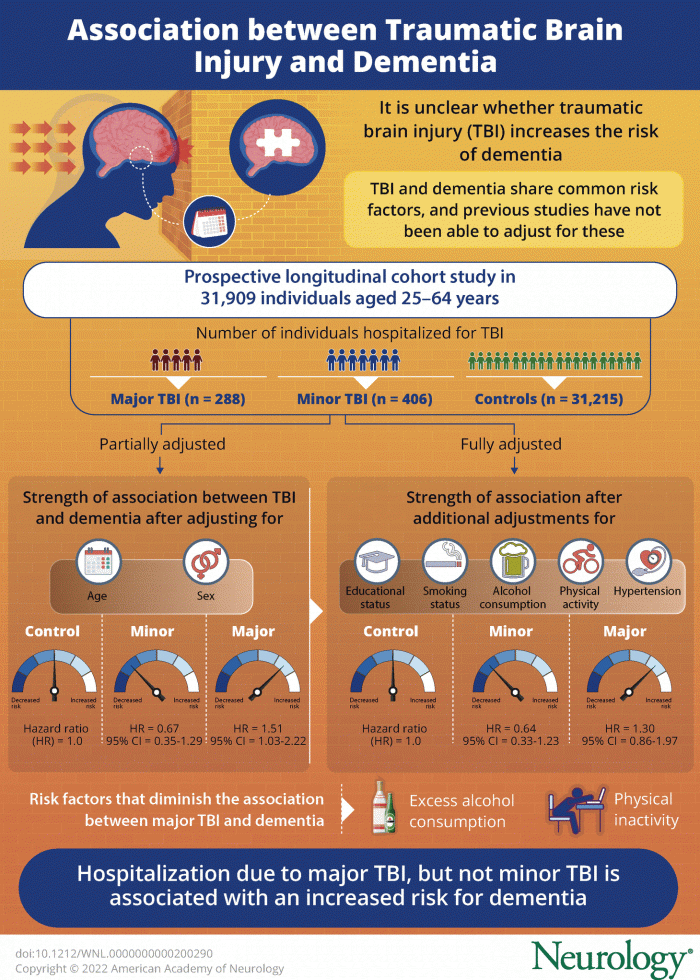 Study author Dr. Rahul Raj of the University of Helsinki in Finland said: "Traumatic brain injury has been identified as a possible risk factor for dementia, and as the number of patients with dementia is increasing, it is necessary to identify possible risk factors that can be changed to reduce the number of people suffering from dementia in the future. The purpose of our study is to assess the relationship between TBI and dementia, while adjusting for other relevant dementia risk factors, such as hypertension, smoking, alcohol consumption and physical activity."
The researchers used a Finnish national database, which included health surveys collected every five years. They found that 31909 adults completed one or more questionnaires that included data on lifestyle characteristics such as physical activity, smoking and alcohol consumption over a 20-year period.
The researchers then examined the national health register. In the study group, they selected 288 people hospitalized for severe TBI and 406 people hospitalized for mild TBI who did not develop dementia within one year after injury. During a mean follow-up period of 16 years, 976 participants developed dementia.
Of those with severe trauma, 27 (or 9%) developed dementia. Of those with minor trauma, 9 (or 2%) developed dementia. Among those without TBI, 940 (or 3%) developed dementia.
After adjusting for age and gender, the researchers found that people hospitalized with severe TBI had a 1.5-fold higher risk of dementia than those without traumatic disease. However, after further adjustment for other relevant dementia risk factors, such as education, smoking, alcohol consumption, physical activity and hypertension, the association was weakened. Raj explained that alcohol consumption and physical activity seemed to play the biggest role in weakening the association.
The researchers found that there was no increased risk of dementia among people hospitalized for minor traumatic diseases.
Raj said: "in our study, about one in ten patients with severe TBI did suffer from dementia. Considering that dementia or traumatic brain injury is incurable, our results suggest that preventing other dementia risk factors, such as excessive drinking and inactivity, may reduce the risk of dementia in patients with severe TBI. More research is needed in a larger population."
One limitation of the study was that it only included people hospitalized for severe TBI, so people who did not seek treatment for mild TBI were not included.
The American Academy of Neurology is the largest association of neurologists and neuroscientists in the world, with more than 38000 members. Aan is committed to promoting the highest quality of patient-centered neurological care. Neurologists are doctors specially trained in the diagnosis, treatment and management of brain and nervous system diseases, such as Alzheimer's disease, stroke, migraine, multiple sclerosis, concussion, Parkinson's disease and epilepsy.