When Hu Ge first spoke for EF education, EF's career was just like the sun at its zenith. However, Hu Ge should be glad that he did not renew his contract with EF, otherwise he would be in great trouble now. How to refund the fee has become the most heated discussion among EF students. The news of solitaire in the group keeps flashing, one after another.
Recently, the news spread that EF Education (hereinafter referred to as "EF") would close its adult campuses in Xi'an, Wuhan, Suzhou, Xuzhou, Chengdu, Wuxi and other multi ground lines except the first tier cities of "Beijing, Shanghai, Guangzhou and Shenzhen". On the eve of the closure of the EF campus, liusiming, who still had an indwelling needle on his back, stopped transfusion for a day and rushed to the campus in a hurry.
"I was carrying more than 30000 loans and didn't dare to tell my parents." Liusiming told the daily economic news reporter (hereinafter referred to as "every reporter").
When Lu Yue, a trainee, revealed that she was single in an exchange with EF salespeople, the other student immediately said that her fiance was introduced by the trainee, "maybe you can find a boyfriend here."
At one time, in the mouth of EF's after-school tutors, EF was satisfied with whether it was the elderly who wanted to relieve loneliness, the young people who wanted to date, or the students who wanted to get a degree certificate in College English. "A good place to meet high net worth people", "maybe you can find a boyfriend here", "don't you want to be a 'single dog'? Your dating class is coming"... Through the words of the tutor after class, it seems that the organization focusing on high-end adult English has turned into a dating club.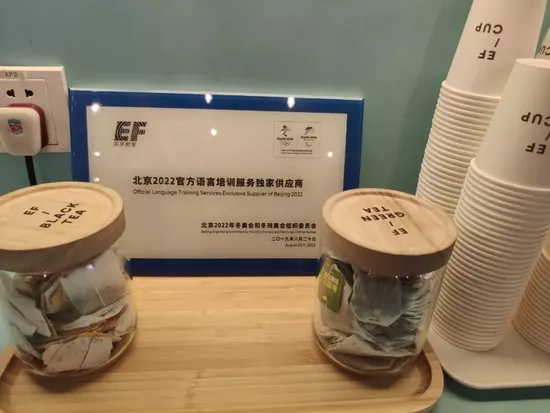 Reporter's field visit source: photographed by reporter Du Wei
The core geographical location and high-end property buildings open the door of the EF campus. The hardware facilities are as old as before. The "2022 Beijing Winter Olympics language training service provider" brand is placed in the front desk and the tea room. However, Liu Siming's favorable impression of this education and training institution, which is crowned with the aura of industry leader, has fallen to the bottom.
After investigation by reporters, it is found that this large-scale education and training group, which has been stationed in China for more than 20 years and is the founder of "adult English education", has fallen into business difficulties. Besides EF, why are adult English teaching and training institutions, including Weber and Wall Street English, exploding one after another? What are the hidden worries under the English gold rush?
Training to blind date
After class tutor recommends dating class
Lili couldn't believe it when she heard that EF offline campus was about to close down. After the vigorous lobbying of EF PM (after-school tutoring) teachers, she continued to pay the offline course fee for another school year. At that time, EF teachers did not mention that their school district would be permanently closed in a week.
In the face of Lili, who has a low starting education and a monthly salary of less than 3000 yuan, PM teacher once sketched a beautiful blueprint for her to "have a good command of English and a high salary in hand". For six hours, PM teacher kept making a refueling gesture with his right hand clenching his fist to give Lili "chicken blood": "we want to learn English well, so learn and do it! Sign up now and take action now!"
"In the middle, I was really tired of being forced. When I wanted to go out for a breath, their team leader went out with me and stood outside to continue chatting with me, for fear that I might leave." Lili recalled.
During the communication with Lu Yue, an ef PM teacher keenly caught Lu Yue's message that she was single and wanted to make friends. As a result, the conversation changed. In the sales department, this place for high-end adult English training immediately became a good place to know high net worth objects. "The salesperson said that her fiance was introduced by the trainees. Maybe I can find a boyfriend here."
In March this year, an ef PM teacher sent out a wechat circle of friends of "EF dating class": "don't you want to be a 'single dog'? Your dating class is coming! Single partners (both men and women) can meet potential partners in school!"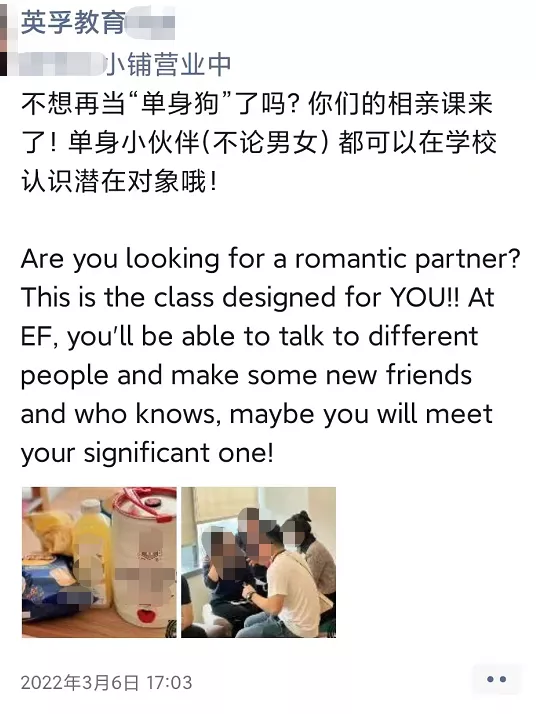 Screenshot of EF PM teachers' circle of friends source: obtained through investigation
Among the EF refund students in different cities across the country, every reporter found that the age span of the students ranged from "after zero" to "after 60". The adult English training run by EF is not an exam oriented training, but in the mouth of PM teachers, EF can satisfy whether it is young people who want to relieve lonely old people, young people who want to date, or school students who want to pass the College English test and get a degree certificate.
"Hard to understand." A "veteran" who has been deeply involved in the education and training industry for 17 years fell silent after hearing the above "routines" encountered by students when they signed up for EF.
EF was born in Sweden at the age of 57. At its peak, it opened 600 schools and offices in 120 countries around the world, employing more than 52000 employees and teachers. In 1994, it entered the Chinese market, but within a month, it had to close half of its stores. "There are 16 offline centers, and this business transformation involves 8 centers in 6 cities." EF related personnel told Meijing. "EF has not introduced foreign capital and has been controlled by the hote family since its establishment."
EF did not reply whether the remaining offline centers would be closed one after another. As for the reporter's request to interview EF executives in China, EF said: "the relevant personnel structure is being adjusted and cannot be arranged at present."
Liusiming, who has never passed CET-3, complained to the local authorities that EF, which is not engaged in adult exam oriented education, urged him to sign up after clearly knowing that he wanted to take the degree English exam, which was false propaganda. Later, EF gave him the solution of "giving lessons".
In the common understanding of a large number of EF students, these PM teachers who call themselves students to plan courses, guide learning and solve problems are essentially sales personnel. They take sales performance as the core indicator, and their personnel mobility is large and their level is uneven. "I advise you to be obedient when you sign up, but I won't pay any attention to you after you sign up."
Last year, an ef PM teacher in Beijing was unable to work because of too much sales pressure. "We not only need to coach students to learn, but also ask students to recommend new students for secondary sales, which leads to students' reluctance to even coach. A vicious circle."
Installment
Actually a loan signed with a financial institution
The "installment payment" students, who are unwilling to switch to online classes and are unable to successfully refund their money after closing the offline stores, have found that no matter whether the negotiation with EF can be properly resolved, they must continue to repay on time every month, otherwise they will have to pay a late fee, which will also affect their personal credit investigation. The so-called "installment payment" that EF staff advised them to use at the beginning was not a monthly installment payment to the school, but a loan signed with a third-party financial institution.
"I was carrying more than 30000 loans and didn't dare to tell my parents." Liusiming told reporters that in 2019, Liu Siming, who had not yet graduated, applied for EF without telling his family. When he said that the tuition fee of more than 30000 was too expensive, EF staff proposed that he could "pay by instalments", paying 5000 yuan in cash first, and the rest would use the financial app "Du Xiaoman" to pay more than 1000 yuan in "interest free loans" every month for 24 months.
Every reporter learned from two insiders from financial institutions and educational institutions that the Du Xiaoman "Tuition loan" used by EF students is not really interest free, but the educational institutions package the interest in the total cost. Several students said that they did not know that the installment "Tuition fund" provided by EF was actually a small loan until they bought a house and a car.
"There must be interest. EF has installment price and one-time price. I will tell you that the tuition fee is 30999 yuan for one-time payment. If you pay by installment, I will quote 33999 yuan. The 3000 yuan in the middle is the interest." An ef staff member disclosed.
Lili, with a monthly income of less than 3000 yuan, paid her tuition twice with "installment payment" under the persuasion of EF staff, with a monthly repayment of 2100 yuan. "When I made it clear that my monthly income was only 2700-2800 yuan, and it was too heavy to pay back the 'training loan' with more than 2000 yuan, the staff said that they should be willing to invest in themselves when they were young, and investing in themselves was investing in the future." Lili told Meijing that EF staff took her mobile phone and helped her operate the loan. What are the specific terms of these agreements? What are the risks of using microfinance? Lili was confused.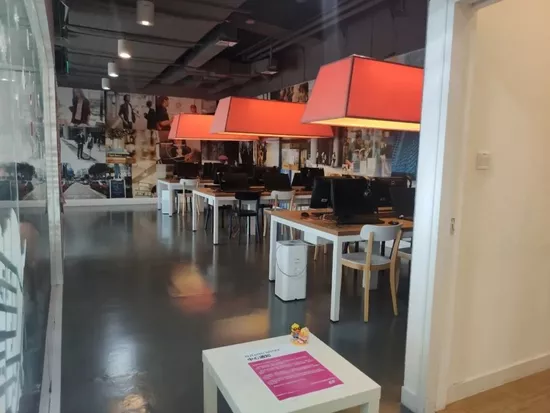 Reporter's field visit source: photographed by reporter Du Wei
"From the perspective of the case, this is an illegal means of sales. We need to clarify the interest rate and other issues." Yinzhentao, director of the financial technology research office of the Institute of finance of the Chinese Academy of Social Sciences, said in an interview with reporters that EF also has problems in marketing scripts and other aspects in its internal management.
In response to the above payment methods and services, EF responded to each reporter: "if students choose the loan method, they will independently apply to a qualified third-party financial institution."
"EF has always strictly complied with local laws and regulations, requiring course consultants to help students fully read and understand the terms and conditions of the contract before they buy the course, and sign for confirmation. We take a 'zero tolerance' attitude towards any behavior that violates the company's integrity principle, and will seriously deal with violations in the specific implementation process." EF said.
Not only EF, but also Wall Street English, Weber education and other adult English training institutions have actively and extensively cooperated with financial institutions to provide "training loans" for students in order to expand their performance. When Weber education's capital chain was broken, financial risks became prominent.
Yu Baicheng, President of zero one research institute, said in an interview with reporters that as a new consumption field, education consumption has increased rapidly in recent years. Adult training is for career development. The repayment ability is good after skill education. It also lowers the threshold for individuals to continue learning, so the whole scene is good. However, the problem is that when the educational institutions are poorly operated or even shut down, the students have signed a loan agreement with the financial company and have to continue to repay.
"When an educational institution recommends the installment business, if it doesn't immediately tell the students that it is a loan, there will be inducement. For example, the educational institution needs to tell the students clearly what the interest rate is, rather than saying that it pays hundreds of yuan a month in general." Yu Baicheng believes that financial institutions also have the responsibility to monitor the loan process provided by their partners.
Du Xiaoman and Zhaolian finance, who had previously cooperated with EF, told the reporter that they had terminated their cooperation with EF and other educational institutions.
Yinzhentao believes that financial institutions should also bear the responsibility of supervision when cooperative institutions promote loan products. "When selecting cooperative institutions, we should be cautious first, and have certain constraints on the qualification requirements, daily management, cooperation specifications of the partners and the responsibilities and rights of both parties."
I am anxious about the refund
Forced transfer from offline class to online class
If you are not willing to switch to online, you should return the tuition fees, so that you can get the "Tuition loan" repaid to the third-party financial platform. This is the common idea of many students, but the refund process is extremely difficult.
Nina, an old EF student, told Meijing that she proposed to refund the fee on April 2, but had not received any feedback from EF as of May 18. Huang Yu, who had no offline classes since April, also had a stalemate with EF for nearly a month because of the refund.
Every time the reporter inquired about the complaints of black cat, as of about 16:00 on May 9, EF education had nearly 13000 effective complaints in 24 hours, and the cumulative number of effective complaints reached more than 8.73 million. In recent complaints, most of the refunds raised due to the "forced transfer of offline classes to online classes".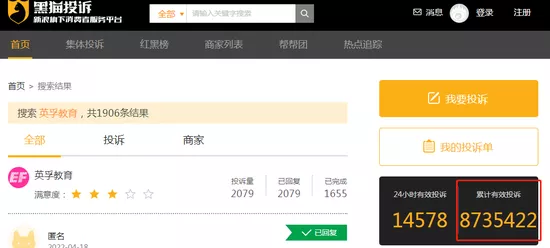 As for the difficulty in refunding the fees, EF responded to the reporter in mid May that "students who do not want to switch to online can make appeals, and we will deal with them according to the specific circumstances."
The anxiety of the students' refund also exposed the loopholes in EF's management. After investigation by the reporter, it is found that EF employees have secretly operated the remaining courses of the students to help find "takers" to privately transfer courses.
"I have students who want to transfer courses. I can arrange for you to communicate the price." In late April, every reporter consulted EF employee Guo Jing as an applicant. In addition to the formal registration channels, Guo Jing took the initiative to offer a more "preferential" scheme, "now is the time to collect wool. For 18 months of classes, it only costs 15000 yuan to transfer from the students' hands. I will change all your information backstage in front of you, and can help you transfer to Beijing, Shanghai and other campuses where classes are still wired."
"If you worry about transferring the money to him, he will pull you black. You can transfer it to me first." According to the reporter, nearly 34000 yuan needs to be paid in 12 months for the normal registration of EF offline courses in Beijing and Shanghai, but private transfer of courses is prohibited in the EF contract. What if EF finds out that it is illegal to transfer classes and is suspended? Guo Jing said, "this is EF's default operation. The company also wants to make money."
Other EF salespeople also told applicants that they could operate private transfer between students under their cover. Is this an employee's personal behavior or an implicit rule of the company?
"The company will never make such acquiescence, nor will it allow employees to do so." EF denied the above "hidden rules of private class transfer" to every reporter, and said that this behavior is strictly prohibited in the company, and will conduct internal investigation on the situation reported by the reporter.
English Craze:
Once set off a gold rush for training
There was once a whirlwind of "English Mania" in China, and the faces in the tuyere are still vivid.
In the 1990s, the economy accelerated and the times surged. With the deepening of reform, a large number of foreign enterprises have sprouted in China, mastering English has entered foreign enterprises, and the wages have doubled in an instant; The birth of a Peking man in New York also caused a sensation among thousands of people at that time. You can not only cross the sea, but also get rich on the spot. At that time, mastering English represented a new way of life, and it also represented that the carp leaped to the dragon's gate.
"Come is come, go is go, nod yes, shake your head no..." zhaolirong read the English learning doggerel with Tangshan accent in the 1999 CCTV Spring Festival Gala sketch "veterans on horseback", which not only made everyone laugh, but also marked the sudden development of English from a simple communication tool to a cultural phenomenon affecting hundreds of millions of people. China has truly entered the era of "National English fever".
However, at this time, Chinese people have a weak foundation in English, and it is difficult to acquire listening and speaking from books, which has become a stumbling block for Chinese people to learn English. Under the strong demand, English training institutions at home and abroad have tapped the Chinese market.
YuMinHong, who resigned from Peking University, founded New Oriental; Later, "Crazy English" Li Yang raised his microphone and shouted to the crowd, "learn English well and you can make money"; The established foreign-funded educational institutions EF, Weber education and Wall Street English entered China in the right direction.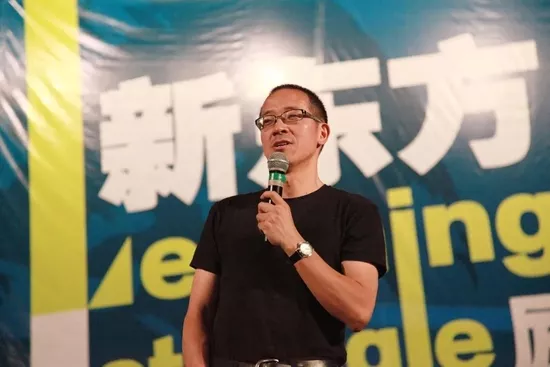 YuMinHong, founder of New Oriental picture source vision china-vcg111221239345
"When EF first entered Shanghai in 1993, many universities purchased its courses." A teacher from a Shanghai University told the reporter that "at that time, it was strange to see foreigners in China. EF had obvious advantages in foreign teachers' resources".
Lao Yang, 68, sat in the back of the New Oriental children's English training classroom, reading banana and apple with his 5-year-old grandson. Meng Han, a taxi driver, turned on the radio to listen to "taxi English" and practiced oral English while driving; In Quanjude, the hotel manager set up a whiteboard in the private room to teach the waiter to read "here's the menu"... On the eve of the opening of the Beijing Olympic Games, the documentary "I am crazy about English" by Singapore director Parker captured the peak of the above-mentioned upsurge of learning English for all, which was also the last upsurge of English in China [1]
The change of the status of English in China is the epitome of new China from poverty and frustration to openness and prosperity [2] the sweaty New Oriental in the summer classroom, Jay Chou in the repeater, and the English teacher standing at the door of the classroom with a heavy tape recorder all remain in the memory as the post-80s and post-90s from youth to parents.
The rise of the country and the popularity of the Internet are changing people's mentality. In those days, curiosity about the English world faded with the enhancement of China's national strength and the improvement of the English level of the new generation of young people. Going abroad is becoming more and more common. Li Yang's voice is getting louder and louder, but his voice is "poor foreigners can't speak Chinese" [3]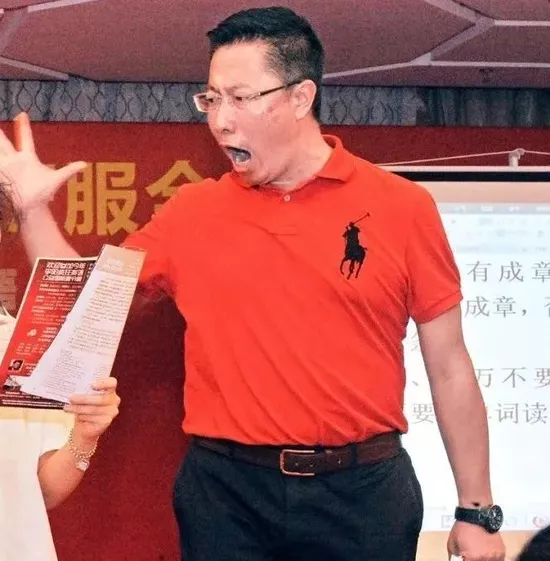 Crazy English founder Li Yang photo source: visual china-vcg11469121519
Where to go
"English Gold Rush" faded
Can the transformation be successful
"People don't give the myth of 'learning English well' as they did many years ago, or think how advanced it is." In late May this year, a senior person in the English teaching and training industry analyzed every reporter.
The "English Gold Rush" faded. In the past 22 years, adult English has also changed from prosperity to decline, and the former giants have fallen one after another. Founded in Shanghai in 1998 and having 154 training centers in more than 60 cities in its heyday, Weber English stopped operating in October 2019 due to "capital chain disruption"; Founded in 1972 and headquartered in Italy, Wall Street English, which entered the Chinese market in 2000, declared bankruptcy in August 2021; At that time, EF also said that it could accept students of Wall Street English. However, in just eight months, EF also experienced a fatal "crisis".
In the public's memory, EF's brand image was highly bound with Hu Ge, an entertainment star who loved learning and reading. When asked by the reporter why the students chose EF, many people blurted out: "because Hu Ge is the spokesman".
According to the public information of EF education, Hu Ge is an "old friend" of EF. In 2016, Hu Ge became the spokesperson for EF education in adult English. In EF's promotional film, Hu Ge shuttled through different scenes such as workplace, travel and social networking, and explored the world in English. In October, 2020, EF announced that it would once again join hands with Hu Ge as its brand spokesperson and "learning officer". In February, 2021, EF was still releasing the promotion video shot by Hu Ge.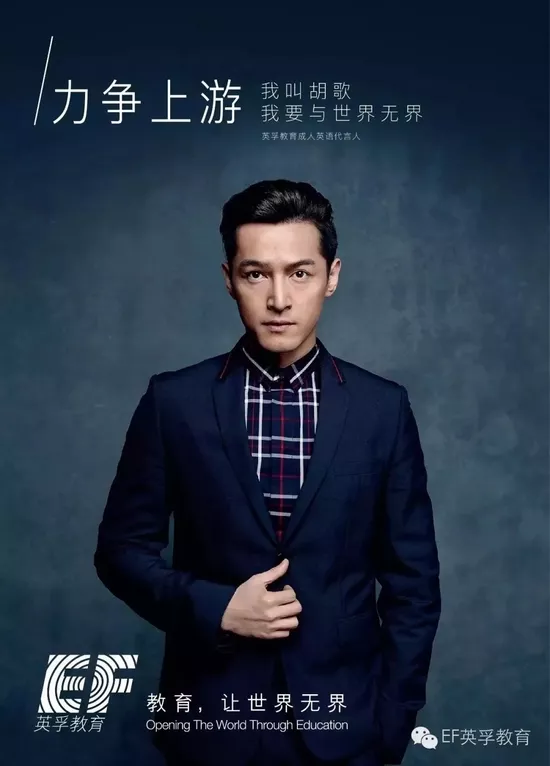 Image source: EF education official wechat official account
"From a student to an employee of EF, I had the most brilliant time in EF." In April this year, an ef employee described in a circle of friends that EF had made her "feel victorious for the first time". "But the sudden change is really beyond our control." She said that EF was in a difficult time, "holding back tears again and again and communicating patiently with each student."
According to ef insiders, EF closed its offline campus in order to "stop losses in time". "The cost of teachers and venues is very high. Students who buy 30000 yuan courses can finally earn very little money from the boss. Our center has only 2million yuan a month (revenue)."
In the view of the above-mentioned senior people, EF's business model is essentially a "strong sales model". Similar to the gym in those years, the constant advocacy of members to apply for annual cards and the continuous increase of new users are the key to supporting it to roll the snowball. At present, on the one hand, the demand side is calm, on the other hand, the supply side is rich and diverse. Coupled with the impact of the epidemic on offline stores, the high adult English tuition fees that are not targeted at the examination are the first non rigid needs to be cut off. Under multiple factors, the impact on EF is huge.
However, the management loopholes commonly reported by the students, such as "false propaganda", "induced tuition loan" and "private class transfer chaos", were exposed when the company's growth slowed down. For the above-mentioned problems reflected by the trainees, the reporters send detailed interview questions to ef every time. EF did not give a positive reply: "since 2012, we have set up a national unified customer service center to handle and resolve students' opinions and complaints." "Our commitment to the Chinese market remains unchanged. EF adult English business will continue to upgrade our products and services through resource integration and technological innovation."
Can ef successfully transform itself by reducing offline costs and shifting to online mode? Chuzhaohui, a researcher at the Chinese Academy of Educational Sciences, believes that many adult English training institutions have adopted the online model, and there are also some effective ones. However, offline and online play in two ways, and adult English learning needs are also very segmented. It is still uncertain whether EF, a strong offline player, has the gene to successfully switch to online.
(at the request of the interviewee, the following characters in the text are pseudonyms: student liusiming, Lili, Luyue, Nina, Huang Yu, and EF employee Guojing)