After several weeks of deadlock, the board of directors of twitter plans to comply with Musk's requirements and provide access to all its "firehouse" databases, that is, publish more than 500million tweets every day. Previously, musk had asked twitter to provide spam and false account data and allowed him to conduct independent evaluation under the condition of terminating the $44billion acquisition agreement.
It is reported that Musk's acquisition of Twitter has attracted the attention of many "bigwigs", including Oracle founder Larry Ellison. It is reported that musk previously disclosed that he had received a total of US $7139 million in financing, of which Ellison said he would provide us $1billion in investment.
In the investment list, there is also a "mysterious" investment company headquartered in Dubai - vy capital. Sources said that the company promised to provide 700million US dollars of investment. According to the information of LinkedIn, a global recruitment service platform, vy has 25 employees worldwide.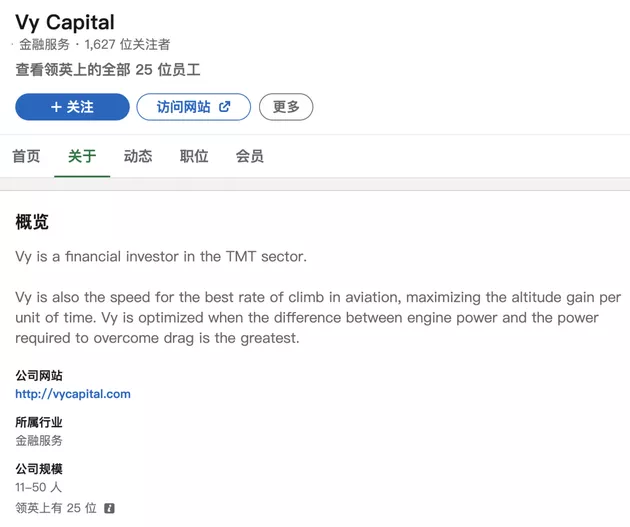 ↑ information introduction of vy on LinkedIn
Invest in Musk for many times, focusing on cooperation with technology companies
According to the report, there is very little public information about the source of vy's funds, but its ability to provide funds "deserves attention". It is reported that vy is a "blank check company", also known as a shell company. This kind of company is established under the leadership of private equity funds or large investors. After its establishment, it immediately goes public in the stock market. Its only purpose is to find a growing enterprise and acquire it, so as to turn the stocks of shell companies into the stocks of the acquired companies for trading. According to vy2020 documents, its assets under management exceed 2billion US dollars. A person familiar with the operation of the company disclosed that this figure has more than doubled since then. Among them, the funds available for disposal are about 1billion US dollars.
According to the introduction of vy's official website, the company focuses on investment in the "technology field", especially those technology companies that "may have a significant impact on mankind". This is not the first time that vy has invested in musk. It is reported that neuralink, a futuristic brain computer interface company founded by musk, previously said that it had obtained a new venture capital of US $205million, and vy led the round of financing. The fund will help the company research brain implants for quadriplegic patients, so that they can interact with computers and mobile phones "in a high bandwidth and natural way".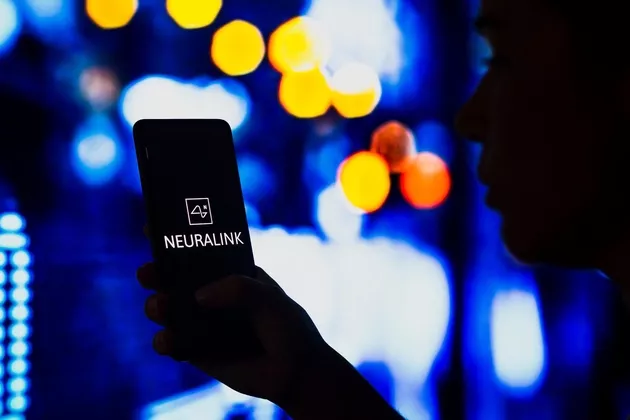 ↑ neuralink, a high-tech company founded by musk
It is also reported that the wiring company, an American infrastructure and tunnel construction company also founded by musk, raised US $675million in the round C financing, with a valuation of US $5675million. The company said the proceeds would be used to increase the recruitment efforts of various departments. It is worth noting that this round of financing is also led by vy.
According to LinkedIn, Benjamin Birchall is one of vy's summer analysts. It is reported that Benjamin Birchall is the son of Jared Birchall, the head of Musk's family office.
The mysterious founder of the "human supercomputer"
It is reported that the founder of vy is alexandertamas from Germany. Unlike musk, Tamas' twitter account doesn't have post content. The report pointed out that Tamas himself may be low-key, but his resume and network are very "bright". Famous venture capital experts benhorowitz and markanderson even call Tamas "human supercomputer".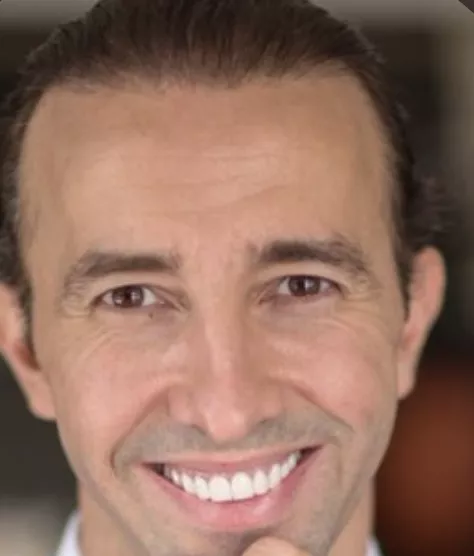 ↑ Alexander Tamas
It is reported that Tamas once engaged in technology trading at Goldman Sachs Group. In 2008, he joined DST global, an investment company of the famous investor Yuri Milner, and became a partner. During his stay at DST global, he led the company to make many successful investments, including investments in Facebook and twitter. It is reported that Yuri Milner was born in Russia. According to Forbes China, minor's spokesman Leonid Soloviev said that Milner obtained Israeli citizenship in 1999 and moved to the United States in 2014. After the conflict between Russia and Ukraine, DST with Russian background has also been frequently questioned. However, its spokesman said that since 2011 (DST global II), DST has not raised funds from Russia, and there are no funds from Russia in the seven latest funds, including DST global IX.
Before joining Goldman Sachs, Tamas was a founding member of ARMA partners. It is reported that ARMA partners is a company focusing on providing corporate financing advice to companies and investors in the technology field.
In 2013, Tamas and former Goldman colleague Mattus seskovsky founded vy. It is reported that Tamas and John Hailin, the founder and CEO of lookout, which provides smart phone security services, now jointly manage the company. It is reported that although John did not mention vy in his LinkedIn profile, according to a document, Tamas and Hailin are the two people who hold the most individual shares in vy. Javier oliven, the newly appointed chief operating officer of meta, is also one of the investors of vy.
In addition, Dubai leaders also appointed Tamas to serve on an advisory committee focusing on the digital economy. In addition to his investment activities, Tamas also founded synaptic, a data science company, and supported the artificial intelligence research of the Institute for the future of mankind at Oxford University.
According to the report, Tamas previously said that "social platforms should manage what we can and can't see". This view is misleading. However, he added that it was also "very dangerous" for private companies to decide what was acceptable.