On July 9, The Economist published a cover story, "Who's Afraid of TikTok?", reviewing the growth and worldwide popularity of TikTok and its struggles amidst commercial competition and geopolitical siege. A decade ago, The Economist ran a cover story, "Who's Afraid of Huawei? . In a way, TikTok's current predicament is similar to Huawei's.
The Economist reports that TikTok is under increasing regulatory pressure and that governments are wary of TikTok for different reasons, "fearing that user data could fall under undue control or that what users watch could be swayed by China, which has banned it in India, once its biggest market. And other countries, including the U.S., are considering what their next move should be."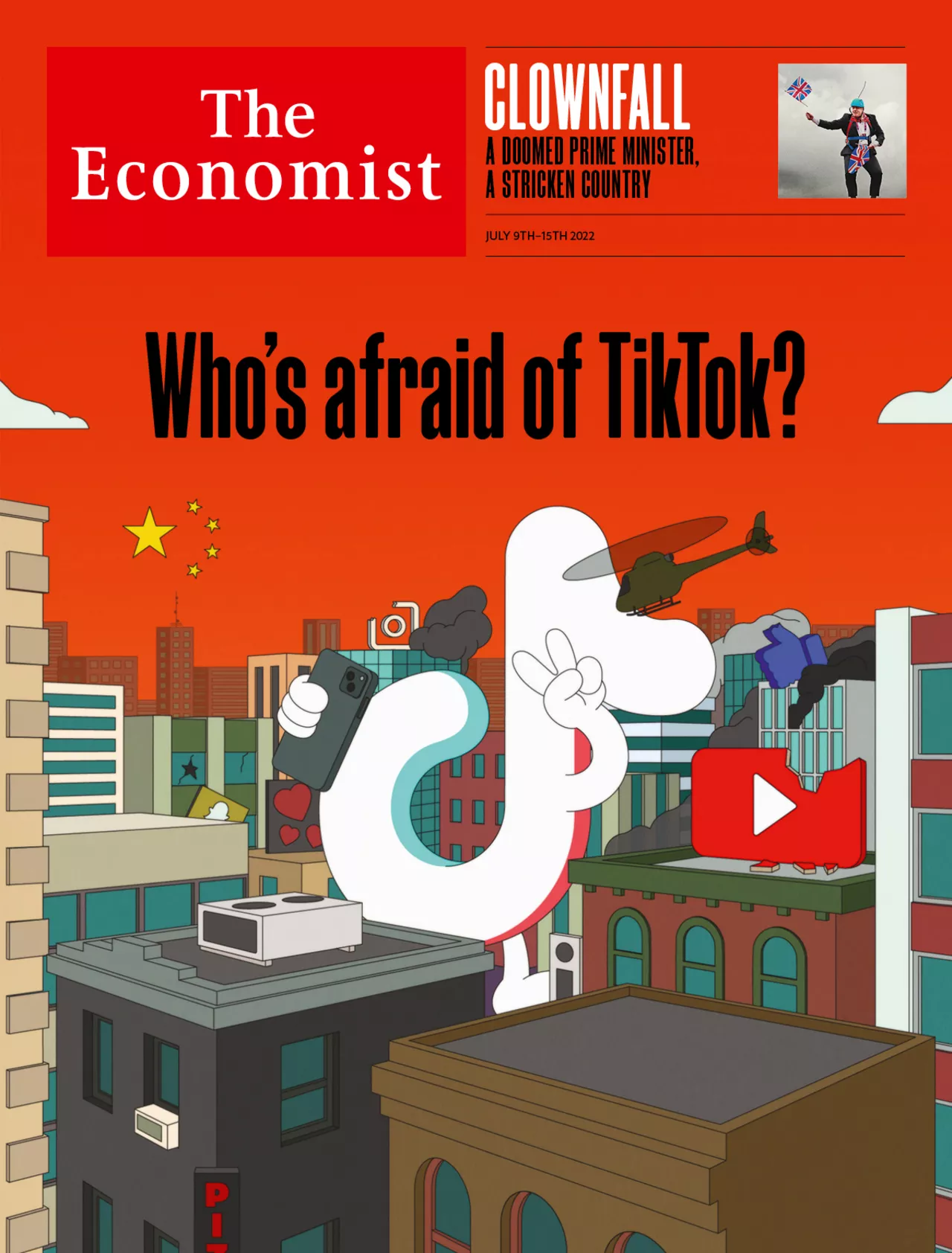 A cat struggles to see what's on the kitchen counter, first standing on its front legs, leaping on its hind feet and then leaping upwards to get a better look - but the moment it sees the tinfoil on the counter it jumps backwards like an electric shock. The video, which is just six seconds long but has more than 40 million views, has been listed as one of the "hottest" videos on TikTok in recent memory.
Cat videos are a common laughing stock on late-night TV. But the hundreds of millions of TikTok clips that include cat videos are keeping some politicians in Silicon Valley and the West awake with worry. The app is growing at a rate that is alarming competitors and regulators alike. In just five years, it has moved into the top tier of global social media, a field that U.S. officials once considered so closed off and hindering competition that they filed an antitrust lawsuit against Facebook, a leading member of the field.
As TikTok quickly draws in a large number of users and the advertising dollars that come with them, some of its larger competitors are starting to mimic it to rewrite their own apps. The shakeup may not end there: the entry of TikTok into the e-commerce space could disrupt another industry.
Governments are wary of TikTok for different reasons. As the first Chinese consumer-facing app to spring up in the West, TikTok is a presence that China can be proud of. But precisely because the app belongs to China, politicians in other countries are also deeply troubled as they see their citizens' attention captured ever more tightly by TikTok.
They fear that users' data could fall under undue control or that what users are watching could be swayed by China, where TikTok has already been banned in India, once its largest market. And other countries, including the U.S., are considering what their next move should be.
Just a decade ago, Zhang Yiming, a bookish Chinese entrepreneur a year older than Facebook's Mark Zuckerberg, founded a software company called ByteHop. The company's first creations included 'Neihan Duanzi', a platform for sharing jokes, and 'Today's Headlines', a news aggregation site. These apps use artificial intelligence (AI) to learn what kind of segments or stories users like. Both apps were a huge success; today, Today's Headlines is the largest news aggregator in China, with 360 million users.
Soon, ByteDive wanted to explore what else recommendation algorithms could do. in 2016, ByteDive released 'ShakeYin', an app for recording and sharing lip-sync videos. ShakeYin mimicked Musical.ly, another Chinese-made lip-syncing app that was popular among young Americans, but ShakeYin benefited from ByteHop's artificial intelligence recommendation engine, which was more powerful than Musical.ly, and became a huge hit.
The following year, ByteDance released a sibling version of Jitterbug outside of China; the two applications have similar interfaces and algorithms, but the content is independent of each other. The app uses the same logo as Jitterbug, a quivering musical note, but with a more trendy name: TikTok.
At first, TikTok received little attention outside of Asia. But in 2017, ByteBeat acquired Musical.ly and quickly moved its 100 million users to TikTok. since then, TikTok has grown like no other app. in September 2021, a little over four years after TikTok was born, it reached 1 billion users, a milestone that Facebook, YouTube, and Instagram took eight years to reach a milestone (but, then again, fewer people were online then than now). Since early 2020, TikTok has been the most downloaded mobile app in the world. Younger audiences aren't too keen on Facebook, but are fascinated by TikTok. Data firm eMarketer believes that about 44% of TikTok's users in the US are under 25, while only 16% of Facebook's users are under 25.
TikTok makes making videos easy. It does for video editing what Instagram did for photo editing a decade ago, enabling amateurs to turn botched videos into slick-looking movies. Not only that, but its AI recommendation algorithm makes it possible for lesser-known grassroots creators to achieve the kind of viral success that would be difficult to achieve in an app like Facebook, which rewards those who already have a large following.
While the biggest individual accounts on Facebook are athletes, singers or other celebrities, the top TikTok bloggers are known for being TikTok creators. Khaby Lame of Senegal, a creator of short silent humor videos, is the number one TikTok blogger with 146 million followers. Star creators are given preferential treatment and even paid by TikTok as long as they stay on the TikTok platform.
TikTok lowers the bar not only for creation, but also for viewing. While most social media apps recommend content to users from their network of friends, TikTok doesn't require a network of people, a search, or even a login: its algorithm picks videos from its vast archive and will go on to learn viewers' preferences. The format makes it easy to get hooked. In the US, the average TikTok user spends 46 minutes a day on the app, slightly longer than they spend on YouTube and 16 minutes more than they spend on Facebook or Instagram.
TikTok is rapidly cashing in on the attention of its users. According to eMarketer projections, TikTok's revenue was about $4 billion last year, will reach $12 billion this year and $23 billion in 2024, almost entirely from advertising. That's more than Twitter, Snapchat, Pinterest and other second-tier social media apps, and on par with YouTube. Judging by its Chinese twin, Jitterbug, TikTok will likely continue to grow. According to brokerage Bernstein, users spend an average of 100 minutes a day on Jieyin, which accounts for more than 12 percent of the total time Chinese spend online. In addition to Jitterbug, ByteBeat has several popular apps in China and had a 28 percent share of the country's digital ad market last year, outpacing rivals like Tencent and Baidu and growing.
Jitterbug, on the other hand, shows the promise of TikTok profiting in areas other than advertising. TikTok is now a major force in the e-commerce space, using live stars to market its products in a model that resembles a 21st-century dress redux of a TV shopping channel. While TikTok's first attempt at live-streaming with merchandise (i.e. the November 2021 launch of TikTok stores in the UK and Indonesia) is currently a failure, TikTok is unlikely to give up easily in this direction.
TikTok's competitors are deeply disturbed. In April, Zuckerberg announced that Facebook's news feed - which for 16 years has primarily shown users content posted by their friends - would become a "discovery engine" that uses artificial intelligence to deliver content from content from all over the Internet - just like TikTok does. He mentioned TikTok five times during an earnings call in February, and Meta, the parent company of Facebook and Instagram, has developed a TikTok-like short-form video service called Reels, which it has incorporated into both apps.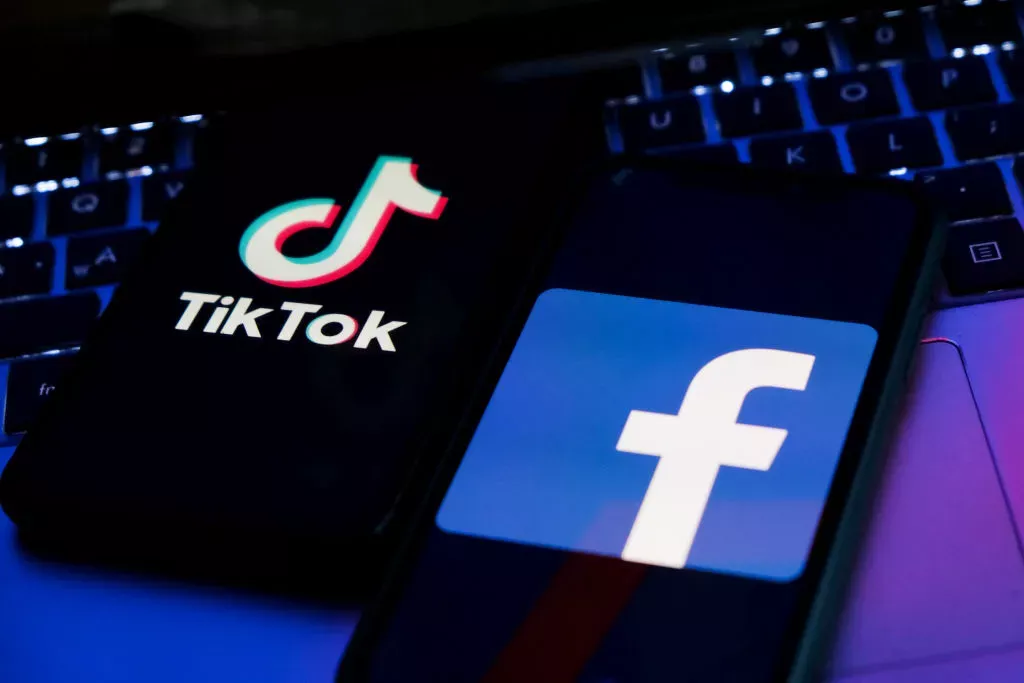 Such clones are everywhere: Snapchat Spotlight, YouTube Shorts, Pinterest Watch, and even Netflix's Fast Laughs. some of these products are succeeding. Reels, for example, account for more than 20% of the time users spend on Instagram, and YouTube Shorts has 1.5 billion users per month, which is probably more than TikTok has.
But on the flip side, TikTok is also taking some cues from its competitors. It has raised the length limit of its videos to 10 minutes, thus eating into part of YouTube's market. It has introduced a 'read-and-burn' feature, modelled on Snapchat's 'stories' model. It is testing a paid subscription model, similar to that of Amazon's live video platform Twitch, where fans pay to access the creator's channel. It has also recently started paying some creators a cut of ad revenue, as YouTube has always done.
In a market that has long been considered uncompetitive, these aforementioned disruptions to the original situation are often beneficial.In 2020, the Federal Trade Commission launched an antitrust suit against Meta Universe (Meta). Now that TikTok is taking users and advertisers away from Meta Universe (Meta), whose market cap has fallen by more than half this year, one need not worry too much about the lack of competition in this market.
TikTok's parent company, ByteTok, is registered in the Cayman Islands and has investors from all over, including the U.S.-based General Atlantic and Japan's SoftBank. SoftBank.) General Atlantic's boss, Bill Ford, who also sits on ByteTok's board, describes it as "a global Internet company with a Chinese heritage, not a Chinese Internet company". But the company's headquarters are in Beijing. Like other large Chinese companies, it is subject to both formal and informal Chinese influences.
What will China want with TikTok? Hawks believe there are two demands. First, China would want access to the data of TikTok's more than a billion users. There is no evidence that TikTok is collecting information it shouldn't. The University of Toronto's Citizen Lab concluded last year that there is no indication that TikTok or Jitterbug is collecting users' address book, photos, audio, video or location data without permission. The lab found that Jitterbug has some features, such as 'dynamic code loading' (i.e. loading additional code at runtime), that might be considered dishonest practices outside of China; but TikTok does none of these.
However, like most social apps, TikTok collects information about customers' phones, usage patterns and locations, and uses third-party tracking services. Under Chinese law, the government can require Chinese companies to provide more or less any data, including data stored abroad. For this reason, the Committee on Foreign Investment in the United States (CFIUS) - a panel led by the U.S. Treasury Department that reviews national security risks involved in transactions - ordered in 2020 that a Chinese company's revocation of Grindr's acquisition of Grindr, a dating app that keeps track of users' sexual behavior and HIV status, among other things.
TikTok says that the Chinese government has never asked for their users' data, nor has it ever provided it to the company (although some senior staff have admitted privately that they may not be aware of it, if at all). TikTok users are at less risk of being blackmailed than Grindr. However, James Lewis of the Center for Strategic and International Studies (a U.S. think tank) points out that intelligence agencies' biological databases mine information from social media as a routine operation. The government wants to register this 'biometric fingerprint' information and match it with other information about individuals, and it would be much easier to use data that comes directly from TikTok, rather than scraping it from the web. And, if TikTok's ambition to expand its reach comes to fruition, the company will know not just what its users look and sound like, but what they buy and where they live.
In 2020, India banned TikTok and several other Chinese apps. Although the ban was prompted by a border conflict, India's published reason was that the apps 'stole and surreptitiously transmitted' information from Indian users. Two months later, then-President Donald Trump issued an executive order requiring TikTok to be sold to a U.S. company within 45 days or face a ban on the grounds that it was collecting vast amounts of information that "could potentially allow China to track the location of federal employees and contractors, build profiles of personal information for extortion, and conduct corporate espionage." (Bytehop successfully defeated the order in court; Trump's successor, Joe Biden, rescinded it)
TikTok has tried to quell such concerns by keeping foreign user data outside of China. Doing so, however, doesn't make much sense: A report last month by online news media company BuzzFeed found that TikTok staff in China had accessed U.S. user data on multiple occasions as late as January of this year. 'You can see everything in China,' said a member of TikTok's trust and safety department.
On June 17, TikTok announced that U.S. users' traffic will henceforth be sent through servers operated by Oracle, a U.S. company that has a a similar contract. For Chinese workers to access U.S. users' data, they will have to follow protocols overseen by a U.S. security team. Those details are being finalized with U.S. authorities. If U.S. authorities approve, the practice could be replicated elsewhere.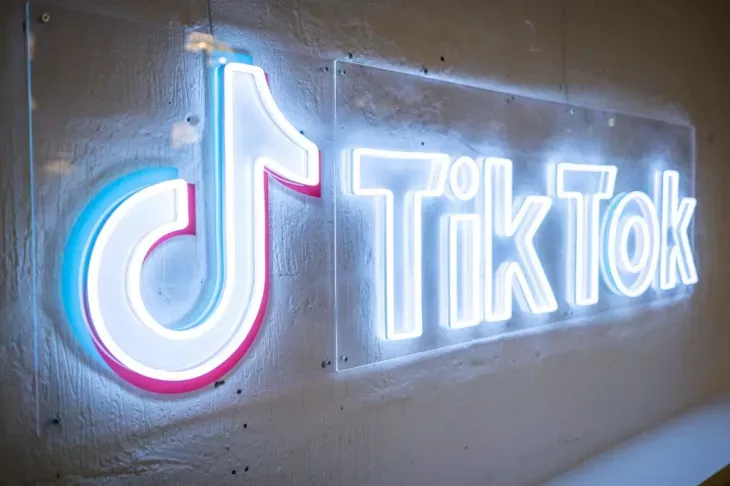 But there is a second concern about security, and a more serious one - it's not what TikTok is getting from users, but what users are getting from it. The app positions itself as an entertainment platform, providing content to 'brighten up your day'. But as it has grown, the content it produces has covered an increasingly wide range of topics. About a third of TikTok users see it as a news source, according to the Reuters Institute at Oxford University. In countries where mainstream media is weaker, the percentage is even higher: about half of people in Indonesia, Malaysia, the Philippines and Thailand use TikTok to get their news. Young people are the most avid TikTok users, so they are also more likely than others to get their news from it. Meanwhile, mainstream media outlets are using TikTok to promote their content (The Economist launched a TikTok channel this week).
TikTok's emergence as an increasingly important news platform has raised concerns that it is, in the words of U.S. Senator Ted Cruz (R-TX), "a Trojan horse that the Chinese Communist Party can use to influence what Americans see, hear, and ultimately think.
Nana Li of the watchdog Corporate Governance Institute Asia is skeptical that the Chinese government is directing TikTok content. Given the popularity of TikTok outside of China, I don't think they're going to take that risk," she says. If they do, all Chinese companies overseas will pay a reputational price, and what's the point?"
Nonetheless, it's surprising that American teens' favorite access to entertainment - and now increasingly their favorite access to news - is, after all, run by China. Rasmus Nielsen of the Reuters Institute points out that most countries have regulations in place that go to limit foreign ownership of traditional media companies. In general, he notes, media mergers are subject to more scrutiny than other deals because once ownership is concentrated, it affects more than just product pricing. Social media platforms, by contrast, have few regulatory constraints in most democracies. Last month, Brendan Carr, a member of the Federal Communications Commission (FCC) appointed by Mr. Trump, called on Apple and Google to remove TikTok from their app stores, but the FCC couldn't force the companies to do so.
It is easy for institutions to monitor the content produced by traditional media like newspapers or television stations; but it is difficult for institutions to know what people actually see on their personalized social media. sputnik and Russia Today, Kremlin-linked news channels, were blocked in many Western countries in March this year after the EU said they had engaged in "systematic The EU said it had engaged in "systematic manipulation of information and disinformation" about the war in Ukraine. It's harder to know if TikTok users are being affected by "disinformation campaigns in favor of China," as Mr. Trump's executive order claims, and TikTok has promised to allow third-party review of its algorithms as part of its deal with Oracle.
Will this satisfy its critics? ByteTok is eager to build a firmer foundation for its international business. Even as TikTok's popularity soars, uncertainty abroad and domestic policies toward tech companies have somewhat affected its parent company. US investment manager Tiger Global has cut its valuation of ByteTok by about a third since the start of the year, to below $300 billion, according to the Wall Street Journal. There were rumors of an initial public offering last year, but that no longer seems likely. Last year, ByteDive founder Zhang Yiming stepped down as CEO and chairman.
Some at TikTok have compared the dilemma they face to the suspicion that befell Japanese companies in the West in the 1980s. But the reality is more complicated than that analogy. Last year, Mr. Biden signed an executive order setting out the criteria on which the government should base its assessment of the risks involved in apps linked to foreign adversaries, including China. The government is reportedly working on new regulations for foreign software that focus on data misuse.
CFIUS, the panel that unwound the Grindr acquisition deal, is also reviewing TikTok and is under increasing pressure to press for a report (six Republican senators sent a letter of urgency to the Treasury Department on June 24). The panel could order the revocation of the Musical.ly deal, which has been in effect for five years - which would make the situation extremely complicated, and the panel might even revive Mr. Trump's plan to force ByteTok to sell TikTok's U.S. business. Given TikTok's popularity, CFIUS might find that a more convenient solution would be some combination of both accepting the company's partnership with Oracle and opening the app's algorithms to external scrutiny.
However, China may not agree to those terms.In 2020, when Trump demanded the sale of TikTok's U.S. business, China passed a law classifying TikTok's recommendation algorithm as sensitive technology, which could prevent the company from selling TikTok to a foreign company. Adam Segal of the Council on Foreign Relations suspects that the law could also bar TikTok from allowing U.S. regulators to scrutinize its code more closely.
China would probably rather have TikTok pulled out of the US than hand it over. For its part, the U.S. could be faced with the choice of either losing the world's hottest app or ignoring the risks. At some point, Mr. Siegel said, "one side will have to compromise.