On June 13, Beijing time, users of the "truth social" app of former US President trump claimed that they were blocked by the social media platform after posting a post about the Congressional riot hearing on January 6. On January 6, 2021, a congressional riot occurred in the United States. Trump supporters marched against Biden's election as president and occupied the Capitol.
Trump was blocked by twitter, Facebook and other social media for inciting violence. On June 9, 2022, the special committee of the US House of Representatives, which was responsible for investigating the US Congress riots on January 6, 2021, held a hearing. It believed that the Congress riots were not spontaneous, but an "attempted coup". Trump's attempt to overturn the results of the 2020 US general election directly led to the Congress riots.
Travis Allen, a social media political commentator and self described information security analyst, said on Friday that his account had been permanently frozen due to the discussion hearing. "This is the so-called 'freedom of speech'. This is censorship!" Allen tweeted.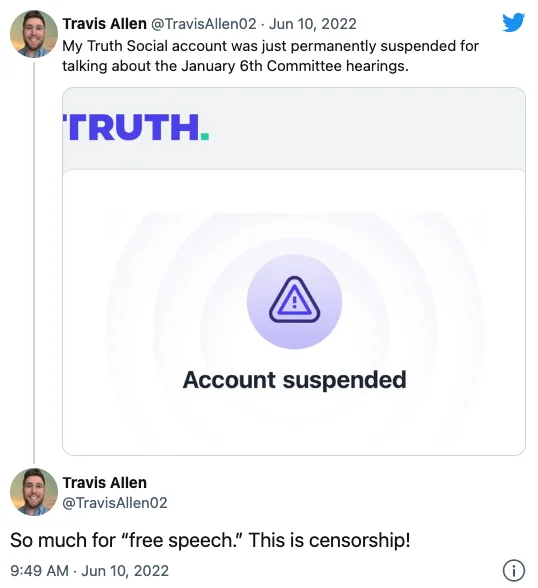 Allen said his account was blocked
Another twitter user, jackcocchiarella, claimed that he was banned after posting about the hearing. Other people claimed that they had recently been censored or frozen by the platform, one because they released a video of Trump's daughter Ivanka, and the other because they claimed that Biden won the 2020 general election.
The claims of these users cannot be confirmed at present. Trump media and technology group, the developer of the truth social application, has not yet commented.