The inflation data of the United States in may set a new 40 year high, reaching an increase of 8.6%, exceeding the previous market expectation of 8.3%, which dashed the previous hope of peaking inflation and triggered more pessimistic market sentiment. Cryptocurrencies also fell over the weekend As of press time, bitcoin quoted us $27300, down 3.73% today; Ethereum was at USD 1436.83, down 6.16%; The Wright coin fell by 5.93%; The security coin fell 5.76%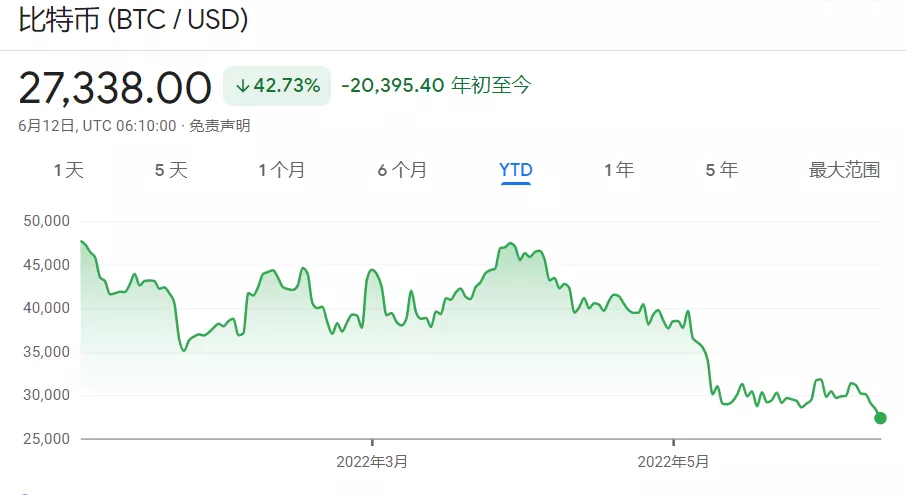 The US stock market ended sharply lower on Friday due to US inflation data, with the Dow down 880 points, the NASDAQ down more than 3.5% and the S & P 500 down 2.91%. Meanwhile, the yield of us two-year Treasury bonds has climbed to the highest level since 2008.
This also triggered the market "Hawk voice" expectations. There has been speculation about the Fed's next interest rate decision, and the rate increase may be significantly increased to 75 basis points.
For cryptocurrency, the downward pressure is further increased.
Vijay ayyar, vice president of enterprise development and international of encryption platform, said that the US inflation data was helping to promote the downward trend over the weekend. "We are likely to see that this bearish sentiment will continue until next week, especially when the FOMC meeting is about to be held."
The FOMC meeting will be held on the 14th to 15th of this month, and the interest rate resolution for June will be announced at 2 a.m. Beijing time next Thursday.
Ayyar also said: "if we look back at the previous bear market, bitcoin will usually fall by more than 80%, while other cryptocurrencies will usually fall by more than 90%... If this is still the case, we will see that the price of bitcoin is much lower than now in the next oneortwo months."
According to the data of coinglass, the total amount of long cryptocurrency clearing on Sunday exceeded US $100million for the third consecutive day, US $258million on on Friday and US $290million on Saturday.
The MVIs cryptocompare digital asset 100 index has fallen to the lowest level since January 2021. The index tracks the performance of 100 digital currencies with the largest market capitalization.