On Friday, U.S. time, the main stock indexes of U.S. stocks closed sharply lower, both the largest weekly decline since January this year, because the U.S. inflation data in may far exceeded expectations. The Dow Jones index closed at 31392.79, down 880 points, or 2.73%; The S & P 500 index closed at 3900.86, down 2.91%; The NASDAQ closed at 11340.02, down 3.52%.
Large tech stocks generally fell, Amazon and Netflix fell by more than 5%, Microsoft fell by more than 4%, Apple And Google fell more than 3%.
Leading chip stocks generally fell, with NVIDIA, applied materials and micron falling more than 5%.
Electric vehicle stocks generally fell, Tesla fell 3.12%, rivian fell 1.77% and Faraday fell 9.22% in the future; Weilai fell 3.61%, Xiaopeng fell 0.77%, and the ideal rise was 1.49%.
Most e-commerce stocks rose, with Alibaba down 0.05%, JD up 0.18% and pinduoduo up 2.13%.
Other popular Chinese concept stocks generally fell, including didi down 2.97%, baidu down 1.81%, manbang down 0.87%, Zhihu down 0.56%, boss direct employment down 0.17% and BiliBili up 3.08%.
Specifically, the main technology stocks in US stocks are as follows:
The main chip stocks in US stocks are as follows: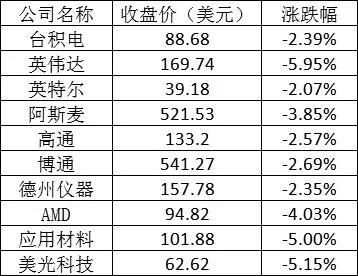 The main Chinese concept stocks listed in the United States are as follows: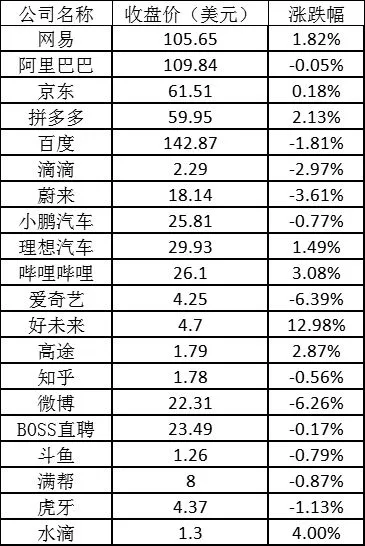 US stocks fell on Friday because investors worried that the US inflation rate rose more than expected in May, which would prompt the US Federal Reserve to tighten monetary policy more actively, which might trigger a US recession.
According to the data released by the US Department of labor, the US consumer price index (CPI) rose 1.0% month on month in May, much higher than the 0.7% predicted by economists; The year-on-year increase was 8.6%, the year-on-year increase was the highest in 40 years. The so-called core CPI of the United States excluding food and energy rose 0.6% month on month in May, slightly higher than expected; However, the year-on-year growth rate fell to 6% from 6.2% last month.
Although the Federal Reserve believes that the core CPI is a more accurate indicator of price trends, the soaring food and gasoline prices have triggered strong public and political protests against inflation.
Emily Roland, the joint chief investment strategist of John Hancock, an investment company, believes that since the latest CPI data in the United States has broken the view that inflation has peaked, the Federal Reserve may have to tighten policy "more vigorously than market expectations".
This week, the Dow Jones index fell 4.6%, the S & P 500 index fell 5.1% and the NASDAQ index fell 5.6%. The three major stock indexes of US stocks fell for the second consecutive week, the largest weekly decline since January this year.
(Liuchun)