Today is the tenth year since Apple announced the first MacBook Pro Model with a higher resolution retina display. Have you ever owned a machine that looks like a classic now Compared with previous models, the 15 inch retina MacBook Pro launched on WWDC in 2012 adopted a thinner design. Apple began to cancel the built-in Ethernet port, FireWire port and cd/dvd drive of the MacBook Pro Series in this model.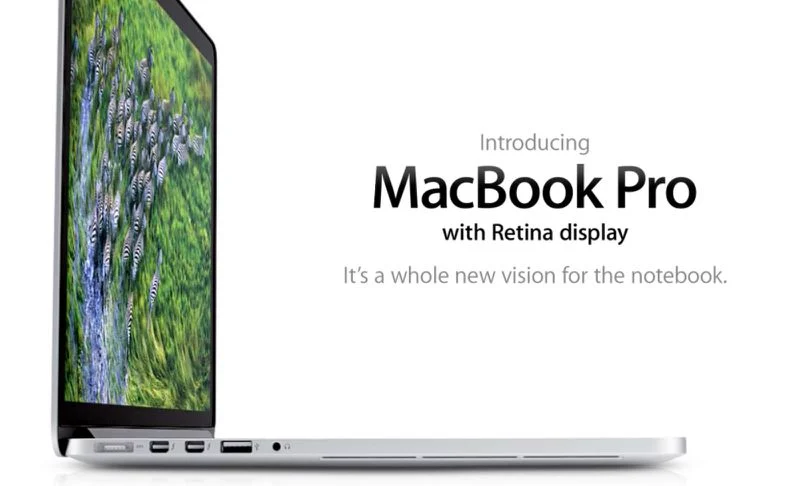 Nevertheless, the interface provided by this notebook is still very generous: it is equipped with two thunderbolt ports, two usb-a ports, one HDMI port, one SD card slot, MagSafe 2 magnetic charging port /85w charging head and a headphone jack.
Apple CEO Tim Cook was announcing the new macbook Pro's press release said: "the MacBook Pro with retina display has pushed the limits of performance and portability, which other notebooks do not have. The new MacBook Pro has a gorgeous retina display, a full flash architecture without mechanical moving parts, and a thorough lightweight design. It is the most advanced MAC in our history."
Apple said that the MacBook Pro with retina display had the highest resolution notebook display in the world at that time, with 220 pixels per inch. It is also the first MacBook Pro with flash memory, with a maximum capacity of 768gb, which also makes its design thinner and lighter. This notebook uses Intel's third generation Quad Core i7 processor, and is equipped with NVIDIA geforce GT 650m graphics card and up to 16GB of memory.
The first retina MacBook Pro was priced at $2199 in the United States. In October 2012, Apple released a 13 inch MacBook Pro with retina display, starting at $1699. Of course, these two notebooks have been on Apple's list of obsolete products for several years, but they are still commendable in terms of performance, Many users are still using it (the subsequent models in 2015 with upgraded configuration and unchanged chassis are more popular, and the price in the second-hand market remains high after several years).