During the 2022 financial analyst day, amd shared the new roadmap of server CPU to 2024 Although the details known so far are still quite rough, the four generations of epyc Siena family - epyc entry-level product line with up to 64 Zen 4 cores - is expected to come sometime in 2023.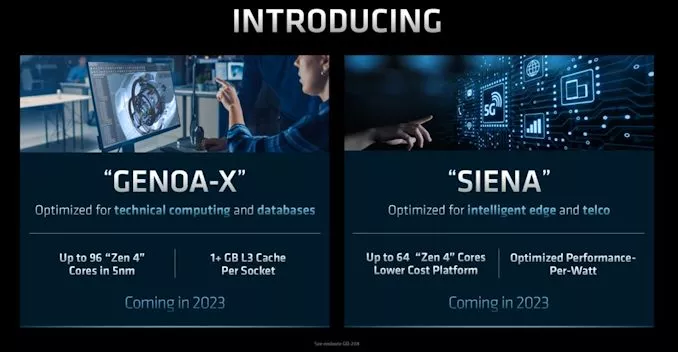 Unlike Genoa / genoa-x and Bergamo, amd said that Siena is mainly aimed at lower cost edge computing and telecommunications industries, and uses Zen 4 core @ TSMC 5nm and further optimized 4nm process nodes.
In terms of platform compatibility, it is rumored that Siena series (epyc 7004) may be compatible with the SP5 platform scheduled to be launched with Genoa in the fourth quarter of 2022.
The latter supports 12 channel ddr5 memory and PCIe 5.0. Whether AMD will "appropriately reduce" the feature set on Siena to significantly reduce costs remains to be tested.
Amd plans to launch the fifth generation epyc "Turin" product line in the second half of 2024.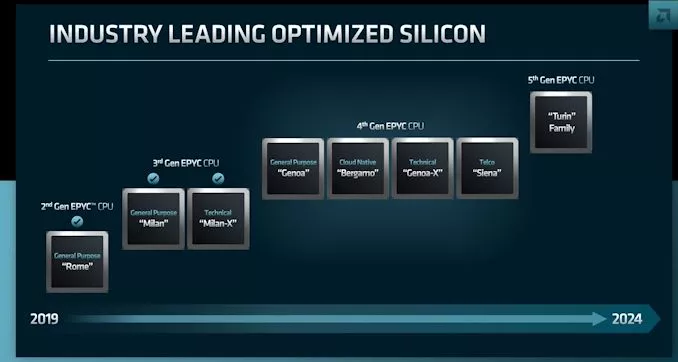 From the second generation epyc Rome in August 2019 to the epyc 7003 processor including Milan / milan-x, amd may launch the next generation epyc 7004 product line in the fourth quarter of 2022.
Genoa, which uses TSMC's 5nm process, has as many as 96 Zen 4 cores and is expected to be released in the fourth quarter of this year.
At the same time, the new generation SP5 platform will support 12 channel memory, PCIe 5.0 and compute Express link (CXL) memory expansion.
Then in the first half of 2023, we will welcome Bergamo (genoa-x and Siena will also be listed in 2023).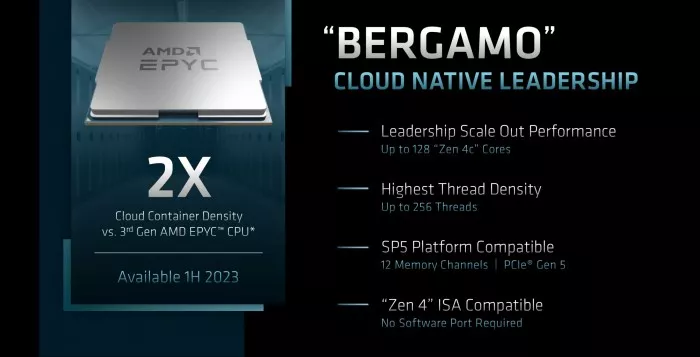 Genoa-x using TSMC's 5nm process will have 96 Zen 4 cores. With the blessing of 3D v-cache stack cache, the cache capacity of each CPU slot is expected to exceed 1GB.
Amd Siena will focus on low-cost platforms, with up to 64 Zen 4 cores, supplemented by optimized performance per watt, to make it more suitable for the edge computing and telecommunications markets.
As for the five generation epyc Turing product line, it is expected to be launched to the market sometime before the end of 2024. If existing naming conventions are followed, they may be classified into epyc 7005 family.
It is rumored that it will use a 4nm (or TSMC OEM) or even a 3nm Zen 5 kernel, supplemented by three derivative models: the Standard Version, the 3D v-cache version, and the Zen 5C.