Blizzard announced that Diablo: immortality is the best debut Diablo game in the history of the series. This free game has been installed more than 10million times Today, the official account of Diablo: immortality posted a tweet, announcing: "Hail to the heroes of the temple! In just a week, Diablo: immortality has been the largest release in the history of the series. Thank you for killing with us." The picture shows that Diablo: immortality has been downloaded more than 10million times.
It is worth mentioning that Diablo: immortality is the first free game in the series, while Blizzard compares the full price games previously sold in the series.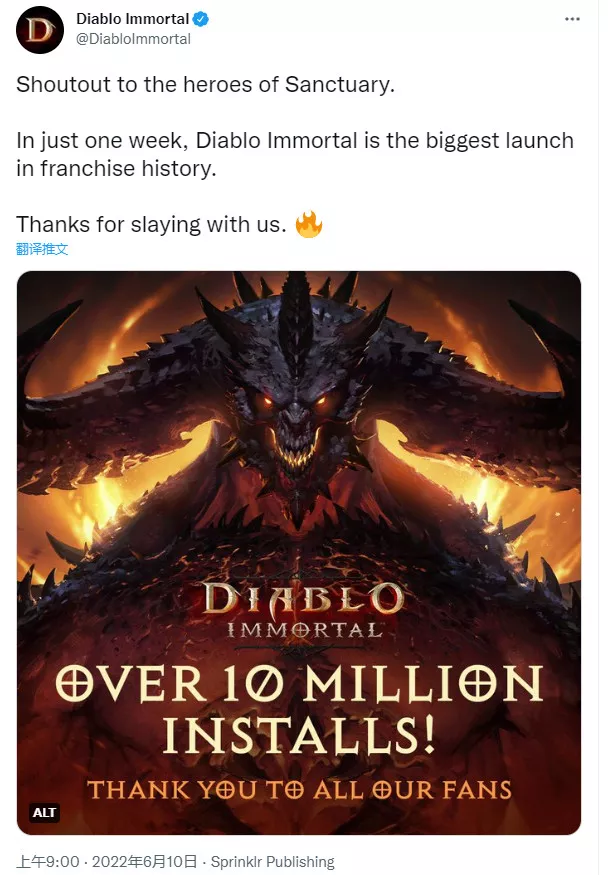 In terms of the number of lifetime players, there is still a big gap between Diablo: immortality and Diablo 3. In August, 2015, Blizzard announced that the sales volume of Diablo 3 exceeded 30million sets.
This free MMO landed on IOS and Android on June 2, and landed on the PC in the form of beta public beta. However, it was soon criticized by players for focusing too much on krypton gold. At present, the player scores of IOS and PC versions of the game on MTC are only 0.5 and 0.4 respectively, which is the lowest in Blizzard's history.
It should be noted that MTC user ratings do not require players to submit evidence of playing before commenting, and the recent controversy of Activision Blizzard may also have some impact.
In comparison, Diablo: immortality scored better on IOS app store and Google play store, with 4.6 and 3.6 respectively (full score of 5).