With the increase of Apple's orders in Vietnam, the competition among the OEM companies has become white hot. It is reported that liuyangwei, chairman of Foxconn, has publicly stated that competitors have established businesses near Foxconn's parks in Vietnam to poach the company's employees. "When these factories saw where Foxconn was building, they went to the factory to buy a piece of land. They wanted to take a ride in this way, and they quickly entered the market by recruiting Foxconn talents with high salaries."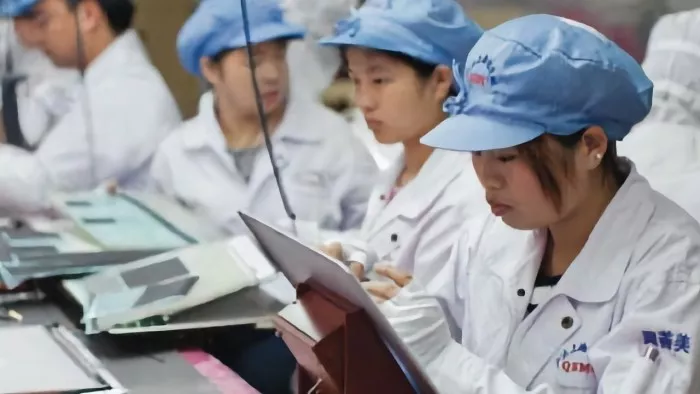 Foxconn confirmed the above remarks to the first financial reporter.
At present, Foxconn has about 60000 employees in Vietnam, which is also Apple's largest manufacturing base outside China. Liu Yangwei said that Foxconn would significantly increase the number of employees in Vietnam in the next one to two years, but did not mention specific figures.
"Fast food" Apple order
The reporter combed the global top 200 suppliers announced by apple in 2021 and found that among the 610 factories in the world, there are 259 factories in Chinese Mainland, accounting for 42.46%, 37 factories in Taiwan, China, accounting for 6.07%, and the factories in Vietnam are the largest among Southeast Asian countries.
From the perspective of trend, the number of suppliers setting up factories in Vietnam has gradually increased in the past four years. In 2018, there were only 14 suppliers, and by 2021, there were 23 suppliers, of which supply chain companies from China accounted for more than one third.
Apple CEO cook had previously said that he hoped to continue to expand the supply chain in Vietnam. At present, 160000 people from 31 companies in Vietnam have produced iphone、AirPods、iPad、HomePodmini、MacBook And other equipment.
In order to compete for more apple orders, while the OEM started the "talent competition" in Vietnam, the contradictions between them gradually emerged.
As the helmsman of Foxconn, Liu Yangwei, who has always kept a low profile, even publicly "shouted" to competitors, "don't follow Foxconn. To win Foxconn, we should rely on our own methods."
According to the information disclosed by Foxconn, its main competitors in Vietnam are respectively Tencent precision (002475.sz), goer shares (002241.sz), which produces airpods, and BYD, which is preparing to produce iPads.
According to financial reports and public information, Tencent precision cooperates with apple to produce wireless headset airpods. It has four main supply bases, three of which are in China and one in Vietnam. In recent years, it has increased its investment in Vietnam year by year. Goer Electronics (Vietnam) Co., Ltd. was established in 2012 with a registered capital of US $4million, and goer Technology (Vietnam) was established in 2019. In 2021, goer Technology (Vietnam) achieved a revenue of 20.651 billion yuan and a net profit of 1.28 billion yuan.
In addition, apple China supply chain company, which has set up factories in Vietnam, also includes Yutong technology, Lansi technology, Lingyi Zhizao, mayinson, Bourne optics, etc. From the business types of these manufacturers, the type of manufacturing plants in Vietnam has expanded from simple assembly and manufacturing to upstream parts, covering display panels, passive components, chips, glass, etc.
Intense competition
The combination of demographic dividend, cost advantage, young population structure and strong willingness to consume has given Vietnam the title of "Asian tiger".
CITIC Securities said in a report that from the perspective of the layout of major industrial chain companies, Asia is still the main focus area for consumer electronics manufacturing companies, but some leading consumer electronics companies have formed a global layout of East Asia, Southeast Asia, South Asia Manufacturing + Asia, Europe and the United States R & D + global sales.
For example, in the global division of smart phones, Europe and the United States mainly supply core semiconductor devices and precision communication devices, Japan and South Korea mainly supply panels, storage, CIS, MLCC and other core parts, while China focuses on parts, complete machine assembly and other fields, and the industrial supporting facilities in the middle and later stages are relatively perfect. India and Vietnam in Southeast Asia and South Asia mainly undertake consumer electronic parts and complete machines, the Philippines, Malaysia, Singapore Indonesia has its own emphasis.
In recent years, Vietnam's electronic industry chain has become more and more mature, and it also plays a more pivotal role in processing and transshipment in the global electronic industry chain.
It is worth noting that external uncertainties are also forcing supply chain manufacturers to make choices. For example, an industrial park in northern Vietnam has been vacant for a long time, but it has been filled up in recent years. Overseas customers' requirements for supply chain security include the option of "region".
For the OEM, the new area also represents new opportunities, but the time window is too tight, which also accelerates the friction between them.
As Apple's "leader" in the global assembly business, it was previously reported that Foxconn had set up a working group to "resist" Tencent precision. Although Foxconn denied this news, the comparison between the two companies has never been interrupted in the past few years.
With regard to the actions of Tencent precision in the field of OEM, Liu Yangwei once said at a financial statement explanation meeting that the relationship between Hon Hai and its customers was not formed in a day or two, and the company also made continuous efforts to keep ahead in new technologies.
"If the industry is booming, it means that the industry still has a head start. If not, it means that the industry cannot continue." Liu Yangwei said that it is very natural for the industry to increase competitors. As long as it is benign competition, I believe it will help the industry and become a driving force for industrial progress. He believes that the alliance of other manufacturers has limited impact on Foxconn.
But from this open "fire" on competitors, it shows that the pressure on Foxconn is increasing.
However, Liu Yangwei also said, "the Vietnam plant has a lot of relevant plans, and the production progress is no problem. It is just a misunderstanding that the process of spreading out is backward. In the future, it will continue to greatly expand its manpower. Please don't worry about it."