With the cryptocurrency market falling into a long period of downturn, many exchanges are also difficult to maintain the past scenery and dignity For example, last weekend, crypto Kris Marszalek, CEO of www.com, said with regret that the company would lay off 260 employees, accounting for about 5% of its total employees.
Access:
In a series of tweets on Saturday, Marszalek wrote:
We will continue to focus on implementing the existing roadmap and optimizing profitability during the period, such as through targeted tailoring of approximately 260 (5%) employees.

This was a difficult and necessary decision to ensure that crypto The long-term sustainable development of com.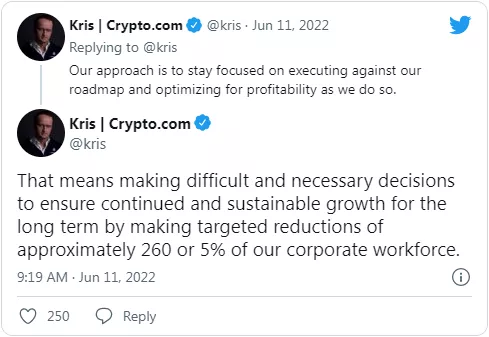 In November last year, the Singapore based cryptocurrency Exchange announced that it would purchase the naming right of the former Staples Center Stadium in Los Angeles for $700million.
During this period, the company also spent a lot of money on advertising, especially inviting the famous actor Matt Damon to speak for it.
However, affected by the outbreak of the conflict between Russia and Ukraine, high inflation and changes in the Fed's policies, many cryptocurrencies represented by BTC fell to the lowest point since 2020 on Monday.
Not to mention the crash and stampede of terrausd (UST) algorithm stable currency in May, which plunged investors into great panic (a loss of $200billion overnight).