Faraday future intelligent electric Inc. (NASDAQ: ffie) ("FF", "Faraday future"), a California based shared intelligent electric travel ecosystem company, today announced its fourth quarter and annual financial results for the year ended December 31, 2021. The financial results were delayed due to the investigation previously announced by the special committee.
According to the financial report, FF had a net loss of $516 million in 2021, including a total expenditure of $354 million, including R & D investment of $175 million, sales and marketing expenses of $17.12 million and management expenses of $97.91 million.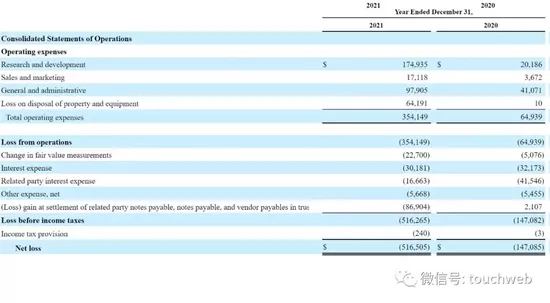 FF stated that the increase in operating expenses was mainly due to the increase in engineering, design and testing ("ed & amp; t") services as the Company re hired suppliers and provided services for ED & amp; T services has made a large number of purchases to promote the manufacturing of FF 91; The number of employees and employee related expenses increased significantly; Paid the license fee with sub license right for using a technology platform of Geely holdings; Increase in professional services and legal fees;
In addition, due to the redesign of FF 91 related parts and the implementation of FF cost reduction plan, some losses caused by the construction in progress of supplier molds, machinery and equipment related to FF 91 plan are abandoned.
FF had a net loss of $147 million in 2020, of which total expenditure was $64.94 million.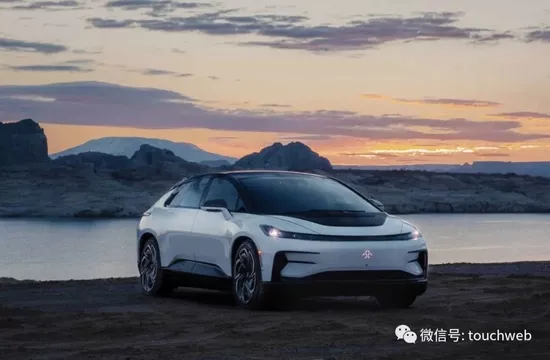 The change of FF's net loss in 2021 is due to the significant increase of operating expenses; Changes in the fair value measurement of the conversion premium included in notes payable and notes payable to related parties, changes related to the original issuance discount adjustment and changes in the fair value of warrants issued for specific borrowings; And losses on the disposal of notes payable to related parties, notes payable and accounts payable to suppliers because of the commitment to issue class a common shares at a price lower than the fair value on the disposal date when the merger with property solutions acquisitions Corp. is completed in July 2021 to dispose of certain notes payable to related parties, notes payable and accounts payable to suppliers in trust.
FF stated that the installation of test equipment was completed in the trial production construction area of Hanford manufacturing plant in the fourth quarter of 2021. The Hanford manufacturing plant covers an area of about 1.1 million square feet and is expected to be able to support the production of 10000 vehicles per year. According to the current schedule, FF management expects production at the Hanford manufacturing plant to begin in the third quarter of 2022.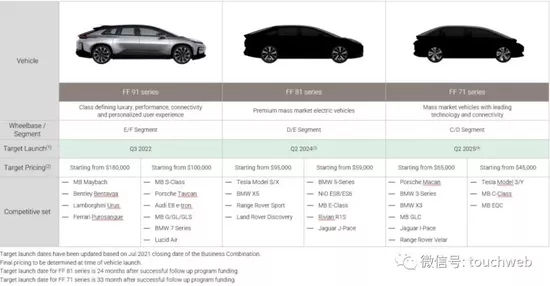 The number of car reservations as of March 31, 2022 is 401. The reservation has paid a deposit, the deposit can be refunded in full and is non binding. The reserved vehicle is the FF 91 futurist alliance and / or FF 91 futurist originally sold by the company to users in the United States and China.
Bi Fukang, Global CEO of Faraday future, said: "we made significant progress in the fourth quarter. We reached several important milestones in Hanford manufacturing plant, new primary suppliers and new partner agreements. In a challenging logistics and supply chain environment, we are working closely with our partners and continue to achieve delivery in the third quarter of 2022 as planned."
Dr. Bi Fukang further said: "In early 2022, we signed an agreement with Myoung shin to produce FF 81 in Korea to ensure that we will achieve mass production and cash flow break even in the future. We also obtained a sales license from California to allow us to sell our cars online in the United States. We are still confident that FF 91 will be delivered in the third quarter of 2022, when we expect Faraday future to redefine the most advanced intelligent electric vehicles."
Dr Bi Fukang added: "The special committee composed of independent directors has completed the previously announced investigation into the allegations related to historical disclosure and submitted its findings and recommendations to the company's board of directors. The board of directors has accepted the findings and the implementation of remedial measures is progressing smoothly. On behalf of the whole management team, I would like to thank the special committee, our financial and legal advisers and members of the board of directors for their hard work and their efforts to maximize the company Commitment to high ethics and standards of conduct. I would also like to thank all my colleagues, suppliers and investors for their support and trust. I believe this survey and the changes we have made will help us build a stronger and better company. "
As of December 31, 2021, the total asset value held by FF was $907 million, including cash held of $505 million, restricted cash of $25.39 million and deposits of $63.37 million.
As of March 31, 2022, FF had a cash balance of $276 million. The decrease in cash was partly due to the planned repayment of $97 million in notes and interest payable from December 31, 2021 to March 31, 2022.
Evergrande holds 20.5% and is the second largest shareholder
As of April 30, 2022, Evergrande holds 20.5% of shares through season smart and is the second largest shareholder; FF top holding holds 36.2% and foundation future credits trust holds 6.1%;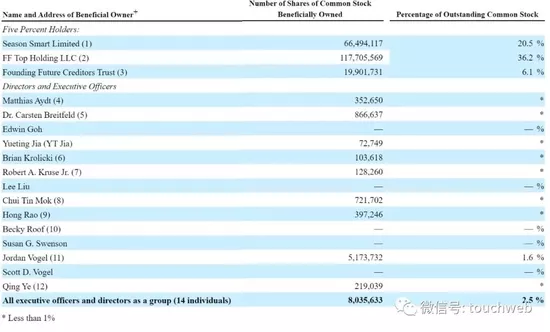 As of April 30, 2022, FF equity structure
FF top holding is controlled by Faraday's future management. Faraday's future management committee holds 80% of the shares of FF top holding through FF global partners, which holds 100%, and the other 20% is held by Jia Yueting's creditor trust.
Jordan Vogel holds 1.6%. Jordan Vogel was originally the chairman and co CEO of property solutions acquisition Corp, a "special purpose acquisition company" (SPAC).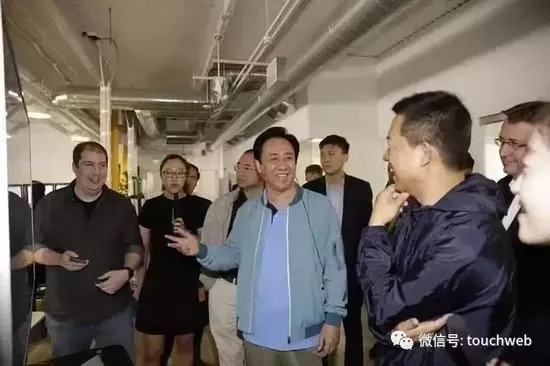 The reason why Evergrande became a shareholder of FF was that it took shares in FF in 2018, but Evergrande founder Xu Jiayin soon fell out with FF founder Jia Yueting. On December 31, 2018, Evergrande and FF controlled by Jia Yueting reached a restructuring agreement.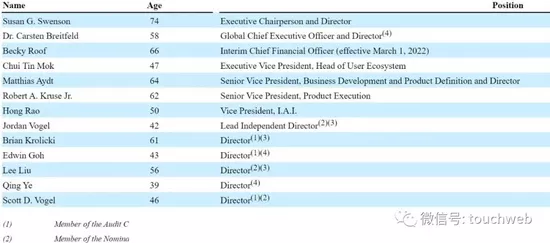 The reason why Jia Yueting doesn't directly hold FF is that in September 2019, Jia Yueting resigned as CEO of FF and became chief product & amp; user [office] of cpuo( https://microsoft.pvxt.net/P0JMe )r)。 FF then appointed Dr. Bi Fukang as global CEO.
In July 2020, the personal bankruptcy reorganization applied by Jia Yueting in the United States was completed, the reorganization plan officially took effect, and the creditor trust was officially established and put into operation.
FF lifting delisting crisis
FF was listed on NASDAQ in July 2021. The merger transaction will provide about US $1 billion for FF, including US $230 million in cash held by PSAC in trust. The first flagship product FF 91 will provide financial support for large-scale mass production and delivery within 12 months after the end of the transaction.
In October 2021, FF was maliciously shorted by the shorting agency J capital research. In the short report, J capital research said FF would never sell cars, and said that Jia Yueting, the founder of FF, still controlled FF through FF's Global Executive Committee.
After the short report came out, Jia Yueting hit back at the first time. Jia Yueting said that the short agency's remarks were hot speculation and nonsense.
However, in February 2022, FF said that Brian Krolicki, as the head of the company's top management organization, had stepped down as chairman of the board due to some weaknesses in the company's control and culture.
FF said that the board of directors appointed independent director Susan Swenson as the executive chairman, Dr. Bi Fukang, FF's Global CEO, and Jia Yueting, FF's founder, chief product and user ecology officer, directly reported to executive chairman Susan Swenson, and their base salaries were reduced by 25%.
In April 2022, FF received a letter from the NASDAQ listing qualification Department indicating that FF had not submitted its annual report on form 10-K for the fiscal year ended December 31 ("form 10-K"). The company does not comply with the continuous listing provisions of the NASDAQ listing rules.
According to the announcement, FF submitted a notice of delayed filing of form 12b-25 to the securities and Exchange Commission on March 31, 2022, announcing that the company was unable to file form 10-K within the specified time. The company needs more time to complete the additional investigation and remedial work recommended by the special committee of independent company directors, and complete the company's financial statements and the quarterly report on form 10-Q and relevant disclosure on form 10-K for the period ended September 30, 2021.
NASDAQ also informed FF that failure to submit forms 10-Q and 10-K for the third quarter on or before May 6, 2022 will lead to delisting notice of the company's securities.
With the release of the third quarter financial report of 2021 and the annual report of 2021, FF's delisting crisis can be lifted.
Up to now, the share price of FF is US $2.46 and the market value is US $744 million, which is far from the US $4.5 billion when it was listed.
Recently, American electric vehicle company rivian has also released financial reports. The financial reports show that rivian has no revenue in 2019 and 2020, and its revenue is US $55 million in 2021; The net losses were US $426 million, US $1018 million and US $4688 million respectively.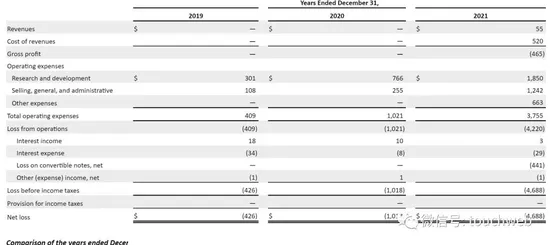 Rivian's revenue reached US $95 million in the first quarter of 2022, with a net loss of US $1593 million; There was no revenue in the same period of last year, and the net loss was US $414 million.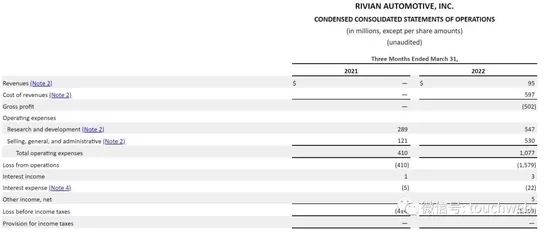 As of March 31, 2022, rivian held cash and cash equivalents of US $16.432 billion, compared with us $18.133 billion in the same period of last year.
As of today, rivian's share price has rebounded to $26.7 one after another, with a market value of $24 billion, but the market value still fell by $100 billion compared with the peak period.
The first is canoo, an electric vehicle company. After going public, canoo is falling into a survival dilemma.
According to the financial report submitted by canoo, canoo currently has no revenue. Canoo's operating loss in the first quarter of 2022 was US $140 million, compared with us $97.07 million in the same period last year.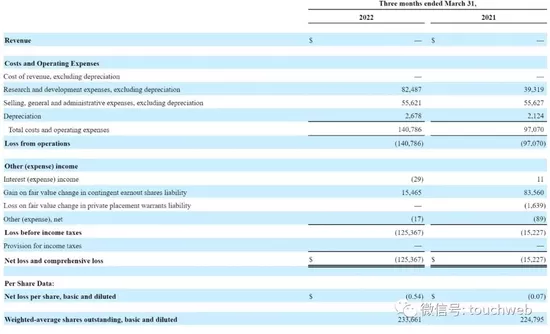 As of March 31, 2022, canoo held us $105 million in cash and cash equivalents, US $3.45 million in restricted cash, US $224 million in assets and equipment, and US $420 million in total assets.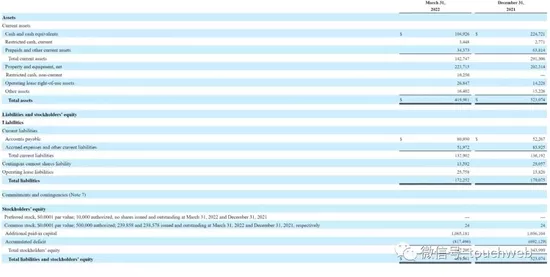 Canoo pointed out in the financial report that the company's management analyzed the ability of going concern and found that there were major doubts about the ability of going concern.