One wave in the cryptocurrency world has not yet subsided, and it seems that one mini-storm is always playing the prelude to a bigger hurricane.
In mid-May, investors were still reeling from the "death stampede" that hit stablecoin UST and its sister token Luna, but overnight crypto-lending giant Celsius' The extreme actions of crypto lending giant Celsius overnight have sparked renewed panic in the market, with investors worried about whether its shareholder Tether Limited, the issuer of the world's largest stablecoin, Tether, will "lose everything" as well.
If the Celsius crisis is compared to the Bear Stearns incident, then Tether is definitely a Lehman-level cryptocurrency, and its influence should not be underestimated.
And it all starts with the latest inflationary explosion in the US.
The US CPI data of 8.6% for May once again set a new 40-year high, and the subsequent market expectations of a hawkish Fed rate hike sent global risk assets diving en masse. Not only did stock markets bear the brunt of the fall, but cryptocurrency markets were not immune as well. Bitcoin plunged straight to its lowest level in about 18 months, falling below $23,000 for the first time in a year and a half.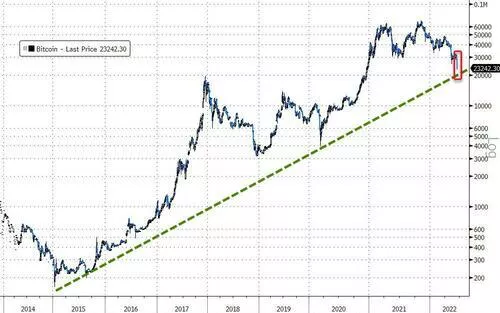 And among other things, the Celsius freeze on withdrawals has further fueled fears in the cryptocurrency market, sending the decline spiraling downward.
Crypto Lending Giant Freezes Withdrawals
On Monday Celsius announced that "due to extreme market conditions, " the company will suspend all withdrawals, swaps and transfers between accounts.
The company's website shows it had $11.8 billion worth of assets as of May 17, which is down significantly from more than $26 billion last October, but Celsius is still seen by investors as a cryptocurrency bank in terms of size.
Celsius is not to be underestimated in the industry. The company claims to have 1.7 million customers and advertises to users that they can earn an 18% yield through the platform. Users deposit their cryptocurrencies with Celsius, which are then lent to institutions and other investors, and then the users earn from the revenue Celsius earns.
And more importantly, according to Celsius CEO Alex Mashinsky, they are involved in almost all major "decentralized finance (DeFi)" agreements.
This is why the Celsius incident has struck fear into the hearts of investors. If such large cryptocurrency banks fail to reopen and allow withdrawals, there will be a ripple effect throughout the cryptocurrency market, as there is no telling who will be the next "Waterloo" drama.
Specifically, if Celsius is required to cease operations, dozens of related DeFi projects, cryptocurrencies and other digital assets will "all be lost".
Rasheed Saleuddin, head of research at Blockworks, a crypto media company, said.
We're certainly seeing some contagion ...... Transparency is the key to the shadow banking market.
In fact, Celsius has long been under the scrutiny of U.S. regulators for allegedly selling unregistered securities to investors. While Celsius has said in court filings that it is trying to negotiate settlements with the relevant agencies, enforcement actions were taken against Celsius in New Jersey, Kentucky and Texas last year. Two months ago, Celsius announced it was banning U.S. investors from earning proceeds from new cryptocurrency deposits.
Will a massive run finally take place?
The Fed's expected rate hike alone is not enough to fully explain Celsius' sudden collapse, and some analysts are already pointing the finger at the company's investment in "Lido Stake Ethereum".
The investment earns returns by locking Ether into so-called smart contracts, Marcus Sotiriou, an analyst at digital asset firm GlobalBlock, said Monday, adding that Celsius holds a position of about $1.5 billion in Stake Ethereum.
In recent days, however, there has been a significant discrepancy between the price of the pledged Ether and its underlying tokens. So according to Sotiriou's point mentioned in the research note, this "raises concerns that Celsius will run out of liquidity for customers to complete their redemptions if they attempt to redeem their positions. "
And a massive run on users could force Celsius to liquidate its assets, thus allowing all of the company's investments to begin to come under pressure together. To this Sotiriou added that Celsius' liquidity is expected to be depleted within five weeks.
So that's why Celsius said the decision to suspend withdrawals was essential to "stabilize liquidity and operations".
Nexo, a competitor of Celsius, has now announced on Twitter that it is prepared to acquire all of Celsius's "remaining eligible assets," which it defines as "primarily their mortgage portfolio." A Nexo spokesperson confirmed the tweets, which were posted on Twitter in a letter of intent outlining the acquisition plan.
Nexo also said they had reached out to Celsius "but our help was declined," and a Celsius spokesman said in an email that the company has a "strong liquidity and equity position."
Ayyar stated.
Celsius news adds fuel to the fire and increases uncertainty in the market. With the market set to watch the pace of the Fed's rate hike this week, coupled with concerns over agreements to offer high-yield products, cryptocurrencies are under a lot of pressure on their prices.
In short, unlike bank assets, cryptocurrency assets are not federally protected and therefore cannot effectively prevent a run from occurring. At that point not only Celsius but probably the entire cryptocurrency market will witness firsthand how a run on a cryptocurrency bank can play out in the midst of a price decay.
Celsius pulls the plug on Tether? Liquidity crisis "already in the shadows"?
The immediate situation is that Celsius, a member of the cryptocurrency banking industry, is already on the brink of danger, following the crisis of the stablecoin UST and its sister token Luna in mid-May.
And now more concerning to the market, will its shareholder Tether Limited - the issuer of the world's largest stablecoin, Tether - also be dragged down?
After all, in the cryptocurrency world, Tether is the one that exists like Lehman Brothers. It is the largest operator in the $180 billion stablecoin space and plays a key role in facilitating trading across the cryptocurrency market, as well as providing a link to the mainstream financial system, the equivalent of the cryptocurrency financial infrastructure.
On Monday, Tether tried to "distance" itself from Celsius in a blog post.
While it is true that an investment in the Company (Celsius) is included in Tether's portfolio, it represents only a small portion of our shareholders' equity and there is no correlation between this investment and our own reserves or stability.
In response, Saleuddin of crypto media company Blockworks said, It is impossible to know exactly how much of Tether's assets are at risk because of the ambiguity of what Tether has disclosed.
Saleuddin mentioned.
But we do know they hold tokens, precious metals, a fair amount of low grade commercial paper, and all have ties to Celsius ...... What does it take to run on Tether? The truth is we don't know.
Eventually, if Tether also runs out of liquidity, the cryptocurrency world may play out a "Lehman crisis", and who will be able to leave the market safely then?
Risk Warning and Disclaimer
The market is risky and investment requires caution. This article does not constitute personal investment advice and does not take into account the particular investment objectives, financial situation or needs of individual users. Users should consider whether any opinions, views or conclusions in this article are appropriate to their particular circumstances. Investment on this basis is at your own risk.