When you think of LV, are bags the first thing that comes to your mind?
Indeed, LV started out as a travel luggage company. LV has always been "on the go" to this day.
What many people don't know is that LV 'on the road' doesn't just make bags, they even make a set of travel books.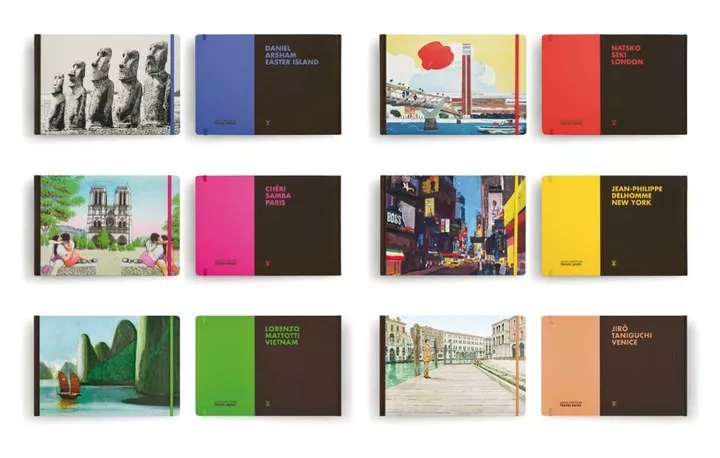 This travel book series, soon to turn 20 years old.
Recently, LV has chosen the Mediterranean, a travel mecca, as the theme for a book that opens up a dreamy artistic journey.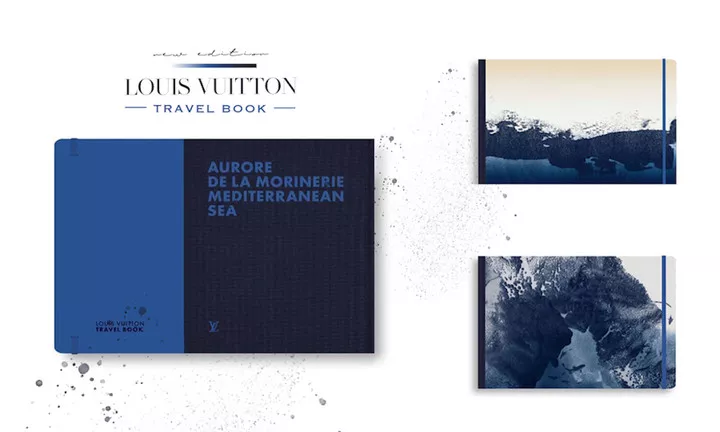 A poetic journey to the Mediterranean
LV has invited French artist Aurore de la Morinerie to collaborate on its latest book, the Mediterranean Travel Book, which retails for $360.
He is good at expressing the beauty of the scenery in the most "natural" way, and also presents a different style of the Mediterranean.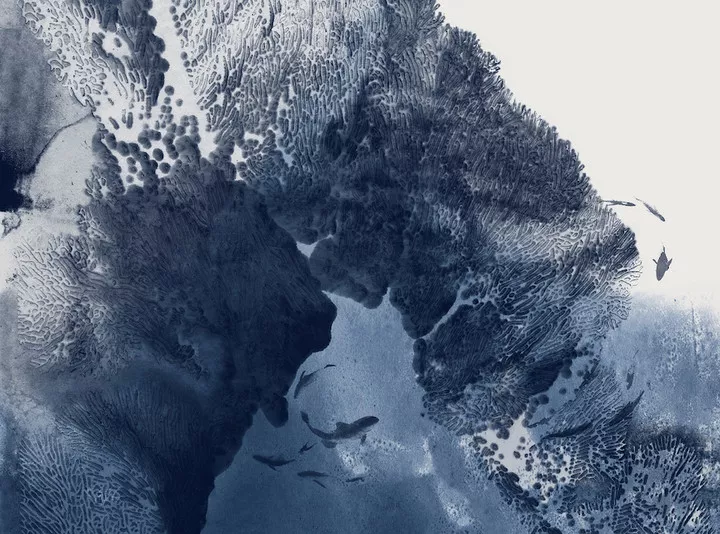 With his own brushstrokes rich in Eastern Zen aesthetics, he presents the beauty of nature from the bottom of the sea to the sea.
A deep blue charm, a whole sea of poetry.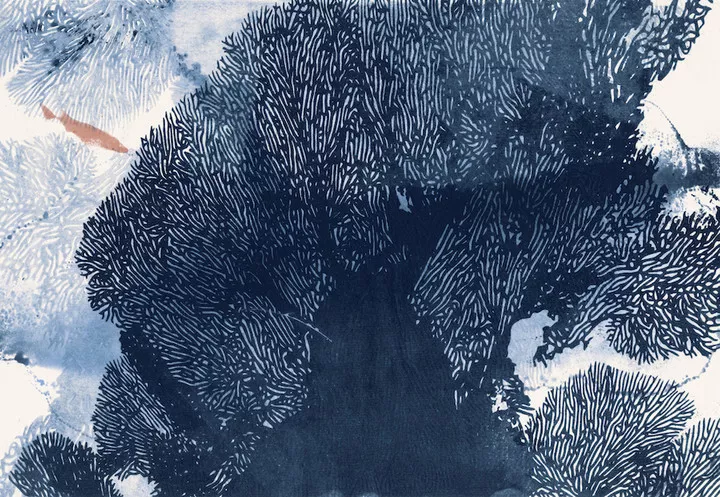 Immerse yourself in the most vast inland ocean and its ecosystems on Earth, from the mysterious and secluded seabed to the wonderfully magnificent ocean surface.
It makes you want to shout "I want to go on a trip!"


The theme of "nature" runs through almost all of Aurore de la Morinerie's work.
Born in 1962 in Saint-Lô, France, this artist specializes in the ethereal representation of the world as seen through the eyes. Her illustrations resemble traditional Chinese ink paintings.

Her creative aim is to 'simplify the visible world'.
Outlining the subject in ink, haloing it into a figurative form and then outlining the accent with simple lines, large areas of white space give Aurore de La Morinerie's work a spiritual quality.
The brushstrokes also carry a distinctive oriental Zen feel.
It is said to have been inspired by Chinese landscape painter Shi Tao's (1642-1707) theoretical work on painting, The Monk of Bitter Gourd Painting Records, as well as other Asian literary and artistic works.

Aurore de La Morinerie loves oriental art and has a collection of oriental literature in her home. She has also studied calligraphy and Chinese oil painting.
She combines the delicacy of the East with the romance of the French, creating an ethereal, pure and unique form of expression.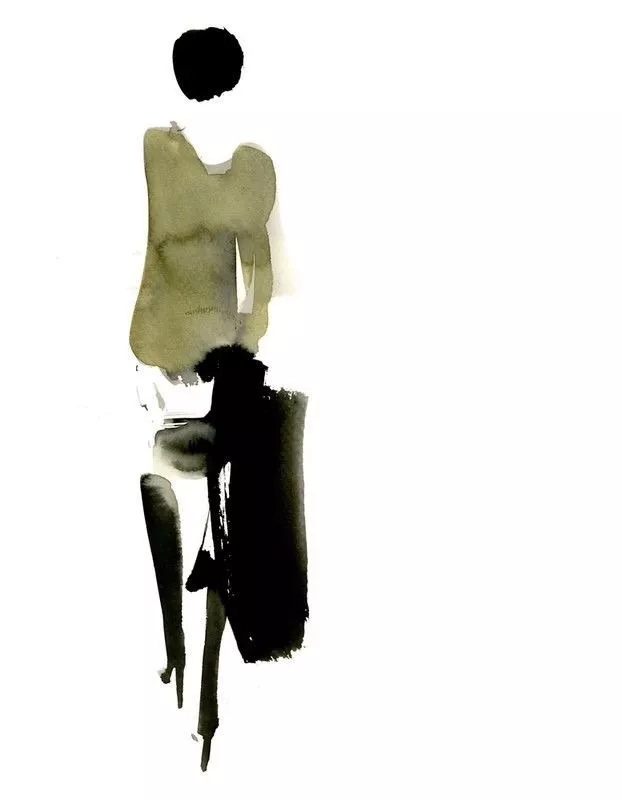 Looking at her work is like reading an old Chinese poem, very poetic and natural.
"Painting and nature are both meditative and contemplative, and I've loved being outside of things since I was a child," says Aurore de la Morinerie.
LV Traveling the beautiful world of books
How do you influence a person's thinking and lifestyle from the core? Books are certainly one of the most profound ways.
There are no shortage of examples of brands making books these days, which allows the spirit of the brand to reach people not only through the product design, but also through the books and the lifestyle behind them.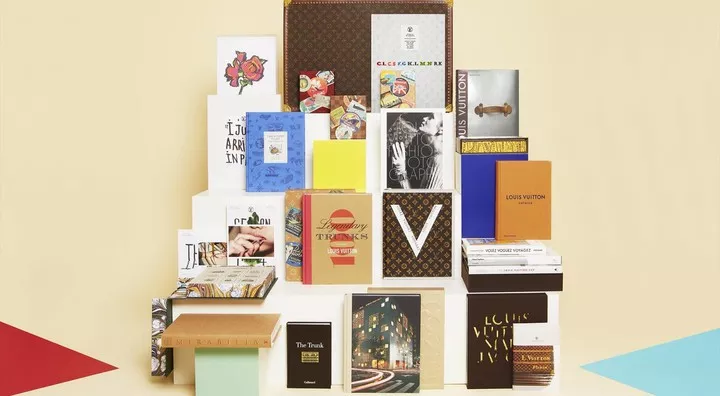 LV wants to lead a lifestyle that is full of art, quality and style.
In addition to this Mediterranean art trip, the LV Travel Book series has had many interesting curations and has come to Shanghai, China.
Join us as we follow the artist's eyes to see the beauty of a new perspective!
London Travel Book, by Natsko Seki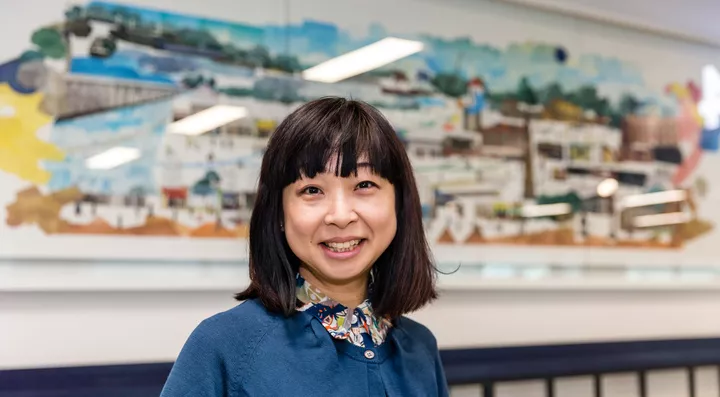 Natsko Seki, a mischievous and imaginative illustrator, has interpreted London in her colourful style.
She uses illustration, hand-drawing and photography to speak of a somewhat retro, yet stylish, London sensibility.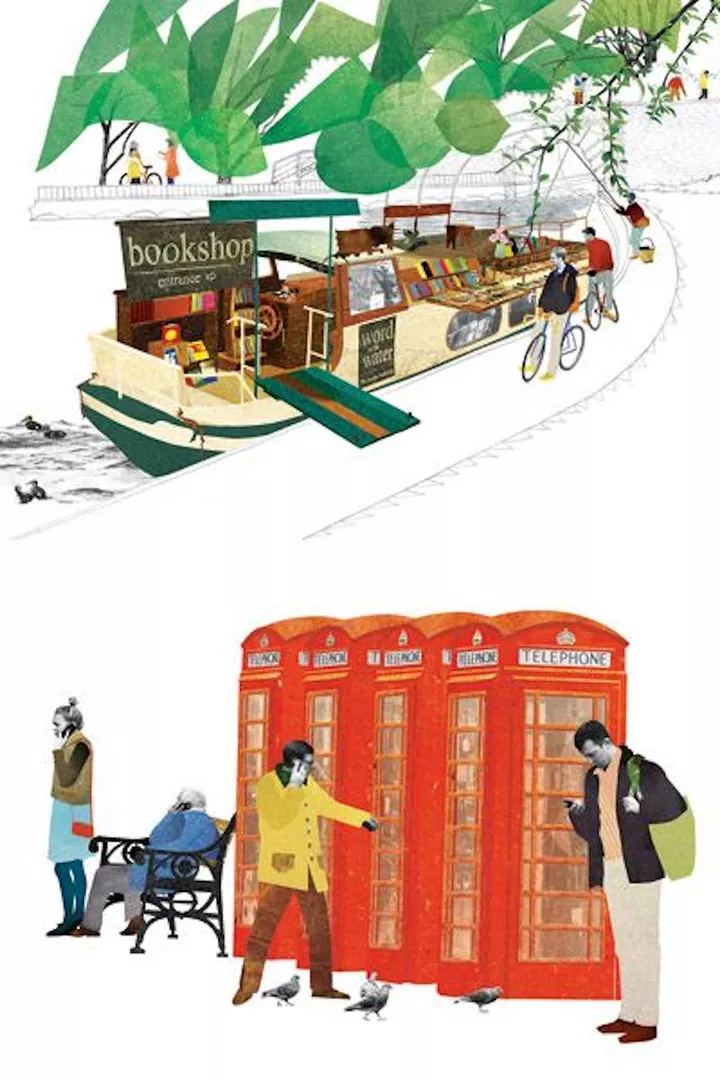 The interplay of black and white collage and vibrant colours gives a sense of the great cultural mix and the buzz of London.
Her photos are of her everyday life, including time with friends, her husband and children, and the appearance of strangers on the street.
This is a very life-affirming travel book that gives a different understanding of the mysterious and interesting city of London.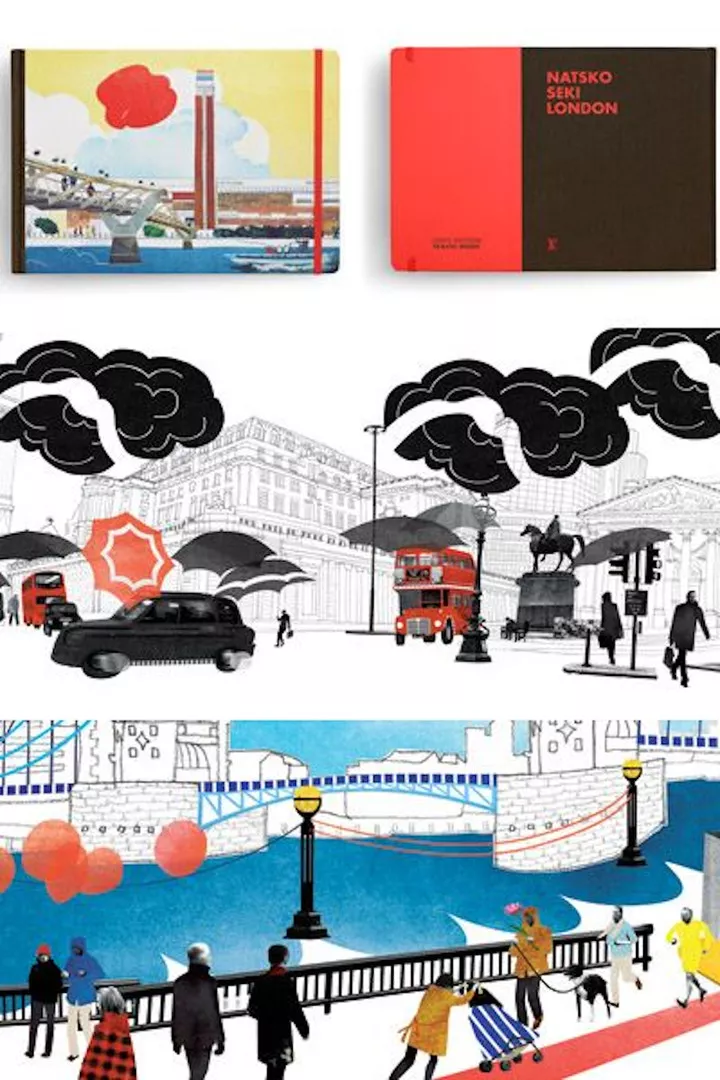 New York Travel Book, by Jean Philippe Delhomme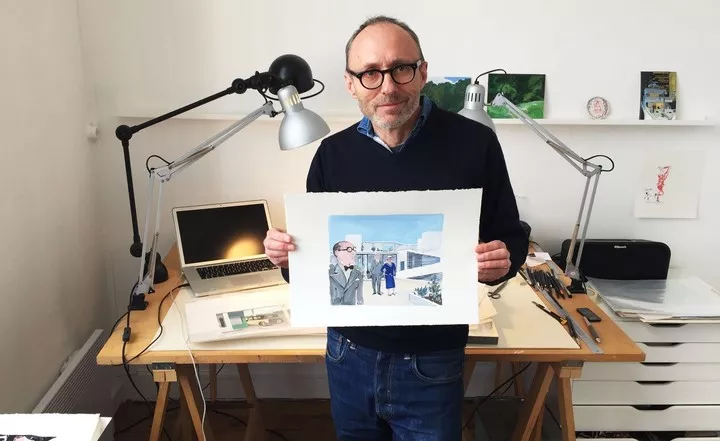 Parisian painter, Jean Philippe Delhomme, specializes in illustrating the world of everyday life and fashion.
His penchant for using printed images as a creative element is an elusive and idiosyncratic style.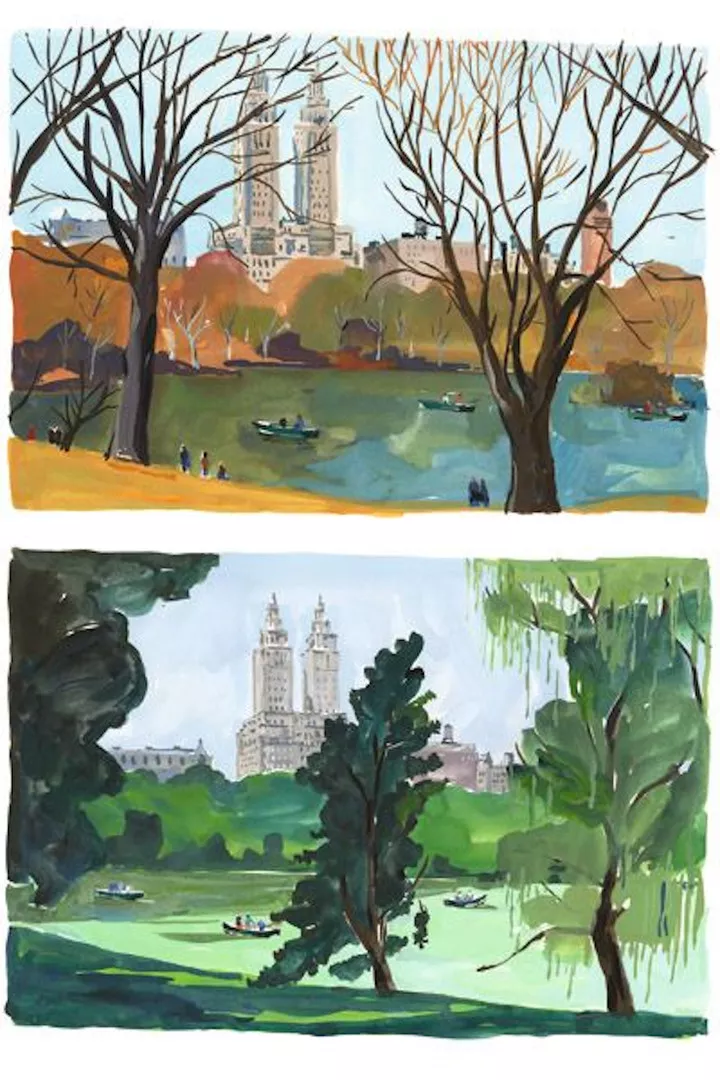 He was a very warm and fun person who loved to use multi-layered colorful compositions to convey a pleasant and warm atmosphere.
For this New York Travel Book, he also uses alternative humor to capture the city in all its glory, describing the details of New Yorkers' daily lives, as well as the dreams of fashionable urbanites and the glitz and glamour of the mundane world.
Paris Travel Book, by Chéri Samba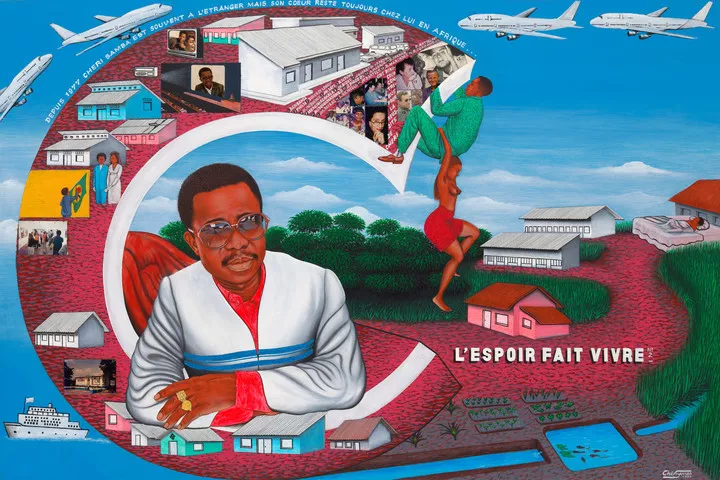 Born in the Democratic Republic of the Congo, Chéri Samba is truly a master of his craft.
With his "bold and alternative" style, he was invited to illustrate the Paris Travel Book, expressing his understanding of Paris.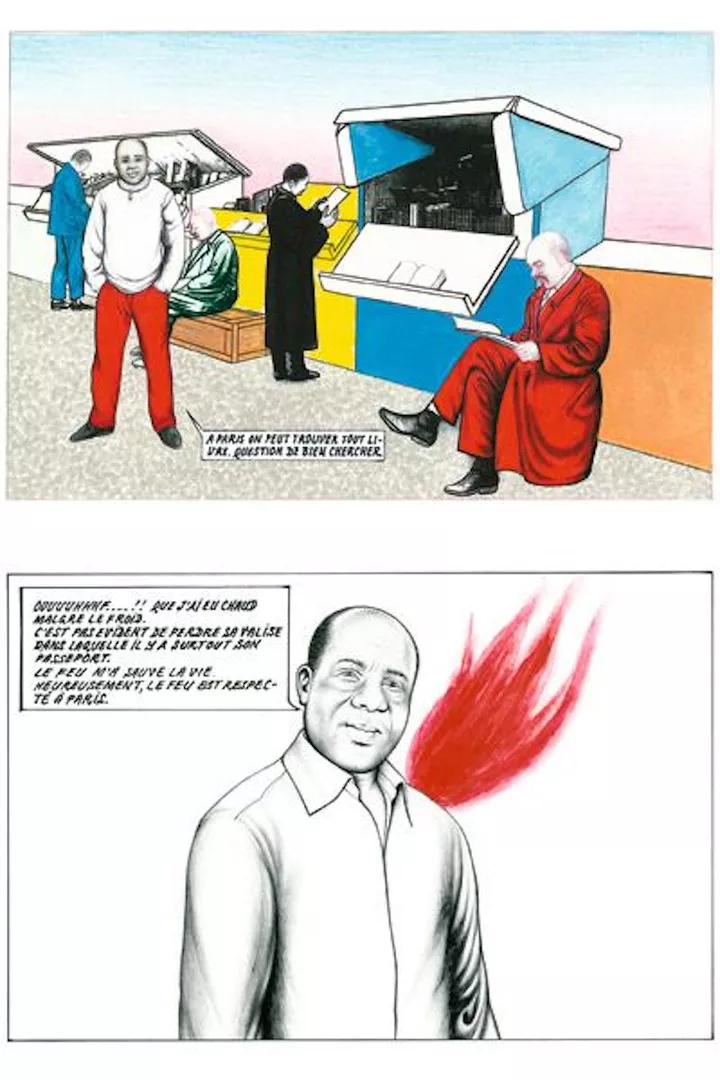 In this travel book, he goes beyond portraying the normalities of life and explores topics such as disease, equality, power, corruption, jealousy, sexuality, and international current events.
It's a more outspoken artist.
Probably because he didn't want the art to be too involved with politics, he ended up using more "positive" colors and beadwork to slightly soften the pungency of the work.
It is also this ambivalence and sensitivity that has made Chéri Samba a major figure in the contemporary art scene.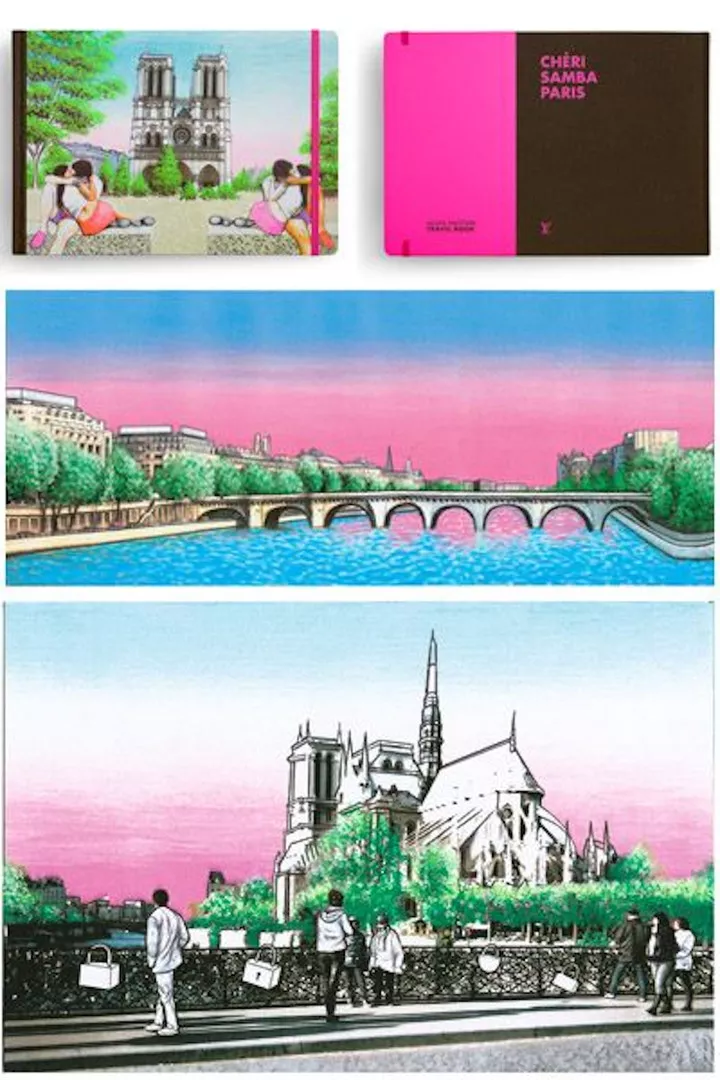 Shanghai Travel Book, by Otobong Nkanga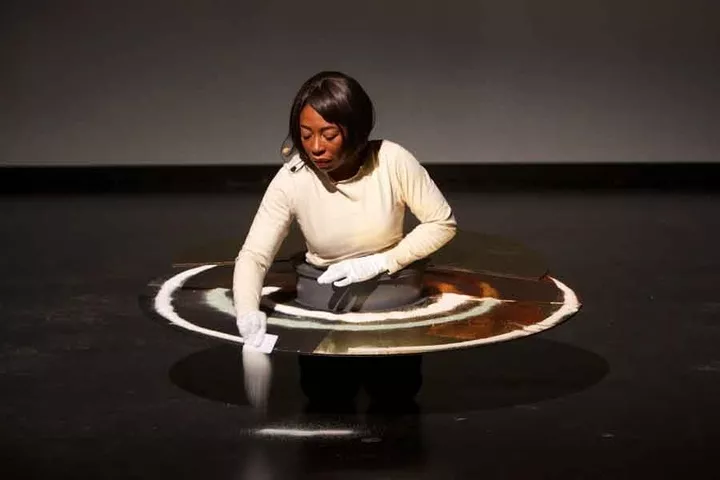 Otobong Nkanga was born in Nigeria and spent her childhood in Africa, giving her a heavy love for the land and nature.
Wherever he goes, Nkanga loves to explore the land.
She loves to weave through the organic matter of the earth, exploring core samples of geology and carving out rock formations hundreds of years old.
Like an archaeologist, she explores the roots of the earth and life, creating work that makes you go back and think about life.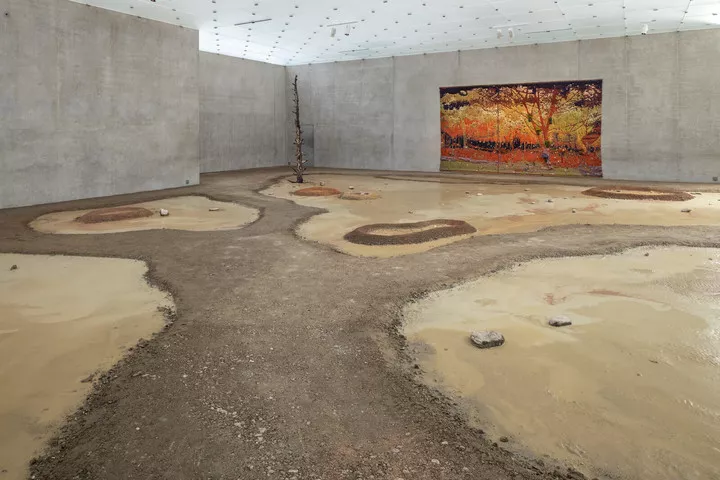 Shanghai, a city of light and a city of dreams, is modern and dazzling.
In Shanghai Travel Book, Otobong Nkanga offers a subtle and alternative view of the magical city of Shanghai.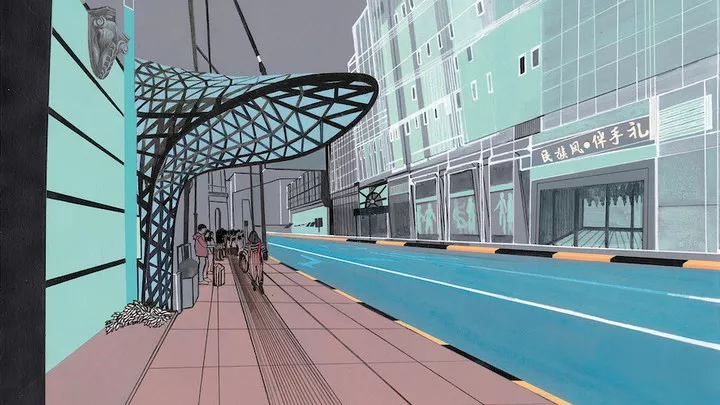 Nkanga departs from a boutique hotel on the banks of the Huangpu River, looking out over the Pudong skyline and finally settling on the impressive Shanghai landmark building.
Using her "archaeologist's" keen sense, Nkanga studied the geography of Shanghai, breaking down a bustling city and streets with geometric shapes through an intricate network of interlocking roads.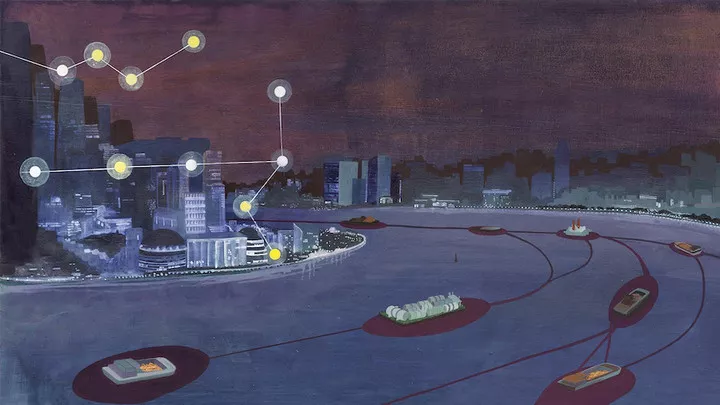 "Painting for me is about organizing things in space to create a world that can be presented as gouache, sculpture or installation art." -- Otobong Nkanga
Books for LV
Books have always held a special place in the history of Louis Vuitton.
When the Champs-Elysées store opened in 1914, it had a luxurious reading room where customers could relax with a book.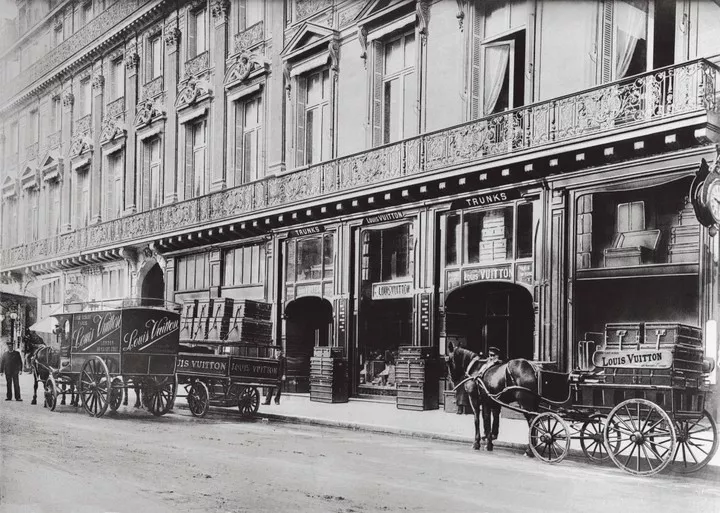 The LV Group has been involved in publishing since the late 1990s and has launched three popular travel book series: City Guides City Guides, Fashion Eye and Travel Book.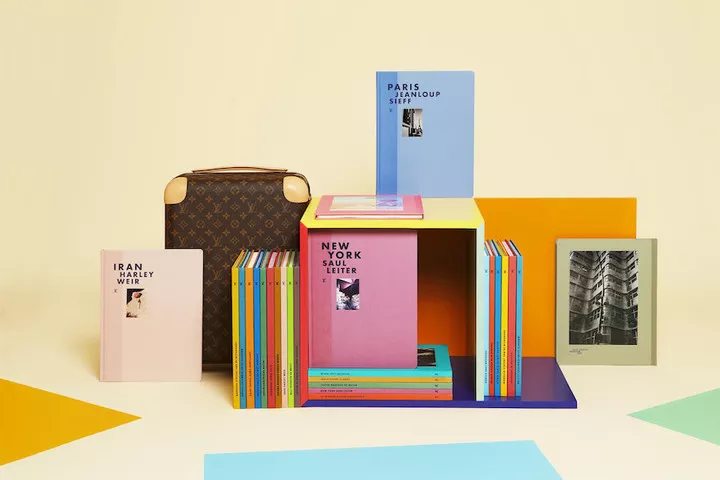 The City Guides series, published since 1998, collates and collects all the can't-miss places to visit in the world's top cities, including Beijing, Paris, Seoul, Tokyo, and New York.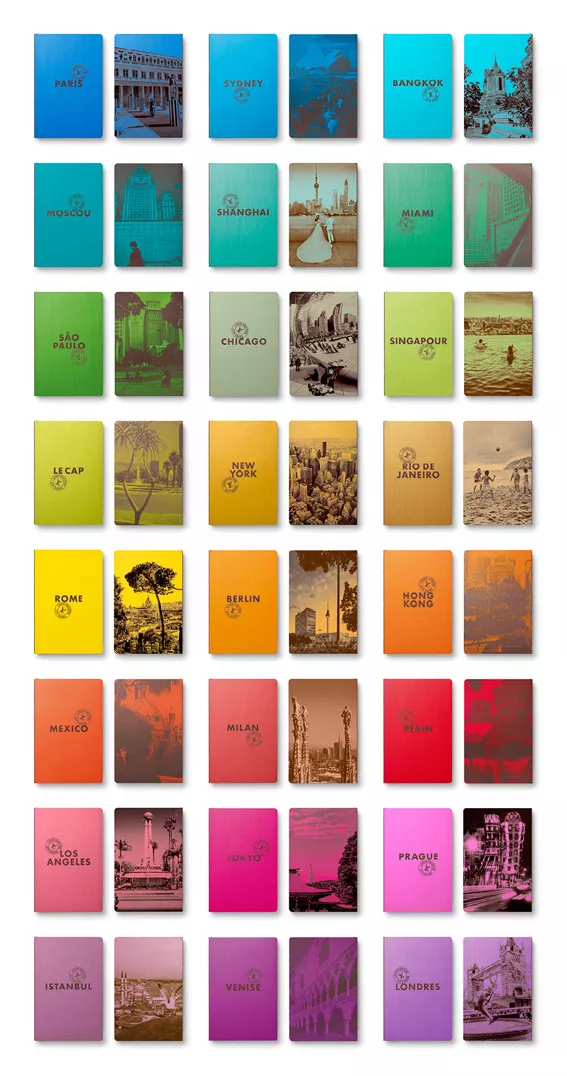 Each book features a guest contributor who takes readers on an exploration of their hometown and shares their own knowledge and love of the city.
It's kind of like a "LV Review", I guess, to help you eat and sleep well in a city.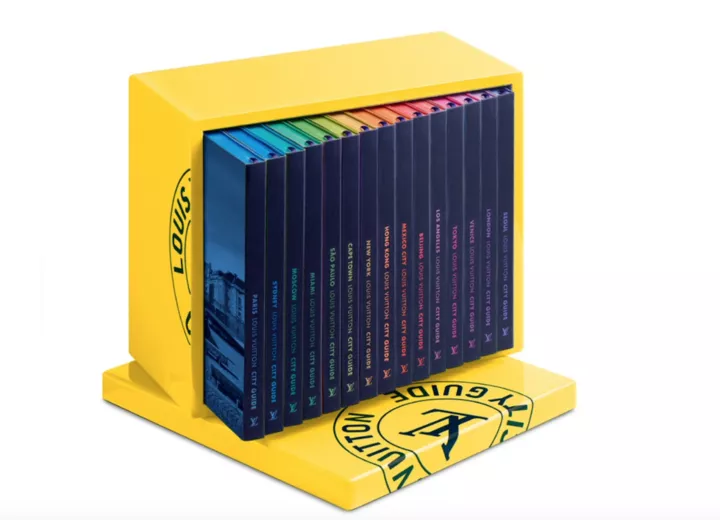 The Fashion Eye series, on the other hand, focuses more on the human aspect of each city, expressed through a single photograph.
Experience a city through the lens of a special guest fashion photographer and put on an artistic filter.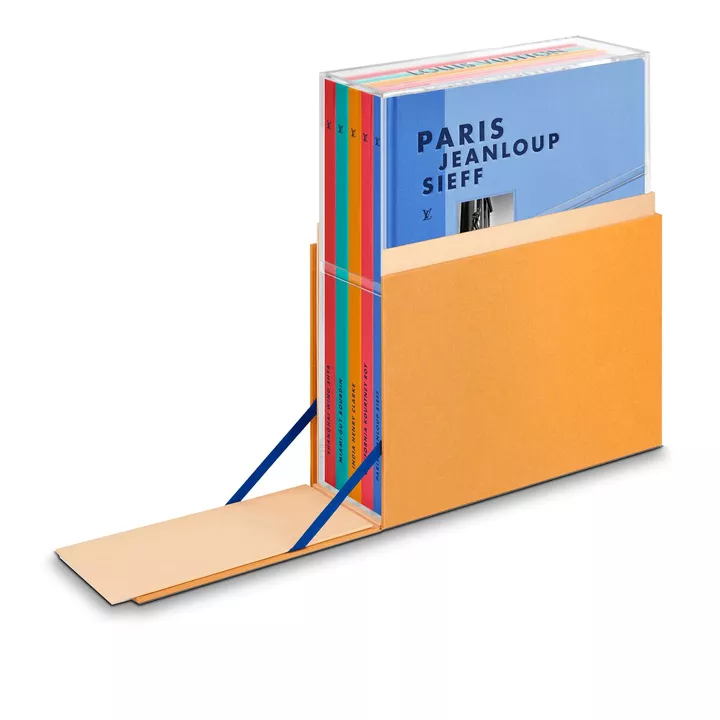 The Travel Book series, published since 2013, invites artists in a variety of disciplines and styles to create art on the theme of well-known cities and places of interest.
The artists will express their understanding of the city in a variety of forms that we would not expect, including ink and watercolor paintings, collages, modern art, cartoons, and comics.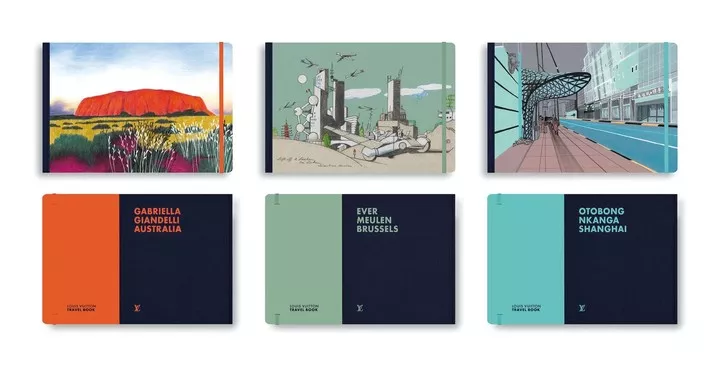 Each artist will eventually need to complete nearly 100 pieces of artwork to be published in a collection of travel books to different cities.
Kind of like an art form version of a city guide.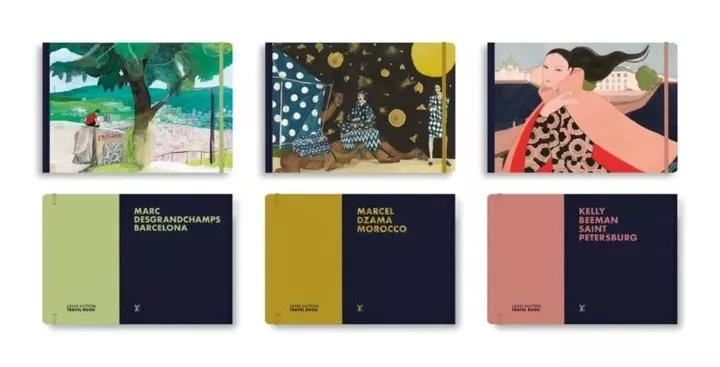 In addition to publishing its own books, LV also designed a number of book-related products, such as cases for books and stationery bags for writing instruments.
Gaston Louis Vuitton, the third generation heir to LV and eldest grandson of the brand's founder, Louis Vuitton, is an unabashed bibliophile. He has published many books on art and culture, among other areas.
Literature also drives the brand's diversity to some extent.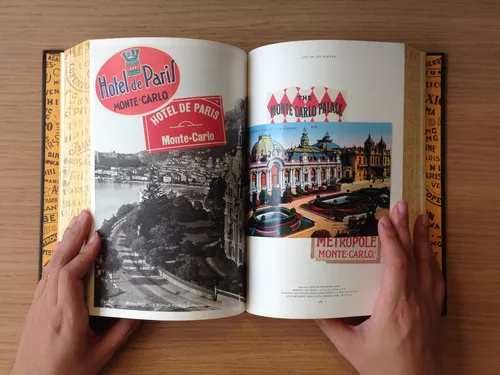 LV CEO Michael Burke has said.
The media is evolving rapidly, and every time a new way to socialize emerges, we have to tell our story all over again.
As one of the first international luxury brands to enter the Chinese market, LV has been experimenting and evolving with the rapidly changing growth of the Chinese market since the 1990s.
Stationed in major social platforms, embedded in e-commerce applets, landed on Little Red Book, and even made a live debut ......
New channels are constantly being added, but books have been an area where the brand has been very adamant and has been striving for excellence.
After all, as the greatest product of human evolution, reading books, in any context of time, in any context of technology, needs to be perpetuated.
But one thing's for sure, it's also been a while since I've seriously finished a published book. It's time to put the phone down.