Recently, New Oriental's bilingual live broadcast has become popular. The number of online people in the Oriental selection live broadcast room has reached 30000 + , while previously, there were only twoorthree online people at the same time. Why did so many people pay attention to the previously tepid live broadcast of New Oriental goods? It is mainly in the Oriental selection studio that the anchors will introduce goods in both Chinese and English, which is lively, interesting and can learn knowledge.
Among them, dongyuhui is the most popular, who is known as "Terra Cotta Warriors" , and says that "the ultimate romance is the universe stars, and we are the children of the universe stars".
On the morning of June 10, there were tens of thousands of people online in the live room at the same time. At 9:45, dongyuhui, a famous New Oriental English teacher who had brought 500000 students in eight years, came on stage. While explaining the products in Chinese and English, he made jokes with netizens. More than 6700 peaches were sold in a few minutes. As of 11:00 on the same day, 34000 orders for the product had been sold.
At noon, the highest score of this live broadcast reached No. 5 in the list of goods , with 40000 + online people, 5.09 million likes, thousands of products with goods, and tens of thousands of sales of some products.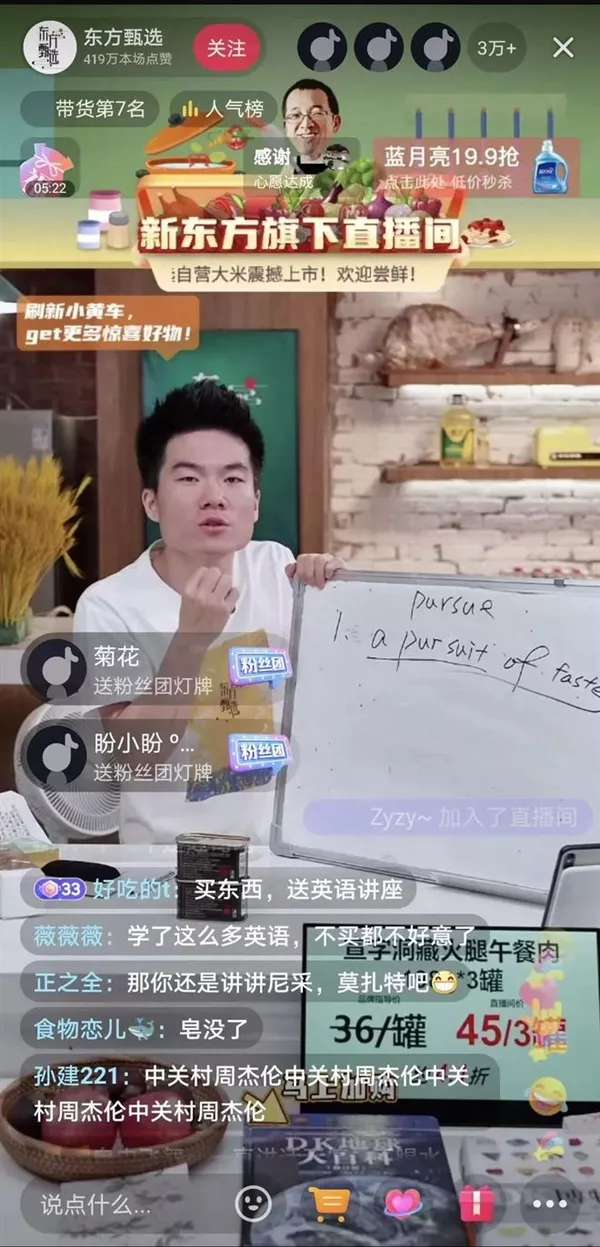 Affected by this, the share price of New Oriental online rose nearly 40% during the session and 37.58% by the end of midday trading.
The New Oriental teacher's transformation and delivery of goods has also been praised by many netizens. "It's gold that shines everywhere." some people jokingly said that they came here to learn English, and just made an order .
More people sincerely said, "YuMinHong and his team are really not easy. When I was a undergraduate, I took two new Oriental courses, one of which was the TOEFL high-performance class. I took it in Chinese workers. I always remember the motto of their school - looking for hope from despair ."