"Only one person still loves your pious soul and the wrinkles on your old face." On June 13, in the live broadcast room of "Oriental selection" under New Oriental, the anchor dongyuhui picked up his guitar and sang "when you are old". When the melodious melody sounded, "you sing very well. You don't want to come out in the live broadcast room." "Wipe your tears while watching the live broadcast while eating." Lines of bullets drifted by, and some netizens jokingly said: "Jay Chou in Zhongguancun is becoming more and more popular.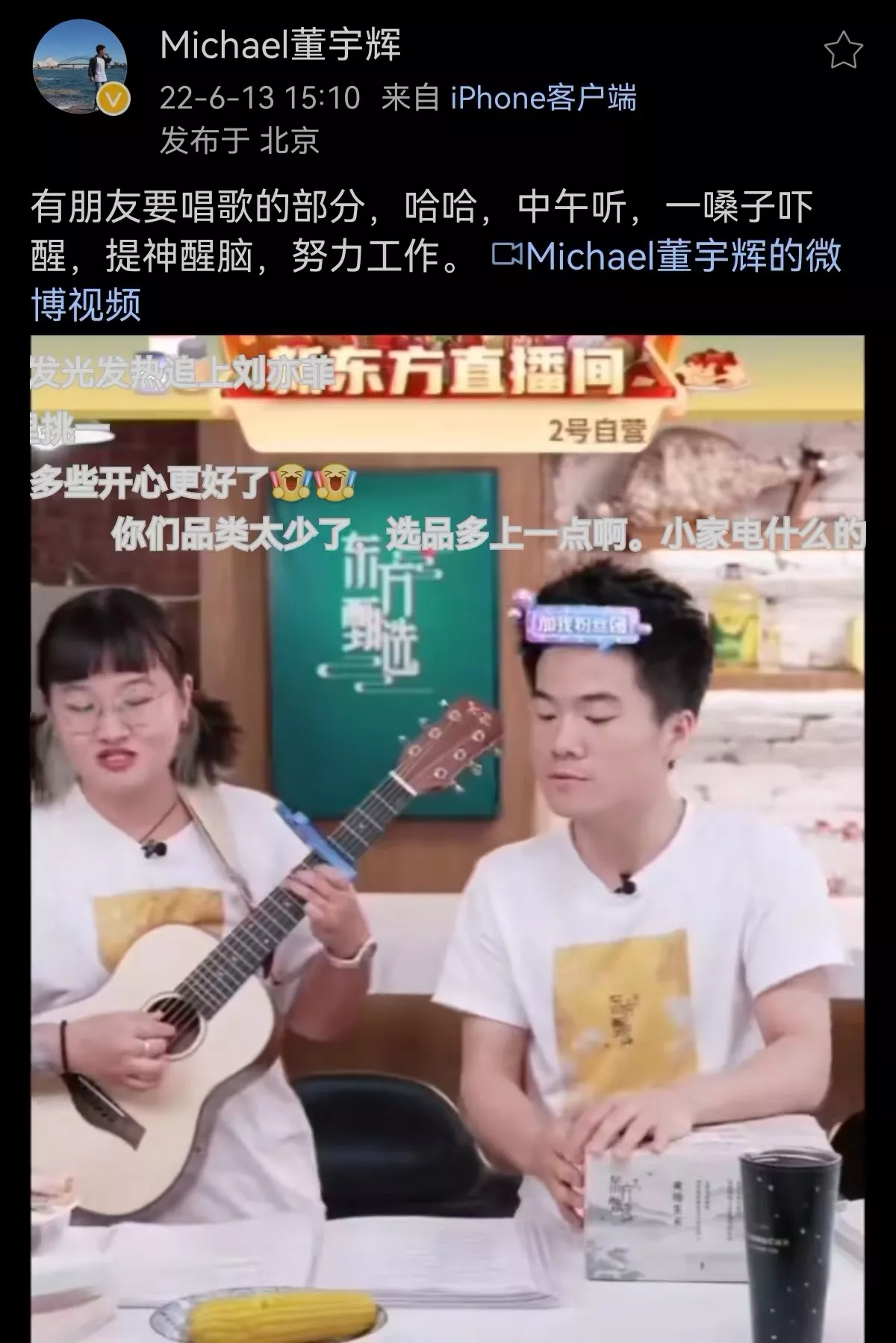 Live clip from New Oriental anchor dongyuhui's microblog
"ZhongGuanCun Jay Chou" is dongyuhui, a bilingual anchor who recently swiped the screen. "I can speak English all the time. But please remember to buy something。" The English class while taking goods made the audience exclaim: "I don't know whether to place an order or take notes for a while."
The popularity of the live broadcasting room led to a rise in the share price of New Oriental company. On June 13, the share price of New Oriental online (01797.hk) soared, once exceeding 100%. As of the close of trading, it was reported at HK $8.72, up nearly 40%, with a total market value of HK $8.726 billion. New Oriental (09901.hk) closed at HK $14.48, up 13.12% with a total market value of HK $24.6 billion. Public information shows that New Oriental online is a professional online education website under New Oriental.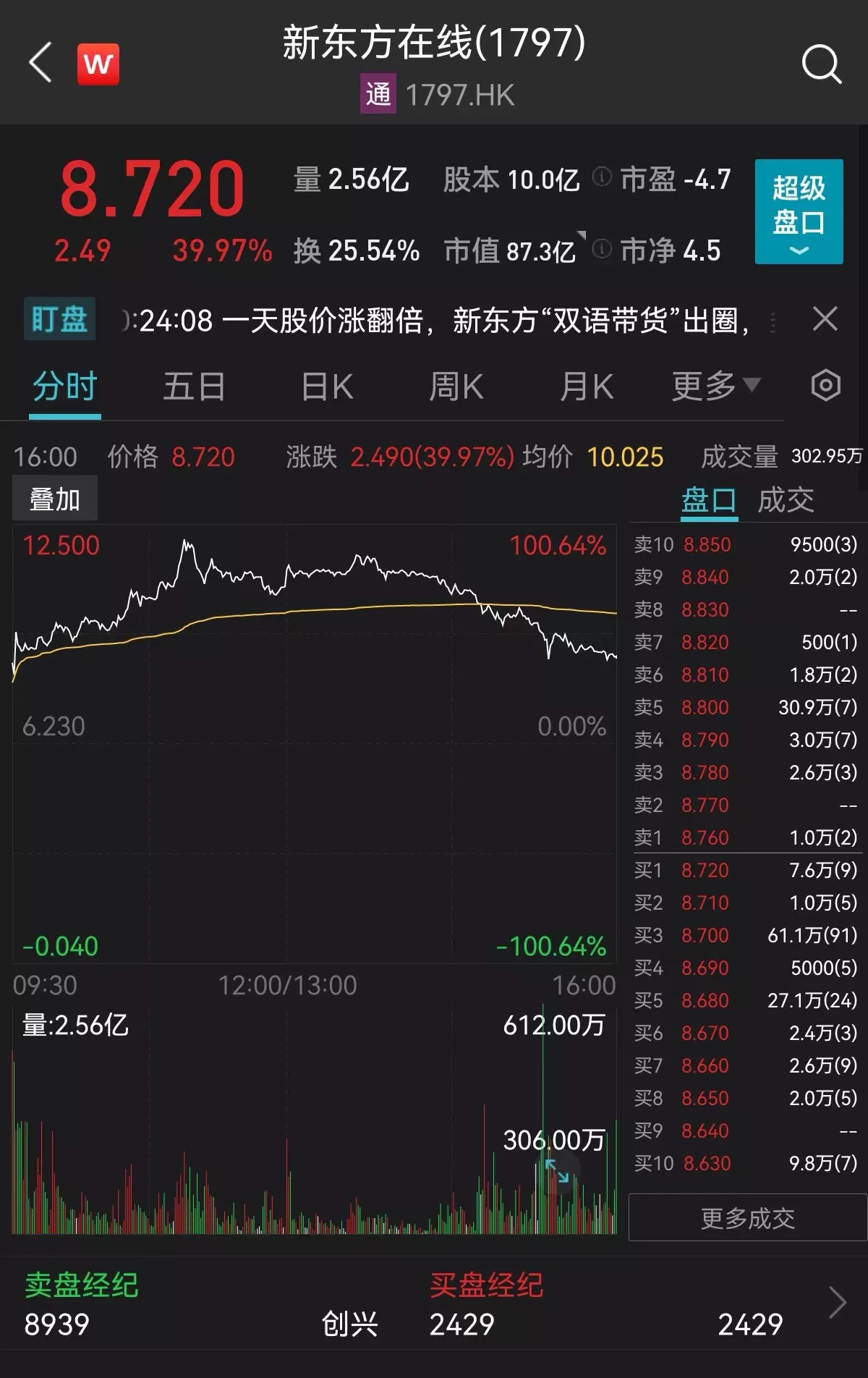 New Oriental online shares soared
The reporter inquired that the live broadcast in the Oriental selection studio starts at 7 a.m. every day. As of 22:30 p.m. on the 13th, the live broadcast was still in progress. Dongyuhui, the on duty anchor, is still speechless, with more than 100000 online people and 3.63 million fans.
"Bilingual anchor" became popular on the Internet, and YuMinHong sent wechat thanks
"How do you say 'original cutting' for the original cut steak? You don't like raw food, and you want the meat to be cooked when you order? You can tell 'medium well'..." New Oriental anchors who know astronomy from the top, geography from the bottom, are knowledgeable and can show English seem to lead the way of live broadcasting and goods delivery of New Oriental on the right track.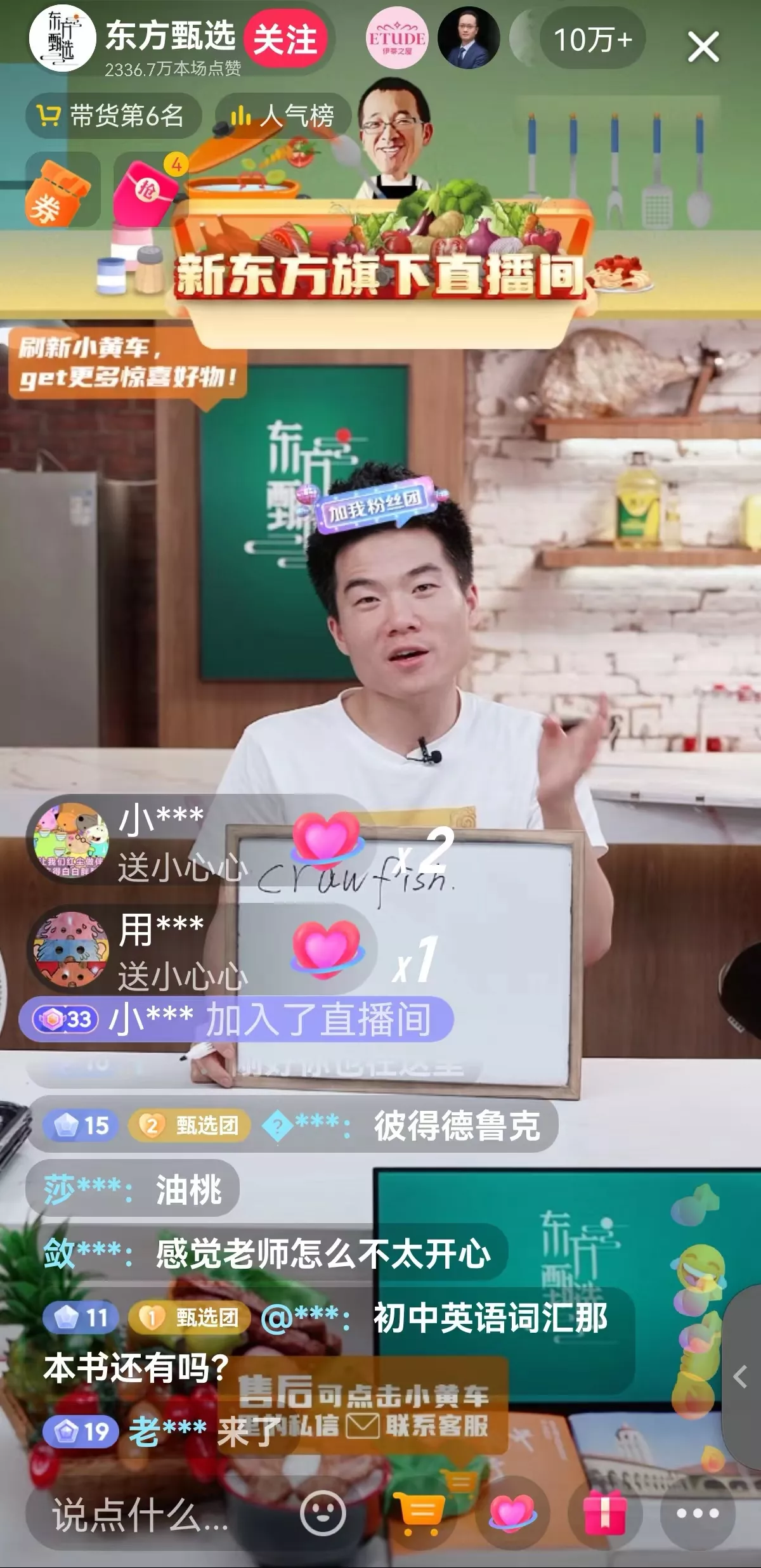 On June 13, dongyuhui was in the live broadcast room of "Oriental selection"
According to the data of the third-party platform, since the "bilingual delivery" was launched on June 10, the number of fans in the "Oriental selection" live studio under New Oriental has increased by 1.57 million, the sales has increased by 17.77 million yuan, and the maximum number of online viewers has reached about 100000, an increase of more than 10 times compared with the previous peak of 1000 online viewers.
It goes back to last year that YuMinHong took the road of bringing goods as anchor. On December 8, New Oriental posted a document on the wechat platform. At 8 p.m. that night, it will launch a new platform for live broadcast and delivery of goods, "Dongfang Zhenxuan". At the beginning of its establishment, the live broadcast of Dongfang selection did not attract attention. Even though YuMinHong personally brought goods many times, the number of live online people has been maintained at about hundreds for a long time. Dongyuhui once said in the video, "for a long time, there were only a few people in the live broadcast room, and their parents ordered two orders."
According to the data, at first, the average sales of a single live broadcast in the New Oriental live studio was less than 300000.
However, since the bilingual delivery of goods was started, the live broadcasting room has rapidly heated up and occupied the microblog hot search. On June 13, YuMinHong sent a wechat to dongyuhui in the early morning to express his thanks, Dongyuhui replied, "I was excited and moved by the concern from Mr. Yu early in the morning. Last night, 108000 people listened to me in my live room, and tens of thousands of books sold out quickly. As a former teacher and now an online salesperson, I passed on knowledge, made people like reading, and finally loved life. This is my blessing, honor, and mission. The vast sea of people, so you are here."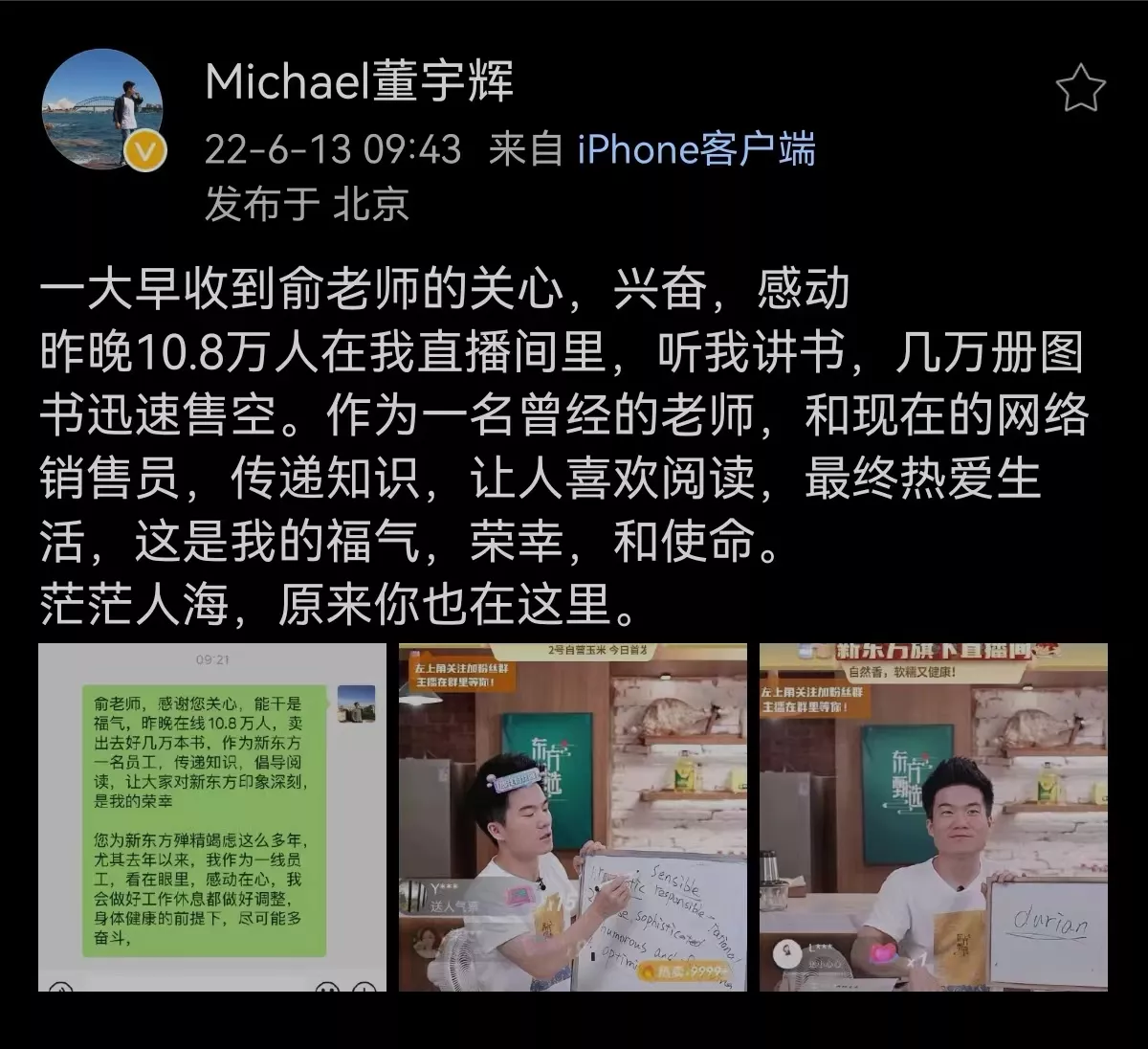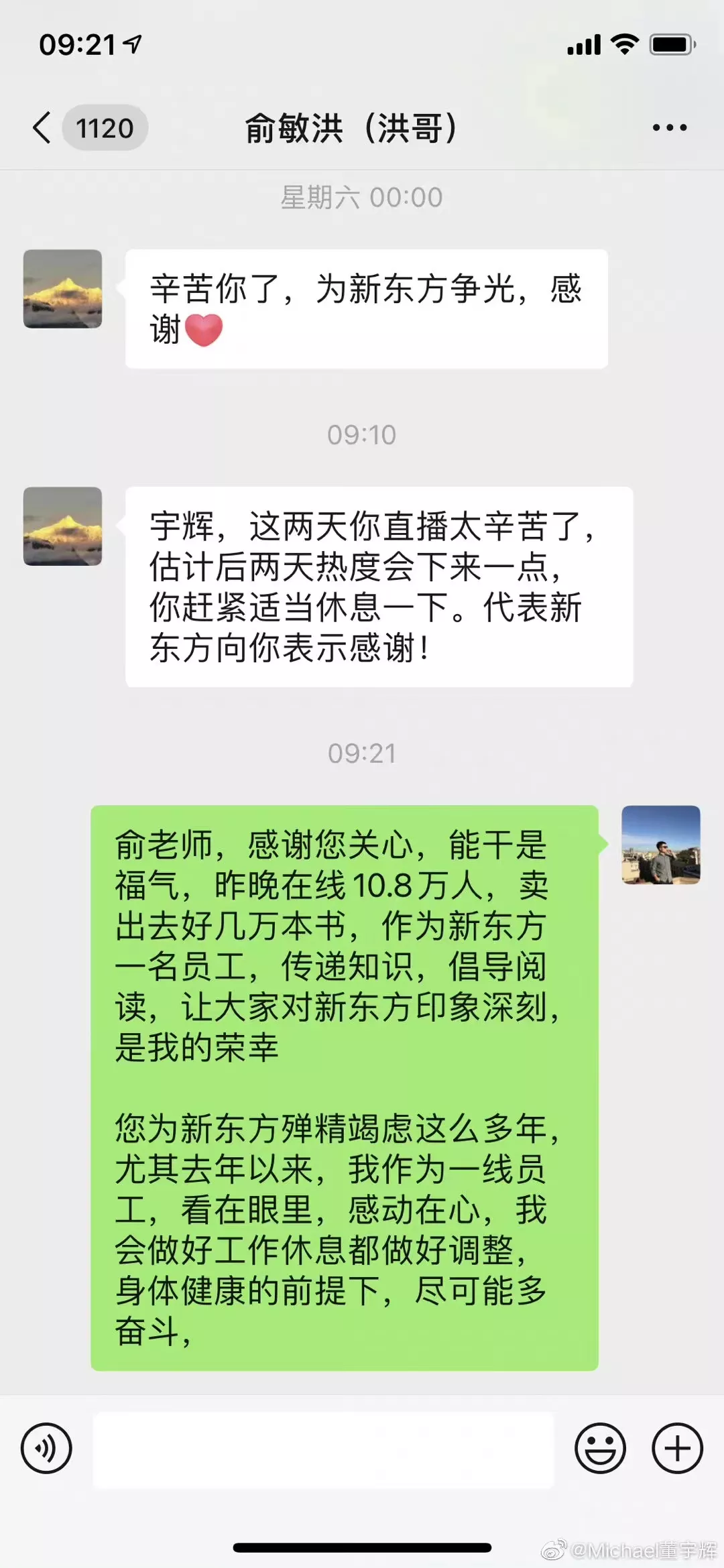 During the live broadcast, YuMinHong also responded to the popularity of "bilingual live broadcast", saying that they inadvertently combined the previous English teaching with selling things. Thanks to the tolerance and support of netizens, it is a very key transformation for New Oriental teachers.
It is worth noting that the supplier of the New Oriental live studio said in an interview that the Oriental selection does not require a pit fee and will not ask for a large number of samples for trial. "Mr. Yu's team was very restrained. At the beginning, they sent a few copies, and they said it was enough. As long as there were enough displays, it would be enough."
Expert: the live broadcast is also professional. You can't just rely on a hot spot
On the live broadcast of New Oriental transformation, YuMinHong has publicly stated his position on many occasions.
On June 8, YuMinHong posted a document on his wechat official account "Lao Yu Xianhua", revealing that the "New Oriental Live Room" team was just established this week to promote new Oriental's high-quality educational products and other high-quality education related products, including books, intelligent software and hardware learning devices, and learning related stationery. He said that he believed that this platform would become a very good sales platform for educational products.
YuMinHong said that he would personally lead the team to broadcast live on the platform. Three live broadcasts were conducted from May 30 to June 1, and more than one million new Oriental products were sold. On the evening of June 2, he went to the "Oriental selection" live studio to sell agricultural products with everyone. The Gmv on that day also reached nearly twomillion.
Interestingly, Yu Minhong's data of carrying goods is much inferior to that of his teachers: according to the data of the third-party platform, on June 11, the number of viewers of "Oriental selection" in the official live broadcasting room of New Oriental online reached 12.746 million, and the Gmv (total commodity trading volume) of that day was 21.043 million yuan, ranking sixth in the list of carrying goods on the Tiktok platform.
Now it seems that the New Oriental transformation live broadcast has initially come out of its own "methodology", but in the view of insiders, it remains to be seen whether the follow-up will continue to be successful.
"New Oriental live studio and liugenghong are similar phenomena. They have a lot of accumulation, and then they are released at a specific time. But as a live broadcast carrier, it is doubtful whether his fans are accurate. It depends on what happens in the medium and long term." A senior practitioner in the live broadcasting industry said.
"Bilingual live broadcast with goods is an idea, but it is still early to become a business model." Pan Helin, CO director of the digital economy and financial innovation research center of the International United Business School of Zhejiang University, told the reporter that this model can become a sales method to continue as long as consumers recognize it. But is the main way to attract consumers by live broadcasting and goods bilingual? Not so. Live broadcasting with goods is also professional. Deconstruction of commodity functions and contents is the main marketing method of live broadcasting with goods.
"In fact, many new approaches are only short-term to attract traffic. Of course, if New Oriental can constantly generate new ideas to activate live broadcasting and delivery, it will be very helpful for New Oriental's transformation. Relying on Bilingual live delivery alone may only be a temporary focus." Pan Helin said.
"I am optimistic about New Oriental. His transformation should be to find a suitable starting point." Shenyongming, member of the Shanghai Municipal Committee of the Chinese people's Political Consultative Conference and Secretary General of the Shanghai Municipal Committee of the China Democratic Construction Association, expressed encouragement and recognition to the surging journalists. New Oriental will bring impact and change to the current industry, and more powerful and characteristic enterprises will join in.
"I believe that enterprises with standardized management like New Oriental should bring new changes in self-improvement and industry norms. At present, they can only try to enter first, and then they will certainly change and promote. The threshold for the live broadcast and delivery industry will also be raised. New industries need to be promoted by such enterprises."
Shenyongming believes that with the popularity of New Oriental, some good brands with culture and levels will also start to test the water in the sea in the form of live broadcasting. In this way, the live broadcast industry can truly form a viable industry. "New Oriental itself is also a man-made star, creating traffic, which will provide a more cultural path for the star making system in the live broadcasting industry."
Brokerage: fans are expected to reach ten million in the next two weeks
With regard to the recent performance of New Oriental live studio, CSC analyzed that by horizontal comparison with the head anchor of Tiktok platform, Dongfang has selected Gmv in the past two days and the number of viewers has ranked among the head live studio. In the future, it still needs to increase the number of fans to remain, and there is still much room for improvement.
CSC speculates that according to the current growth rate of fans (an increase of 700000-800000 per day), the number of fans selected by Dongfang is expected to reach ten million in the next two weeks. Assuming that the daily average Gmv is estimated at 10 million yuan, the Gmv in Dongfang selection year will reach 3.7 billion yuan. With the increase in the proportion of self operated products and the increase in customer unit price, the profit margin is expected to increase to 5%.
At present, the market value of the company is RMB 5.3 billion, and there is still room for nearly 20% increase in the market value. Considering the continuous efforts of other live broadcasting rooms under the company, New Oriental online still has the potential to improve in the future.
According to the Research Report of Ping An Securities, the education sector has a high prosperity in the near future. There is an excessive decline in the early stage and an industry correction opportunity in the near future. Last week, New Oriental online rose as high as 70.68%, and its "Oriental selection" live studio quickly broke the circle. The live data from the early single day Gmv was only tens of thousands to the recent one million yuan Gmv, and on June 10, the single day Gmv exceeded ten million yuan. The negative factors have been cleared. The university adult business can support the bottom, and the available funds on the book are abundant.
After the introduction of the "double reduction" policy, New Oriental encountered a huge crisis. "The market value of New Oriental has dropped by 90%, its operating income has decreased by 80%, 60000 employees have been laid off, and nearly 20 billion yuan in cash has been spent on tuition fees, n+1 employees' dismissal, and the rent of teaching sites." At that time, YuMinHong wrote that.
On June 8, he wrote on his personal wechat official account, "I call the live broadcast economy the third revolution of Commerce. The first is a hypermarket, the second is an e-commerce, and the third is live broadcast with goods. Since last year's policy, my definition of New Oriental is to become an education company with education products as the core. Products need sales channels, and I found that the most effective sales channel is live broadcast with goods in addition to finding an agent."