According to a draft shared by Nigerian internet regulators, it is planned to supervise twitter, Google, tiktok, and other Internet companies under meta, such as Facebook, WhatsApp, instagram, etc The National Information Technology Development Agency (nitda) released this information on Monday, which can be viewed on its website and Twitter page.
Just six months ago, Nigeria lifted the ban on twitter. According to the memorandum written by nitda director general kashifu Inuwa Abdullahi to Nigerian President Muhammadu Buhari at that time, one of the three conditions twitter agreed to restore is to "establish a legal entity in Nigeria in the first quarter of 2022". Other conditions include paying taxes locally and cooperating with the Nigerian government to regulate content and harmful tweets.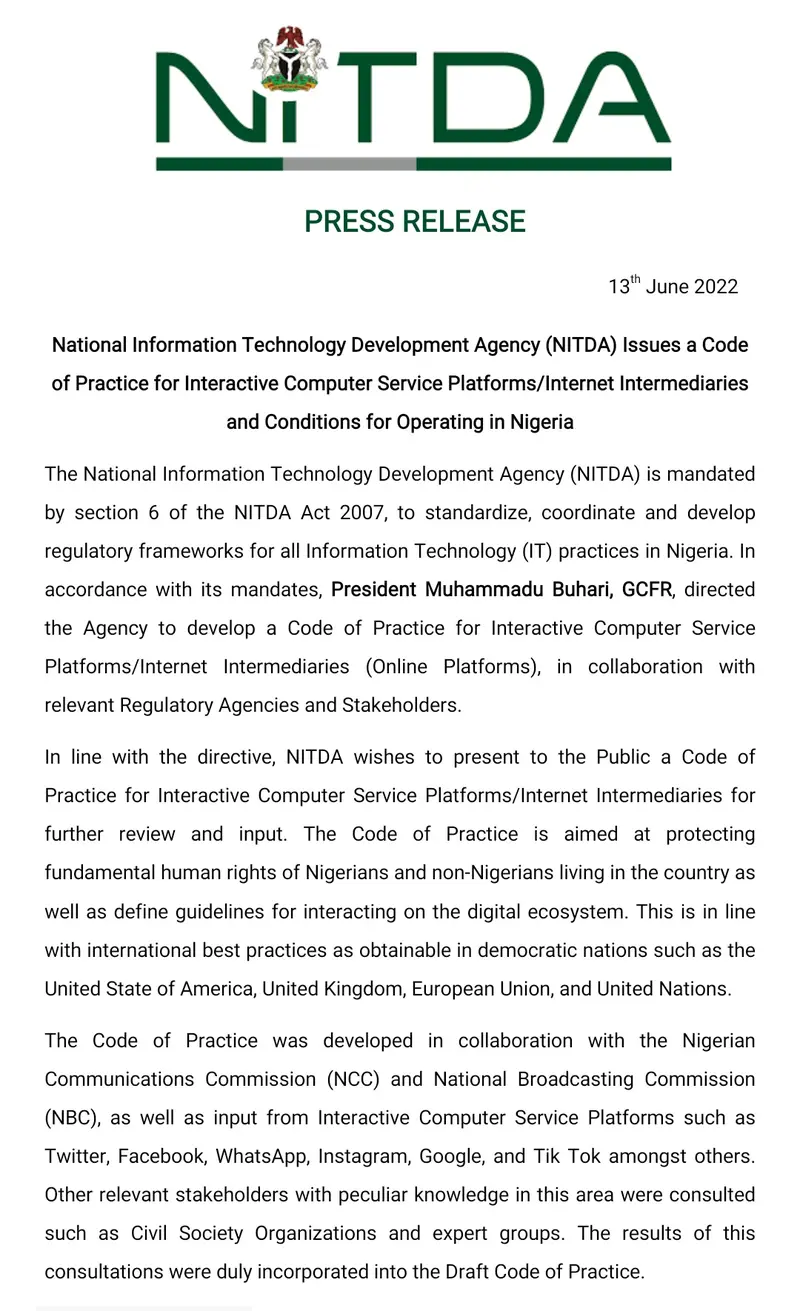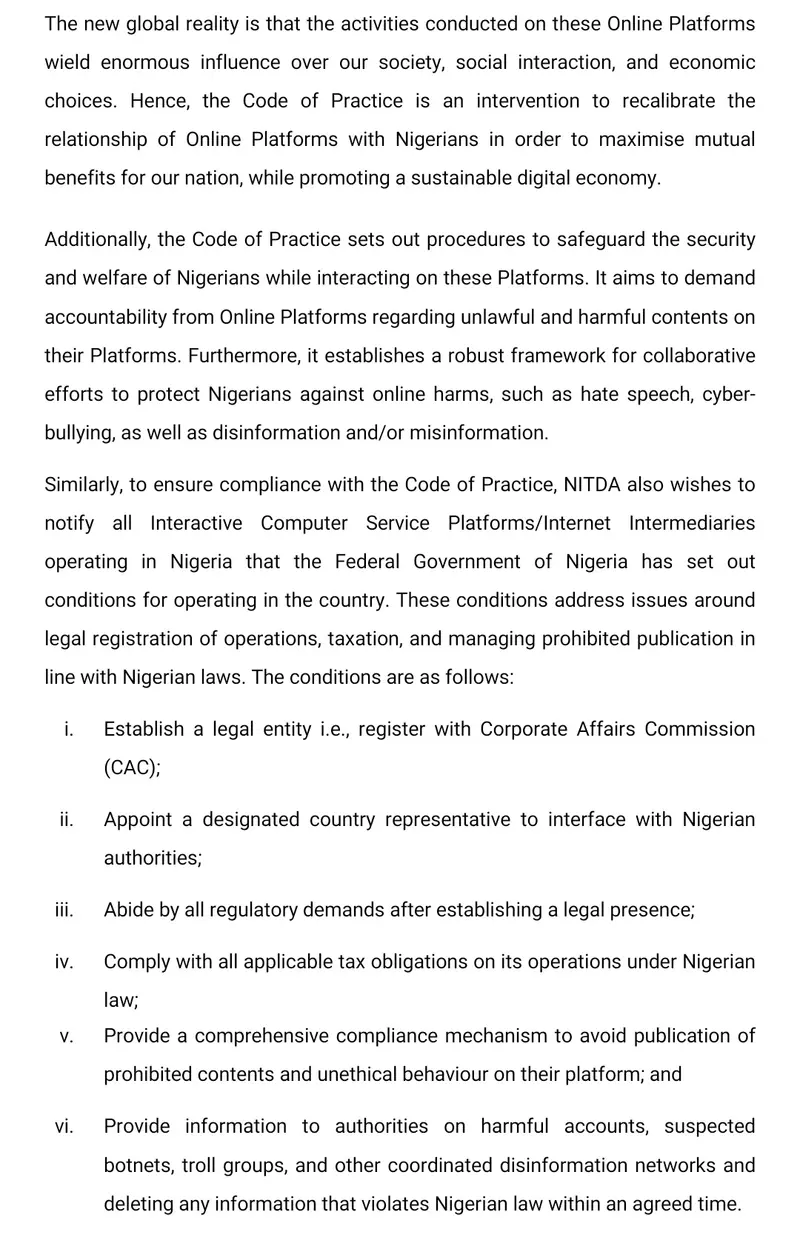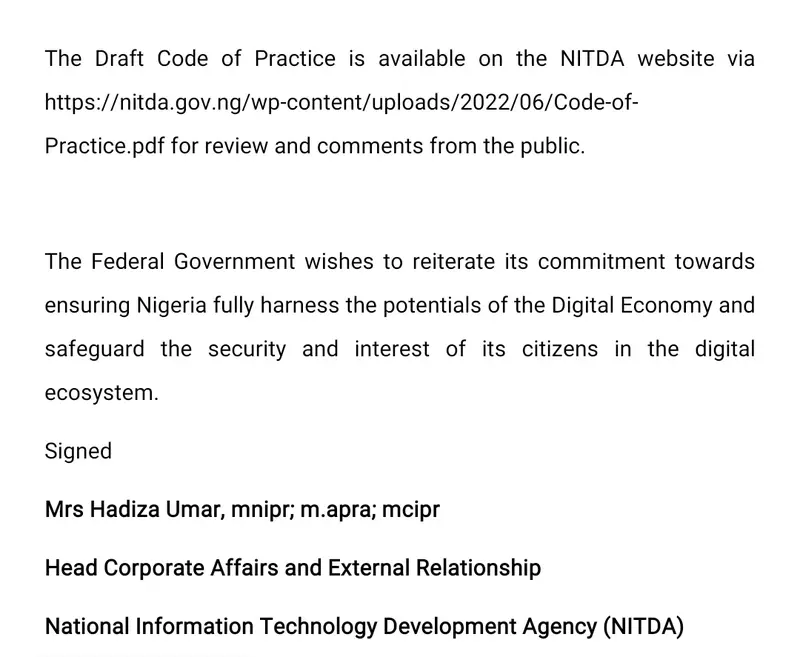 The first half of 2022 is about to pass, and it seems that none of the conditions has been met. But this has not stopped the government from moving forward and extending these requirements to other Internet companies. The draft is entitled "code of practice for interactive computer service platforms / Internet intermediaries". Internet regulators claim that these conditions are aimed at "protecting the basic human rights of Nigerians and non Nigerians living in the country" and "defining the norms of interaction on the digital ecosystem".
The main contents of the draft include
● establishment of a legal entity; In other words, registration with the Corporate Affairs Commission (CAC) of the country is required.

● appoint a designated national representative to interface with the Nigerian authorities.

● comply with all regulatory requirements after establishing a legal presence.

● comply with all applicable tax obligations under Nigerian law for its business.

● provide a comprehensive compliance mechanism to avoid publishing prohibited content and unethical behavior on its platform.

● provide the authorities with information about harmful accounts, suspected botnets, spurts and other coordinated false information networks, and delete any information that violates Nigerian laws within the agreed time.
Hadizaumar, the head of corporate affairs of the agency, said in a press statement: "the new global reality is that the activities carried out on these online platforms have had a great impact on our society, social interaction and economic choices. Therefore, the code of practice is an intervention aimed at readjusting the relationship between online platforms and Nigerians in order to bring the greatest mutual benefit to our country".
Nitda stated that it had prepared the draft at the direction of the president. It also claimed to cooperate with Nigeria's communications and broadcasting regulators and welcomed comments from Internet companies on the impact of its draft. The agency said the draft was open to public review and comment. However, in view of the counterattack it received after the twitter ban, as well as concerns about the Nigerian government's monitoring and stifling freedom of speech, it is not clear why the agency continues to prepare this draft.