At the previous live broadcast of Sony's "state of play", it was officially announced that Marvel spider man: reprint, which had previously been exclusively owned by ps5, would officially land on the PC platform on August 12. Today, the steam store page of the work was officially launched. Interested players can search Marvel's spider man remastered to add the game to the wish list**
Access: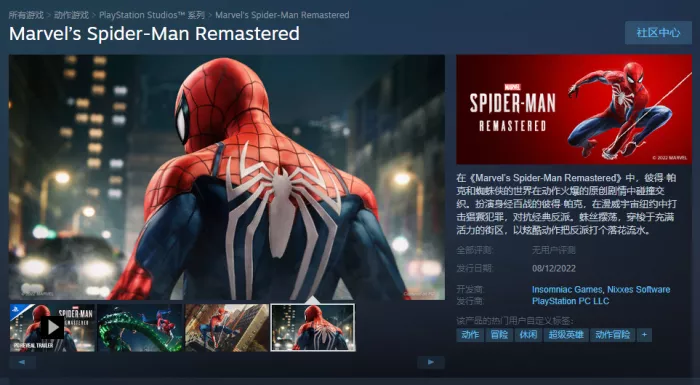 Although the store page has been launched, the configuration requirements and prices of the PC version of Marvel spider man have not been announced yet. from the previous exclusive games such as new God of war and horizon: Dawn of zero that landed on the PC, the price of the work will probably be about 279 yuan**
According to the previous official introduction, after landing on the PC, this work will include the main body and three all DLC . The PC version will support functions such as adjustable rendering settings and ray tracing reflection, and the picture effect will be stronger.
Marvel spider man is an open world action adventure game produced by insumniac game and released by Sony. The game is based on Manhattan and presents a broad space for players to explore.
In this virtual Manhattan, players will play Spider-Man and confront classic villains such as "Green Devils" Norman O and "night devils" Jinhe**