SpaceX's Starlink Satellite Internet service is preparing to launch its first batch of new satellites. At present, Starlink provides users with global Internet coverage through its network of small satellites, ground stations and user terminals In order to diversify coverage, increase speed and reduce expensive infrastructure costs, Starlink has also deployed newer satellites with laser links, which will enable spacecraft to transmit data within their constellation and increase the range of network operations without relying on ground transit
In this regard, Starlink has submitted an application to the Federal Communications Commission (FCC) for authorization to activate spacecraft laser modules in polar orbit.
The application was submitted to the filing system of the FCC International Bureau in mid June, and the Commission accepted the filing of the application at the beginning of this month. It sought regulatory approval to temporarily operate the Starlink satellite at latitudes higher than 53 degrees, which could serve remote areas of the earth where Internet access is difficult.
Starlink uses its satellites to transmit data between users, then transfers it to the ground station to send the data to the Internet server, and then transmits the data back to the spacecraft, thus completing the communication cycle. SpaceX has built dozens of such sites across the United States, but it is more difficult to install them in remote polar regions than in the United States.
For these purposes, the company has been focusing on launching satellites with laser connection function to serve the polar regions. Elon Musk, CEO of SpaceX, confirmed this at the beginning of last year. At that time, he outlined that all satellites this year would be equipped with lasers, while his company was limited to launching spacecraft to polar regions at that time.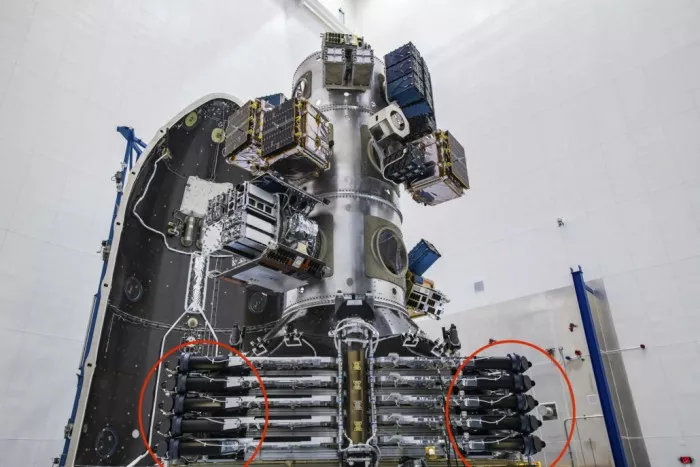 In the view inside the load fairing of transporter-1 launched in January 2021, 10 starlinks can be seen at the bottom, and the laser accessories have been circled in red.
In its application, Starlink explained to the FCC that the request was only temporary because it would operate the satellite at an altitude of 10 degrees. Starlink is currently authorized to operate its satellite at a higher elevation of 25 degrees, and outlines that the lower angle is a "stop loss" measure before the constellation can provide services at 25 degrees. The lower angle allows fewer spacecraft to communicate with the user terminal, but it will also lead to poor communication due to the long distance and terrain characteristics.
This application requires careful and limited temporary authorization to authorize SpaceX satellite and user terminal to communicate at an elevation angle of not less than 10 degrees in polar regions, that is, above 53 degrees latitude. This application does not seek authorization to deploy any additional satellites or ground stations. Nor does it seek any change in the technical or operational characteristics of satellites and ground stations already authorized by the Commission, except for this minor change in the minimum elevation observed in the polar regions. This expedient will enable SpaceX to accelerate the deployment of its high-speed, low latency services to the polar regions of the United States during the transition period before the SpaceX system is fully deployed to provide polar services at the authorized minimum elevation of 25 degrees.
Due to its low angle, SpaceX also addresses concerns that may be raised by its competitors. It assured the committee that an elevation of 10 degrees would result in less interference with oneweb satellites because they operate at 45 degrees or higher. In addition, it intends to share data with Kepler.
Starlink recently opened its service to recreational vehicle owners. Due to its excessive demand in some areas, the service also began to warn users that they would encounter low speed during peak periods.