At 10:30 on June 13, Beijing time, the 21st Buffett charity lunch auction began. The auction ended at 10:30 on June 18, Beijing time As the last Buffett lunch, the auction amount may set a new record. As of press time, Buffett's charity lunch has been auctioned for nearly four hours. EBay website shows that there is only one bidder at present. The starting price is 25000 US dollars, about 167300 yuan. EBay website does not disclose the information of the bidder.
According to eBay's website, subsequent bidders are required to add $100 or more.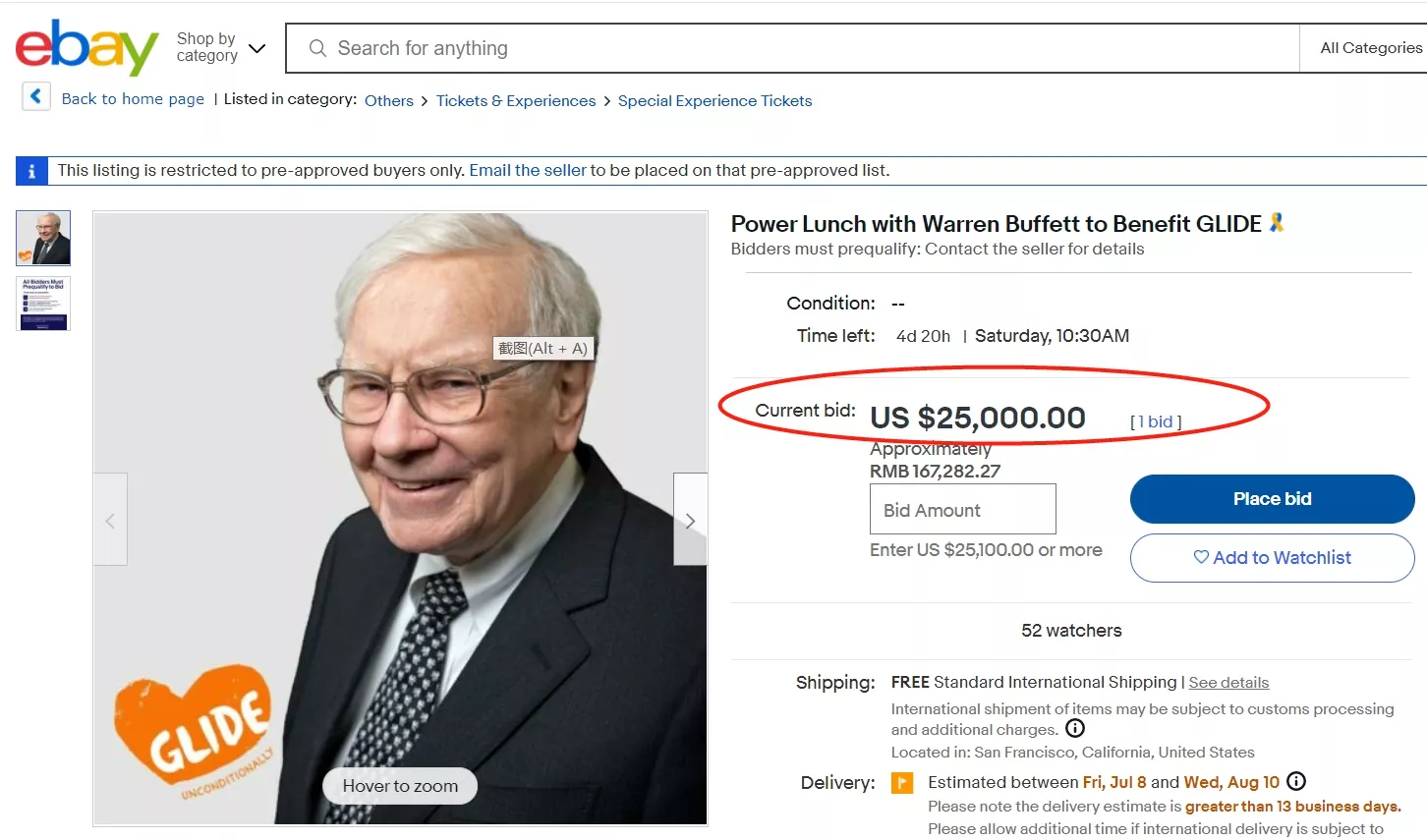 Screenshot source: eBay website
It is reported that the winning bidder can carry up to 7 people with Buffett's famous smith&amp in New York; Wollensky steak restaurant for lunch. All the money from the lunch will be donated to the American non-profit organization glide foundation.
It is worth mentioning that according to the media, in the first few years, the transaction price of Buffett's lunch was not high, only $25000. Until 2003, the auction was held publicly on eBay for the first time, and the final transaction price directly increased 10 times to $250000. Since 2008, the amount of each winning bid has exceeded US $1million.
Among the 12 successful bidders known in the past, 4 were from China.
Duanyongping, who won the bid in 2006, successfully built a well-known bully, bubagao (6.840, 0.05, 0.74%) in his early years. In addition to entrepreneurship, he has the title of "China Buffett". In 2002, duanyongping spent $2million to buy Netease shares at a purchase price of only $1 per share. With the soaring share price of Netease, duanyongping achieved a return of dozens of times in two years and became famous in the first World War.
With the first "crab eater", zhaodanyang, the "godfather of private placement", Zhuye, the chairman of Tianshen entertainment, and sunyuchen, the founder of wave farm Tron, also became the bid winners in 2008, 2015 and 2019 respectively.
In 2009, during dinner with Buffett, zhaodanyang recommended his "Wumart business" stock to Buffett, which increased nearly 24% in the four trading days starting from June 24 of that year. Since then, Buffett introduced the rule of "don't talk about individual stocks at lunch".
In 2015, Zhu ye, chairman of Tianshen entertainment, introduced his company to Buffett at dinner with Buffett. Therefore, the share price of Tianshen entertainment rose from 66 yuan to 125.20 yuan, the highest peak. However, after 2018, Tianshen entertainment successively suffered from debt default and huge losses, and Zhu ye and Tianshen entertainment were also put on file for investigation.
Sunyuchen, founder of wave farm Tron, became the first person to let go of the stock god. In the early morning of July 23, 2019, sunyuchen said on his microblog that he had canceled his lunch meeting with Buffett because he was being treated in hospital for a sudden kidney stone. If true, this may be "the most expensive kidney stone in history". Finally, the meal was postponed to January 2020. Sunyuchen said on social media that he had dinner with Buffett.
Among the other 8 known successful bidders, Ted Weschler, who won the bid twice, must be mentioned. After two meals, he successfully joined Buffett's company, Berkshire Hathaway.
Buffett's lunches in 2010 and 2011 were both photographed by Ted Weschler, founder of peninsula capital, a hedge fund, with prices of $2626300 and $2626400 respectively.
After spending more than $5.2 million for two meals, Buffett fell in love with Ted Weschler. In 2012, he joined Berkshire Hathaway to work for Buffett and helped take charge of Berkshire's stock, bonds and other investments of $110billion.
According to Reuters news, eBay CEO Jamie Iannone said in a statement that Buffett's last private lunch auction is expected to be another record auction, and all proceeds will support glide foundation. (Zhongxin Jingwei APP)